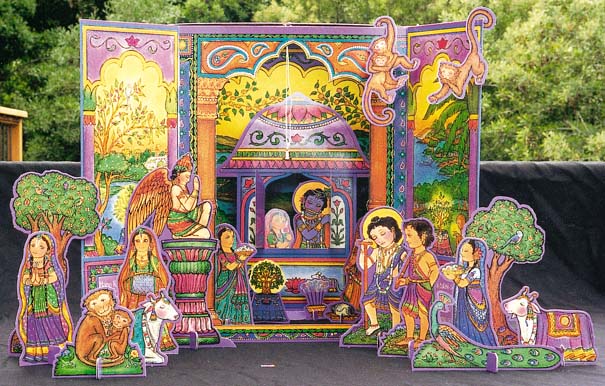 This product has my vote for being one of the most unique and engaging (non-Gnaana of course!) teaching tool about Indian culture – and one that received a huge volume of clicks after being feautured in our July/August Newsletter.  The Vrindavan Activity Set is a stiff paper fold-out temple and courtyard featuring paper play-figures (Krishna, Gopis, animals, villagers, Garuda Stambha and a Tulsi plant).  It also comes with a few songs, prayers and guided activities.
It's beautifully illustrated and obviously colorful and attractive for kids.  We've had this set for quite some time, but I only recently began using it with my 5-year-old as he is now old enough to treat the items with care.  The guided activities and prayers are a bonus for parents – though you will have to run through them several times and supplement with your own background knowledge before kids can truly play with this on their own.
A terrific way to spend time with your kids – thank you Mandala Publishing!