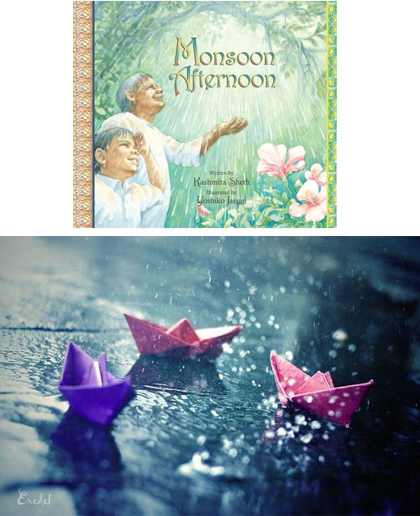 The idea for this post was submitted by my dear friend (and faithful Gnaana reader) Madhuri.  She pointed me to the book Monsoon Afternoon
.
I haven't read it, but it's a story about a little boy who is bored on an Indian monsoon afternoon and starts folding paper boats with his Dadaji (grandfather).  They float the boats in a washtub and then take a walk together along the post-monsoon streets, chatting about seasons and change.
The book inspired her and her kids to make paper boats together (following this simple video tutorial) – which they sailed in makeshift puddles.  Sounds like a wonderful afternoon!
With all the hurricanes, floods and rains these past few weeks – I'd love to have this book on hand for a rainy day. 
Thanks Madhuri!