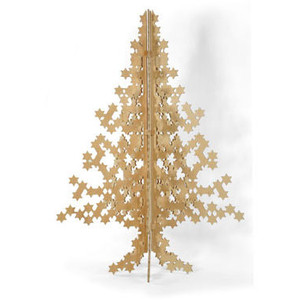 I saw this last year on Modernica's website:  the Superstar Holiday Tree.  It's been called a "Christmukkah Tree" – supposedly suitable for families who celebrate both Christmas and Hanukkah (note the Star of David shapes).
Would you use this as a Diwali Tree?  A place to hang ornaments – and a place to gather Diwali gifts?  Would we be copycats or just assimilating a new tradition?
Made of natural baltic birch wood, the tree is designed to be reused year after year.  It comes in 2 sizes – large ($240) and small ($125).  But hold your horses – the tree is not available for another few weeks (yes, after Diwali).
Too bad Modernica didn't think to market it as a Diwali Tree too.