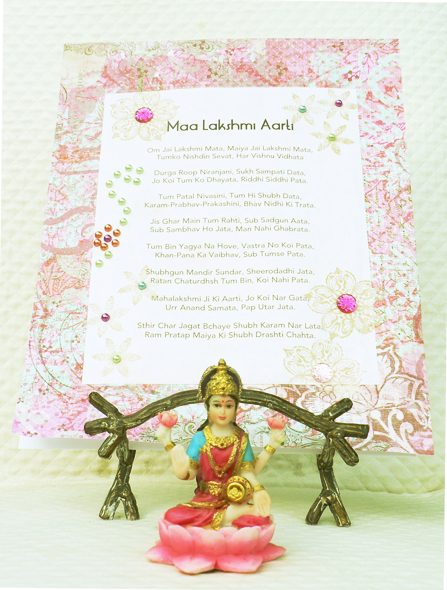 The beauty of Diwali lies perhaps in its inner meaning – a recognition of the goodness that flickers within all of us.  We give sweets and cheer to friends and neighbors as a gesture of kindness – without expecting anything in return.  The focus of this holiday is not so much on shopping and gifts, but rather on preparing our homes with diyas,  flowers and abundant food to welcome the divine. 
Music and prayer are a must during Diwali – as are sacred mantras and songs – reflecting the importance we give to these divine words.  A good way to stress the importance of these words is to decorate and display them.  If it's in sight, it'll be in the mind.
Here, we decorated the Lakshmi Aarti – sung at the end of the Diwali Lakshmi Puja.  Using pretty cardstock, stamps and jewel stickers, this art is worthy of display in your living room or prayer area.  It's also a good way to encourage members of your family to learn the words.
You can use any song or mantra that is special to your family, but if you decide to use the Lakshmi Aarti, the text can be found here.  Also, Isha Music has produced a beautiful rendition of the Aarti – so play this in the background to create a festive mood this Diwali (click here).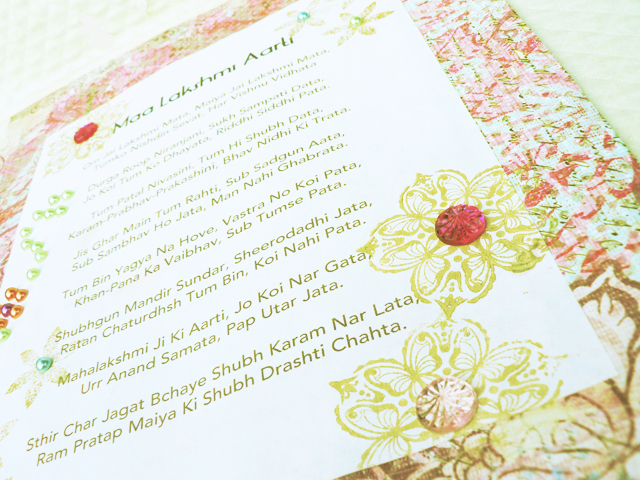 Also, don't forget to involve your kids in your puja – you can use our immensly popular Diwali Puja Tutorial for Kids that we circulated last year, which will explain and guide them step-by-step through the puja process.