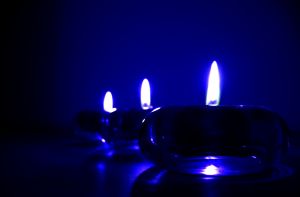 Nope, not this year.  (Well, maybe just a little – it's hard to go back to life as usual after all that excitment!)
As we mark the final day of Diwali today, I am reflecting on some trends I noticed this holiday season.  Trends that are encouraging and give me hope that the beauty of the Diwali celebrations is finally catching on – finally being recognized and acknowledged even by non-Indians.
Yes, folks, this year Diwali was bigger, louder and as a community I think we really made some noise!
Here are some of my notes:
1.  Senate Resolution 291 – a resolution recognizing the religious and historical significance of the festival of Diwali for Hindus, Sikhs and Jains – was passed by unanimous consent in the Senate on October 21, 2011.  Full text here.
2.  We got a special Diwali Greeting by President Obama (again) this year.
3.  I noticed more of my family members and Indian friends and business colleagues took the day off from work and school on Diwali this year. 
4.  My Inbox was filled with many messages from my non-Indian friends and colleagues wishing ME and my family a Happy Diwali.  This felt wonderful.
5.  Last but not least, I noticed more people were shopping for their kids compared with last Diwali season.  Although it is my personal hope that Diwali will not become overly commercialized and remain focused on family and spirituality, I am sincerely happy that more and more families are actually celebrating Diwali with (and for) their children.
Thank you all for letting Gnaana be a part of your Navratri and Diwali celebrations.  I hope the energy and excitement we tried to create on our site, and the articles and resources we offered helped to make your holiday season extra special.
And let's make even more noise next year!