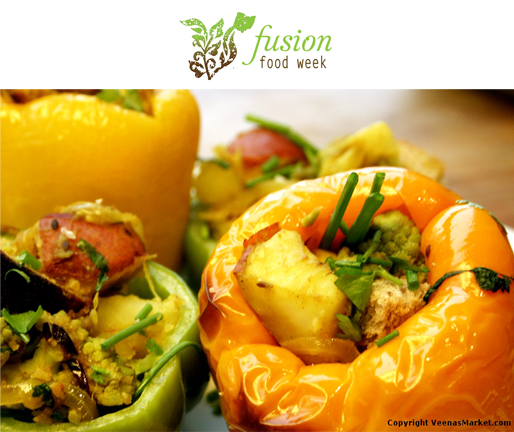 This post is authored by Veena Prasad, founder of Veena's Market – making it easy for people to cook Indian food at home with recipe kits that have all the right spices in just the quantities needed for a certain dish.  The recipes are written keeping in mind that while most customers cook, they may not have cooked Indian food before.  Veena also authors an Indian food and culture blog that focuses on making Indian recipes work in the modern kitchen while keeping alive the traditions she grew up with in South India.
Bell Peppers with Aloo Gobi Stuffing
One of my favorite things about Fall is Thanksgiving and one of my favorite things about Thanksgiving is stuffing!  I was eager to create a new stuffing recipe based on the popular Indian vegetable dish – Aloo Gobi (potatoes and cauliflower cooked and sautéed with onions and warm spices).  But apparently there is a shortage of organic cauliflower around these parts and my neighborhood grocery store was out of this vegetable.
My eyes spied the Romanesco Broccoli (also called the Romanesco Cauliflower).  Being fractal lovers, I knew my husband and I would appreciate it in our stuffing.  But it does have a slightly sharper taste than cauliflower.  Should I continue my search for cauliflower or would the Romanesco Broccoli work well with my recipe and would others like it?  There was only one way to find out.  I bought it!
Just one shelf down from the Romanesco Broccoli was brightly colored bell peppers, just calling out to me.  My recipe took another turn in that moment and I decided to stuff them with my aloo 'gobi' stuffing.
Sometimes when I experiment like this or make too many changes to a recipe, the dish doesn't turn out too well.  Fortunately, this story had a happy ending.  The bell peppers with aloo gobi stuffing were a visual and tasty treat.
So if you're looking for an Indian twist this Thanksgiving, here's a fabulous recipe for you.
Happy Thanksgiving!
Ingredients:
2 medium potatoes, cubed into 1 inch pieces (I used 2 small red and 1 medium white potato for extra color)
1 head of romanesco broccoli or cauliflower, chopped into 1 inch pieces
½ onion, sliced
2 cloves garlic, minced
3 cups cubed whole wheat bread
3 tablespoons high heat oil
1 teaspoon cumin seeds
½ teaspoon coriander seeds

1 teaspoon turmeric
1 teaspoon garam masala blend (or ¼ teaspoon coriander powder and ¼ teaspoon cumin powder)
¼ teaspoon cayenne or red chili powder
1 teaspoon lime juice
1 teaspoon salt or to taste
4-6 bell peppers to stuff (I like getting a mix of red / yellow and green)
Cilantro to garnish
1.  Preheat oven to 400 degrees Fahrenheit.
2.  Steam romanesco broccoli for 8 minutes once water starts boiling.
3.  Boil potato by placing cubes in pot, covering with water, bringing to a boil and then simmering, covered, for 9 minutes.
4.  Decide how you want to serve the bell peppers –  whole or sliced in half horizontally so the top and bottom halves can be used as cups.  If using whole, cut around the stem to remove it and the seeds from inside.  If using as cups, cut in half first and then remove the seeds and as much of the stem as possible while still keeping the 'cup' intact.  Rub olive oil on the outside and roast in the oven for 20 minutes.
5.  Heat oil in a large skillet over medium high heat till a cumin seed dropped into the oil starts to sizzle.  Sizzle the cumin and coriander seeds for 10 seconds.  Sauté the onion slices and minced garlic for 5 minutes or till the onion gets slightly brown.
6.  Mix together all the spice powders in a ¼ cup of water.  Mix and add to the skillet.  Stir well to incorporate.
7.  Stir in the cooked vegetables, bread cubes and ¼ cup of water.  Cover with a lid, lower heat to simmer and cook for 3 minutes.  Stir in lime juice and salt to taste.  Remove from heat.
8.  In the meantime, the bell pepper should have roasted for 20 minutes. Stuff each with the Aloo Gobi stuffing and put back into the oven for another 5-10 minutes depending on how soft you want your bell pepper.
9.  Garnish with cilantro and serve. You can also use other herbs like chives or basil.
© 2011 Veena's Market
Veena's Market
Veena's Market on Facebook