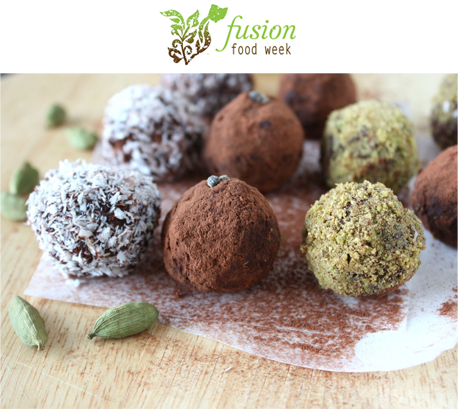 This post is authored by Urvashee Patel – a teacher, trained pastry chef, wife and mom (to one amazing boy) from New Jersey.  She is the founder of Dessarts, a blog about the art of dessert.  On the blog, you can find articles with recipes, techniques and just about anything dessert related.  She often includes fusion recipes inspired by her South Asian heritage.
Cardamom Chocolate Truffles
Almond, pistachio, cardamom, saffron, rose essence…these are the flavors that inspire many Indian sweets.  When I was a kid, I used to loath cardamom or "elaichi" as we call it.  It was in almost all sweets and a complete turn-off to most Indian desserts that my mom offered me.  I would always ask before tasting if whatever she was offering had any "elaichi" in it.
I now have a much more sophisticated adult palette and cardamom has become one of my favorite spices.  Now, I'll sprinkle a little into my sugar cookie dough, fruit compotes, anything apple or pumpkin, and even chocolate desserts.  I like to think that if my mom had only mixed it with some chocolate when I was younger, I would have discovered its greatness much sooner.  These chocolate truffles are infused with cardamom and are easy to make.  They are the perfect aromatic chocolate indulgence.

Yield: about 30 truffles
Ingredients:
6 ounces of quality semisweet or bittersweet chocolate,
finely chopped
1 cup heavy cream
10-15  green cardamom pods, crushed (or 1 ½ tsp of ground cardamom)

1 ½ Tbs unsalted butter

Toppings:
ground pistachios, cocoa powder, unsweetened shredded coconut
1.  Combine the cardamom and heavy cream in a saucepan.  Bring to a boil and remove from the heat.  (If you used whole pods:  cover and let it steep for about 30 minutes.  Strain the cream and discard the cardamom, returning the cream to the sauce pan.  Reheat the cream to a boil.)
2.  Pour the hot cream mixture over the chocolate in a large bowl.  Gently stir until the chocolate is melted.
3.  Stir in the butter.  Allow the ganache to set at room temperature.
4.  Pipe or spoon the ganache into spherical rounds onto parchment paper.  Refrigerate for at least an hour.
5.  Dust your hands with cocoa powder and roll the chilled ganache into spheres.  You can then coat it with either cocoa powder, pistachios or coconut by rolling the balls in the coating.
© 2011 Urvashee Patel
www.dessarts.com
Dessarts on Facebook