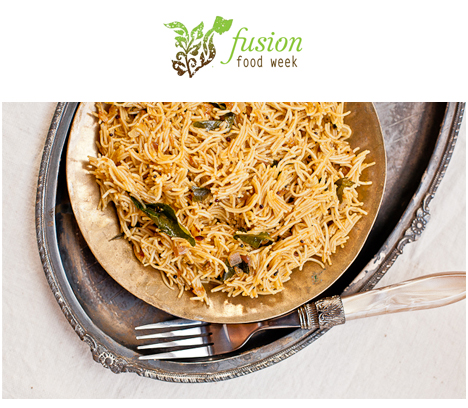 This post is authored by Prerna Singh – is a food writer and photographer who contributes to sites like Menuism, Meatless Monday and WFAEeats (NPR Charlotte). With a goal of making Indian cuisine approachable, she created Indian Simmer, a blog nominated for 2011 Best Food Blogs by Saveur Magazine. She loves traveling, exploring new cuisines and then trying them in her kitchen to later share them with the world.
Indian Stir Fried Noodles
You know how there are a few dishes that only your mom can make the right way?  Every person has one – so does my husband.  This stir fried noodles dish is one of them.  Its a very simple recipe using sevaiyan (thick vermicelli) with few ingredients involved but however hard I tried, I could never get it right for him.  Sometimes the noodles were too thin, the oil too little or sometimes it was just about the curry leaves.  I wondered if it was simply about a different set of hands.  So during my recent trips to India mastering this recipe was on top of my agenda and who better to learn from but the master herself!
I shared the same with mumma and I could see the excitement on her face just hearing that.  She made several trips to the chaurahe waali dukan (corner shop) until she found the right noodles, managed to pluck some curry leaves from the neighbor's plant while they were having their afternoon siesta and made sure I listened!  Yes, I listened and took notes.  After coming back home this was first thing that I cooked.  I did it again and again until I exhausted the whole stock of vermicelli that she had sent with me – until I came close enough to her taste.  I guess I can never make it taste like mumma's but close enough is good enough for me!  Here I am sharing the recipe with you.
Ingredients:
2 cups thick vermicelli (wheat vermicelli that you can find in any Indian market if not in your local store)
1/2 cups finely chopped onion
2 tbsp curry leaves (roughly chopped if the leaves are too big for you)
1 tsp black mustard seeds

1 tsp coriander powder
1/2 tsp curry powder
2 tbsp oil
1 tsp lemon juice
Salt
Water
1.  In a saucepan boil some salted water.  Set aside.
2.  Heat oil in a separate wide pan (or my mom-in-law uses an Indian wok).  Add mustard seeds.  Once they start to pop, add curry leaves.  Step aside after adding the leaves as they can pop and splatter oil on you.
3.  Add chopped onion and cook until its translucent.
4.  Add coriander and curry powder.  Mix and add the vermicelli (if you got long vermicelli, break them smaller – 2 to 3 inch in length).
5.  Fry the noodles for a couple of minutes for them to nicely coat in oil.
6.  Start adding water slowly.  A little less water can leave the noodles undercooked and a little extra can make them soggy.  So the trick is to add a little water, keep stirring for noodles to cook and at the same time extra water to evaporate.  Keep doing the same until the noodles are just a touch undercooked.
7.  Turn off the heat, add a splash of lemon juice, mix and cover the noodles for a few minutes.  Steam trapped in the pan will cook the noodles through.  Serve hot.
© 2011 IndianSimmer
www.indiansimmer.com
Indian Simmer on Facebook
Twitter: @indiansimmer