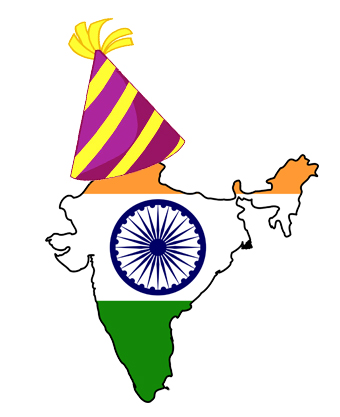 In the US, the average emloyee gets about 10 paid holidays.  And it's a fairly simple scheme – the holidays are either dates with patriotic or historical significance, or it's Christmas (the lone "religious" holiday).
What about India?  If you're familiar with the Indian calendar – it seems we're in a constant state of celebration.  We have birthdays of important historical figures (Gandhi, Tagore, Shivaji) and religious figures (Guru Nanak, Swami Vivekananda, Buddha), patriotic days (Independence Day, Republic Day) – and we haven't even touched upon all the Hindu, Muslim, Sikh, Jain, Buddhist and Christian holidays – some of which go on for up to 5 days!
While we were fixing the dates on our 2012 Calendar, it occurred to us that India may in fact be the only country to have such an inclusive holiday scheme – it's Central Government Holiday scheme contains 14 mandatory holidays which include ALL major world religions, with the exception of Judaism.  This includes 3 patriotic/historical days (Republic Day, Independence Day and Gandhi Jayanti), 2 Hindu days (1 for Dussehra and 1 for Diwali), 4 Muslim Days, 2 Christian Days, and 1 each for Buddhist, Sikh and Jain believers.  In addition to these 12 mandatory days, each of the states can choose 3 more "restricted holidays" to observe (such as Ram Navami, Ganesh Chaturthi, Holi, etc.).
What does this say about India?  Can it still be called a "secular" state?  Are there too many celebrations? 
However the pundits answer these questions, the Indian holiday scheme is an example to the world – showing that religions are NOT incompatible – and that (at least on paper) religious minorities should be recognized and accepted into the fold. 
In this spirit of Indian inclusiveness, we included all of the Indian holidays on our 2012 Calendar (and also added Jewish, Pakistani, Sri Lankan and Bangladeshi national holidays – ending up with roughly 3-4 highlighted dates per month).  So your Christian husband or Jewish in-laws can remind you that it's Holi tomorrow…
Too much partying?  But what is life without happy celebrations?