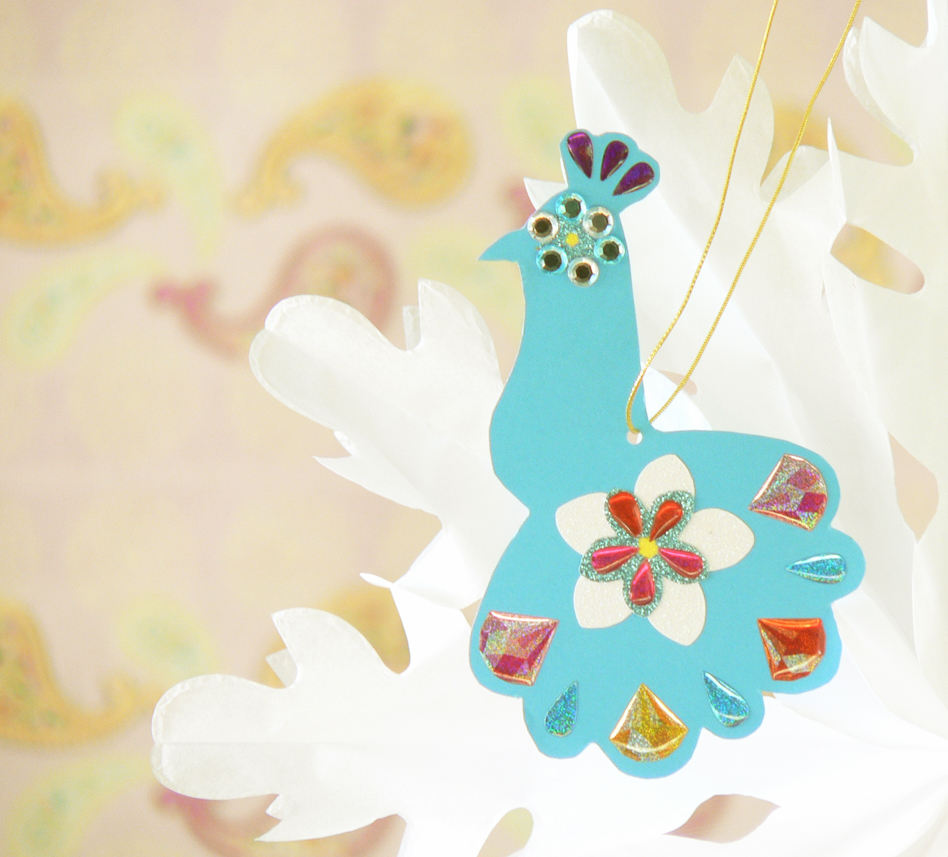 Looking for an Indian-inspired holiday craft to do with your kids?  Celebrate the gorgeous blue hues of winter with these easy-and-beautiful peacock ornaments.
Simply download our template here, cut onto colored cardstock and decorate.  We used jewel stickers, but you can use stamps, markers, colored pasta – or whatever you have in the house.  Group together for a whole peacock family!
The peacock isn't just famous for its pretty plumage – it is also India's National Bird – chosen perhaps for its beauty and its connection to the folklore and history of the country.  Here are some interesting facts to share with your kids:
1.  "Peacock" referes to the male bird.  Females are called "peahens" and babies are called "peachicks."  The term "peafowl" is used when talking about birds of either gender.
2.  A group of peafowls is called a "pride" or a "party."
3.  The peafowl is omnivorous.  Its diet consists mainly of  flower petals, seeds, plants, insects, reptiles and amphibians.
4.  The peacock's tail (called a "train") contains more than 200 feathers.  Because of its large train, the peacock is one of the largest flying birds on the planet!
5.  Peahens lay ivory-colored eggs that are about 3 times the size of a regular chicken egg.  The eggs incubate for about 28 days.
6.  There are 3 general types of peafowls:  the blue peafowl indigenous to India and Sri Lanka, the green peafowl from Java and Myanmar and the lesser-known Congo peafowl which lives in African rainforests.
7.  Peafowl can be very moody – they don't mix very well with other birds.
8.  Some people in India consider the eyespots on a peacock's train as "eyes of God."
9.  You can't hunt peacocks in India – they were put under the Indian Wildlife Act in 1972 and are fully proctected by the Indian parliament.
10.  The peacock is the vahana of Lord Murugan – Ganesha's brother!