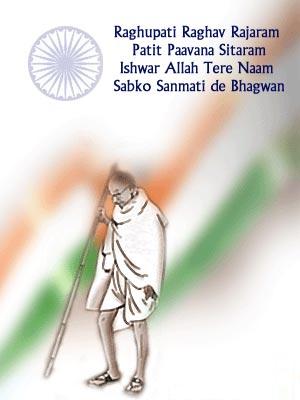 So last Thursday, my son donned his first jacket-and-tie for his school Holiday concert and looked ever-so-dashing singing Santa Drives a Hotrod and It never snows in L.A.  And my daughter – I just wanted to smooch her to death when she sang Rudolph on stage.  The finale, sung by the whole school, was Joy to the World (you know, the one that continues on with lyrics such as "the Lord is come….").  My husband and I exchanged "the look" – but whatever, it's a happy song, a happy season and we teach our kids that God is universal and that everyone has their own path to Him.
Then I get wind that the Greendale School District in Wisconsin, which had been planning a "multicultural" holiday concert, pulled Raghupati Raghav Raja Ram from its three elementary schools after "a parent or two complained and felt offended about a religious saying in the song."  (Quote from here.)  However, other multicultural songs, such as Feliz Navidad, a Kwanza song and the Hebrew song Hava Nagila remained.
Cool that Greendale thought to include such a beautiful (and historic – it was Gandhi's favourite and sung by his followers during the Salt March) bhajan.  Not cool that they chickened-out because 1 or 2 narrow-minded parents complained.  Maybe they didn't get the fact that the song itself aims to be inclusive (one of the lines is "Ishwar Allah tero naam" ("Ishwar and Allah are your names").
Here's 3 words for you Greendale:  Equal–Protection–Clause (oh, and Due Process).  And I hear the ACLU is on it.
Image via Google Images