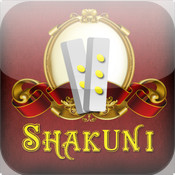 Want to play that game of dice from The Mahabharata:  Chausar?  Check out Shakuni for the iPad.  I presume it comes with instructions (but hopefully not with Shakuni's trick dice)!
Apparently chausar is an intelligence and skill-building game (though technically still gambling) that is mentioned in ancient texts perhaps as far back as the Vedas.
Maybe I should re-think my decision against owning an iPad and get with the times.