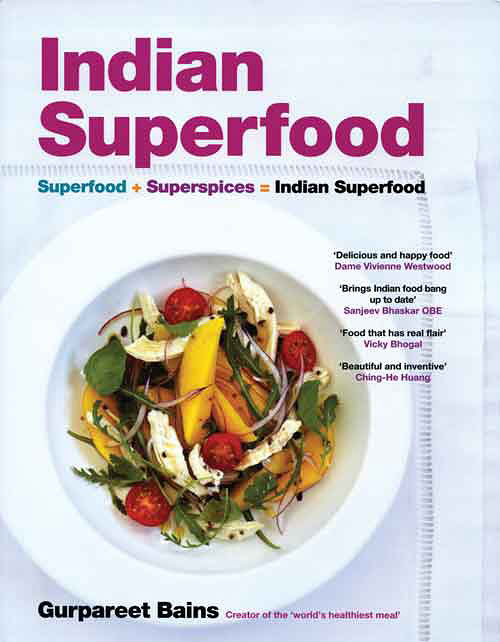 The recipes have been reviewed by the Duke and Duchess of Gloucester and the book has been all the rage in the UK.  It's Indian Superfood
 by chef Gurpareet Bains.  The premise is that you take Superfoods (foods containing antioxidants and vitamins which promote good health and fend off disease) + Superspices and you get:  Indian Superfood.
How about Naans with Seaweed and Roasted Pumpkin Seeds?  Or Ginger-Infused Yogurt with Honey and Pomegranate for breakfast?  Or "the world's healthiest meal":  Chicken and Blueberry Curry with Pilau Rice and Goji Berries.  A single serving of this apparently contains as many health-boosting antioxidants as 49 bowls of spinach, 23 bunches of grapes or 9 helpings of broccoli!
Though I do wish there were more vegetarian recipes, this is a book that'll be getting a lot of time on the cookbook stand.  Good thing my kids love to eat (super)spices.
Available for purchase on Amazon.com
.  Also check out the Gurpareet Bains' website.