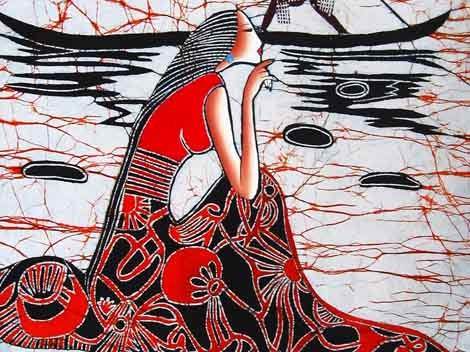 India's iconic garment – and quite possibly the world's most ancient living garment:  where did it all begin?
"Sari" comes from the Sanskrit "shati" (strip of cloth) and/or "chira" (cloth).  Although The Mahabharata specifically mentions the sari (it was the focus in the scene of Draupadi's disrobing) the earliest known actual depiction of a sari is a statue of an Indus Valley priest wearing a drape.  So the sari is at least dated to 3,000 BC (and quite possibly well before that).  However, our Indus Valley ancestors apparently wore it draped dividing the legs – more like a dhoti.
Here are 2 other intersting points about India's ancient sari:
1.  Great importance was given to long drapes of unstitched fabric.  This emphasis was perhaps due to the fact that needles of bone were used for stitching and that this made the garment "impure."  Thus, cholis (blouses) were originally not worn.
2.  The weaving of a sari also has spiritual connotations:  it was believed that the weaving of this cloth was a metaphor for creation.  The thread was the foundation and the weaver was the architect or creator of the universe.
Makes you feel pretty special when you wear one, eh?
Reference: Exotic India Art
Image:  Batik Painting