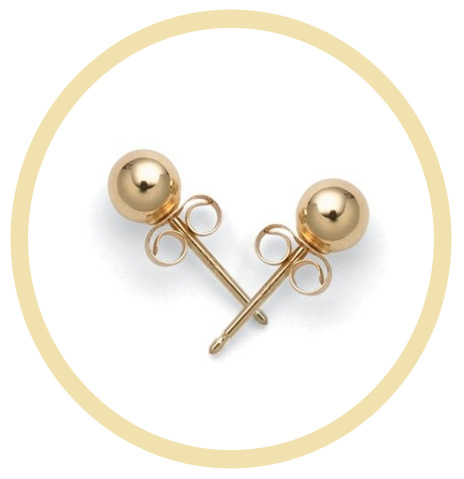 Earrings, that is.  I suppose for girls these days it's a matter of when, but the Hindu tradition is to pierce boys' ears as well.  Ear piercing, or Karna Vedha, is actually one of the 16 major Hindu Samskaras and, as with all other samskaras, comes with rules, rituals and rationale.
The Karna Vedha is the 6th of the childhood samskaras – to be performed within the baby's first year (dates vary widely – anywhere from the 12th or 13th day of birth up until 7 months) or either during the child's 3rd or 5th year.  The ceremony is quite simple:  it was to be performed in the morning, the child was to be positioned facing the east and given some sweet-meats, and then the right ear was to be pierced first (while reciting a verse) followed by the left ear (and another verse).  The ceremony concluded with a feast.
The reasons for ear piercing – apart from the obvious desire for ornamentation of course – are less clear, although some say it has some therapeutic value.
Whatever the tradition, if you have a girl, the pressure is on from friends and relatives alike.  For my little girl, we waited until she asked for it (Because, mommy, my best friend R. has grey ones.  Pout, pout…puppy-dog-face…), which happened to be right after she turned 3.  She was the bravest little girl in the mall that day, didn't even flinch and waltzed around so very proud of her new blue crystal studs.  It was worth the wait to see her so happy that day!
Source: Rajbali Pandey's Hindu Samskaras