Archive for March, 2012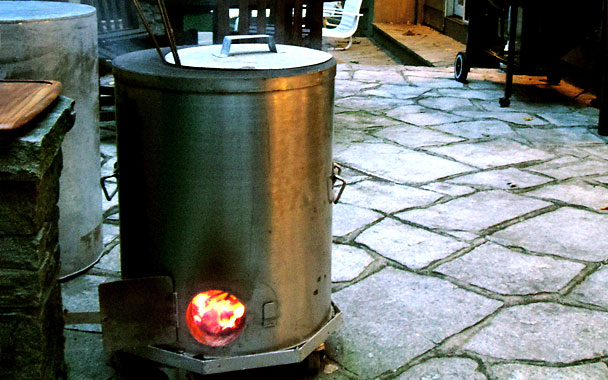 Have a grill?  How about a backyard tandoor?  At 800-plus degrees, they're not exactly kid-friendly, but oh to taste those flavors…
Available from Gulati International.  Prices start at $350.  Read also this article in Gourmet about tandoors.
image via Gourmet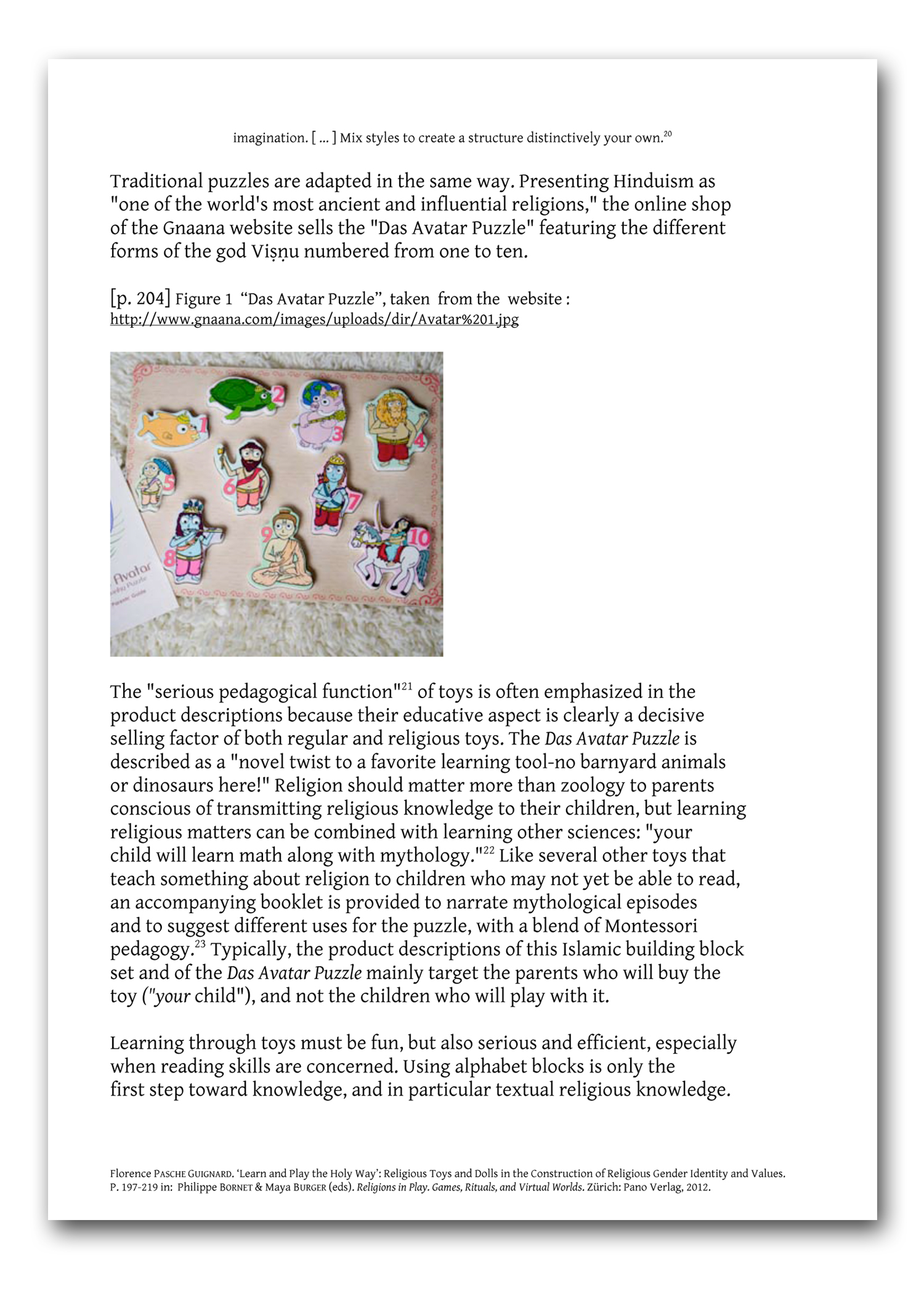 I'd like to think that what we're doing at Gnaana is not all about fun and games – that our products serve a serious and necessary pedagogical function.
Well today I am proud to announce that some of Gnaana's products have been included in a publication by the University of Lausanne in Switzerland entitled Religions in Play.  Games, Rituals and Virtual Worlds.  Specifically, Ms. Florence Pasche Guignard authored a chapter in the book on the subject of religious toys and dolls and their role in the construction of religious gender identity and values in children.
It is a fascinating read on the role of toys and how they play a role in the "construction of a specifically religious or cultural identity" (direct quote from the chapter).  Gnaana's alphabet blocks are mentioned on page 203, and our Das Avatar Puzzle is pictured and discussed on pages 203-204.  In addition, I am also personally quoted in Endnote 10 – a quote which stemmed from a conversation with Ms. Guignard as to why there are almost no "Hindu" toys available on the market (in comparison to the more general availability of Christian, Jewish and Islamic toys).
Ms. Guignard and the publisher have generously agreed to let us make the full text of the chapter available to Gnaana's readers.  You can access it here.  (Credits:  Florence Pasche Guignard. 'Learn and Play the Holy Way': Religious Toys and Dolls in the Construction of Religious Gender Identity and Values. P. 197-219 in: Philippe Bornet & Maya Burger (eds).  Religions in Play.  Games, Rituals, and Virtual Worlds. Zürich: Pano Verlag, 2012.)
Thank you Ms. Guignard ( and the University of Lausanne) for your scholarly inquiry on the topic of religious toys. 
It is my personal belief that when we help children develop a strong cultural and religious identity, this in turn helps them to be more confident and secure about themselves – and more tolerant of others.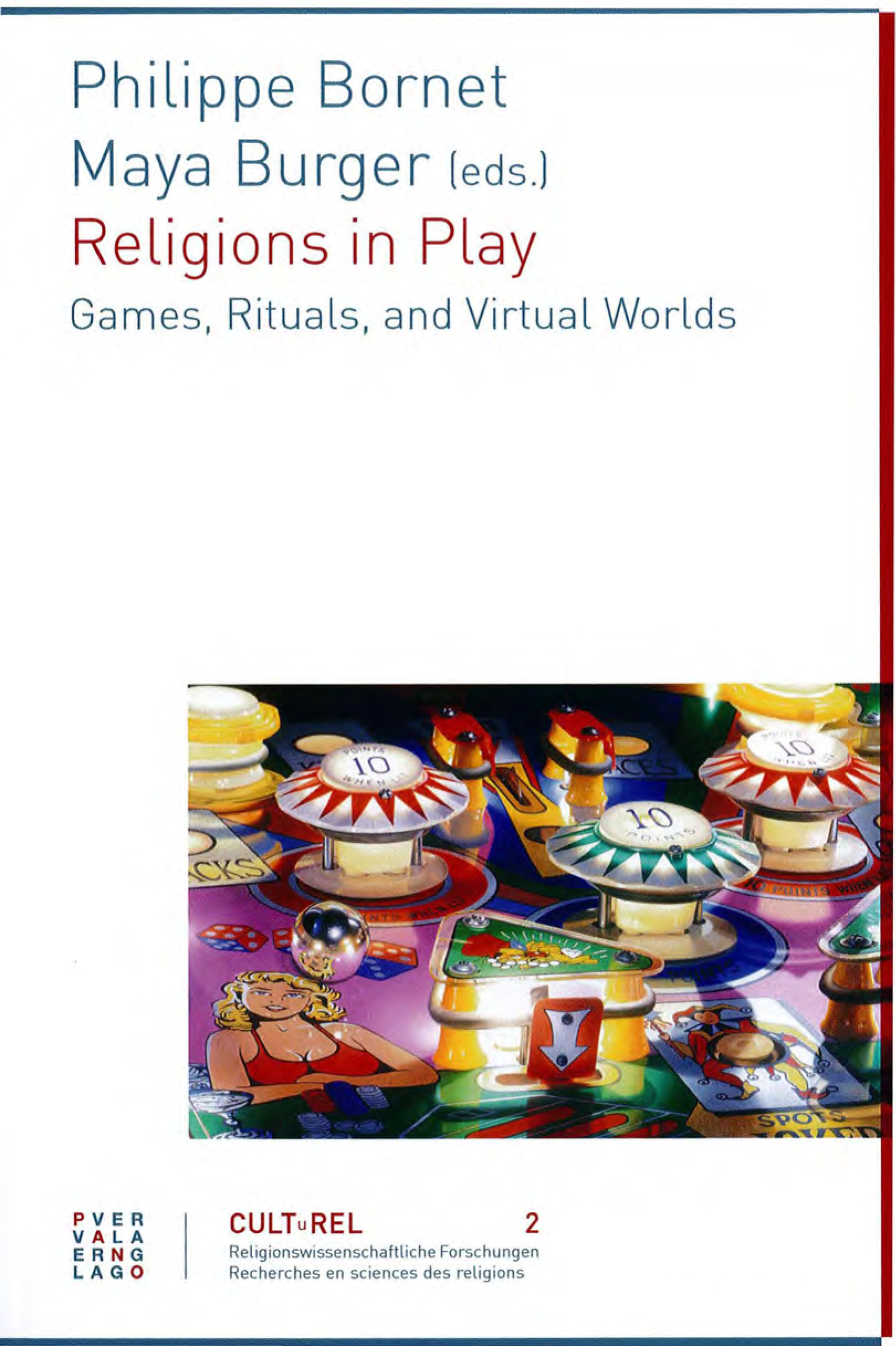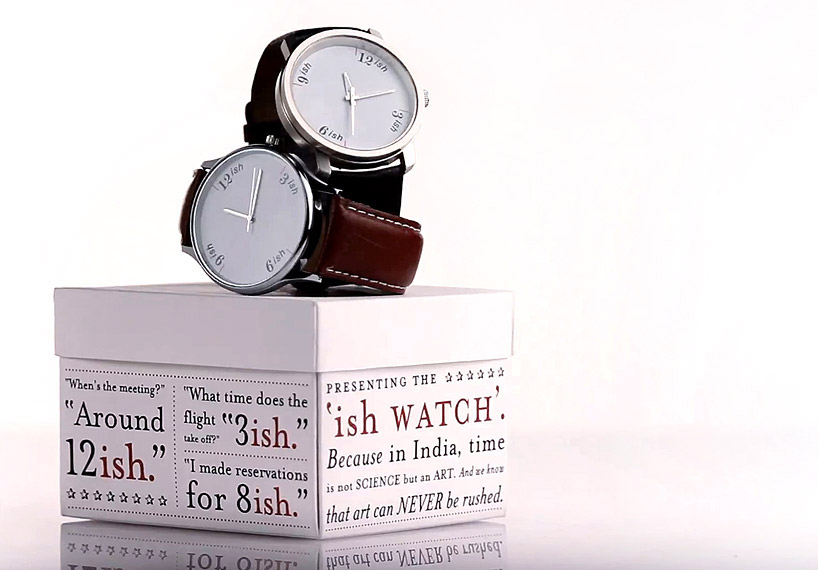 Indian Standard Time…We all know what that means.  So the Ish Watch designed by Prassana Sankhe needs no introduction.  Available exclusively through Filter.
For more images (and a video), see here.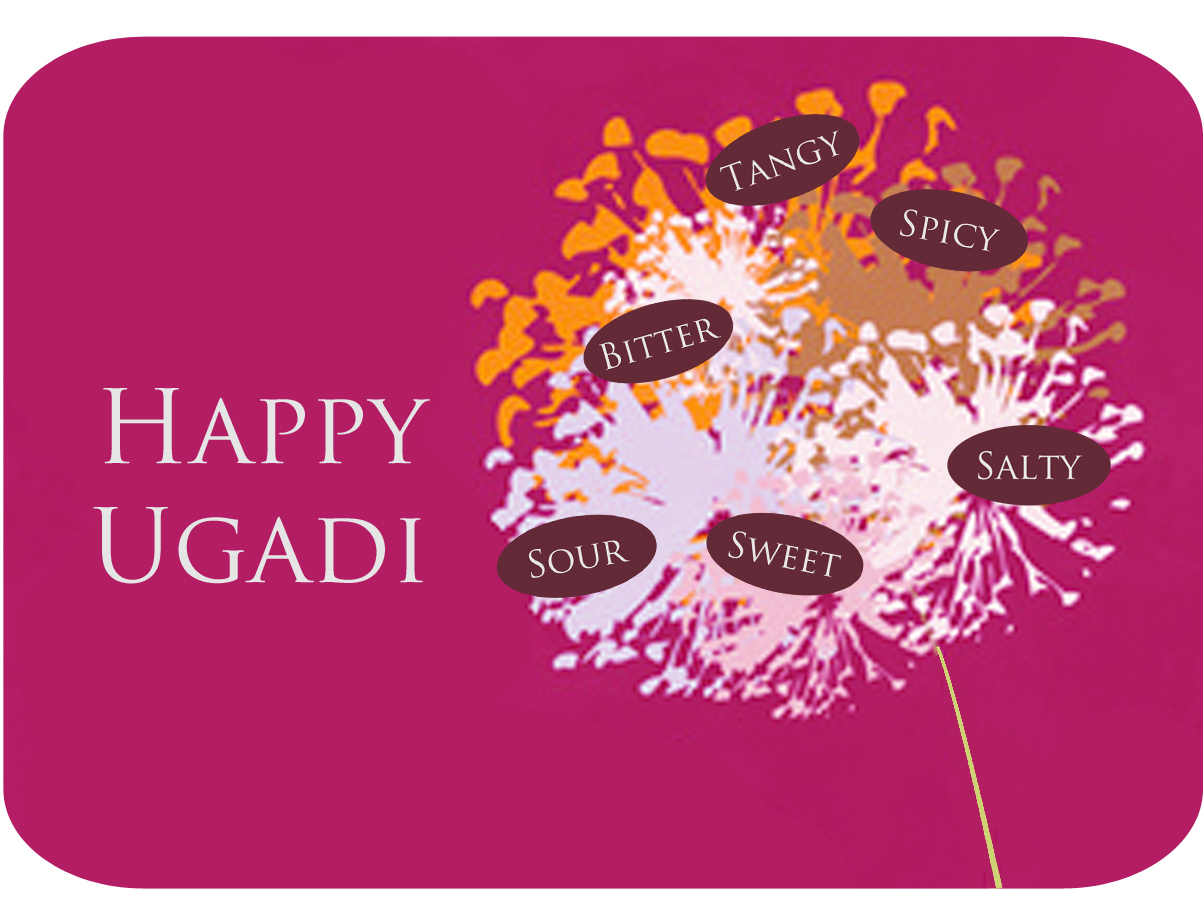 Happy, Happy New Year (for some)!  A bouquet of flavours – c'est la vie!
See our previous posts here and here for ideas to celebrate with your kids.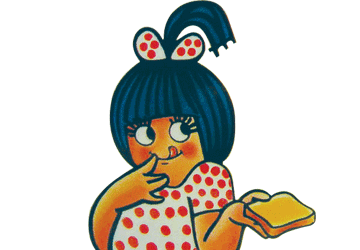 I was flipping through my Indian Matchbox Art
 book – kind of a visual history of India – and I remembered the Amul Butter Girl.  I suppose she's akin to India's "Gerber Baby" – an icon in her own right (last year Kerala's Chief Minister even insulted Rahul Gandhi by calling him an Amul Baby).
Whenever something eventful happens in India or the world, Amul is there with an ad.  Here are a few that struck me:
On Phelps: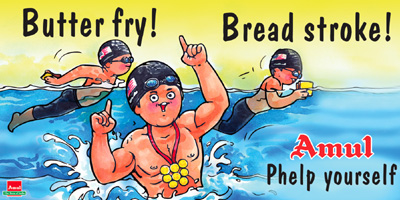 Not sure when this is from: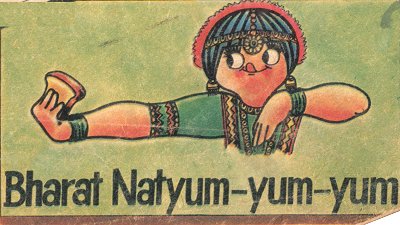 On Russia's proposal to ban the Gita: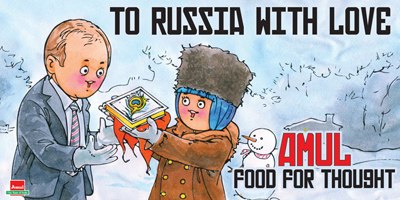 On reported meter tampering by Mumbai autorickshaw drivers in 2011: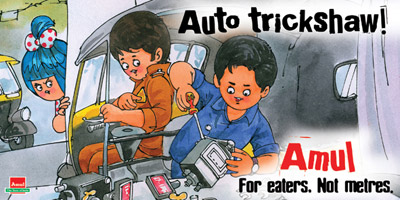 On Obama's visit to India in 2010 (for the non-Hindi folks, "khana" is food):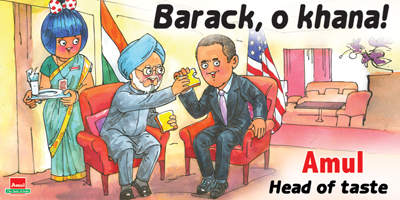 You can see more on Amul's website.
All images via Amul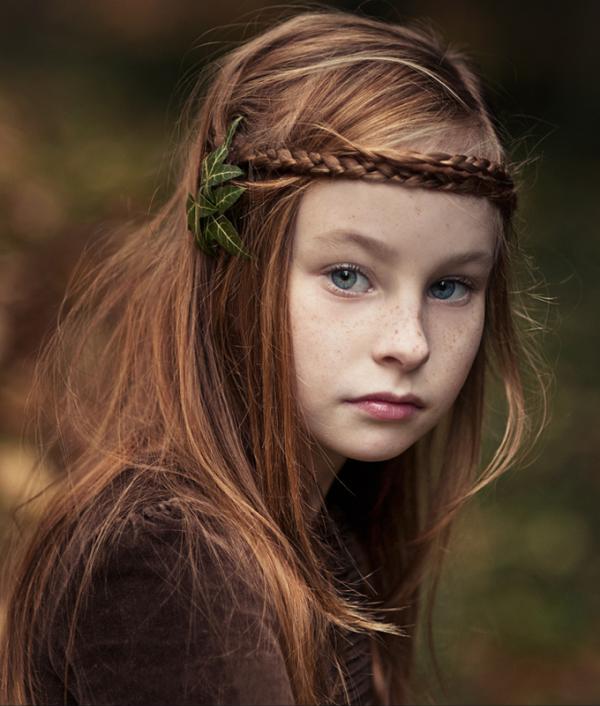 I spent most of my childhood in twin braids – a remnant of village India which my teenage rebelliousness swiftly quashed.  It took me years to get over my braid overdose, but now that I have a daughter, I find myself re-visiting The Braid…
Above, gorgeous styling (image via Magda Berny):
Below, love that flower (image via Style Me Pretty):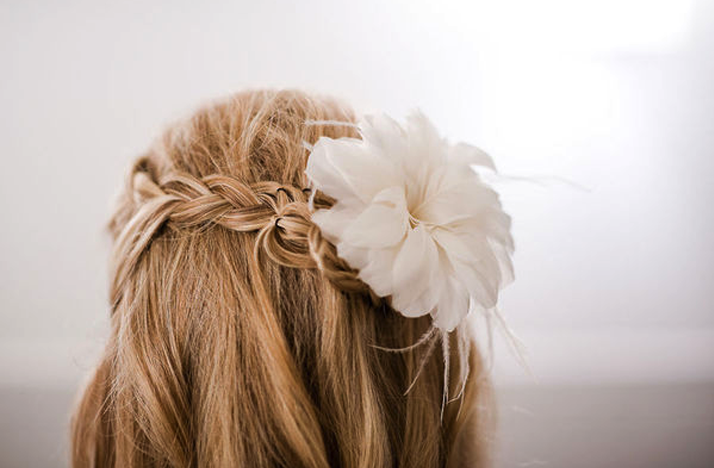 I have never dared the waterfall braid (image and tutorial via love Maegan):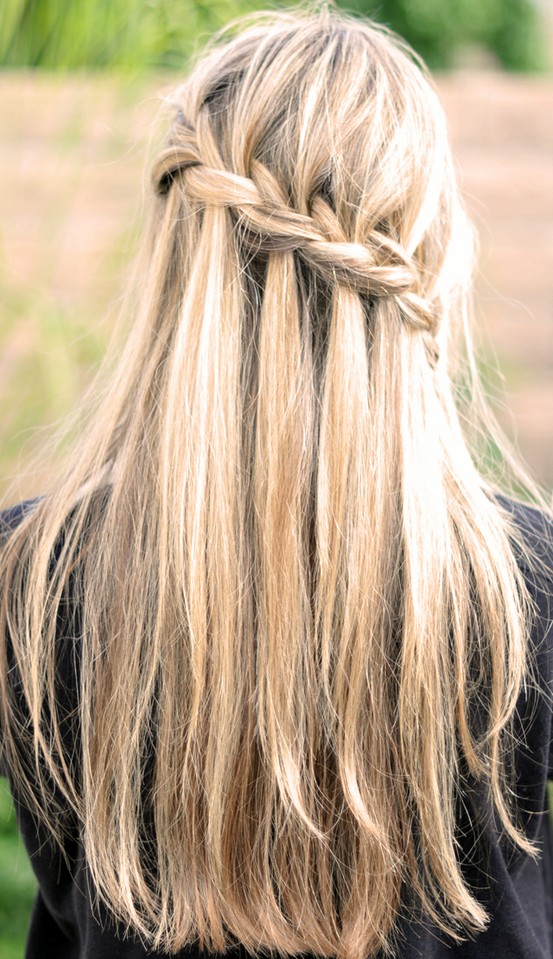 Another version of the waterfall (image via The Frugal Girls):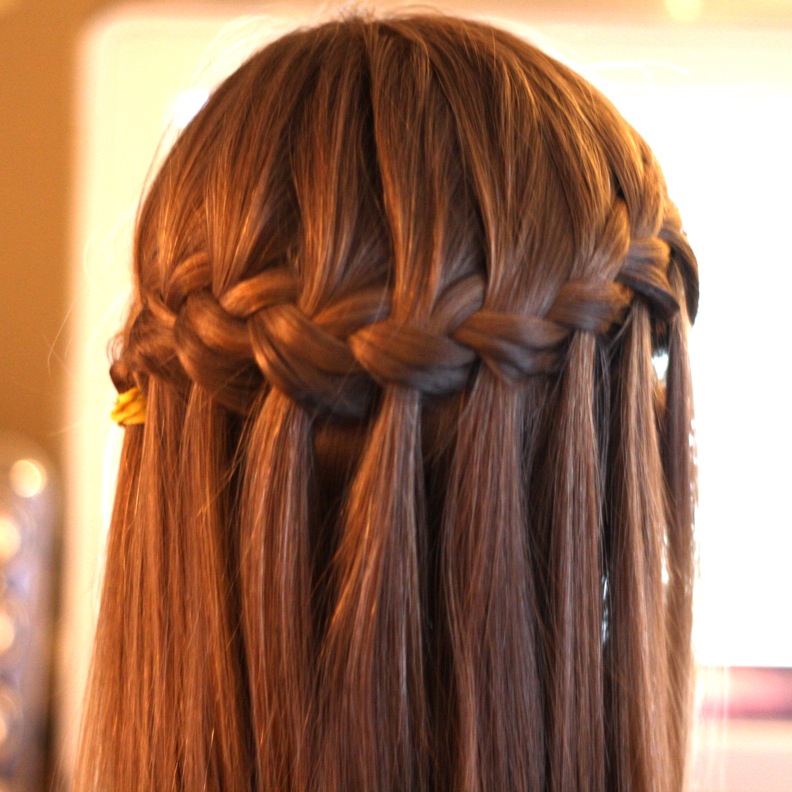 I often do this on my daughter (image via Google Images):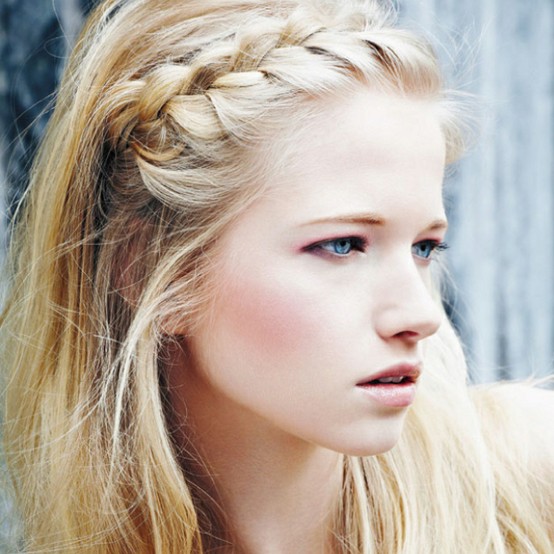 Love this snap (image via Google Images):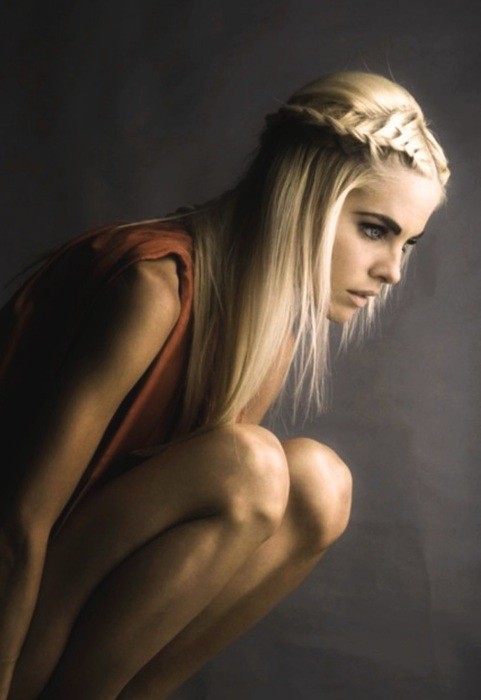 I could never do this (image via here):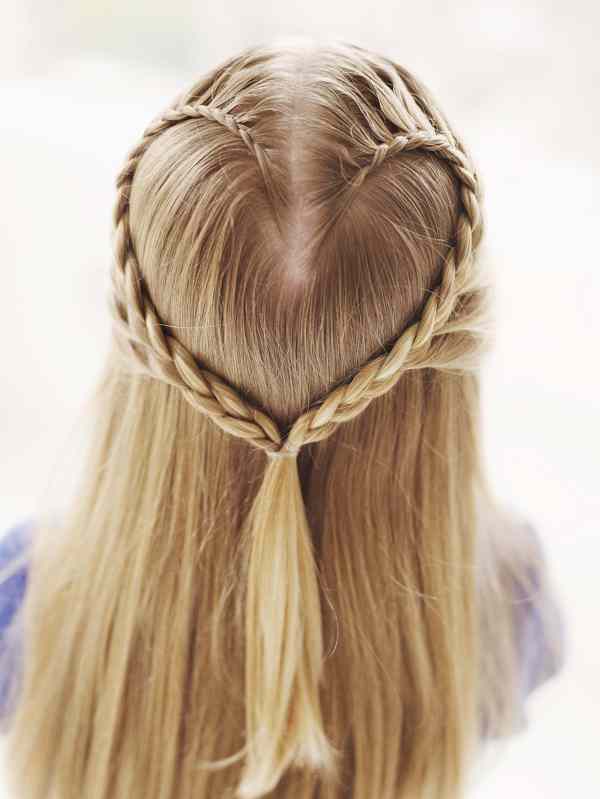 Unique and adorable (image and tutorial via here):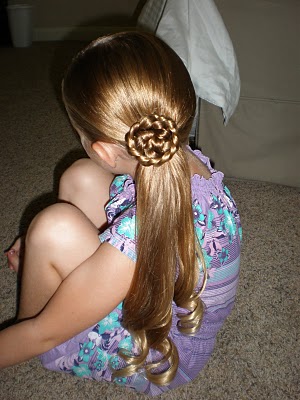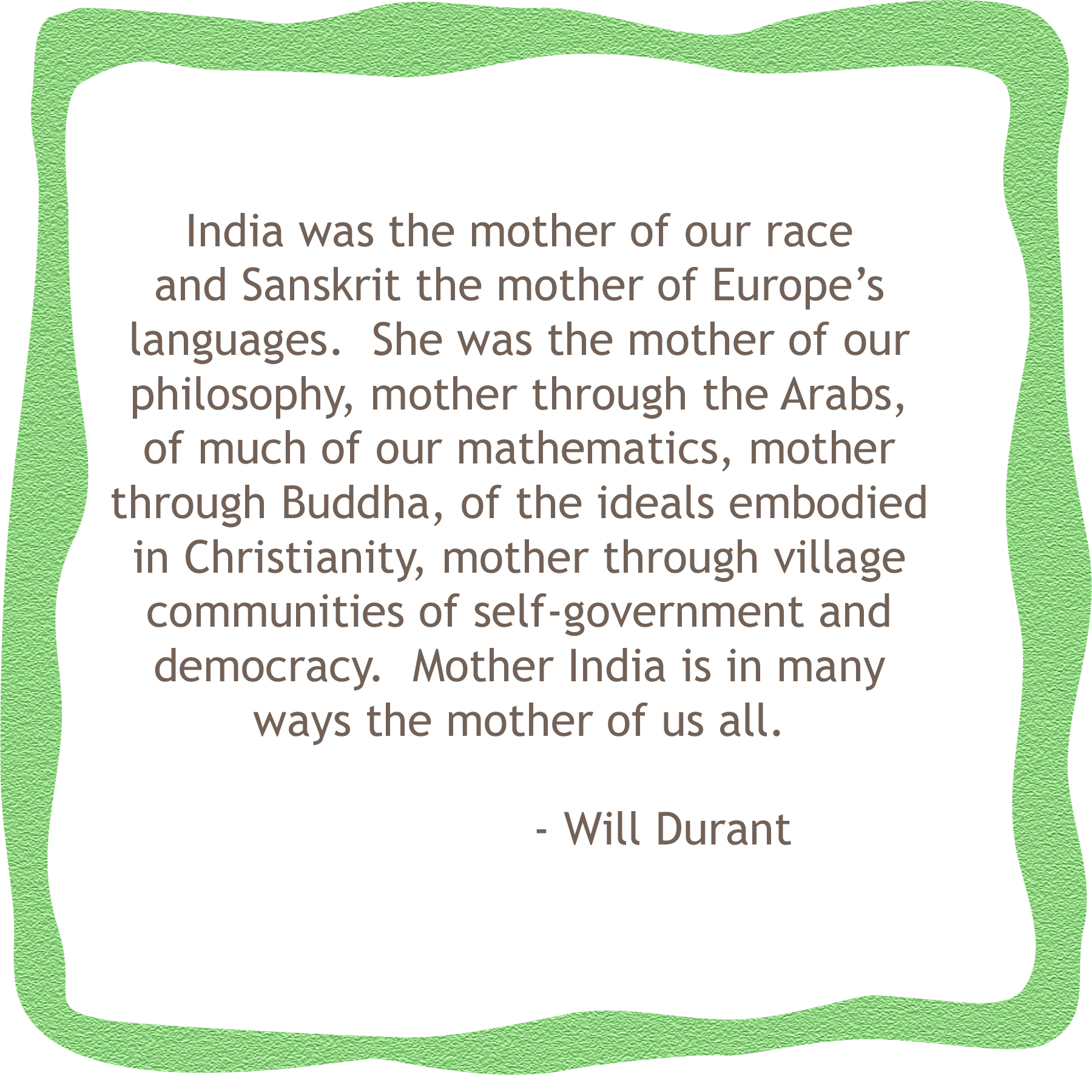 Wednesday's post about Sanskrit reminded me about my favourite quote about India (above) by Will Durant. For those of you who are unfamiliar with Durant, he was an American historian who, together with his wife Ariel, wrote the ambitious 11-volume The Story of Civilization
.  I have a deep admiration for Durant – perhaps in part because he was such a broad-minded and principled man – which his writings really reflect.  Or maybe it's because his books are something both my husband and I can share.  I think in our dreams, we wish that we were Will and Ariel – devoting our lives together to the writing of history.  How utterly romantic…
Durant seemd to have truly loved India – and he recognized it's contributions to human history.  He also wrote The Case for India (a scathing expose on the realities of the British Raj) – a book that we recommend on the Gnaana reading list.  My husband and I paid several hundred dollars for this book, and it's our prized item in our book collection.
Thank you, Mr. Durant.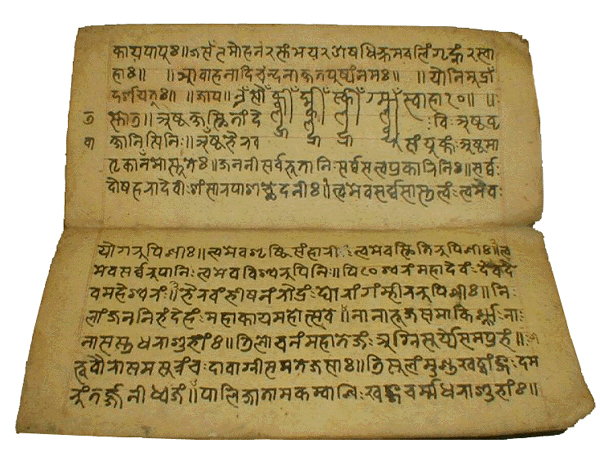 What do we really know about Sanskrit?  We know that it's one of the world's most ancient language  and heavily influenced English and many European languages, and that Hindus use it when reciting hymns and prayers, but what else?  Here are 5 interesting facts about Sanskrit:
1.  Sanskrit originally did not have a written script – as it was an oral language.  The earliest known inscriptions in Sanskrit (about 1st century BC) are in the Brahmi script.  So Sanskrit was written in many regional Indian languages including Oriya, Bengali, Tamil, Telugu and Kannada.  Today, the Devanagri (Hindi) script is used to write Sanskrit.
2.  Sanskrit is a highly regularized language.  In fact, NASA declared it to be the "only unambiguous spoken language on the planet" – and very suitable for computer comprehension.
3.  Sanskrit is an official language of the Indian state of Uttarakhand.
4.  Today, there are a handful of Indian villages (in Rajasthan, Madhya Pradesh, Orissa, Karnataka and Uttar Pradesh) where Sanskrit is still spoken as the main language.  For example in the village of Mathur in Karnataka, more than 90% of the population knows Sanskrit.
5.  Even a Sanskrit daily newspaper exists!  Sudharma, published out of Mysore, has been running since 1970 and is now available online as an e-paper (sudharma.epapertoday.com)!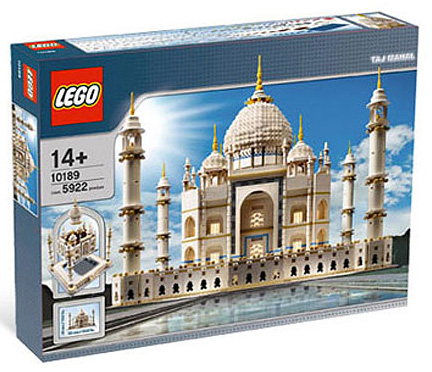 Hands down, LEGO is a great toy.  But you may not have seen any of these Indian-themed LEGOs.  Most of these are discontinued, but may be available on the collector's market.
Above, a 5,922 piece LEGO Taj Mahal
.
Below, a LEGO Temple – complete with a banyan tree, meditating sages and even a small-scale wedding!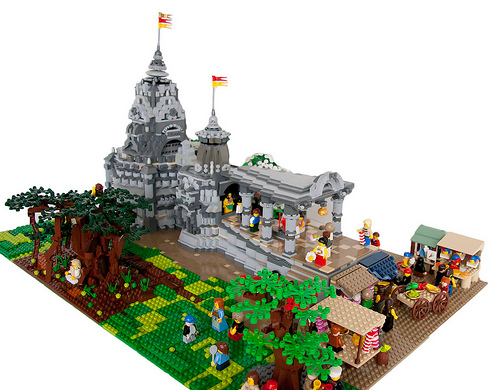 Part of the LEGO Orient Expedition series
, which are played as games once they are built: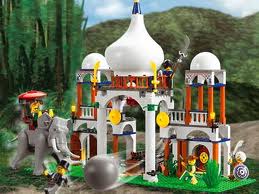 And just for fun, a life-size pandal constructed in West Bengal during Durga Puja!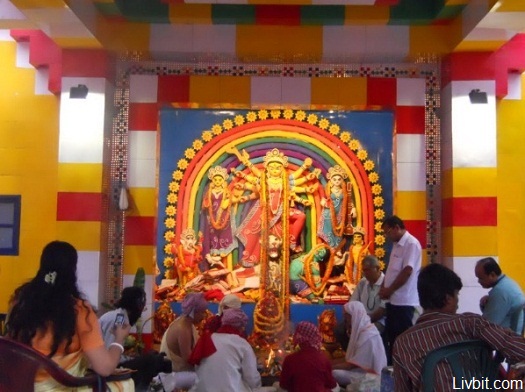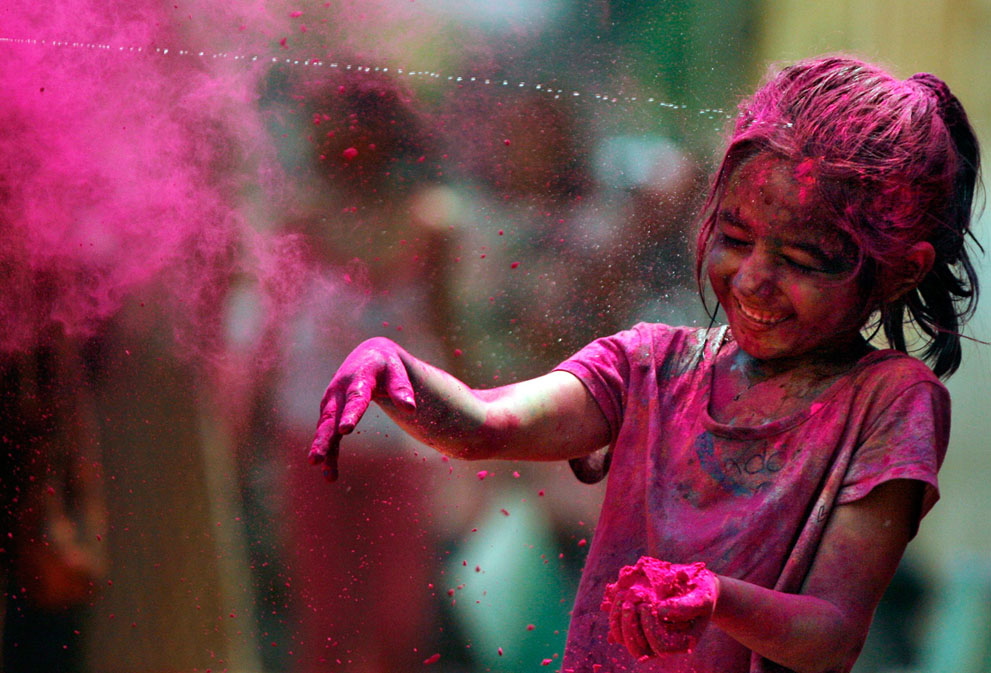 Gorgeous pictures of this year's Holi celebrations all across India up for viewing on The Atlantic's website.
Happy Holi!
image via The Atlantic