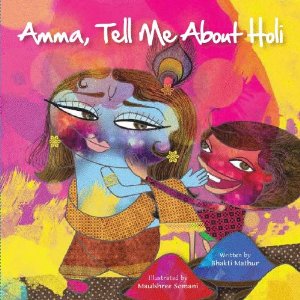 This post is authored by Bhakti Mathur – author of Amma, Tell Me About Holi
.  Originally from Dehli, she is now a banker based in Hong Kong, where she lives with her husband and 2 sons.  The book is the first of a series which aims to introduce children to Indian mythology and festivals.
"Holi hai, bhai, Holi hai, bura na maano, Holi hai" – the universal evocation associated with Holi says it all about the festival and what it means for me.  A warning as well as a plea for forgiveness, both rolled into one, it is the license for indulging in all sorts of naughtiness and fun-filled pranks that one would otherwise not dream of committing on any other day.  Throwing water-filled balloons at strangers from rooftops, creeping behind the strict and scary older uncle and drenching him with a bucket of cold water, singing and dancing with friends and family with gay abandon while colouring each other with the brightest of colours and eating the most fattening of savories that one would otherwise stay far away are just some of the things that the memory of Holi evokes.
Mounds of gulaal in bright colours – red, blue and yellow laid out in the stalls in the bazaar, the buzz in the air, the smell of gujiyas being fried, the wait for uncles, aunts, cousins and friends to arrive, getting ready with the pichkaris, and gulaal (mixed with boot polish and silver paint for that extra effect) … is what makes Holi so special.
The other special memory of Holi that has stayed with me was listening to the story of brave Prahlad and evil Holika and of Radha and Krishna playing Holi….as narrated by my grandmother to a bunch of eager children huddled around her.   She told the same story every year and the fascination was evergreen…. my favourite part was when Krishna colours Radha blue and starts the tradition of rubbing colours on Holi.
All this seems like eons ago.  Now as a mother of two sons, aged four and two, I am keen to share with them the fun that I had on our festivals and the wonderful stories behind them …and this is what inspired me to write the Amma Tell Me Series of which Amma, Tell Me About Holi
is the first book.  I hope that you and your kids will enjoy reading this book as much as I enjoyed writing it.  It's a lovely festival..and if I have to put it in two words, I would say Holi is about letting go….of inhibitions and of the past and welcoming the New Year with open arms…
May this year and every year ahead be full of colours for you.  Happy Holi!
© 2012 Bhakti Mathur
www.ammatellme.com