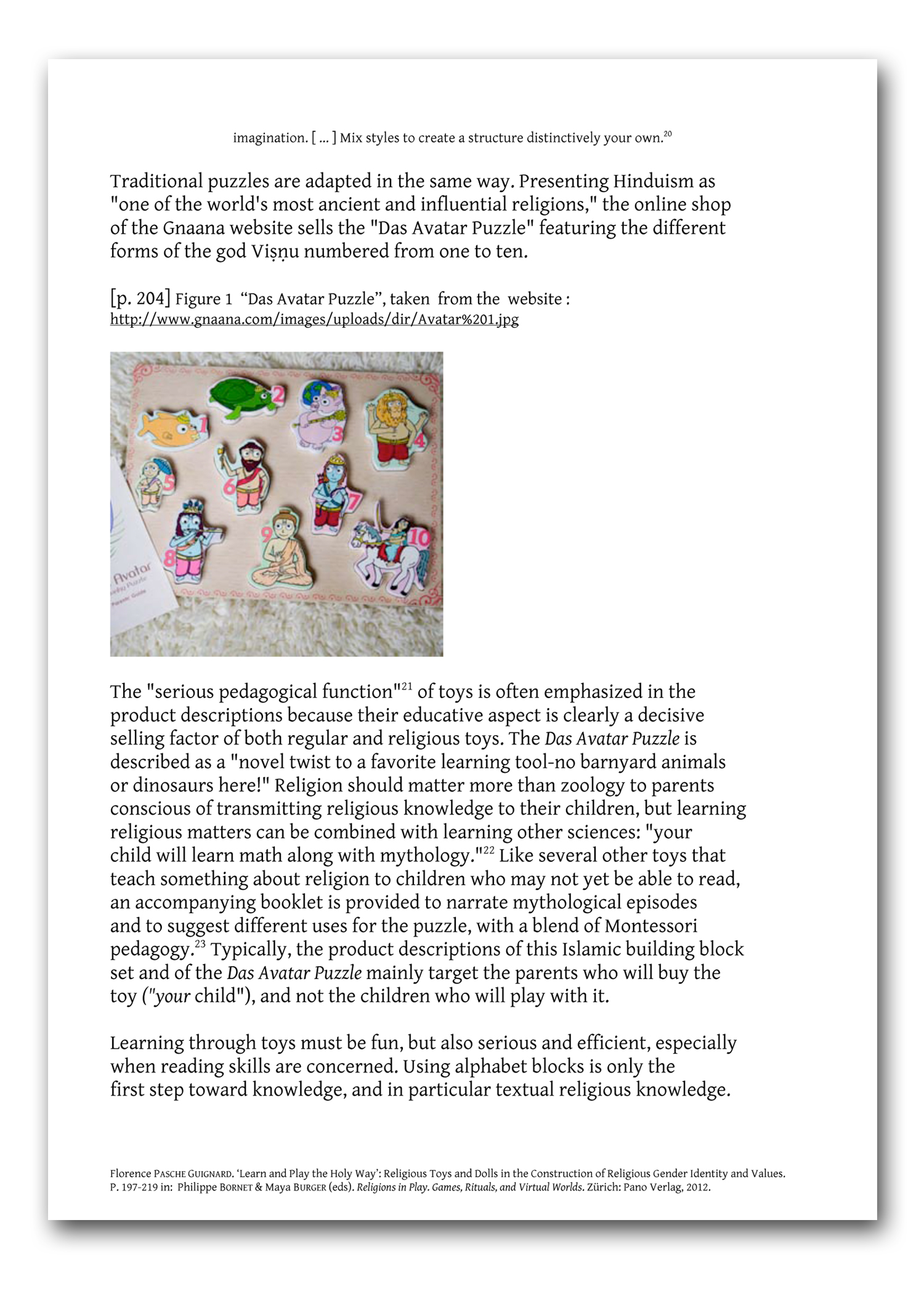 I'd like to think that what we're doing at Gnaana is not all about fun and games – that our products serve a serious and necessary pedagogical function.
Well today I am proud to announce that some of Gnaana's products have been included in a publication by the University of Lausanne in Switzerland entitled Religions in Play.  Games, Rituals and Virtual Worlds.  Specifically, Ms. Florence Pasche Guignard authored a chapter in the book on the subject of religious toys and dolls and their role in the construction of religious gender identity and values in children.
It is a fascinating read on the role of toys and how they play a role in the "construction of a specifically religious or cultural identity" (direct quote from the chapter).  Gnaana's alphabet blocks are mentioned on page 203, and our Das Avatar Puzzle is pictured and discussed on pages 203-204.  In addition, I am also personally quoted in Endnote 10 – a quote which stemmed from a conversation with Ms. Guignard as to why there are almost no "Hindu" toys available on the market (in comparison to the more general availability of Christian, Jewish and Islamic toys).
Ms. Guignard and the publisher have generously agreed to let us make the full text of the chapter available to Gnaana's readers.  You can access it here.  (Credits:  Florence Pasche Guignard. 'Learn and Play the Holy Way': Religious Toys and Dolls in the Construction of Religious Gender Identity and Values. P. 197-219 in: Philippe Bornet & Maya Burger (eds).  Religions in Play.  Games, Rituals, and Virtual Worlds. Zürich: Pano Verlag, 2012.)
Thank you Ms. Guignard ( and the University of Lausanne) for your scholarly inquiry on the topic of religious toys. 
It is my personal belief that when we help children develop a strong cultural and religious identity, this in turn helps them to be more confident and secure about themselves – and more tolerant of others.