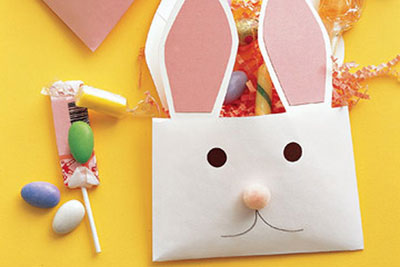 "But I don't celebrate Easter at home."  This is what my son told his teachers.  I think they responded with something along the lines of, "well, you can celebrate it in school."
Awkward.  Partly my fault for not explaining it very well to him.  When he asked me what Easter was, I told him it was a spring holiday that Christians celebrate, like when Hindus celebrate Holi.  After the comment at school, I had to tell him that it was OK to have fun with Easter eggs and candy – and that everybody can celebrate the fun parts of each other's holidays.  Then I said next year he could bring his American friends to celebrate Holi with us.  I think it settled the issue for him.
Then I came across  news that Australia has imposed new regulations that would penalize childcare centers if they required children to take part in religious or cultural activities (link here).
I don't know if I handled the matter in the right way, but I had a laugh when my son brought home an Easter bunny craft – a paper mask with paint splatters all over it.  "Look, Mommy, the Easter bunny was playng Holi."
That bunny is going in a frame.
Image via Google images