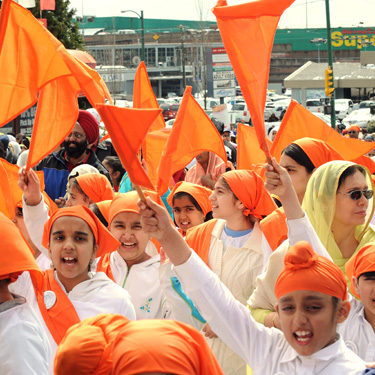 Leave it to Vancouver (and neighbouring Surrey) to host what's perhaps the largest Vaisakhi parades outside of India.  Millions of Sikhs worldwide celebrate Vaisakhi on April 14 – perhaps the most day on the Sikh calendar – which marks the establishment of the Khalsa in 1699.
Vancouver's Vaisakhi Parade is expected to attract 50,000 while Surrey expects between 80,000 – 200,000.  The events includes not just a parade but also floats, live music, rides and free food.
And what percentage of Americans would scratch their head and give you a blank stare if asked if they knew anything about Sikhism?
Navjot Kaur, author of A Lion's Mane and Dreams of Hope, has more on the topic and has also compiled a terrific teaching guide about presenting Vaisakhi to kids and in schools.
image via Vancouver Sun