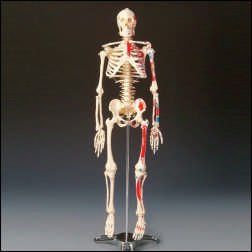 With all the physicians (and aspiring physicians) in our Indian community, I'm surprised I don't see more of these in my friends' homes.  I didn't know this, but for the price of a restaurant meal, you could buy your very own full child-size Model Skeleton
.  I guess I never thought to look.  An epiphanous moment indeed.
With both of my kids declaring they want to be "surgery doctors" (I had NOTHING to do with this – I swear.  I refuse to do what was done to me…), this will most certainly be our next gift purchase.  If anything, it will help field their incessant questions about the human body.
I just won't put it any closet (eeeek!).  Playroom maybe.  But not a closet.