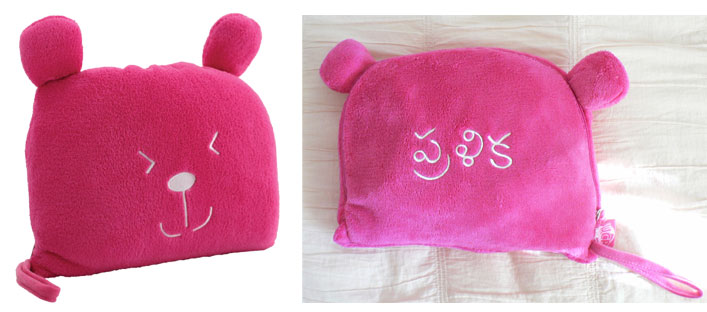 Last year it went like this:  old fitted crib sheet and a mini fleece throw from the garage, stuffed into a reusable grocrey back with my daughter's name written in Sharpie.  Sad…very, very sad…
This year, we are styling with the Undercover Bears Blanket Sack by Lug (in a hot pink chosen by the Little Miss Rani herself).  It comes with a just-the-right-size blanket and an inflatable pillow (which we leave at home).  I fold-up a crib sheet – and it all zips together as a cute little bear.
And no more Sharpie.  Gnaana's embroiderer did her name in Telugu – something my daughter is extra proud of, as she gets to show her teachers and friends how her name is written in "my other language."
Of course my son wants one now with his name, even though 1st-graders don't have naps.  For airplane rides, Mommy.
Available via Luggage Pros