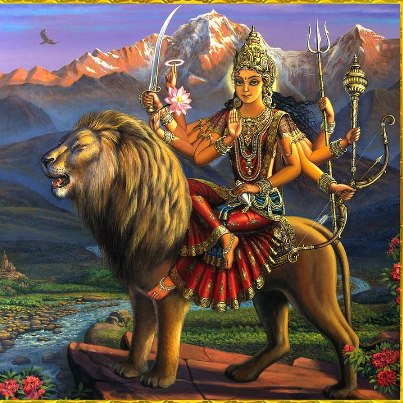 For most Hindus, Goddess Durga is the central figure during the Navratri celebrations (while others worship Lakshmi and Saraswati as well – devoting 3 days to each Goddess).  But how do you explain Durga to kids?  Here are some Durga FAQs:
1.  Who is Durga?
Goddess Durga is many things.  She is worshipped as the Mother of the Universe and is said to protect her devotees from harm and also to remove thier hardships.  She is said to have incarnated as Mahishasura Mardini to defeat the powerful buffalo-demon Mahishasura.  As the male gods were powerless and could not defeat Mahhishasura, they came together and created Goddess Durga and endowed her with shakti (divine power).  Durga defeated Mahishasura in a fierce battle, which lasted 9 nights (10 days) – celebrated today as Navratri.
2.  Why does she have so many names?
Well, she's a complicated woman!  Durga has many incarnations – and 9 forms (each with a name and a purpose – more on this later).  She is worshipped as Kali, as Parvati and with different names in different parts of India – Chamundeshwari (in Karnataka), Shaarika (Kashmir), Maha Gauri (Goa) and many others.
3.  Why does she have so many arms?
Durga is often pictured with eight or ten hands.  These arms represent eight quadrants or ten directions in Hinduism – suggesting that she protects her devotees from all directions.
4.  Will that lion attack her?
The lion is her vahana (vehicle).  Just like the lion, Durga has power, will and determination – qualities we all should strive for to overcome ego.
5.  Did she steal weapons from Vishnu and Shiva?
No, they are gifts from Vishnu and Shiva.  In her manifestation as Mahishasura Mardini, Vishnu gave Durga his Sudarshan Chakra (and conch) and Shiva gave her his Trishul (trident).
image: Durga Ma by Vrindavan Das via Fine Art America