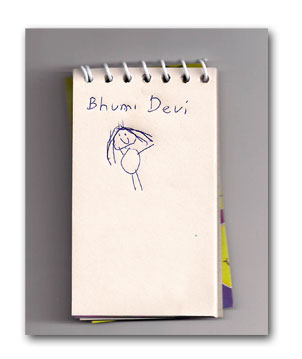 November was quite a month.  As if Diwali, my daughter's 4th birthday and the launch of the new Rayil website were not enough, our family had to pack-up and move out of our current home and squeeze into a (very small) rental condo.  Reason?  We are demolishing the existing one-story (and very old/outdated) structure to construct a brand new 2-story home.  The new home design is inspired by principles of Vastu Shastra and incorporates many "green" features – courtesy of an award-winning LA architect and a builder who specializes in green construction (more on this later!).
Obviously it is big event in our family.  I've stated before that one of reasons I love our culture is because it is our tradition to make a big deal about these major life events.  As per tradition, we performed a Bhumi Puja at the property with our family and close friends (more on this later too).
I briefly explained to the kids that we were performing this puja to ask for the blessing of Bhudevi – Mother Earth:  to ask for her forgiveness for disturbing her and to pledge to treat her earth with care and respect.  In the midst of all the chaos, my dear son managed to find a little notepad and pen and draw a picture of Bhudevi. This was his way of honouring the Goddess during our prayer ceremony.
Melt my heart.  This one is getting framed.