Archive for January, 2013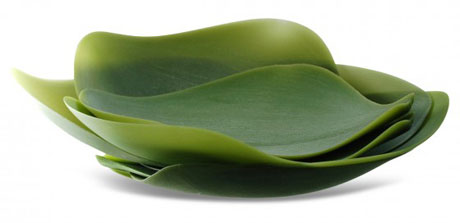 We wrote about these Nao Tamura Banana Leaf Plates awhile back (see here).  Many of you commented and emailed asking where to buy them.  We spotted them the other day at Unica Home.  What fun for the kids!
A little Village India in your home – well, sort of…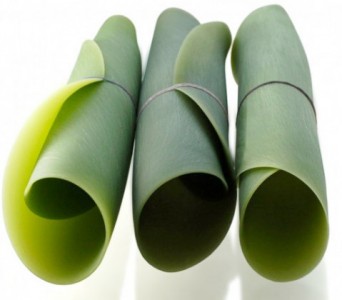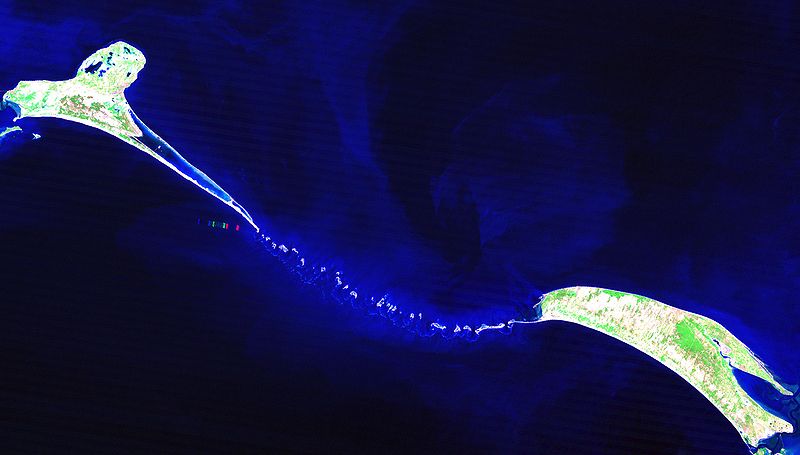 "Did the Ramayana really happen?"  Your kids have probably asked you this.  So what do you say?  Possibly?  Probably?  Or…it's just a story?
Above is a picture (via USGS and NASA) from September 2007 showing "Adam's Bridge" (also called Rama's Bridge or Rama Setu) – the area between Rameshwaram and Sri Lanka's Mannar Island.
So was it "man-made" or just a natural collection of sand banks?  Even Indian politicians and the Supreme Court has considered this (read here).
But kids, on the issue of writing Rama on rocks and then walking on them:  don't try this at home…
image via USGS/NASA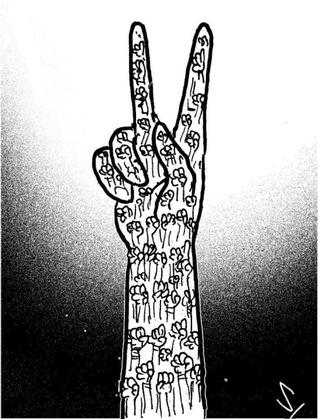 The events in Delhi (you know, about the r-a-p-e) have been front and center in the Indian newspapers – probably longer than usual.  I thought, however, that emotions would soon dissipate and the event was soon to be forgotten – like many other news events do.
So I was surprised to  hear that the Indian government actually commissioned a report to study and recommend changes to the India's criminal laws to protect women.  Issued in a record 29 days – it gives me hope that someday women will feel more safe and empowered.
However, there are skeptics – who say India will "never change" – citing cultural barricades that, in part, blame women for "letting this happen to them."
Is there any country so complex as India?
Read a good opinion article here.  Full text of the report here.
image via The Hindu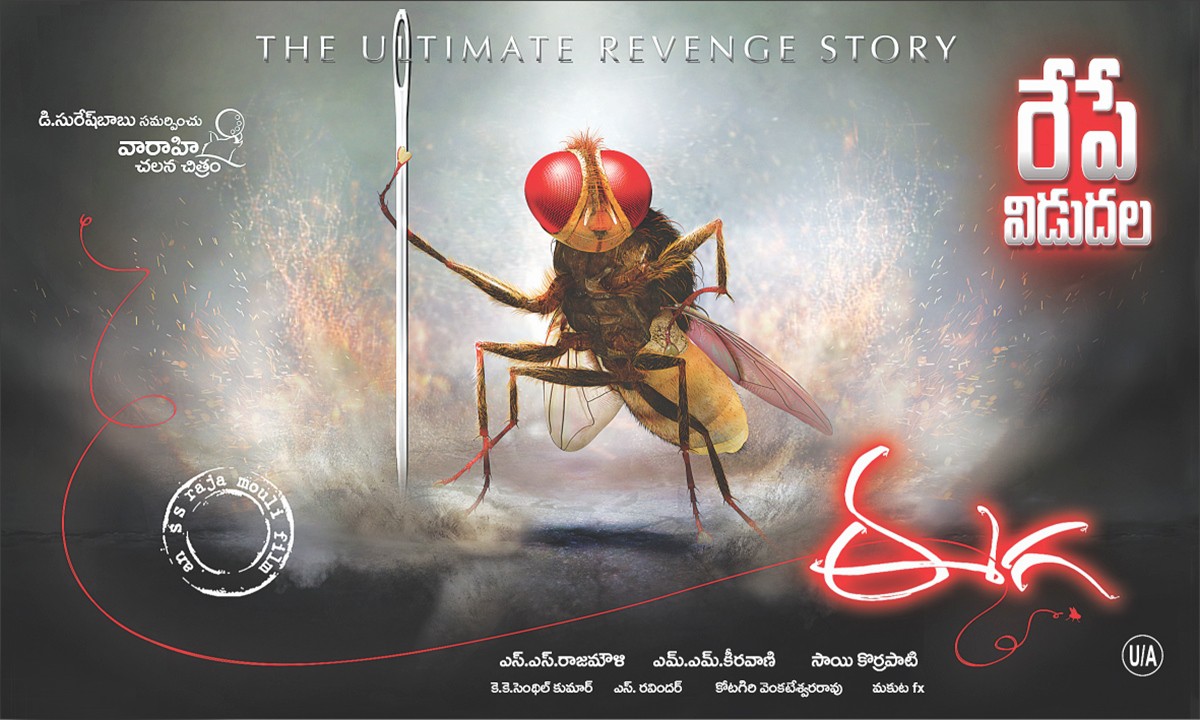 If you're Telugu and have kids, you've probably heard of the movie Eega ("fly") – about the adventures of a (computer generated) fly.  It's being touted as a movie for kids – "fun for the kids"…"kids will love the graphics"…
It's also about a love triangle – and one man murders another to secure the woman – with the murderee reincarnating as a Fly to get revenge.  So, no, it's not really a kids movie.
It could have been a cute movie for kids…but how is this level of violence OK for kids?
My kids have seen this (but only with a copious amount of fast forwarding) and laughed.  It was so very nice to watch something modern in our language.  They even came up with a storyline for a sequal:  dhoma (mosquito) – prompted no doubt after their War on mosquitoes during our recent trip to India.
But, really, filmmakers: for kids, this was a lost opportunity.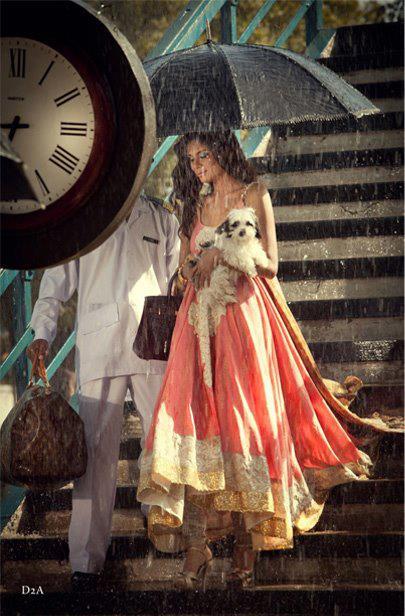 If I had to pick one – this is the one that sticks in my head.  Its by famed Pakistani label Sana Safinaz.  Something about the rain, the umbrella, the aura of a railway station – and that gorgeous salmon pink.  A modern woman on the go:  I want to be her.
What's your favourite fashion picture?
image via Sana Safinaz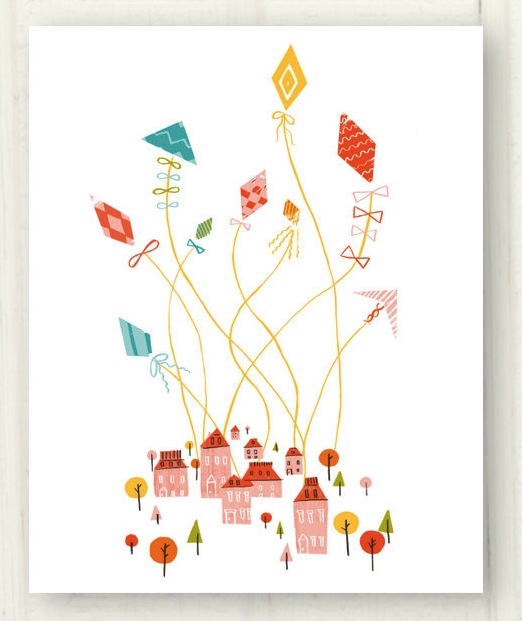 Happy Sankranthi to all of our readers!
How much do you know about this joyous festival?  Take this QUIZ.
image: "Let's Go Fly a Kite" via This Paper Shop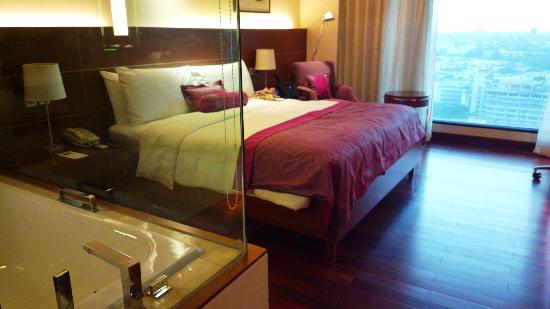 After roughing it in rural Andhra, we felt like royalty at The Lalit in New Delhi.  Centrally located near Connaught Place, it was nice to see wood floors and modern decor (not to mention stunning artwork all around the hotel).  With an elaborate breakfast, a pool and great views, this hotel was surprisingly priced mid-range.
And the bonus: we discovered a neatly kept playground a couple blocks from the hotel (perfect for the kids while I was in business meetings).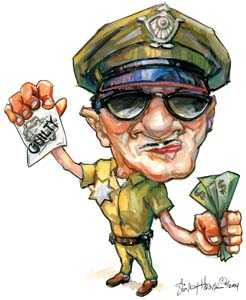 I though it wouldn't happen this trip.  But I had too much faith that India had changed (at least a little?) in the bribery department.  Well, in Hyderabad at least.
It happened near the Charminar area. We were in my uncle's car and a police-gaadu stopped us for a still-unbeknownst reason.  Apparently the proper paperwork wasn't in the car.  We offered 100. The police-gaadu asked for 800. We settled on 200.
Bitter.  Sorry, Hyderabad, I cannot speak highly of you at this point in time.
image via Google images
This is one of my favourite snaps from our trip.  To me, it shows a collision of worlds and of cultures.  The "American Girl" (my daughter) comes to town – and no one knows what to make of the other.  So they stare…
This was taken in my father's village, Tamirisa, a place even many Andhra-ites have never heard of – but which holds a special place in my heart.  It was here that I felt like a mini-celebrity when I came to visit – where we would cut leaves from the mehendi tree for fresh mehendi (which the girls would let dry on our hands as we chatted into the wee hours of the night), where I remember many vibrant August festivals and family reunions, and where I was never allowed to leave without fresh flowers in my hair.
So after having to spend upwards of 4 hours a day in a car in the big cities, I think the kids appreciated the freedom of the Village.  They got to run around the dirt road without fear of cars, take baths outside (with water boiled on the stove), visit the village elementary school, brush their teeth with neem twigs (too bitter they decided) and pet a 4-day-old buffalo calf.
The real India.  Can't wait to return again soon.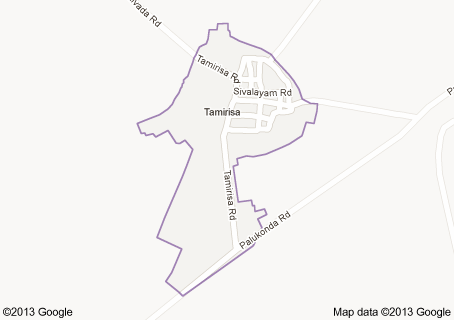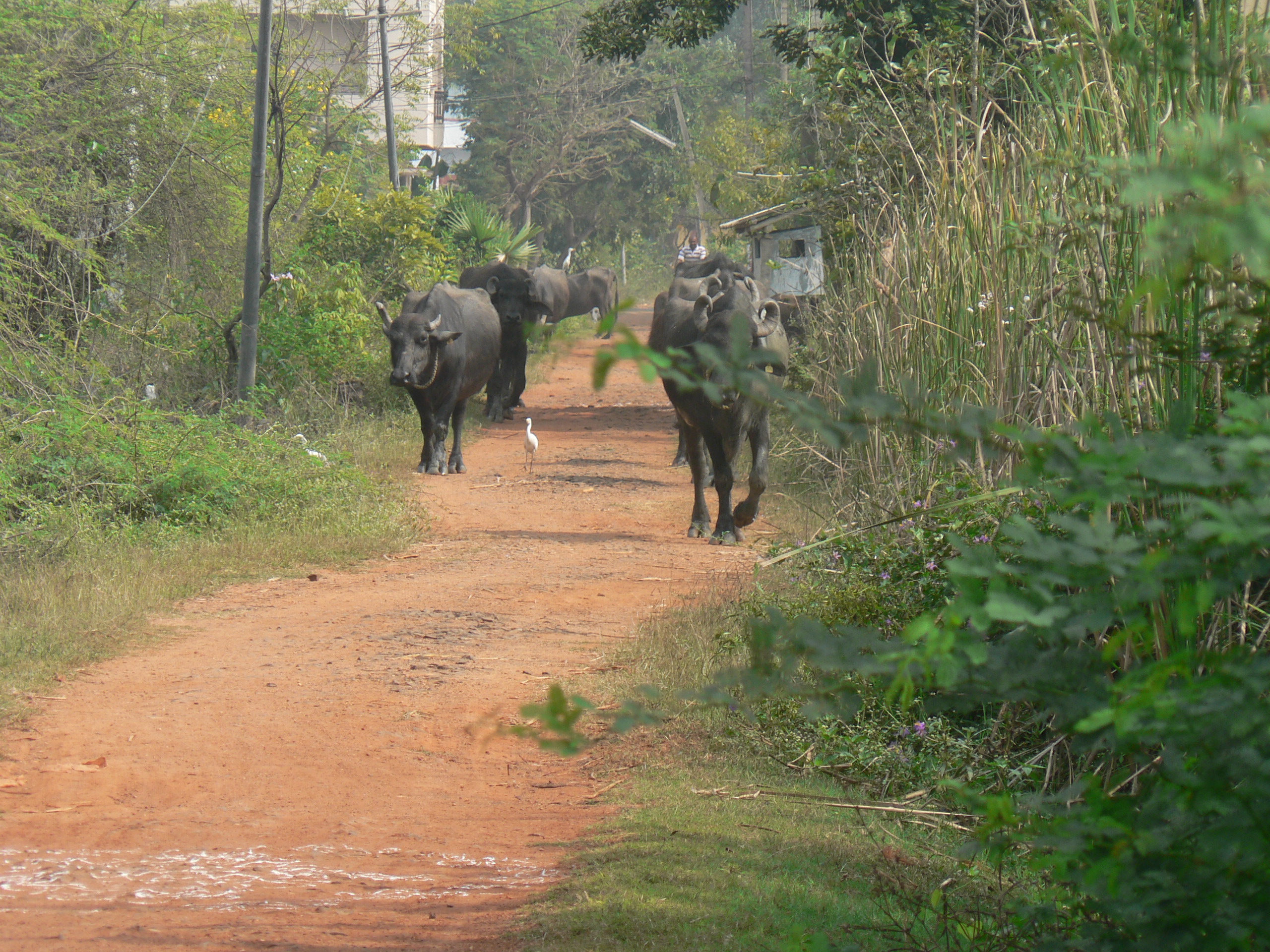 What sound do buffaloes make?  That's the question of the day as we migrated from busy Bangalore and Hyderabad for a few days in the villages of Andhra Pradesh.
I take pride in the fact that my parents come from some of the smallest villages on the planet – deep in the heart of rural AP where barely any English is spoken, and even the bus numerals are in Telugu.  So I'm very happy my kids got to spend some time there.
One of the highlights of our stay was when the kids asked for milk one afternoon, and my aunt in turn asked her neighbor, who actually keeps buffaloes, to "squeeze some out" for them.  So that's what Auntie did – she milked the buffalo and passed a canteen full of fresh milk over the wall.  Of course it took another half-an-hour to boil the milk, add the Boost and then cool it – but the kids were so very excited to be drinking "fresh" milk.