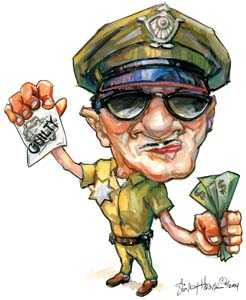 I though it wouldn't happen this trip.  But I had too much faith that India had changed (at least a little?) in the bribery department.  Well, in Hyderabad at least.
It happened near the Charminar area. We were in my uncle's car and a police-gaadu stopped us for a still-unbeknownst reason.  Apparently the proper paperwork wasn't in the car.  We offered 100. The police-gaadu asked for 800. We settled on 200.
Bitter.  Sorry, Hyderabad, I cannot speak highly of you at this point in time.
image via Google images