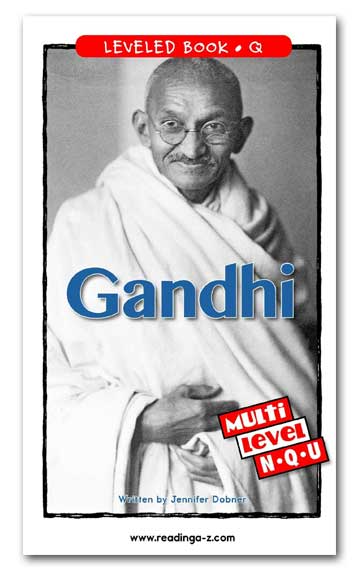 In all the hubbub surrounding Navratri, don't forget another important date. Tomorrow, October 2, is Gandhi Jayanti – a holiday we always celebrate in our house. This year, in addition to a (censored) viewing the Gandhi movie, my son will be staging a santoor concert in our home tomorrow evening and the kids are working on a poster board about Gandhiji's Salt March.
My kids were also excited to see a Gandhi reader on Reading A-Z – an online reading program we use. It's a terrific source for both decodable and leveled books for preK-5th graders. The books can either be read on the computer, or you can print them out. The stories are witty, engaging, span a wide varieties of genres, and most importantly, my kids love to read the books. Reading A-Z is subscription based ($80-$100 per year), and they do offer free 2-week trials.
Check it out (and check out the Gandhi Reader – available for 3 levels: N (2nd grade), Q (3rd grade) and U (4th grade).