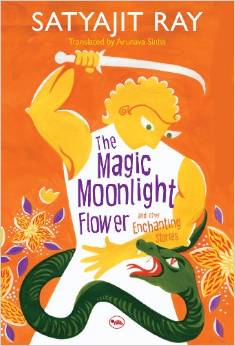 Looking for a good Indian-inspired chapter book for older boys?  So am I.  My third grader is just finishing Tales from the Odyssey (riveted, highly recommended), and I've been lamenting the void in our home library of Indian-inspired chapter books directed towards elementary-aged kids. How I'd love if there was a Ramayana or Mahabharata with proper grammar and vocabulary at an 800 Lexile level.
So we're trying The Magic Moonlight Flower and Other Enchanting Stories. Written by the inimitable filmmaker Satyajit Ray, the stories promise of curses, cruel kings and dangerous serpents – just right for my son.
Will report back later with an after-he-read-it-review.