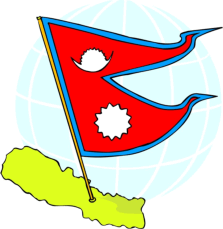 Our prayers are with Nepal this week. It's an amazing, though often overlooked, country. Here are 5 amazing facts about Nepal:
1. World Heritage Sites: Nepal has the densest concentration of World Heritage Sites in the world.
2. Renewable Energy: 92.1% of Nepal's energy comes from hydro-electric plants (the rest comes from fossil fuels). Surely, we can all learn from that.
3. Flag:  The flag of Nepal is the only non-quadrilateral national flag in the world.
4. Religion:  81.3% of Nepalese practice Hinduism – the highest percentage of any country.
5.  Ethnic Politics: Although Sir Edmund Hillary was nighted by Queen Elizabeth II, the sherpa who climbed Mount Everest with him – Tenzing Norgay – was not.
For information on how you can help with relief efforts, particularly the nearly 2 million children affected, please visit Save the Children.