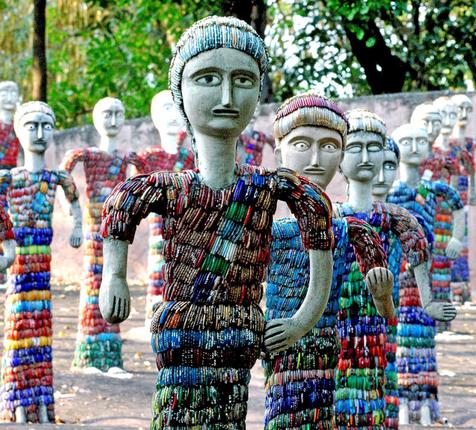 Where in the world can you find these curious Bangle People? At Nek Chand's Rock Garden in Chandigarh. Nek Chand received the Padma Shri in 1983. A sculpture from this garden also appeared on an Indian postage stamp. Nek Chand was also recognized internationally: he was awarded the Grande Médaille de Vermeil in Paris in 1980 and also accepted a commission from the Children's Museum in Washington DC, to construct a garden at the museum – where he imported some sculptures from India.
His vision for the garden appeared to emerge when he was a child. Born into a Hindu farming family in a rural village in Punjab in British India, he was enthralled by his mother's tales of kings and queens in a beautiful kingdom.  He would play in the local forests, making model buildings by the river bed. Interestingly, he made his first sculptures from broken bangles he had collected on the ground in a market.  He experienced firsthand the trauma and displacement of the Partition, and in fact the early parts of his garden resembled the streets of a Punjabi village.
Sadly Nek Chand passed away just a few days ago – on 11 June – but hopefully his vision will continue to inspire others.