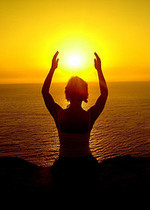 Homeschooling is one of the fastest growing educational movements in the country – estimated at over a 61% growth between 2003 and 2012 (and growing even more in the past 3 years). For academic year 2013-2014, nearly 1.6 million families homeschooled (roughly 2.8% of the population).
Our family has been homeschooling part-time in various forms for the past 2.5 years – and this year we took the plunge and decided to homeschool our 4th grade son full time. He had been attending a small private school 2-3 days per week, and was home for the rest of the time, but this year even that much "regular school" didn't make sense for his schedule and interests.
Many assume that families homeschool for religious reasons – though here in Southern California, I find this a motivation for the minority. That being said, over the years, I've met homeschoolers of all faiths EXCEPT Hinduism. Are we the only Hindu family out of the 190,000+ homeschooled kids in the State of California?
We don't homeschool for religious reasons – it's more of a lifestyle/schedule choice to accommodate special needs and interests. This was the scenario when my son was in school full-time in 1st grade: going to school all day, only to come home to more homework, spelling drills, math drills, and trying to fit in exercise (I don't count school PE), Telugu, music practice, a somewhat healthy dinner, and trying to muster up energy on the weekend for a cultural celebration…all of this multiplied by 2 as my daughter started school. We were all stressed.
All the time.
But in reflecting over our schedule and curriculum, we're all a bit more balanced this way: we start our day with a Surya Namaskaar, shloka recitation, and 10 minutes of meditation; my son gets to practice santoor for 1.5 hours every day; he gets to take exciting classes at homeschool co-ops (this semester it's Marine Biology, Chemistry, and Ceramics); his social studies topic is something he picked (ancient civilizations, with a heavy emphasis on ancient Indian history); he gets Telugu 3x a week, keeps a journal, practices critical thinking skills and geography drills – and all of this b/w the hours of 8:30am – 2:30pm – which leaves him time to play in the park with friends, have swim team practice, play chess, explore hobbies (gardening and various cooking experiments are the hobbies of late), and enjoy just being a kid. As for me, I work from 6-7:30am, and then from 2:30-6pm (when we have a sitter come) – after which we all get to make and eat dinner together. I get focused homework time with my daughter, and then we all get to watch "our show" (the Telugu serial Jodha-Akbar – more chance to build our Telugu vocabulary).
Homeschooling is not for everyone – both parents need to have flexible jobs. But if your family is struggling with time, and your kids aren't getting to develop their talents, it's worth considering.
Are you a Hindu homeschooler? I'd love to hear from you: aruna at gnaana dot com.