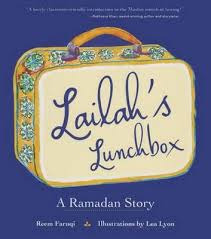 Thankfully my kids are not shy about taking Indian food for lunch – pulihora, dosa, idli, samosas, parathas, khati rolls…make an appearance at least 1-2 times a week. We even got some of our neighborhood kids addicted to pulihora. However, a few days ago, my daughter came home and told me that one of her classmates said her idli chutney "looked like poo-poo." I asked her if it bothered her that the boy said that, and she said no, but I was secretly fuming inside. I remembered when I was in her shoes: my classmates were not so nice (or innocent), and it caused me never to take Indian food to lunch again.
Lunchbox tolerance should be taught. I should start a campaign.
In my search for children's material on the topic, I did, however, chance upon a copy of Lailah's Lunchbox in the library. It's a cute story about a little girl who moves from Abu Dhabi to a town in Georgia – and who actually has no lunch at all during Ramadan.
Ramadan Mubarak!