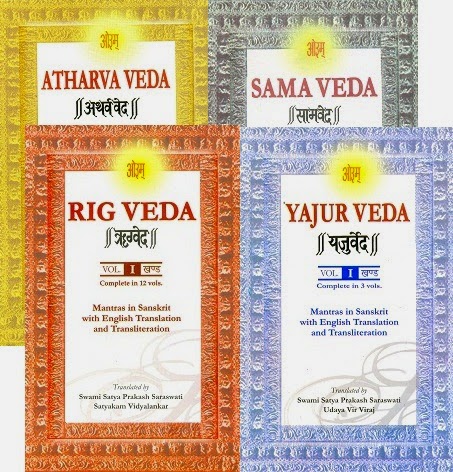 Kids: Let's get down to business today.  Can you name the 4 Vedas?  The names of the 4 Vedas are definitely something you should know if Hinduism is a part of your life.
The Vedas are the most sacred scriptures of Hinduism. It is believed that they originated from Lord Brahma himself. They contain knowledge and insight by ancient sages as to many deep philosophical questions – such as Who are we? and Why are we here? – that humans have been wondering since the dawn of mankind.
No one knows exactly how old the Vedas are. For many, many years the Vedas existed as shruti (oral literature) – so they were passed down orally. Experts believe that, starting with the Rig Veda, the Vedas began to be written down (in Sanskrit) by about 1200 BCE – making the Rig Veda one of the oldest texts in any Indo-European language!
There is a lot to learn about the Vedas, but today we'll just focus on knowing the names of the 4 Vedas and being able to describe a little about each of the Vedas.
1. Rig Veda
The oldest of the Vedas, the Rig Veda is a Veda of praise. It contains several hymns that praise a number of Hindu gods. The all-important Gayatri Mantra is in the Rig Veda.
2. Sama Veda
Think of the Sama Veda as a partner of the Rig Veda: It is simply a collection of samans (chants). These chants are derived from a part of the Rig Veda. The Sama Veda contains strict instructions for priests as to how each chant is to be sung, with very detailed guides for pronunciation and sound of each word!
3. Yajur Veda
While the Sama Veda focuses on chants, the Yajur Veda focuses on rituals. It offers formulas to be said by a priest while a person is performing a ritual action before yagna (sacred fire).
4. Atharva Veda
The Atharva Veda is different from the other 3 Vedas. Its language is simpler, and its verses touch upon more diverse subjects. The Atharva Veda also contains knowledge on medicines. In fact, it is one of the first texts to record uses of antibiotics!
Ready to quiz yourself?