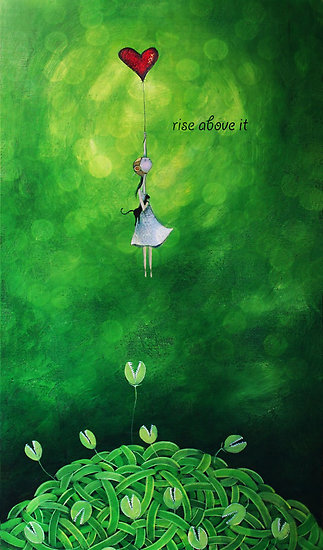 A story I read after the Women's March struck me and inspired this post.  It was a story about a Muslim woman in a restaurant near the Washington, DC area who was antagonistically approached by a man. The man fired "questions" at her about her hijab and her faith.  The striking thing about this story is that there was a group of women at a nearby table, presumably fresh from the Women's March as some were donning pussy hats, who observed what was going on – but remained silent.
So what was the point of the March? [Note: I fully support the March.]
This got me thinking about my own behaviours, and I came up with a list of 7 Calls to Action for myself – ways to model my behaviour.  I share these with you today:
1. Speak Up.  If you see someone being harassed or intimidated, don't be a silent bystander. Speak up. The best way to do this is not to confront the bully, but to focus on the victim. In the restaurant scenario described above, the nearby women could have, perhaps, approached the Muslim woman and started to engage her in conversation – this would have effectively taken her adversary out of the equation. Also, don't feel shy about voicing your perspective. I was once at a birthday party at which a parent was lamenting about too much Spanish being spoken in their local public school, and other parents in our conversation circle were nodding in agreement. I could have remained silent, but instead I piped in with a short, "I'd love my kids to learn more Spanish." Sometimes, I feel, it helps to let it be known that not everyone in a group feels the same way.
2. Read.  The best thing you can do for yourself and your children in our current environment is to READ. For yourself, read about history, perspectives, science – whatever interests you. Read books with your children about historical figures, injustices of the past, and stories of courage. Arm your family with knowledge so they have the power to handle themselves and to speak up for others.
3. Speak Your Language.  As a follow-up to #1 above, don't be afraid to speak your native language in public. Now is the time, more than ever, to demonstrate the diversity of the United States. A while back, at a dropoff for a class, a fellow mom (she was white) noticed I was speaking [Telugu] to my daughter and came up to me to say how she thought it was wonderful that I maintained my culture. People notice.
4. Wear Your Sari.  Or your salwar, turban, bindi or other cultural attire or mark – at least more than twice a year. It's easier to accept diversity when it's seen. You are also modeling positive cultural practices for your children.
5. 20 Minutes a Day.  In this politically charged climate, I struggle to restrain myself. As a politically-active attorney, it's very difficult for me not to be consumed about the news. In times like these, I have to remind myself about dharma – right action – and that right now, it would be wrong of me to neglect my kids and my family. So I promised myself that I would limit my "political work" to 20 minutes a day. These 20 minutes are enough to call/message/write to Senators or Representatives, educate myself on certain calls to action, or to do a quick social media post. Conversely, if being politically active is new to you, now is a good time to put your Senators' and Representative's phone numbers in your contacts list and to make some calls.
6. Say Hello. It's important to maintain civility and to promote friendliness at times like these. A simple friendly "hello" can open windows to perspective.
7. Smile. Because in the end, the light of truth will (eventually) prevail over darkness.
Image: "Rise above it" Fine Art Print by Amanda Cass. Available here…