Archive for the 'eco living' Category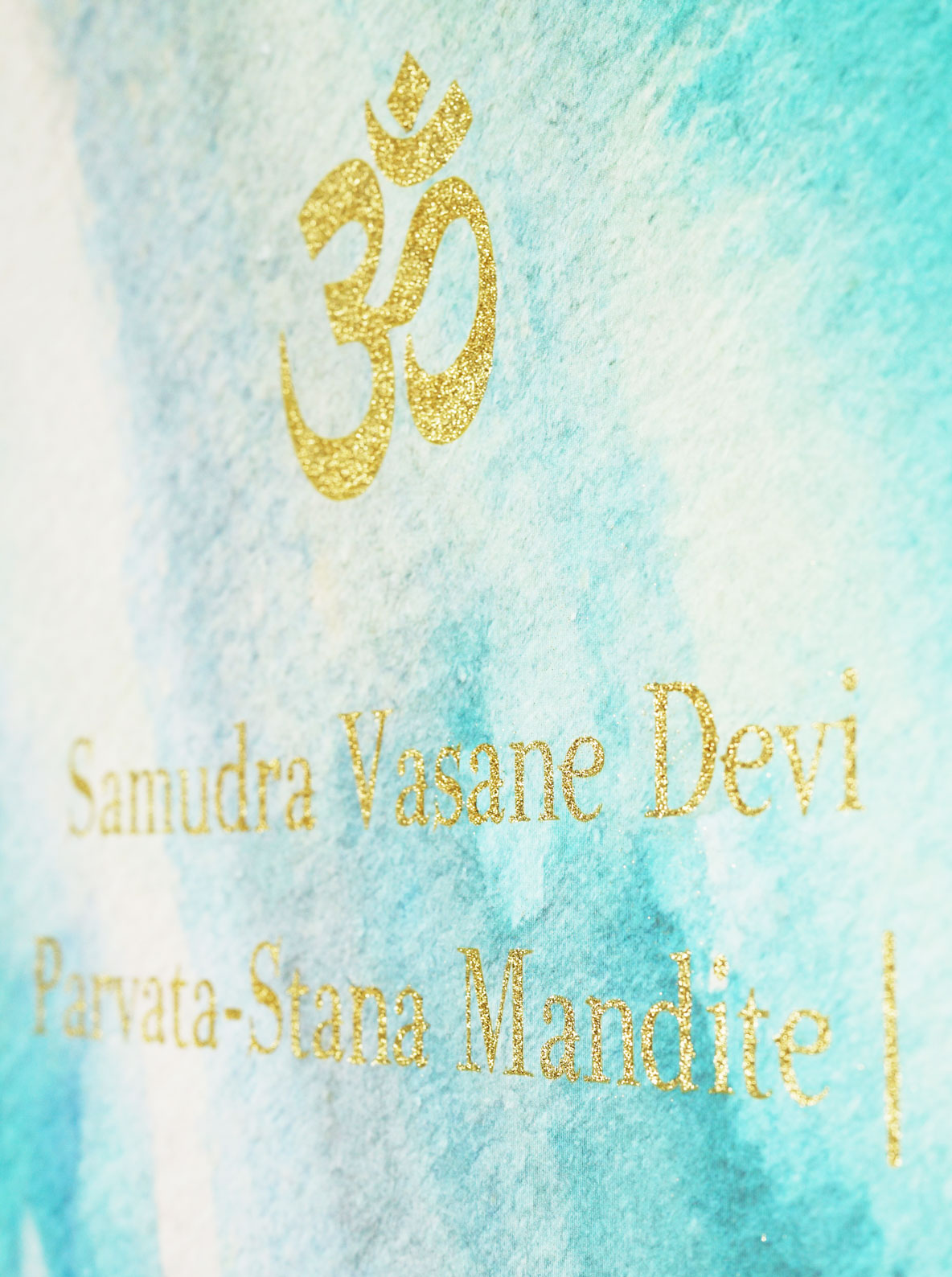 This Bhu Devi Mantra has an important place in our hearts and in our home. The kids know it by heart and are reminded to recite it every morning because….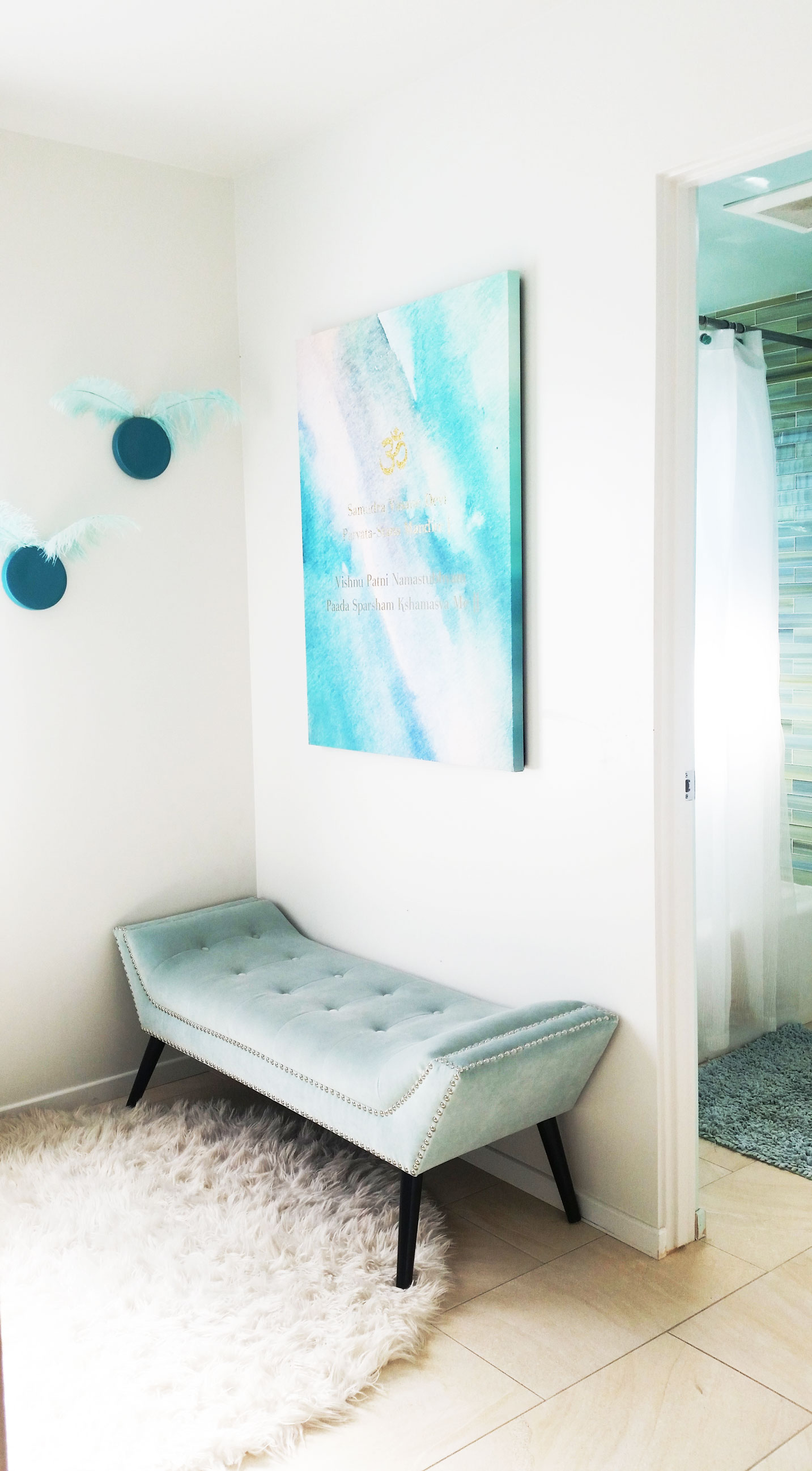 ….it's one of the first things they see in their bathroom lounge.  I had this custom canvas created, after which I then painstakingly hand-glittered the text.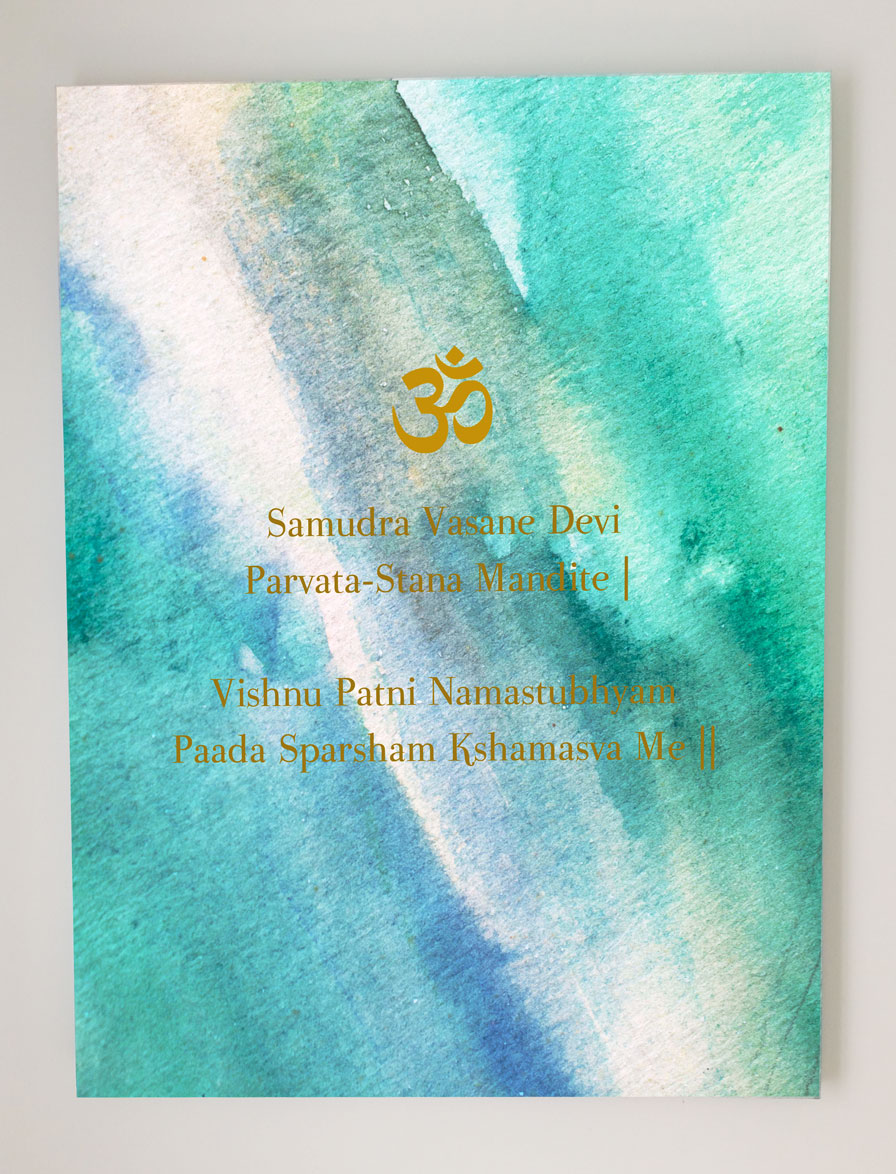 #earthdayeveryday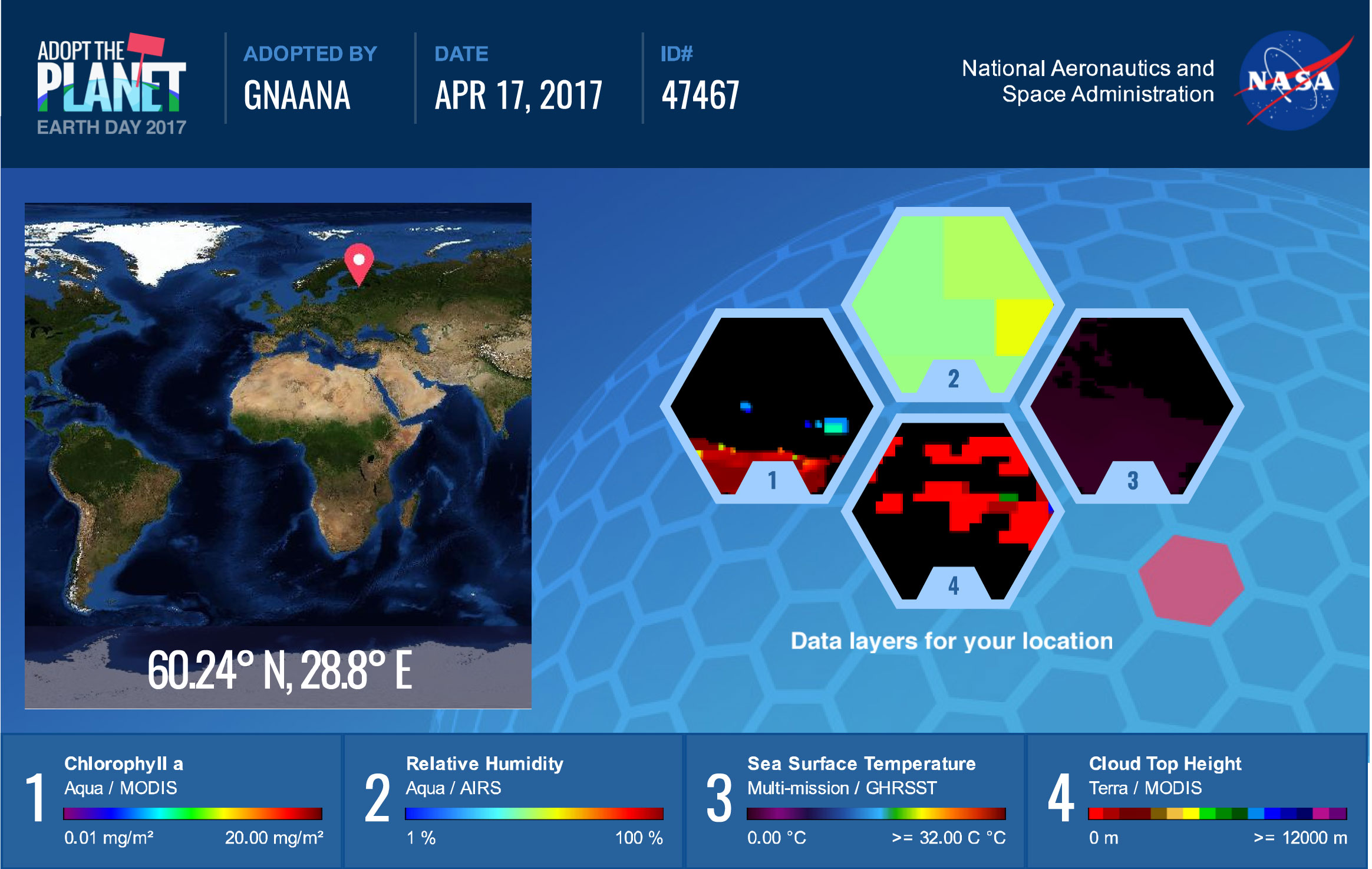 Here's a cool way to celebrate Earth Day with your kids: adopt a piece of the Earth through NASA's Adopt The Earth Initiative. Nasa has divided the Earth into 64,000 parcels (approximately 55 miles wide), and each participant is randomly-assigned a section. You just enter your (or your child's) name, and then you can print and display your certificate.
NASA's goal is to have all 64,000 parcels "adopted."
Of course, no legal rights are conferred; however, you do get a chance to view state-of-the-art climate data.
#earthdayeveryday
While the US is on its way to dismantling environmental regulations (and denying climate change), kids in India are learning about global warming.
This video produced for Indian kids is short, cute, and to the point: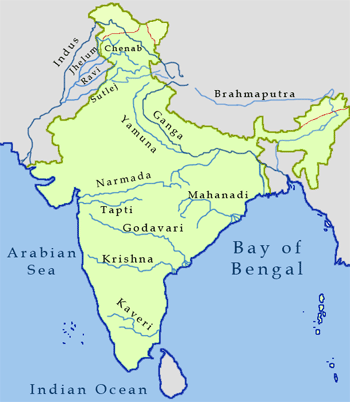 We're celebrating World Water Day by focusing on India's rivers. Check out this cute-and-catchy song by Karadi Tales that will have your kids singing 9 major rivers of India in no time:
Do note, the Sindhu is also called the "Indus" (and although it appears to be mainly running through Pakistan, it does flow through the northern tip of India). Also, the Saraswati is not pictured on the map. It's such an important river to our culture, so where is it? Well, experts say that this ancient Vedic river actually dried up about 4,000 years ago. It used to run through present-day Indian states of Uttarakhand, Haryana, Punjab, Rajasthan, and Gujarat.
Fun Fact! Just this past Monday, 2 judges in Uttarakhand ruled that the Ganga and the Yamuna actually have legal rights!  That means, in the eyes of the law, these 2 rivers are now to be treated the same as a human person! The judges appointed 3 people to act as guardians of the rivers. So Ganga and Yamuna can now demand that other people take care of them and not pollute them! More here…
This was completed at our house today: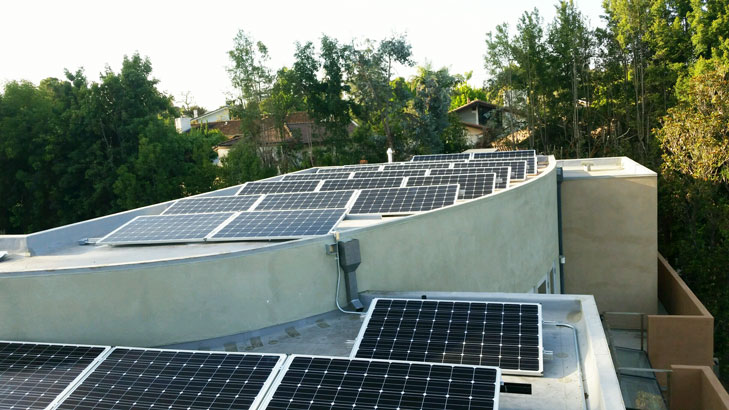 The installation of 32 solar panels – enough to fully power our green home and electric car. Don't the panels look like they are all doing a surya namaskaar?
Which reminded me of the awesome and magnificent solar steam cooking system at the infamous Tirupathi Temple in Andhra Pradesh – preparing 15,000 meals per day for its devotees. (Read here…)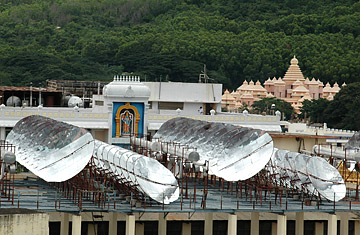 As Raghunath Aher, Chief Engineer at Shirdi's Sai Baba Temple, states in this article: "A holy place should be pure and completely in harmony with nature."
Our home is indeed our temple.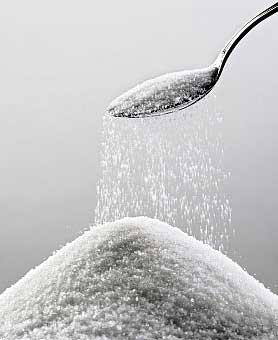 It's not big news, but it may not be something that most people are aware of: the sugar you eat (white or brown) may NOT be "vegetarian."
According to PETA's website, bone char (which comes from the bones of cows) is "is widely used by the sugar industry as a decolorizing filter, which allows the sugar cane to achieve its desirable white color."
Apparently, brown sugar is no better.
So what's the alternative? That good, old-fashioned "raw sugar" – turbinado sugar – that used to be the only sugar available in most Indian villages.
For more on the topic, as well an an annotated list of sugar companies who do and don't use bone char, read more…
If you aren't already aware, those fairness creams are toxic (on several levels).  In fact, the NIH conducted a study on Fair & Lovely in particular, concluding, "These results indicate that although Fair & Lovely mercury content is less than the U.S. Food and Drug Administration (FDA) permissible limits histopathological changes in the brain, kidney, and liver tissues are evidence of its possible toxicity."  See abstract here.
Other fairness creams may have higher levels of mercury. In April, 40 people in 6 Orange County, CA homes in the Latino Community were exposed to dangerously-high levels of mercury, as mercury from a fairness cream toxin made its way onto bedding, clothes and furniture – turning the home into a hazardous waste site.  See article here.
Not so lovely, eh? Enough said.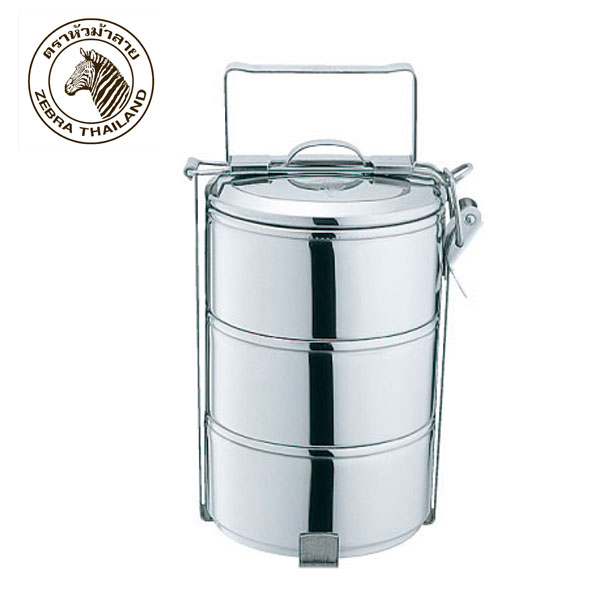 I don't often tag something with a "best ever" label, but this little tiffin carrier really, really can carry that label. I bought one for each of my kids and have been using them for over a year and half now. They still look brand new: not a dent or flick of rust – even after all the abuse my kids have put them through.
I have several carriers from India, but even my fingers bleed from trying to get them to open, so having my kids use them is out of the question. And they have rusted, so I don't like morning reminders of how I got cheated in India. So much for "pure" stainless.
These are from Zebra in Thailand. So very thick and the highest quality stainless steel I've seen.
Available here.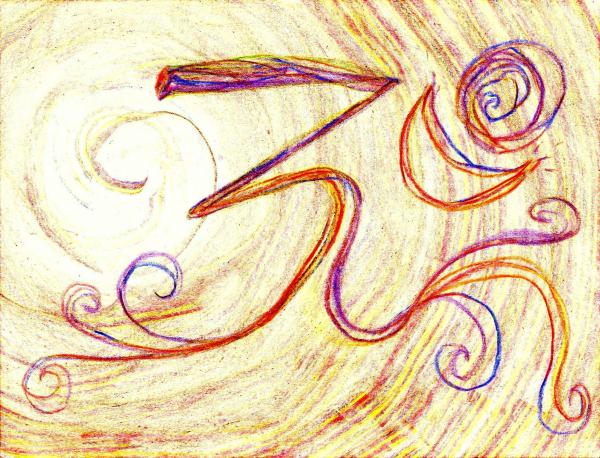 Yes we are all busy and most of us live very rushed lives.  Maybe you're gulping down breakfast or putting your shoes on in the car (that's us).  But kids pick-up on this harried atmosphere.  It can't be good for them right?  Especially when you are trying to teach them the virtues of keeping calm and staying focused.
So we recently instituted mandatory 5-minute meditation time in our house.  Ideally, it would have been in the morning (which would probably never happen), so our time is in the evenings after dinner.  There are scores of books and CDs on meditation and kids, but our modus operendi is simple:  we close our eyes, say om slowly 3 times and then breathe deeply until the timer goes off.
Five minutes of silence in our house every evening is absolutely priceless.
image: "Om" by Chandelle Hazen, available at Fine Art America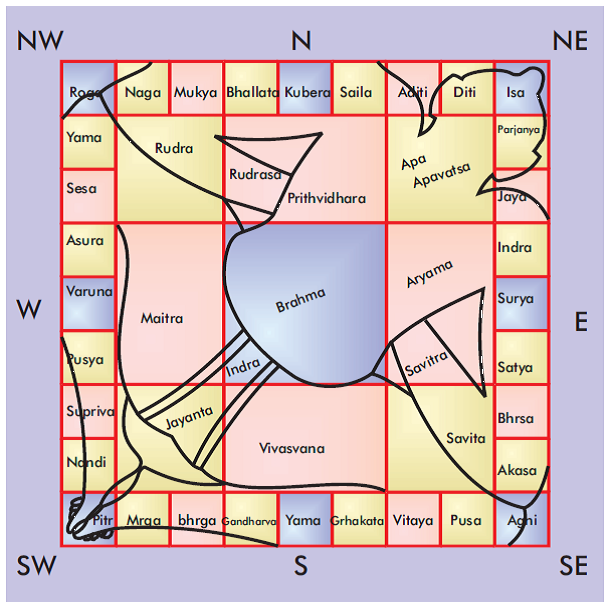 A baseless superstition – or does Vastu have have merit?  I'm convinced  it's both.  Vastu "consultants" abound in India (and elsewhere) who make claims that if rooms and furniture are oriented "as per Vastu," then good fortune will come – or at the very least that nothing bad will happen to you or your family.  In fact, sometimes apartments or offices in India remain vacant because they're not "as per Vastu."
I highly doubt there will be be much difference in my life if I sleep with my head to the North or the South, or if I use more than 2 types of wood – but as we're building our new house, it struck me that some of the principles of Vastu are actually in harmony with green building design (which is the focus of our home).  We aimed to orient our home and rooms to maximize effects of sunlight and airflow so that we could minimize (even eliminate) the need for heating and cooling.  To that effect, we have a large Brahmasthan (area in the center of the home which is left open), an East-facing front door, a kitchen in the SE, prayer room in the NE, etc. etc.
Vastu and Green Design – it should be the subject of a book I think.
Do you Vastu?