Archive for the 'enlightenment' Category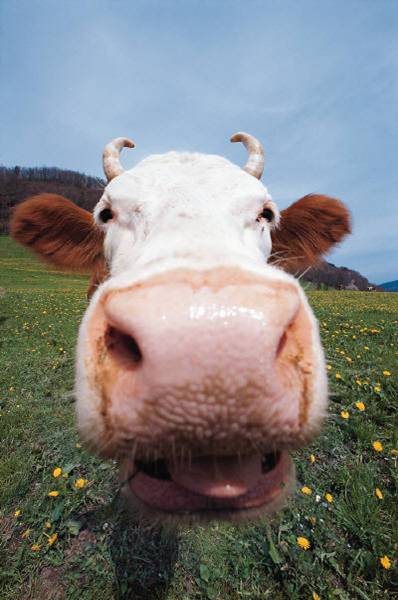 If you casually tell your kids that it's illegal to kill cows in India, you're (sort of) correct. In fact, most educated Westerners are at least vaguely familiar with the connection between Hinduism and cows – it's even made its way into most school textbooks.
The politics of cows in India, however, is anything but a stable situation. For one thing, there is no federal ban on cow-killing; rather, this issue is left to the individual states. Legally, there are 3 issues related to cows: killing, consumption of beef, and possession of beef. Some states may ban killing, but allow consumption and/or possession.
The paradoxes of secular laws in a nation of 80%+ Hindus, traditional vs. progressive values, and individual rights vs. common values all add to the quagmire.
Oh, and then there is the illegal cow smuggling across the West Bengal – Bangladesh border.
What an interesting issue to discuss…
Here are some interesting articles to read:
Recent Bombay High Court Decision
The British Origin of Cow Slaughter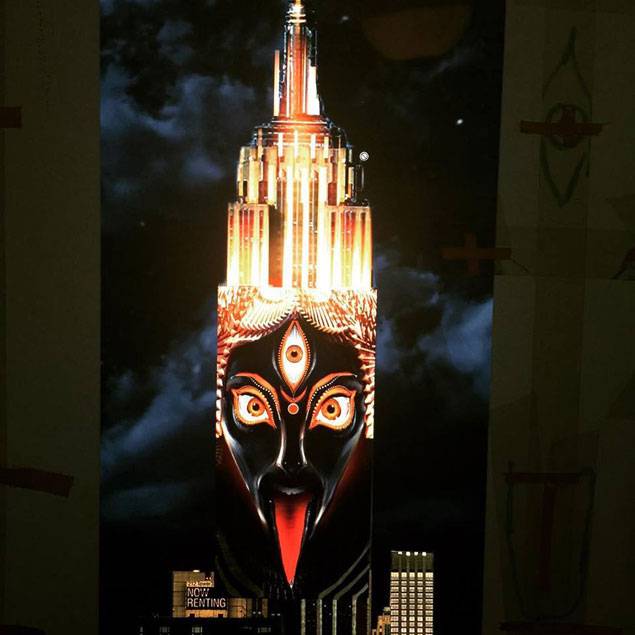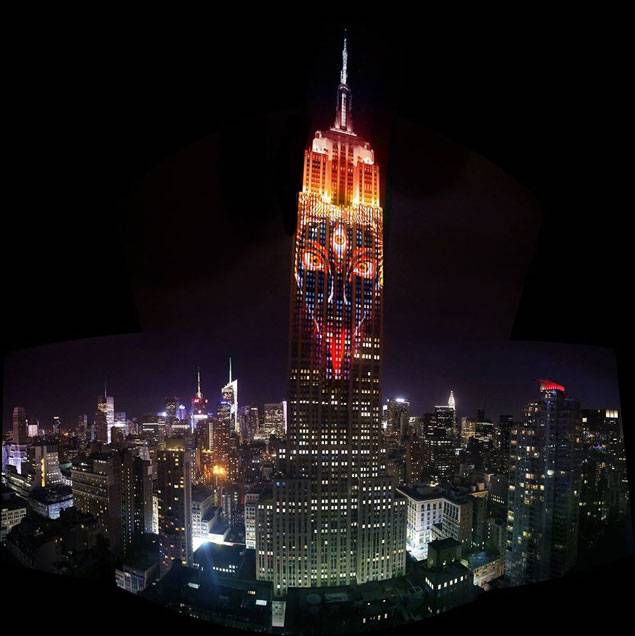 Yup, you are seeing it right – that's Kali Devi on New York City's Empire State Building (from August 2015). Designed by artist Android Jones as part of an exhibit by filmmaker Louie Psihoyos called Projecting Change, the intention was to call attention of massive wildlife extinction – with a statement that we need a "fierce goddess" like Kali Devi (which they called "the goddess of darkness") to combat this disturbing trend.
Is it appropriate to call Kali Devi "the goddess of darkness?" She's a little difficult to explain – especially to kids. She is, after all, a bit…er…violent in her appearance – with skulls around her neck, severed arms as a skirt, (almost) stepping on Lord Shiva – all while holding a head with dripping blood. And she's often confused with Goddess Durga.
There's so much to explain about Kali Devi – and an understanding of her and her symbolism would render a fairly comprehensive summary of Hinduism itself. But suffice it to say that she is a fierce form of the mother goddess – believed to have been born from the brow of Goddess Durga during a battle. During this battle, in her thoroughness, she got a little carried away in her destruction and Lord Shiva threw himself at her feet to stop her – at which point Kali Devi stuck out her tongue in shock.
In essence she is a reminder that our bodies are mere temporary dressings for the Atman – and is really a symbol of true liberation.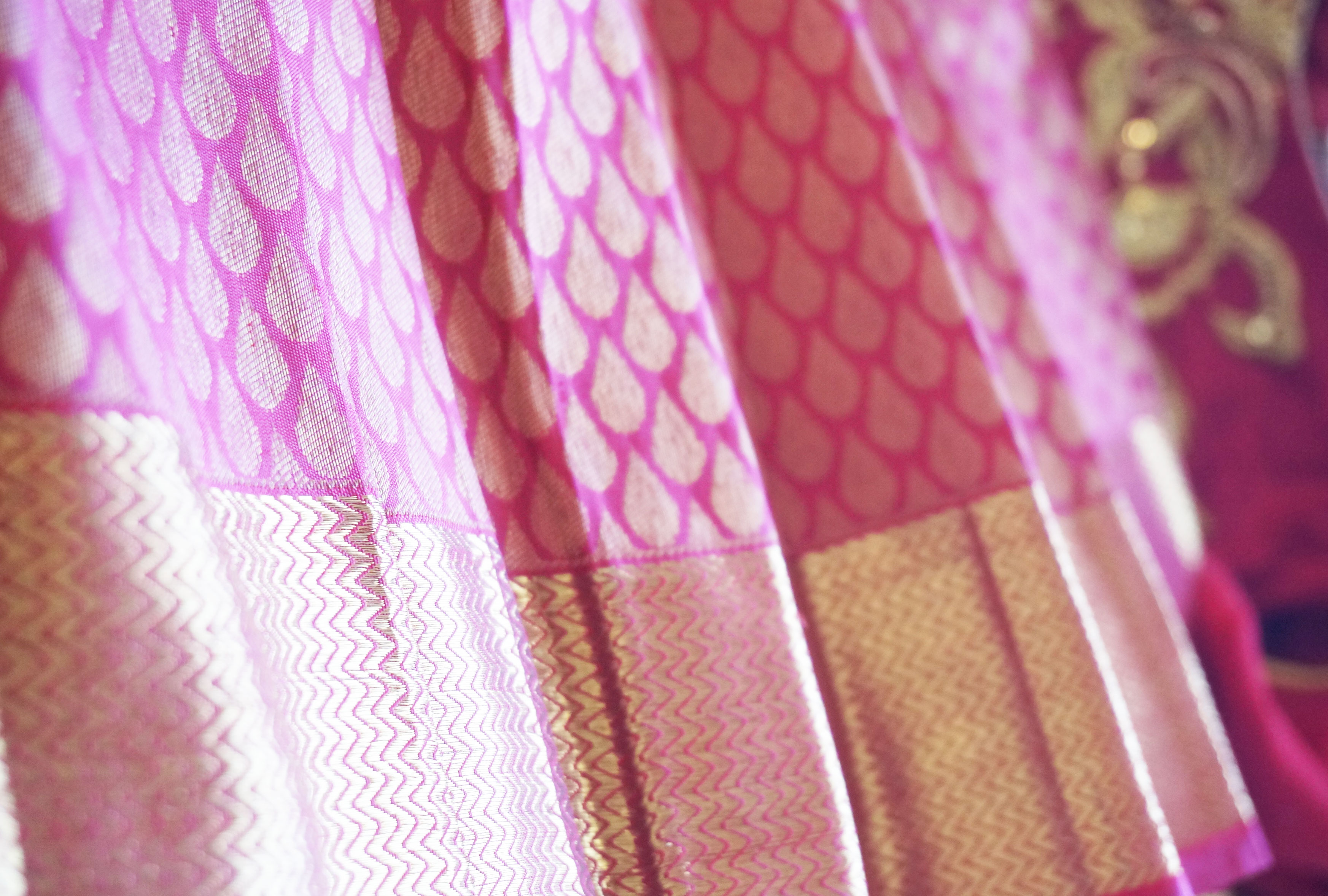 Wedding season is approaching – and for most (South) Indians, that means Kanjeevarams. But did you ever wonder why Kanjeevaram silks are so prized?
Of course they are breathtakingly beautiful – each sari takes from 3-5 days to weave. But these sarees are also woven by weavers who are linked to the Divine.  According to a legend, long ago, Sage Markandeya wove tissue fibers from lotus flowers for the gods – and he passed down his knowledge to weaver communities now in present-day Kanchipuram (the city from where the sarees derive there name).
Through history, these luxurious textiles graced the palaces of 7th century Pallava rulers and of the mighty Vijaynagar Empire.
Food for thought when you are shopping for your next Kanjeevaram…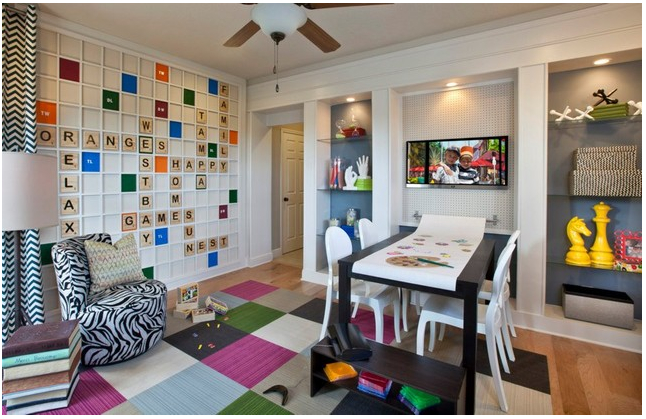 It seems that we South Asians are moving beyond The Spelling Bee to another format of word play: Scrabble. Did you know:
1- Desi, Devi, Dosa, Barfi, Halwa, Bhindi, and Bhaji are all now words in the official dictionary for the World English Language Scrabble Player's Association.
2- India has its very own Scrabble Association of India, and competitive, intense Scrabble classes are now "a thing" among urban elite who want their kids to gain word recognition and vocabulary.
3- The India vs. Pakistan rivalry IS ON: Pakistan has produced a World Champion in Scrabble, and several other players in the world's Top 10, and India is hungry to match its neighbor. For more on this rivalry, and India's training efforts, see here.
image via Houzz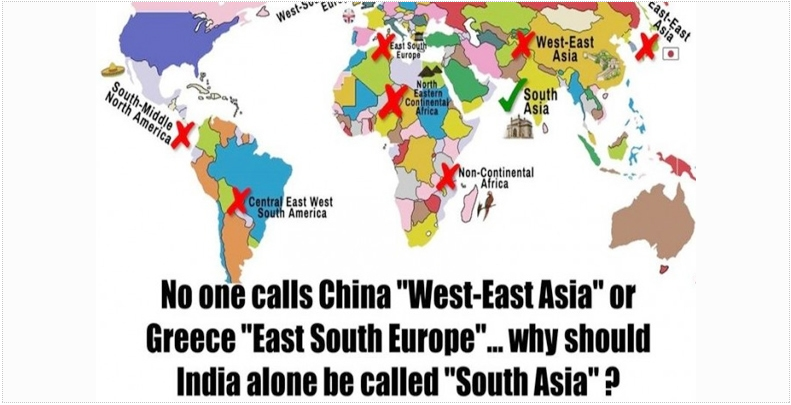 If you've been following the debate over the proposed changes to the way California portrays Indian history in its textbooks, you'll know that this is an important week. The California State Board of Education takes its final vote on the issue this Wednesday and Thursday. The stakes are high, as the changes are expected to influence textbooks in other states as well. After all, California is one of the largest textbook markets in the United States.
At the heart of the matter is replacing many current references to "India" with "South Asia," and referring to Hinduism as "the religion of Ancient India." Although Gnaana won't take sides, you can read for yourself the proposed changes in this handy chart. Some changes may seem benign, some silly, and some just plain infuriating – which ones fall into which category? You be the judge.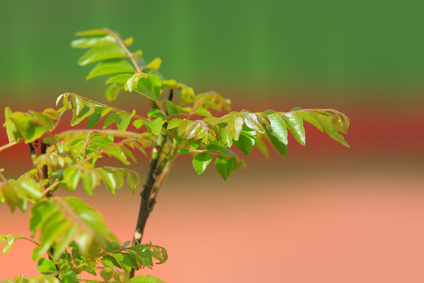 I love my curry leaf plant dearly – our culinary life would not be the same without it. In it's honour, and considering April is National Poetry Month, I've composed a haiku to my botanical friend:
Ode to the Curry Leaf Plant
Bright, green and cheerful;
You give life to my curries;
Dancing in tadka.
Would love to hear your 5-7-5.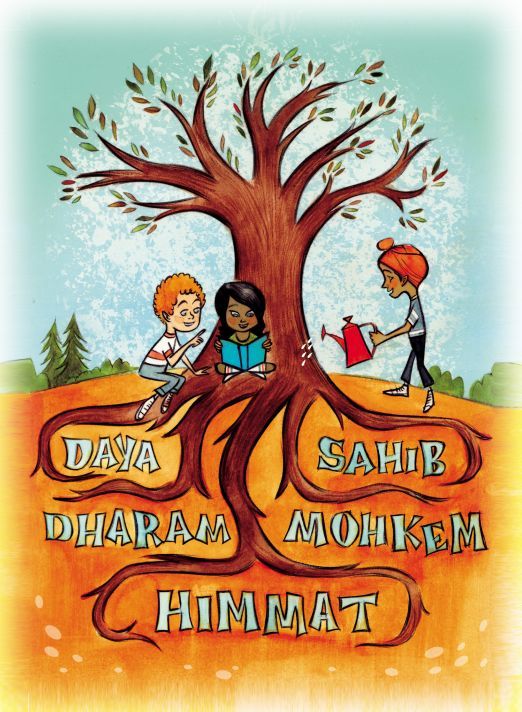 Sikhs around the world are celebrating Vaisakhi and the 5 core Khalsa values: Daya (Kindness), Dharam (Fairness), Himmat (Courage), Mohkem (Determination), and Sahib (Strength).
Vaisakhi is an important holiday that is rich with meaning, and it is one that all South Asians (and everyone actually) should understand and appreciate.
Here is a wonderful explanation of Vaisakhi written by Navjot Kaur, author of A Lion's Mane and Dreams of Hope. She has blogged with before (see here…).
And if you haven't seen this video yet, here is an amazing video coming from Canada – showing how Canadian Prime Minister and the Canadian government are celebrating with the Sikh Community. What a wonderful example to set for the world!
image via Saffron Press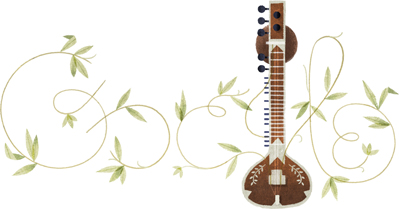 Did you notice that sitar on Google today? It's a tribute to the late Pandit Ravi Shankar on what would have been his 96th birthday.
The world celebrates the life of a legend today. You can pay tribute also by playing his music for you kids today. Here is a rare clip of Panditji from a private program in Kolkata in the 1950's – playing Raag Yaman Kalyan: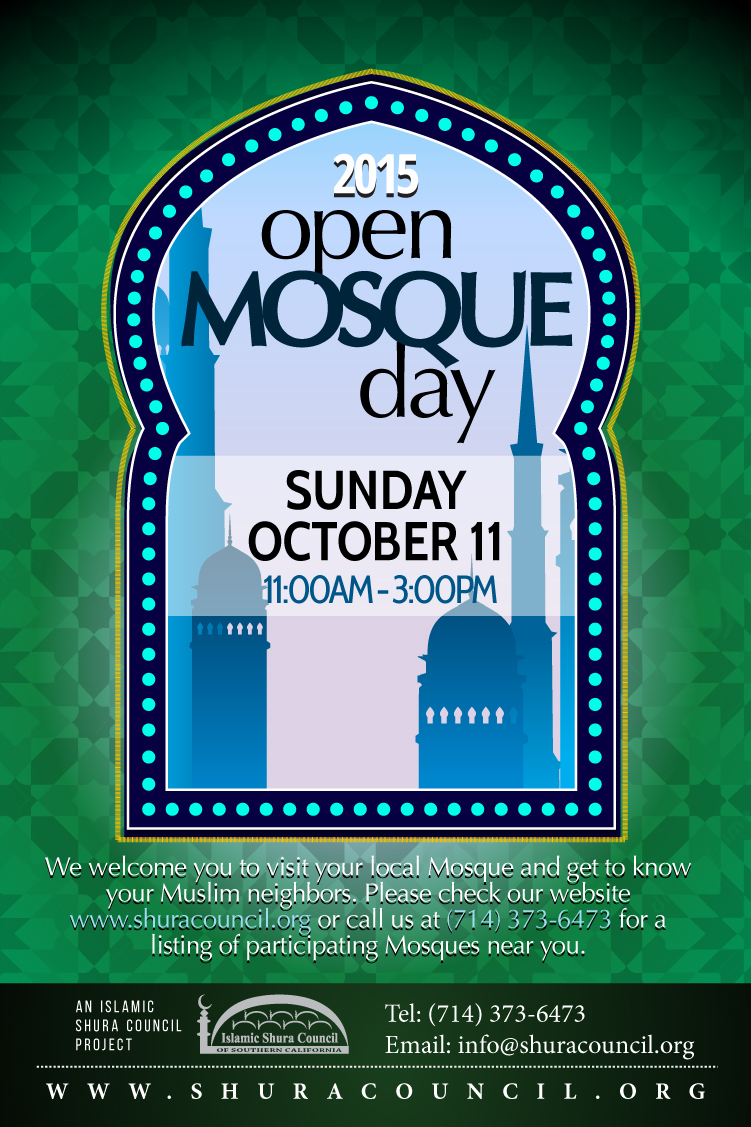 Have you ever visited a mosque? If you're in Southern California, this weekend is your chance as area mosques are holding Open Mosque Day on Sunday (and some on Saturday also). It should be a wonderful educational experience for kids and adults alike.
Religious tolerance, pluralism, and learning more about one's own faith by comparing/contrasting to others stems from education.
For more information, and for a list of participating mosques, click here…
For open mosque days in other areas of the country, contact your local Islamic council.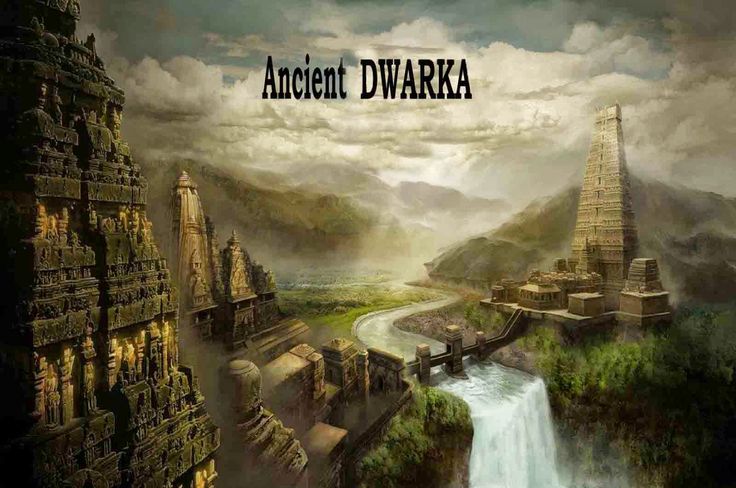 This should have you shaking your head at the Indian government: back in 2001, oceanographers from India's National Institute of Ocean Technology discovered a sunken "lost city" in the Gulf of Cambay (off the coast of Gujarat) while conducting a survey of pollution. Remains recovered from the site, which included pottery, walls, human bones and teeth, and sculpture) were carbon dated to be nearly 9,500 years old.
A whole city. Underwater. 9,500 years old.
Most historians date the first civilization (Mesopotamia) to around 5,000 BCE. You do the math.
But what has the Indian government done in the past 14 years about this shattering discovery? Nothing.
The city has been claimed by some to be the lost city of Dwarka– which if you recall was the island kingdom Lord Krishna had built in The Mahabharata (and which was reportedly submerged).
My son and I are studying ancient civilizations this year, and we're putting together a massive timeline (more on this later). We're not sure what to do with this information – but it's a little embarrassing that we don't have further information. Thanks, India.
You can read more about the discovery in this BBC article here, and watch a video here: