Archive for the 'from Gnaana' Category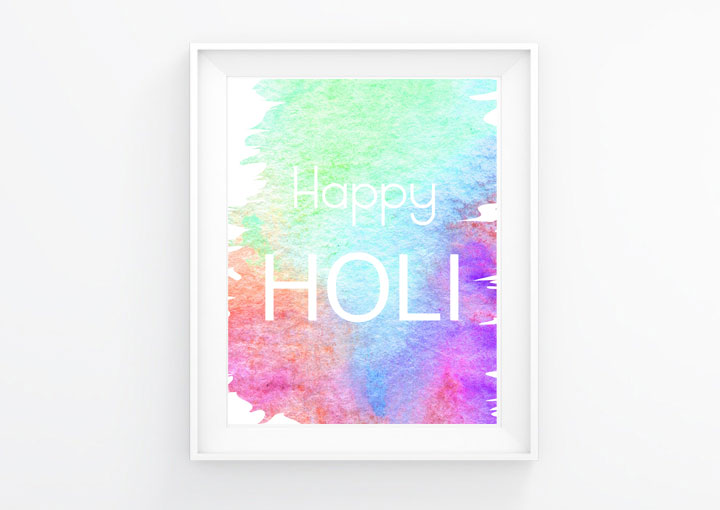 It's HOLI time! Celebrate with our gorgeous Happy Holi Print, available as a digital download in our Etsy Shop.
We've paired the print with an exciting activity for kids to learn the names of colors in their mother tongue: a clever crossword puzzle with Indian-themed riddles for kids to solve!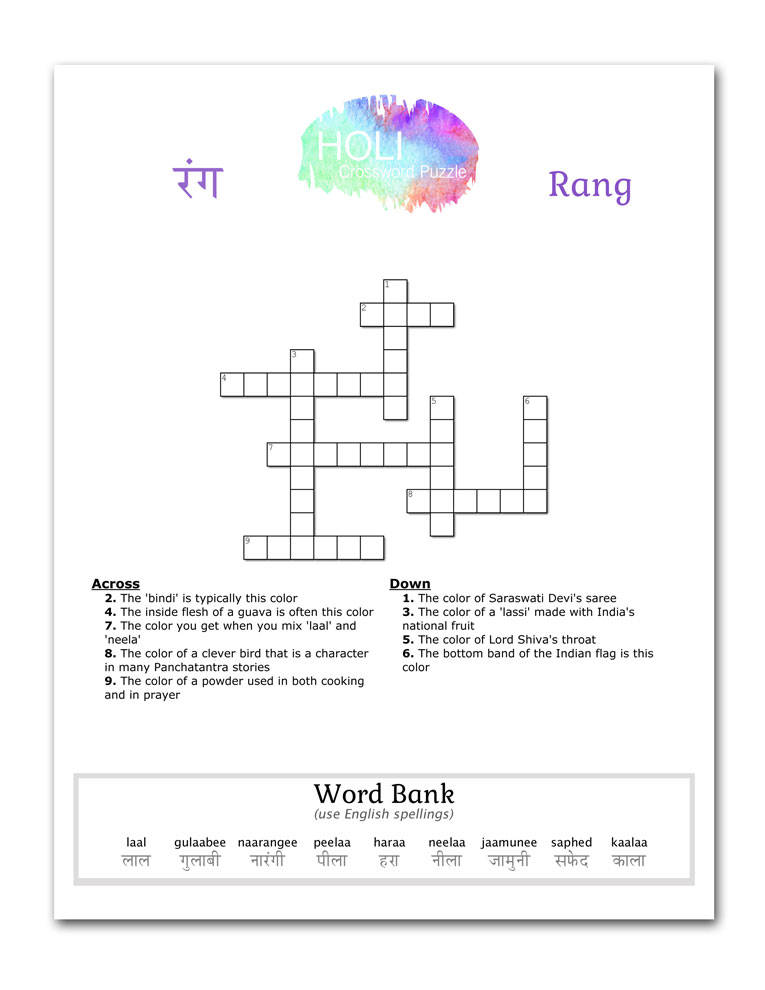 What is the color of a lassi made with India's national fruit? (Hindi answer: "naarangee")
What is the color of Lord Shiva's throat? (Hindi answer: "neelaa")
Crossword puzzle is available in all of the 7 languages Gnaana supports: Hindi, Gujarati, Telugu, Punjabi, Tamil, Bengali, and Kannada. The puzzle is aimed at 2nd graders and up, but can be completed by younger kids with parental help. A terrific way to learn and reinforce color names.
For $5, you will receive the following digital file package:
* 2 versions of our Happy Holi print (8.5″x11″ & 8″x10″ for photo printing)
* Your choice of Indic language crossword puzzle
* English version of crossword puzzle.
As an added BONUS, if you purchase our Bindi Baby Colors Book, we'll send you the above for free. (Files will be emailed upon purchase).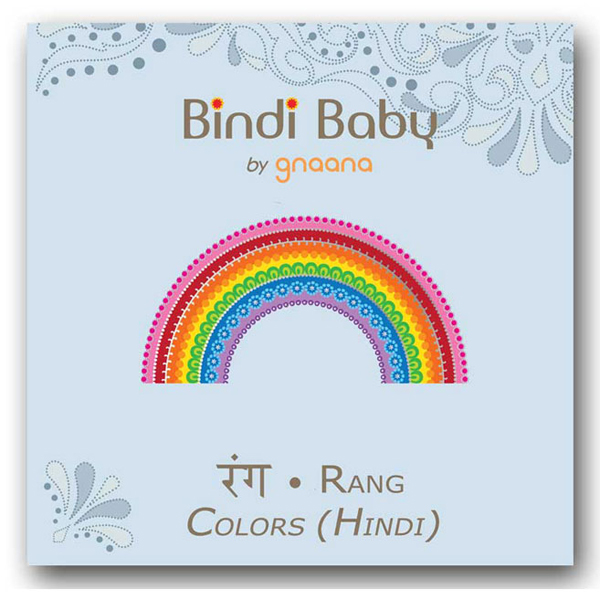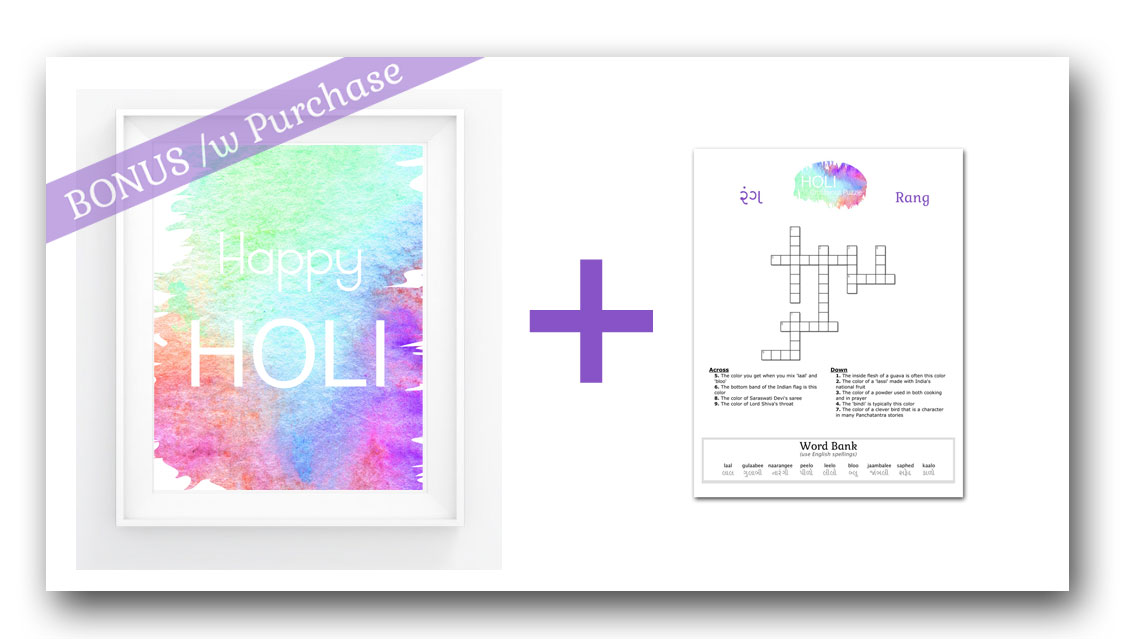 HAPPY HOLI!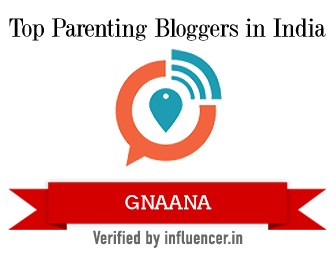 Influencer has named Gnaana one of the Top Parenting Blogs in India.
"The articles in the website express opinion on the values and richness of the Indian culture."
It's great to be recognized. See the full list here…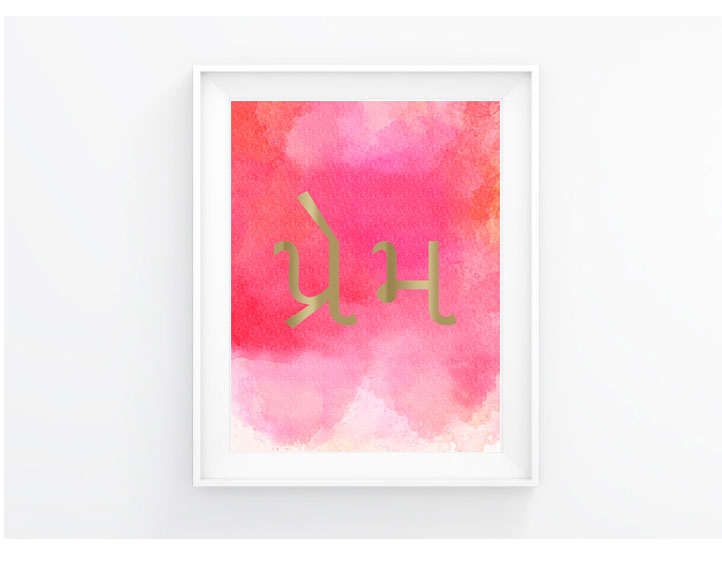 Presenting our beautiful new Love is Gold print!
Available as an instant digital download in our Etsy Shop for just $5.00. Just download, print onto 8.5″ x 11″ paper, and display – a fresh and easy way to add a splash of LOVE to your home, nursery, or kids space.
For larger sizes, or to arrange for delivery of an actual physical print, email us at orders[at]gnaana.com
Pyaar, Prem, Prema….Love is golden in any language!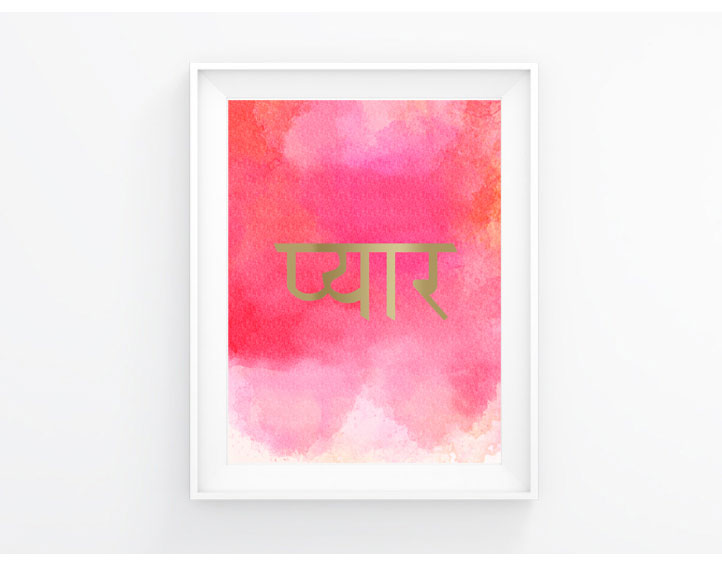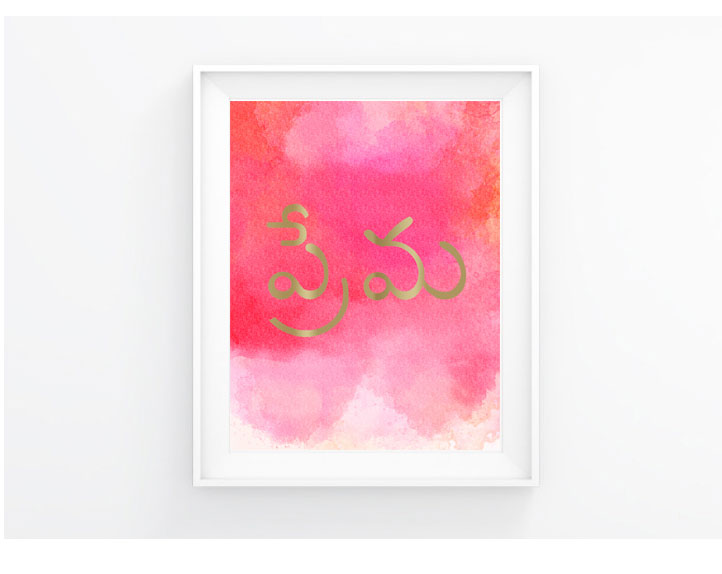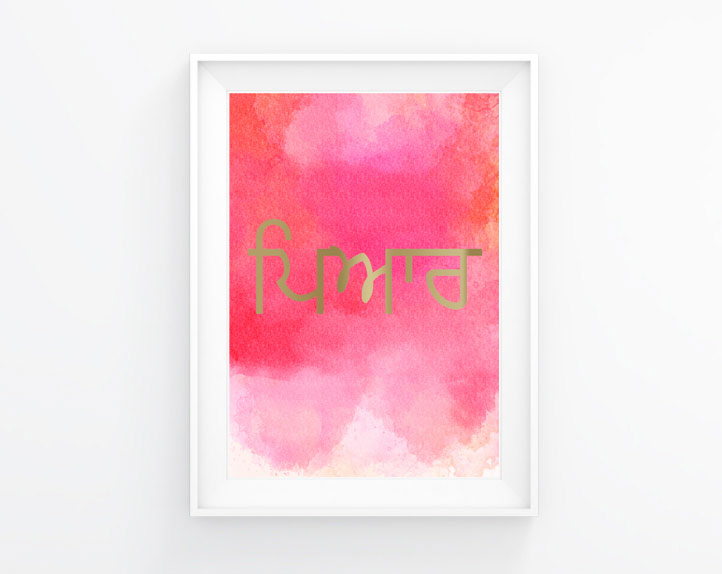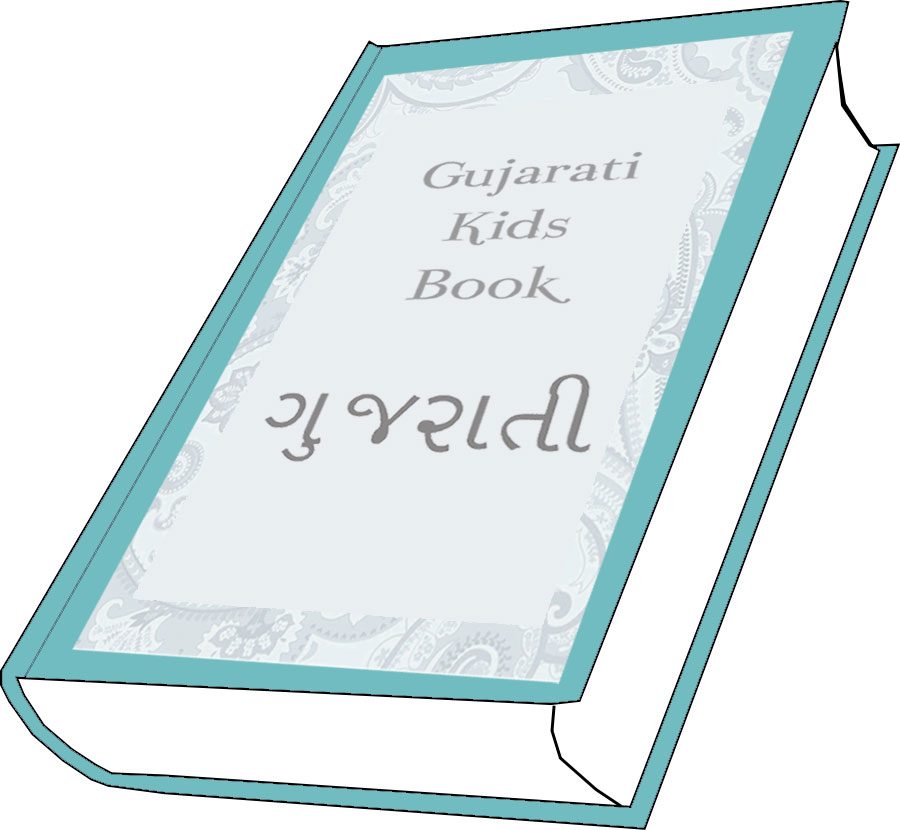 A brand new product for 2016! We're looking for a few Gujarati parents to review our new Gujarati Alphabet Picture Book for kids. We have an amazing manuscript and we want to make it the best ever. The book is designed to introduce children to the Gujarati Alphabet. This book is in all-Gujarati, with English transliteration of Gujarati script. Anticipated release date for the book is September 10, 2016.
Reviewers will be asked to comment on the manuscript only and will receive a complementary copy of the book upon its release.
If you are interested in reviewing our book, please send an email to inspire[at]gnaana[dot]com with "Gujarati Book Review" in the subject line. Please also give us a general idea of your Gujarati proficiency level, age(s) of your children (or the children in your life), and how you are currently trying to expose them to the Gujarati language.
Please pass this along – we can't wait to hear from you!
CLOSED – THANK YOU FOR YOUR RESPONSES!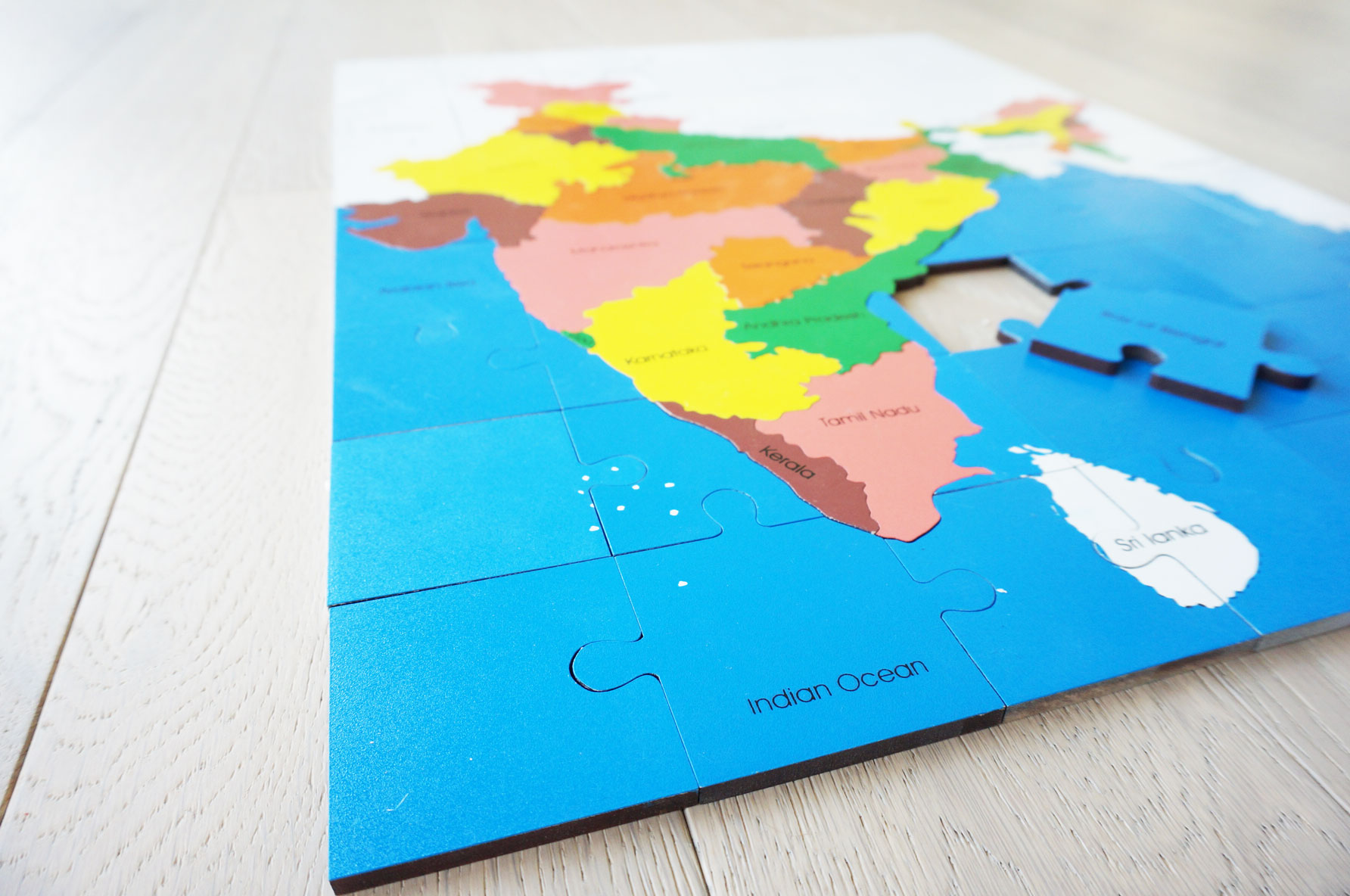 Meet our new India Map Puzzle! Still beautiful wood, but now in a more portable floor puzzle format – and more affordable at $34.99.
Our exclusive design is a geographical work of art – with each of India's states laser cut to their exact shapes. The puzzle is based on the official map maintained by the Government of India – down to the sanctioned colors for each state. Surrounding countries and water bodies are also part of the puzzle.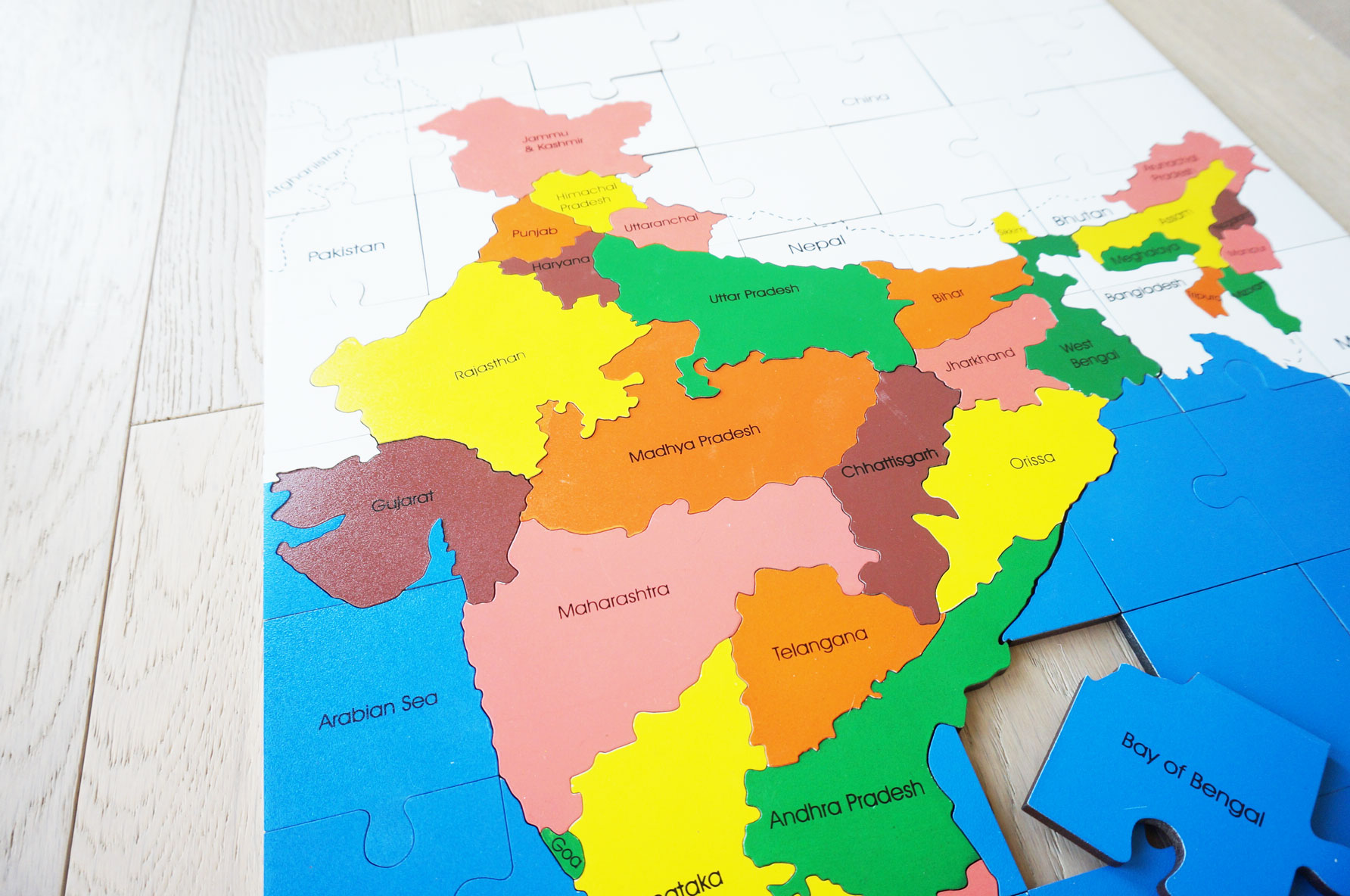 Cut from thick, 5mm wood, this puzzle is sure to impress. And at over 90 pieces, it can be quite a challenge!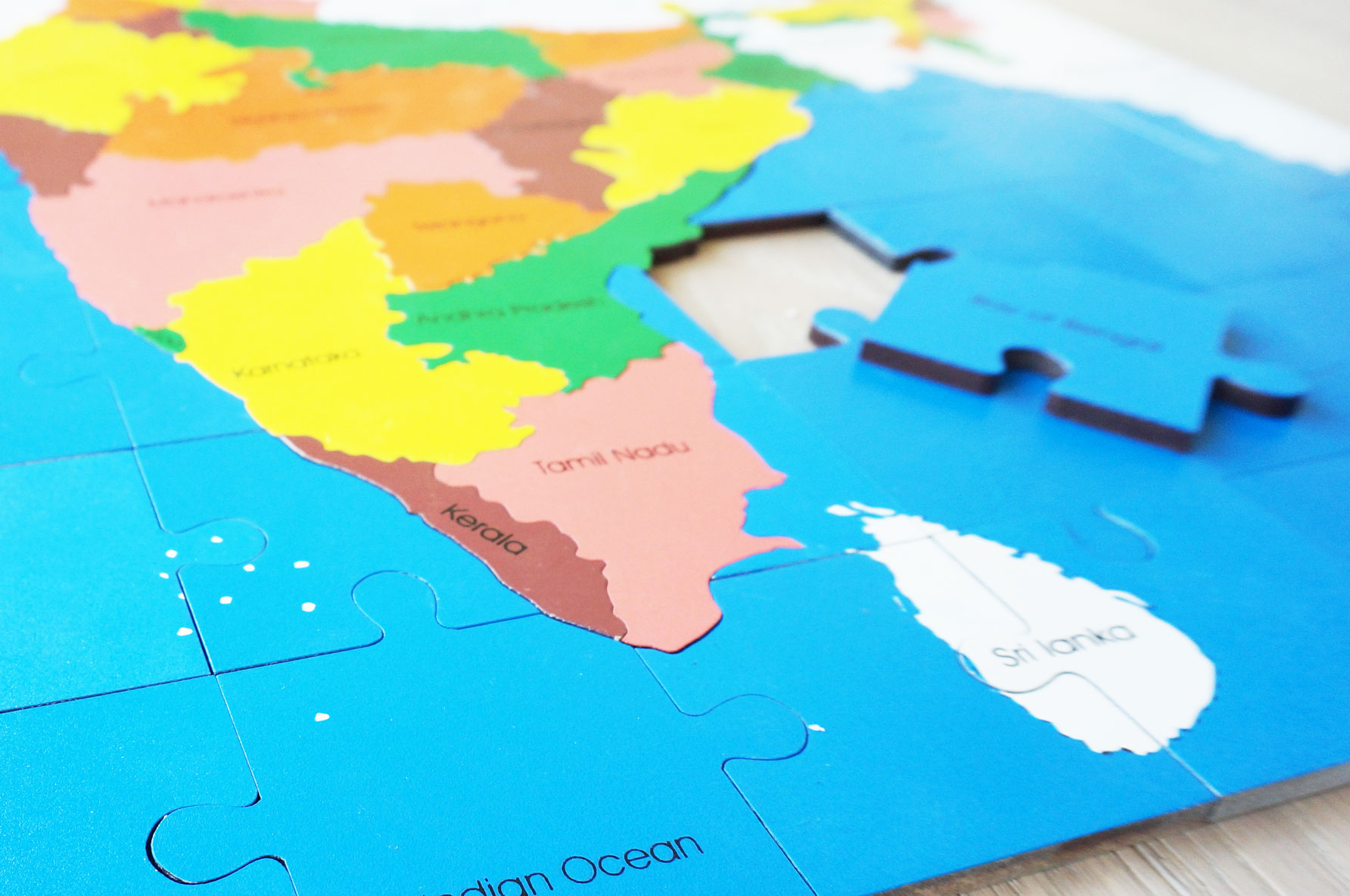 Comes with an updated (2015) 8-page Parents' Guide which contains a compliation of facts about India and each state.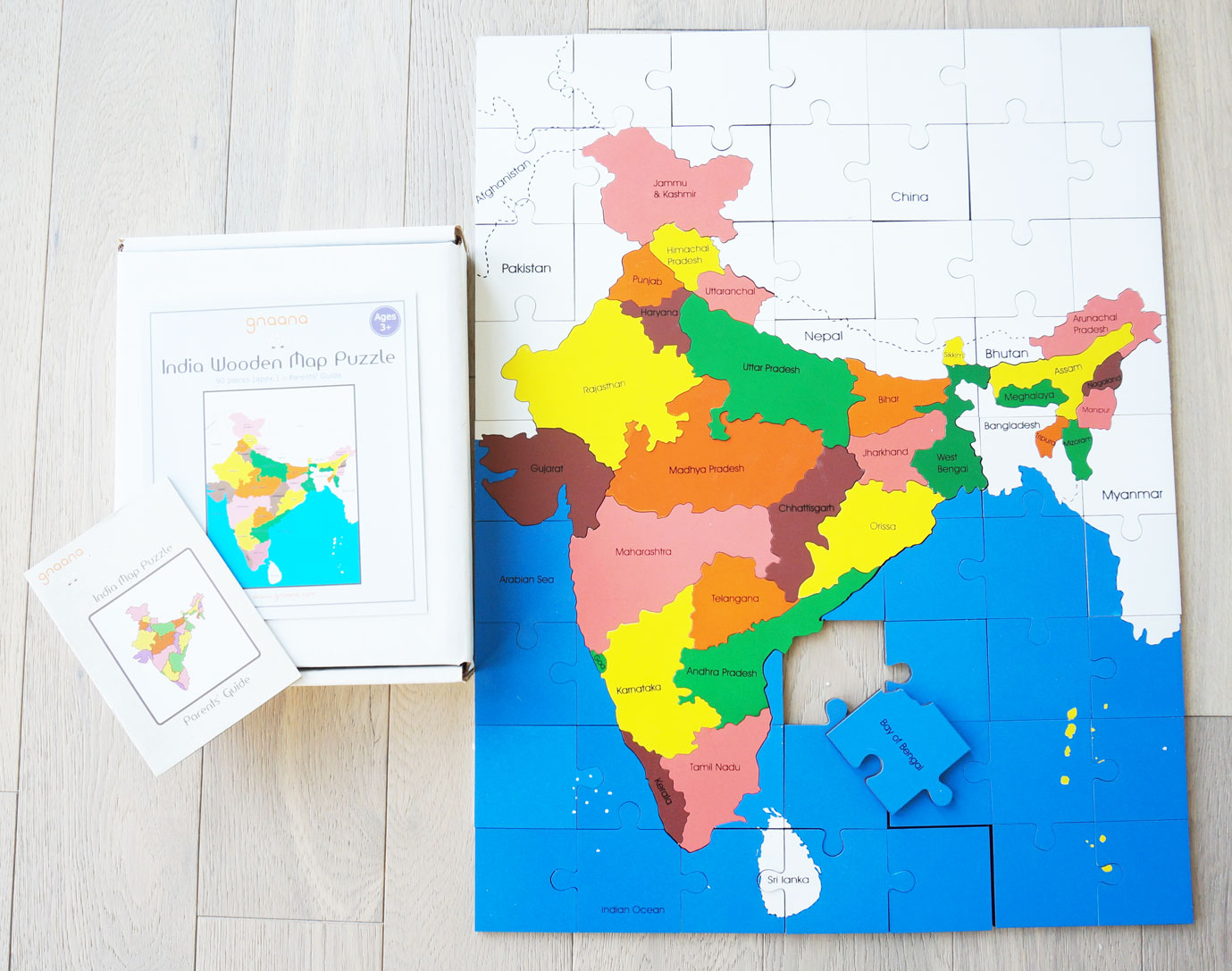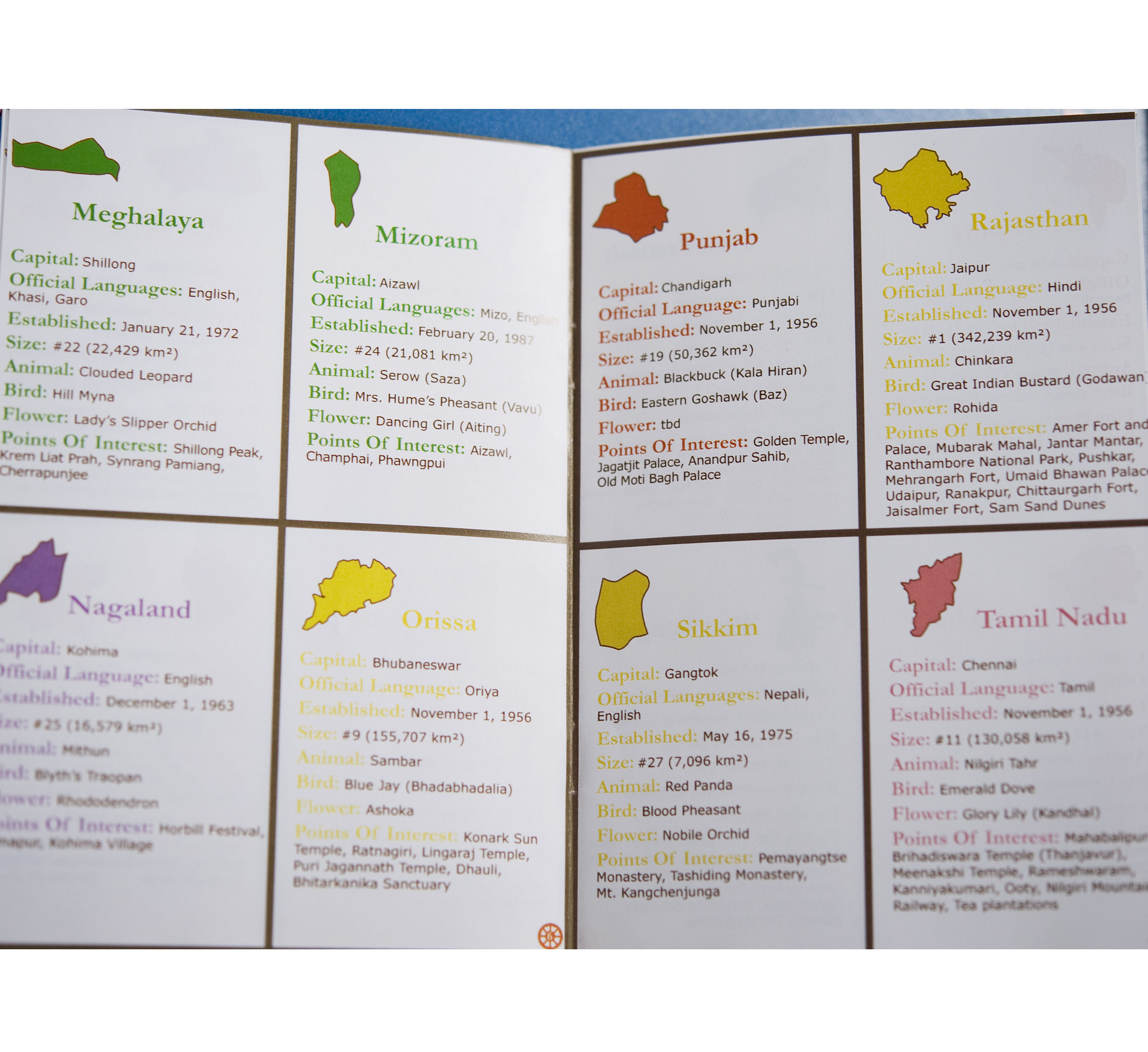 Say "ji" to geography! Ready to ship. Available here…
Masalamommas reviews our Days of the Week Flashcards. Featuring a terrific suggestion on how to use them, Anjum Nayyar and Karen Johnson chat about how these cards were conversation starters for kids as school. Thanks for sharing your experience ladies!
The Hindu, or Vedic, Time System is truly a gift to humanity. Vedic astronomers divided time from the smallest of microseconds to epic yugas and kalpas. Here is a great way to introduce an element of the time system to kids: starting with the 7 Days of the Week.
Astronomers in ancient India attributed each day of the week to be governed by a particular celestial body – the Sun (Surya or Ravi) and the Moon (Chandra or Soma) and 5 planets: Mars (Mangal), Mercury (Budh), Jupiter (Brihaspati, the Guru of the Devas), Venus (Shukra) and Saturn (Shani). Together with Rahu and Ketu, these celestial bodies are collectively named the navagrahas.
These cards reflect the "personality" of the celestial body that rules each day: Mars (red) is a troublemaker, Jupiter (yellow) is wise and pious and Saturn (blue/black) is strict and stern.
Available in our Etsy Shop for $5 and Free Shipping. Or just email us at orders[at]gnaana.com with your shipping address and we'll send you a click-and-pay link.
3.5″ x 5″ cards printed on heavy-duty cardstock. Cards come packaged in a plastic sleeve.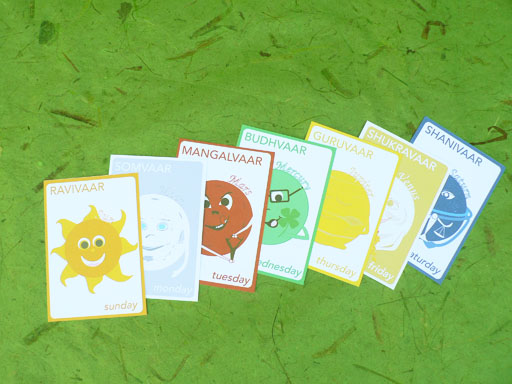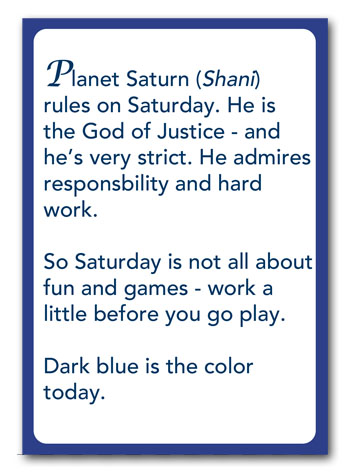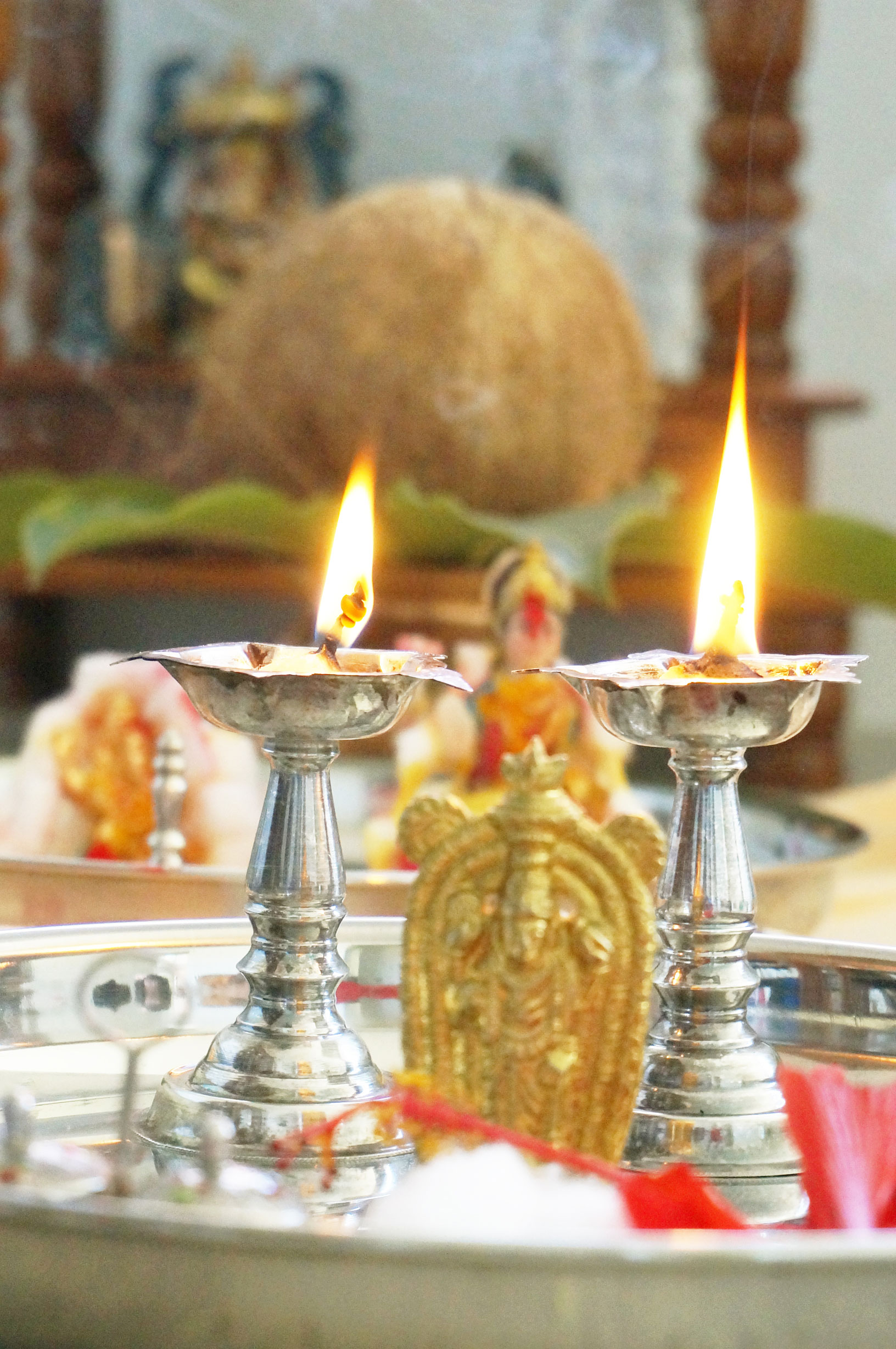 Happy Diwali!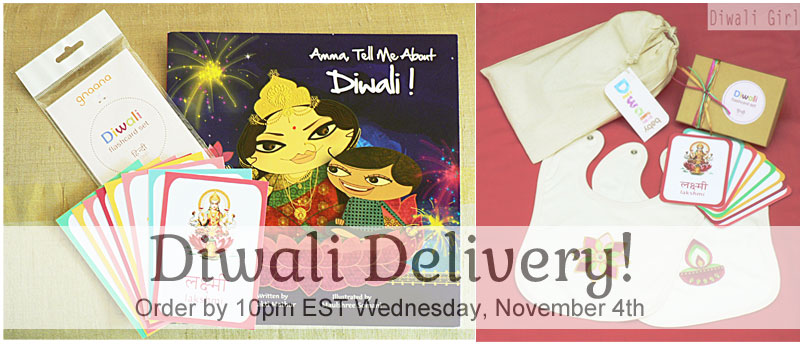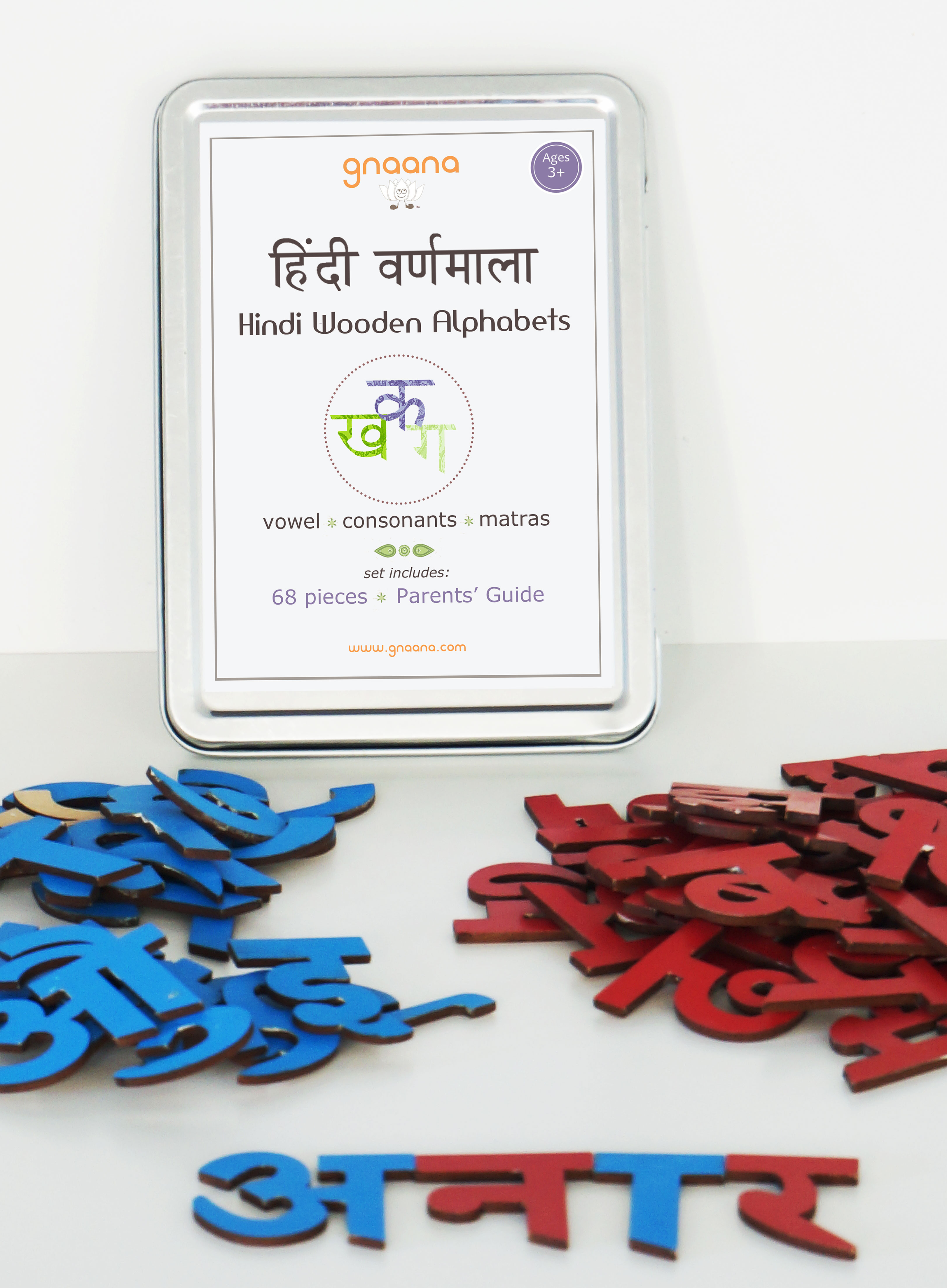 May we present our Wooden Hindi Moveable Alphabets!
Wooden moveable alphabets have been a staple in Montessori classrooms for generations. And it's no wonder: they are an invaluable tool for learning to read, write, and spell.
These wooden alphabets are designed for kids who are ready to take the next step and form Hindi words. This set contains 68 pieces so you can form a complete set of Hindi alphabets: 1 set of vowels (11 pieces), 1 set of consonants (36 pieces), and 2 sets of matras (21 pieces). Vowels and matras are painted blue and consonants are painted red.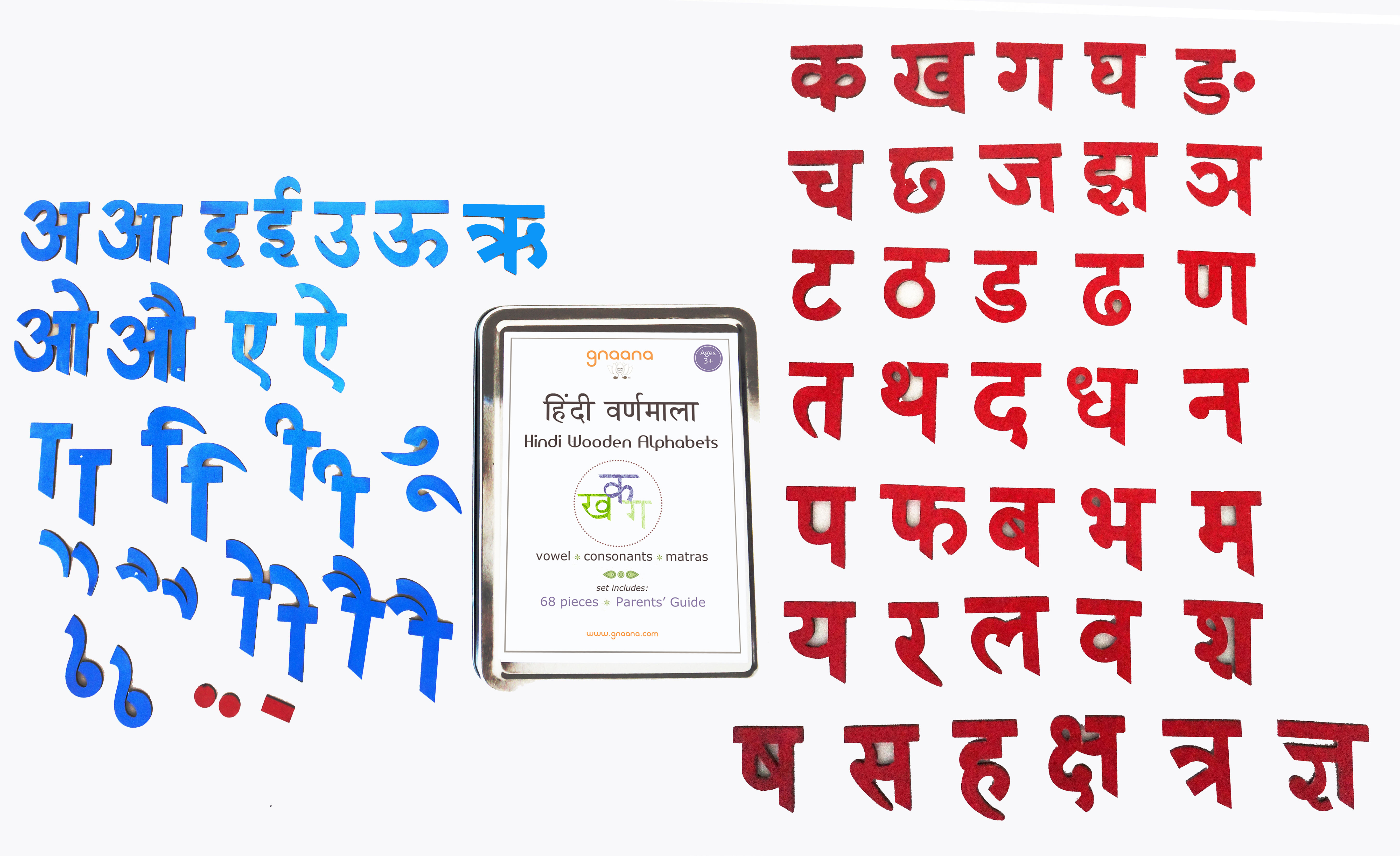 And when you're done for the day, pack them up in our beautiful eco-friendly tin box!
Ships 30 September. Pre-order and reserve your set here…
NOTE: Due to small parts, this product is not intended for children under 3 years of age.
Our new A is for Anaar: My First Hindi Alphabet Book! has been through an exhaustive review process. Earlier this year, we were fortunate to have several dedicated parents review the book in manuscript form, and this is what they had to say:

Help us make history and show the children's book industry that we need more books about Indian language. Help us reach our goal of 1,000 pre-orders. Pre-order your book here…!