Archive for the 'good reads' Category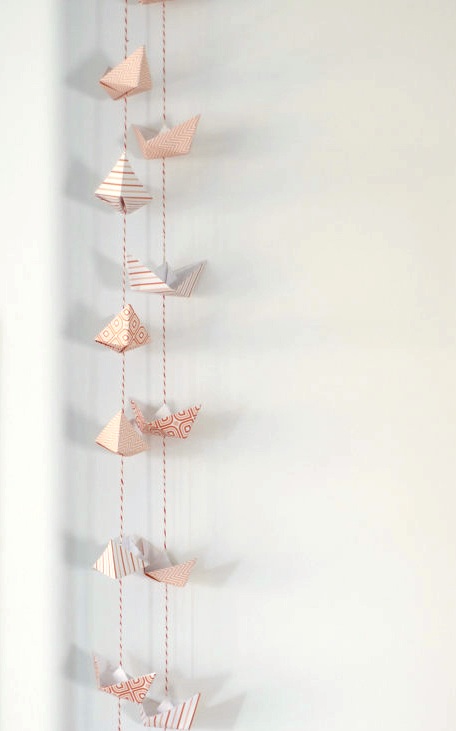 Today we join Meera Sriram and Praba Ram on a Blog Tour of their latest book Bijoy and the Big River.
I often think that even if I lived in India for my whole life, I would not be able to see even half of all of its beauty.  Bijoy and the Big River transports kids to Assam and the mighty Brahmaputra – so they can catch a glimpse (yes, literally a glimpse – as this book has wonderful photographs!) of life in India's Northeast.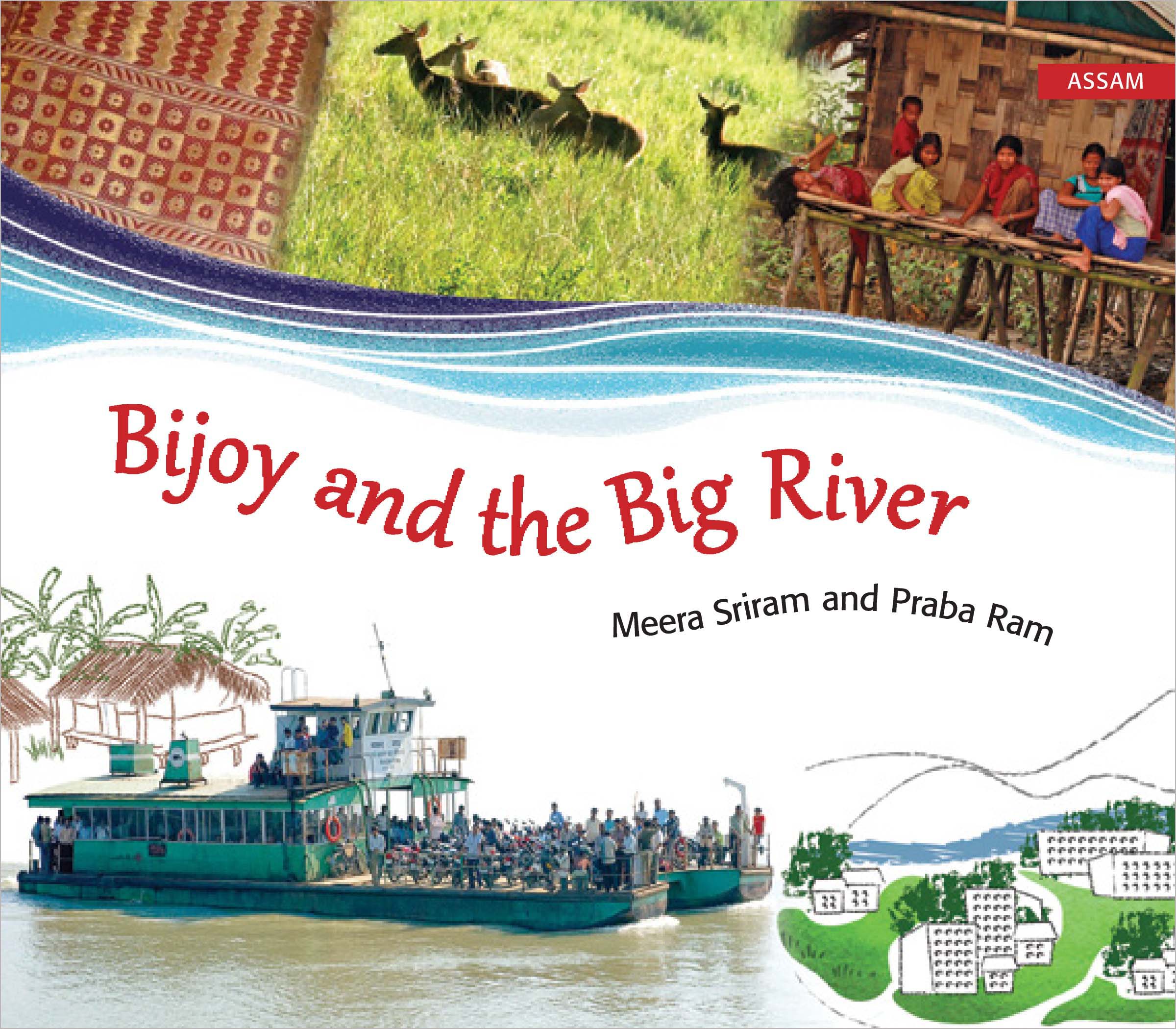 A wonderful read packed with vignettes about Eri "Peace" Silk, xihu (an endangered species of dolphin) and a subtle lesson of man's interdependence on nature – perfect as we celebrate Earth Day this week.
To build upon the book, Meera has suggested a simple and wonderful craft for kids:  Origami Paper Boat Torans
1)  Make a few paper boats (use paper in coordinating prints and colours);
2) String them together (you can also use beads, butterflies and other items for visual contrast); and
3) Hang
Meera informed us that this craft was used at a book launch event at the ANTS store in Bangalore last week (credit to artstales.blogspot.in)
Thanks, Meera and Praba for pointing us to this wonderful book.
Bijoy and the Big River is available via Tulika Books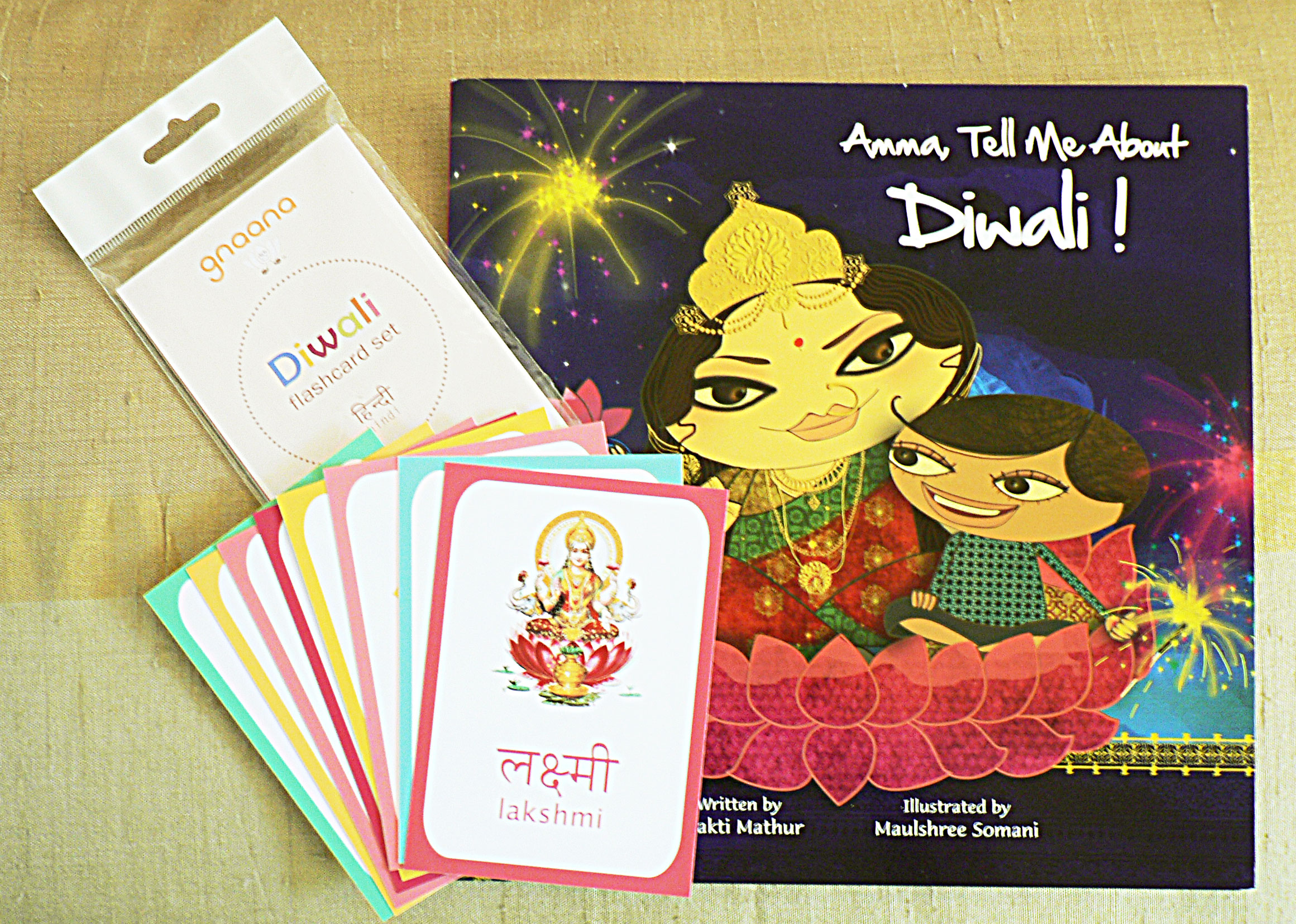 It's October – and that means the Fall Holidays will be here before you know it.  Navratri is just 2 weeks away, and Diwali Main Day this year is on November 13!
Get ready for Diwali with this terrific book and flashcard set!
Brilliant firecrackers lighting up the night,
Diyas twinkling like stars – what a sight!
This is Diwali, in all its glory,
As told to Klaka, by his Amma – a magical story.
Amma, Tell Me About DIWALI! by Bhakti Mathur & Maulshree Somani tells stories of Rama's homecoming and of Goddess Lakshmi. The gorgeous illustrations are sure to make this a favorite in your house this Holiday season.
Comes with a set of Gnaana's 8 Diwali-Themed Flashcards for an added educational component.  You can use your flashcards to play games, as a wall display or to make a custom photo book.  Flashcards available in: Bengali, English, Gujarati, Hindi, Kannada, Tamil, Telugu and Punjabi.
On sale now in the Gnaana SHOP.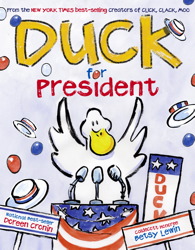 The election excitement is in full swing in the US – so how can you share it with the kids?  Left wing…right wing…Duck for President
!
Why aren't there more books about sibling relations?  Celebrate! Your Festival Handbook: Rakhi and Bhai Dooj is a story-craft-activity book for kids that focuses on Rakhi (and Bhai Dooj) and the brother-sister relationship.
A collection of 8 stories and folktales, including festival day games and crafts, this book seems most appropriate for kids ages 5 and up.
Limited availability outside of India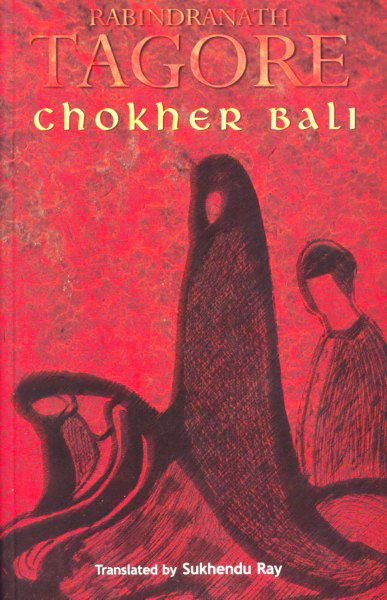 Nothing beats a good classic read.  I recently re-read my copy of Chokher Bali
that I picked up in Bangalore a few years ago.  Such masterful character development – and romantic, yet very "Indian" all at the same time.
Fortunately the Sukhendu Ray translation is (sort of, sometimes) available on Amazon
.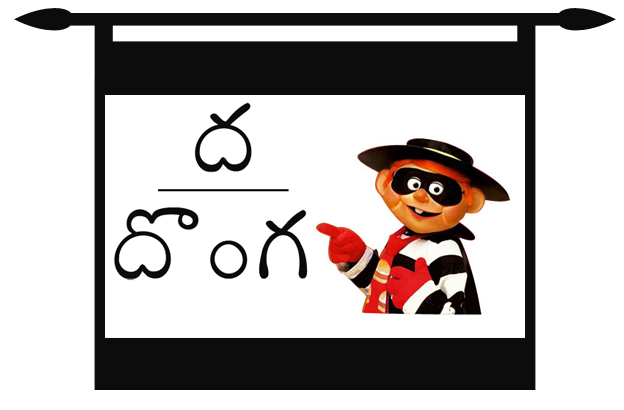 How do you say "thief" in your language?  In Telugu it's "donga" and it's been the week's most-used word.  But not in the cute/playful way of using it to describe kids who do mischief.  No, the usage is most unfortunately due to a theft incident on our long-weekend vacation trip:  unabashed smashing of the driver-side car window, pilfering of our (outdated) GPS and (to add further insult) the kids' car seats – though the car seats were later found.
At least the kids learned why it's bad to take things that are not yours.  Although the story of Ali Baba and the Forty Thieves may make them think that stealing is not all black-and-white.
Below left, bilingual Urdu/English version
 of the tale; below right, story in graphic novel format
.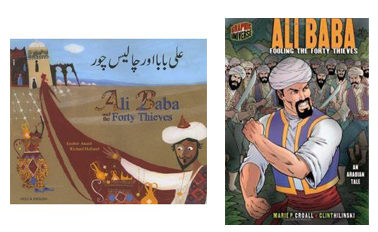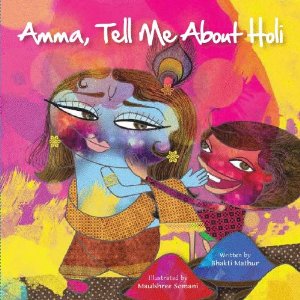 This post is authored by Bhakti Mathur – author of Amma, Tell Me About Holi
.  Originally from Dehli, she is now a banker based in Hong Kong, where she lives with her husband and 2 sons.  The book is the first of a series which aims to introduce children to Indian mythology and festivals.
"Holi hai, bhai, Holi hai, bura na maano, Holi hai" – the universal evocation associated with Holi says it all about the festival and what it means for me.  A warning as well as a plea for forgiveness, both rolled into one, it is the license for indulging in all sorts of naughtiness and fun-filled pranks that one would otherwise not dream of committing on any other day.  Throwing water-filled balloons at strangers from rooftops, creeping behind the strict and scary older uncle and drenching him with a bucket of cold water, singing and dancing with friends and family with gay abandon while colouring each other with the brightest of colours and eating the most fattening of savories that one would otherwise stay far away are just some of the things that the memory of Holi evokes.
Mounds of gulaal in bright colours – red, blue and yellow laid out in the stalls in the bazaar, the buzz in the air, the smell of gujiyas being fried, the wait for uncles, aunts, cousins and friends to arrive, getting ready with the pichkaris, and gulaal (mixed with boot polish and silver paint for that extra effect) … is what makes Holi so special.
The other special memory of Holi that has stayed with me was listening to the story of brave Prahlad and evil Holika and of Radha and Krishna playing Holi….as narrated by my grandmother to a bunch of eager children huddled around her.   She told the same story every year and the fascination was evergreen…. my favourite part was when Krishna colours Radha blue and starts the tradition of rubbing colours on Holi.
All this seems like eons ago.  Now as a mother of two sons, aged four and two, I am keen to share with them the fun that I had on our festivals and the wonderful stories behind them …and this is what inspired me to write the Amma Tell Me Series of which Amma, Tell Me About Holi
is the first book.  I hope that you and your kids will enjoy reading this book as much as I enjoyed writing it.  It's a lovely festival..and if I have to put it in two words, I would say Holi is about letting go….of inhibitions and of the past and welcoming the New Year with open arms…
May this year and every year ahead be full of colours for you.  Happy Holi!
© 2012 Bhakti Mathur
www.ammatellme.com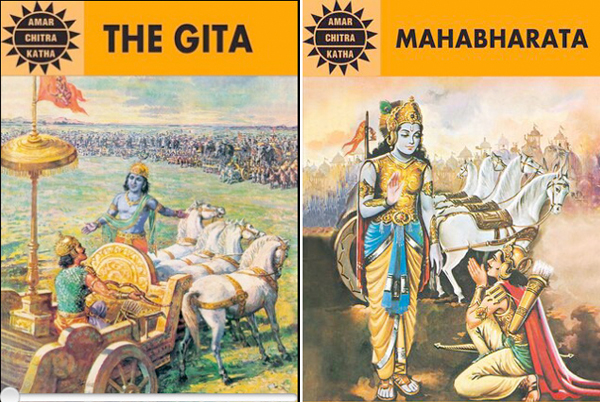 Our struggles as parents to keep Indian culture alive and relevant to the next generation is no different now than it was 50 years ago.  As modernization and general "busy-ness" envelop family life, cultural education of our kids often gets pushed to the bottom of the priorities pile.
In 1967, Uncle (Anant) Pai was struck by how little Indian children knew about their own culture when, on an episode of Doordarshan, participants were unable to answer the question "In the Ramayana, who was Rama's mother?" (though they were able to effortlessly answer questions about Greek mythology).  And so, as the story goes, Pai quit his job and started developing the Amar Chitra Katha series.
Now, at over 400 titles published in 20 languages and over 90 million copies sold, it's hard to fathom a children's bookshelf without at least a couple of the titles.  There are even several videos (put out by ACK Media).
Are you reading ACK with your kids?  Why or why not?  Which are your favourite titles?
If you are in the New York area, check out the Asian American Writers' Workshop Tribute to ACK on Thursday, February 16th.
Also, for a deeper (and perhaps more accurate?) understanding of the origins of ACK, see Outlook India's article last year about G.K. Ananthram – which reports the first of the ACK comics was produced by him in 1965 in Kannada – not English.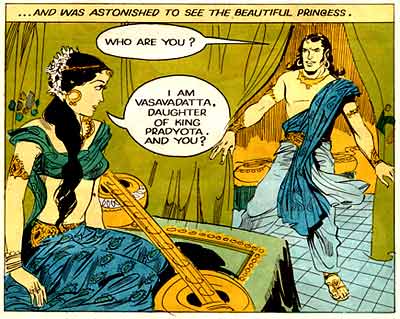 Images via Google Images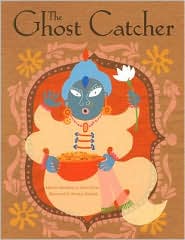 A super-cute adaptation of an old Bengali folktale – about a barber who outwits a ghost and it's uncle using a mirror.  The Ghost Catcher
 has great text, great illustrations (the barber is a perfect rendition of a Bengali intellectual) and a great message (in problem-solving) – the trifecta of a great book. 
Happy Halloween!
Looking  for a good children's book about Diwali?  It's slim pickings out there, but I've had the chance to review several.  Sadly, most are quite terrible.  I really don't like to write negative reviews, so I won't name names, but here are my gripes:
          1.  As a South Indian, my pet peeve is when books try to teach that the Ramayana story is THE story of Diwali.  It is not THE story – it is A story.
          2.  Failure to get the name right:  "Diwali" is a shortened version of the correct term "Deepavali."  If books are teaching about the holiday, this point should be mentioned.  Again as a South Indian, amongst family and friends, everyone in my family uses the term "Deepavali.'
          3.  When books try to also teach basics of Hinduism alongside the Diwali topic they become dangerously oversimplified.  One of the books I reviewed stated that "Hindus believe there are many gods."  Which is fine I suppose as a first sentence, but a phrase like this must absolutely be qualified by a second sentence along the lines of "These gods are all seen as different manifestations of a single Supreme Being."  I went through middle and high school with most of my classmates thinking I worshipped some polytheistic paganism due to a certain World Cultures public school textbook. Which I deeply resent.  Still.  Kids are perfectly capable of understanding the second sentence.
          4.  Failure to mention the core meaning of Diwali:  it's not just about legends, mithai, firecrackers and diyas.  There is a beautiful meaning underlying all of it – the celebration of the inner light within us, the triumph of light over ignorance, etc.  Again, kids are perfectly capable of digesting this.
Enough about my gripes about the bad books, here are some decent ones that are worth taking a look at:
1.  Holidays Around the World: Celebrate Diwali: With Sweets, Lights, and Fireworks
.  This one is published by National Geographic, so it instantly has credibility.  It's text-heavy, but this allows children to grow into it.  The pictures are really nice.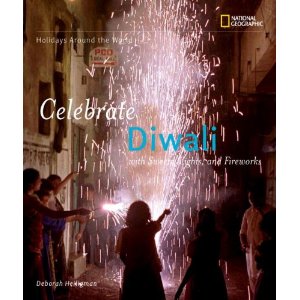 2.  Lights for Gita
.  Not so much an instructional manual on Diwali, but a real story with a wonderful message.  Kind of sad, but the ending makes up for it.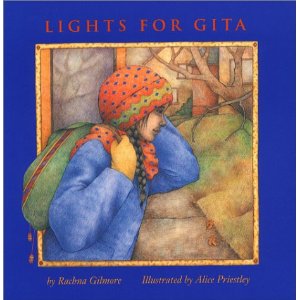 3.  Lighting a Lamp: A Diwali Story (Festival Time)
.  If you're looking for a basic for the preschool set, this one is very simple.  Some of my gripes (see above) apply here, but this is one of the better I've seen geared towards the youngest kids.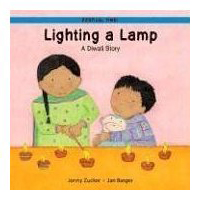 4.  Rama and the Demon King: An Ancient Tale from India
.  I've recommended this before – it is just too cute.  The text is so well done that I don't have to substitute my own version (like I do with some books I get from India).  A terrific summary of the Ramayana for kids.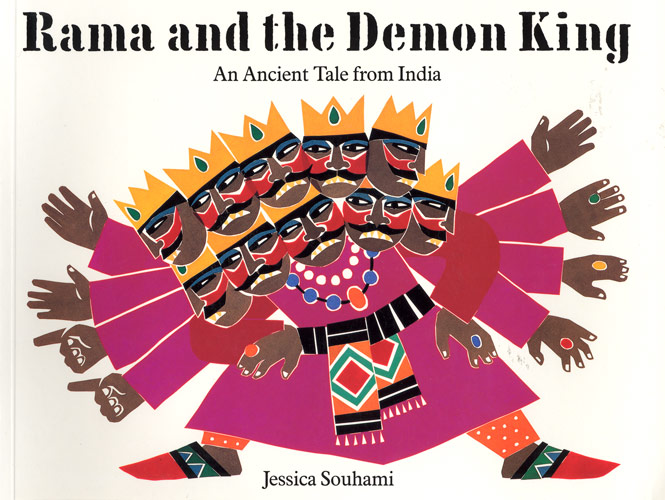 5.  Krishna and Narakasura (Amar Chitra Katha)
.  Really the only option to illustrate the "other" Diwali story.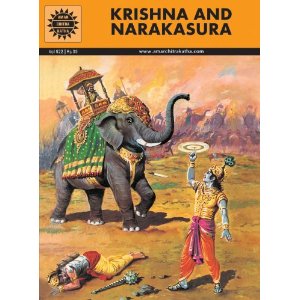 6.  My favourite – a DIY book idea submitted by one of our readers – Smriti from Kansas City, MO.  She used Flashcards from our Organic Bib Sets to create her own "Diwali Book"  using a small picture album.  She said in her email that she made her own cover and plans to fill the rest of the pages with family Diwali pictures, quotes and momentos.  Thanks for the snaps Smriti!