Archive for the 'Guest Blogger' Category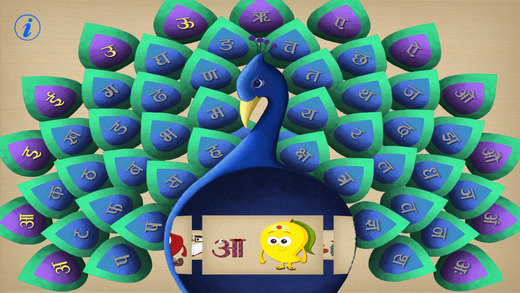 This post is authored by Rashi Bahri, Founder of Shoonya Digital, producer of the Hindi Play & Learn IOS App – one of the fastest-growing Hindi-learning app available today. Rashi has over 15 years of experience in the film and television industries both in the USA and in India. In addition to directing short films, she has worked with clients such as Discovery, ABC, Warner Brothers and Lifetime Television. In India, she was a TV host for the longest running breakfast show "Subah Savere" and a journalist with ZEE News and ANI. Rashi currently lives in Santa Barbara with her family, where she serves on the Board of Directors at Montessori Center.
When I agreed to write under Love Your Language Campaign for Gnaana, I wasn't sure what to say because loving your language feels so natural like "loving your mother" or "mother tongue" that I found myself at loss for words. Then like a muse, these words appeared before me as I was reading one of my favorite books, The 7 Habits of Highly Effective People by Stephen R. Covey:
"There are only two lasting bequests we can give our children— one is roots, the other wings."
I read these lines and I read them again and again.
As young parents, our focus is so heavily on giving our children wings that we remain on a constant road-trip between schools to swim classes to soccer games and to everything else that perhaps we forget to give them roots. But what does it mean to give your children roots? Roots that tie you to your culture, your heritage, your family –  and does a language play a part in it? Personally, I think it does. Perhaps that it the reason we created an app called Hindi Play & Learn IOS App that is available for iPad & iPhone.
I am a film professional and have worked half of my lifetime in the television and film industries both in Hollywood and India. I was happy making films and creating television content, but after I had kids, I wanted my career to be a little more, perhaps about them. That was the birth of Shoonya a first of its kind edutainment company that creates high-end digital interactive content with a focus on India, its languages and its culture.
It started a year ago when my husband and I were sourcing for engaging content to teach our older son, who is now five, our native languages. I speak Hindi (India's national language) and my husband speaks Marathi (Regional language spoken in Maharashtra) and to our surprise there wasn't anything engaging in the market for either of the languages. The material we got from India seemed irrelevant and dated for our children who are born and brought up in the West. And the educational apps in Hindi seemed quite basic for our children who are exposed to some amazing apps in English created by some great app development companies. We felt strongly that there was a need for fun interactive apps for Hindi too and that is where the idea for our app Hindi Play & Learn IOS App came about.
We collaborated with a team of designers, animators, IT enthusiasts and educators and set up shop in our garage. The idea was to use the same Hindi alphabet book that is used in the schools across India but give it a fresh perspective. Therefore, the letters were designed to become interactive characters and their letter association, saw a complete new transition. Each character was given a unique personality through their clothing and actions, thus highlighting India's diversity, its beautiful festivals, delicious foods, musical instruments, and its national pastime: cricket! The end result was a pool of playful animated characters that teach phonetics with fun interactions. The puzzles allow children to get a glimpse of India's cultural diversity via tidbits of trivia.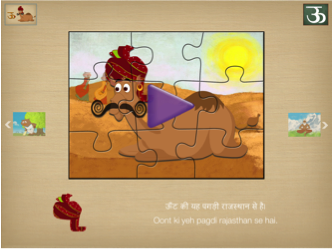 The style of teaching in our app is very Monetssorian. Just as the child learns a pattern and the phonetic sound of the letters by practicing sandpaper letters, we have created 49 letter tutorials; each with its own designed chalk sound. Therefore, through multi-sensory approach, the child hears the sound, follows the visual representation and gets to practice writing with his fingers. To emphasize learning of the motor pattern correctly, each letter is mapped that forces a child to finish tracing the first step before activating the next.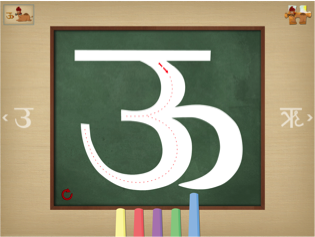 Each page of the app is very careful designed. The look is simple & clean to help children focus on the content without unnecessary background noise.
We at Shoonya believe that language is a gateway to a culture and since Hindi is India's national language, we have tried our best to make it a gateway to India's diverse culture. As a language, it is grown to become the fourth most spoken languages around the world.
For me, it is important for my children to learn Hindi because my parents living in India speak that language. For my husband, it is Marathi. For you, it could be any other language but exposing children to multiple languages at a younger age is seen to be quite advantageous for their brain development.
Ellen Bialystok, a cognitive neuroscientist, in a New York Times interview states that among other benefits, the regular use of two languages appears to delay the onset of Alzheimer's disease symptoms. Among kids, "it improves the brain's so-called executive function — a command system that directs the attention processes that we use for planning, solving problems and performing various other mentally demanding tasks."
It is a gift we as parents feel we've given to our kids and wish to share with our audience. Knowing that learning more languages helps our children's brain-development gives us immense comfort in addition to its social & cultural advantages. Our older son speaks three languages in their native accents; with me in Hindi, with his dad in Marathi and with his friends and teachers in English. He is now helping his younger brother learn the same skill and is able to speak to both sets of grandparents in two different languages. This ability to converse with the extended family in their native language makes him fit in the family instantly. It brings a smile on his grandparent's faces and assures them that their heritage has passed to the next generation thus keeping the cultural connection intact and keeping the roots firmly grounded.
We hope to fulfill this need for many more parents in various languages. Love your language because it is the closest that comes to loving your roots.
You can download the app here
Languages are beautiful….Love Your Language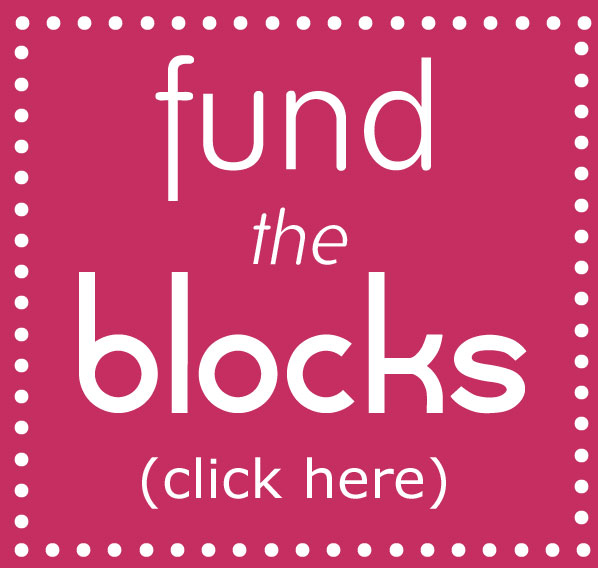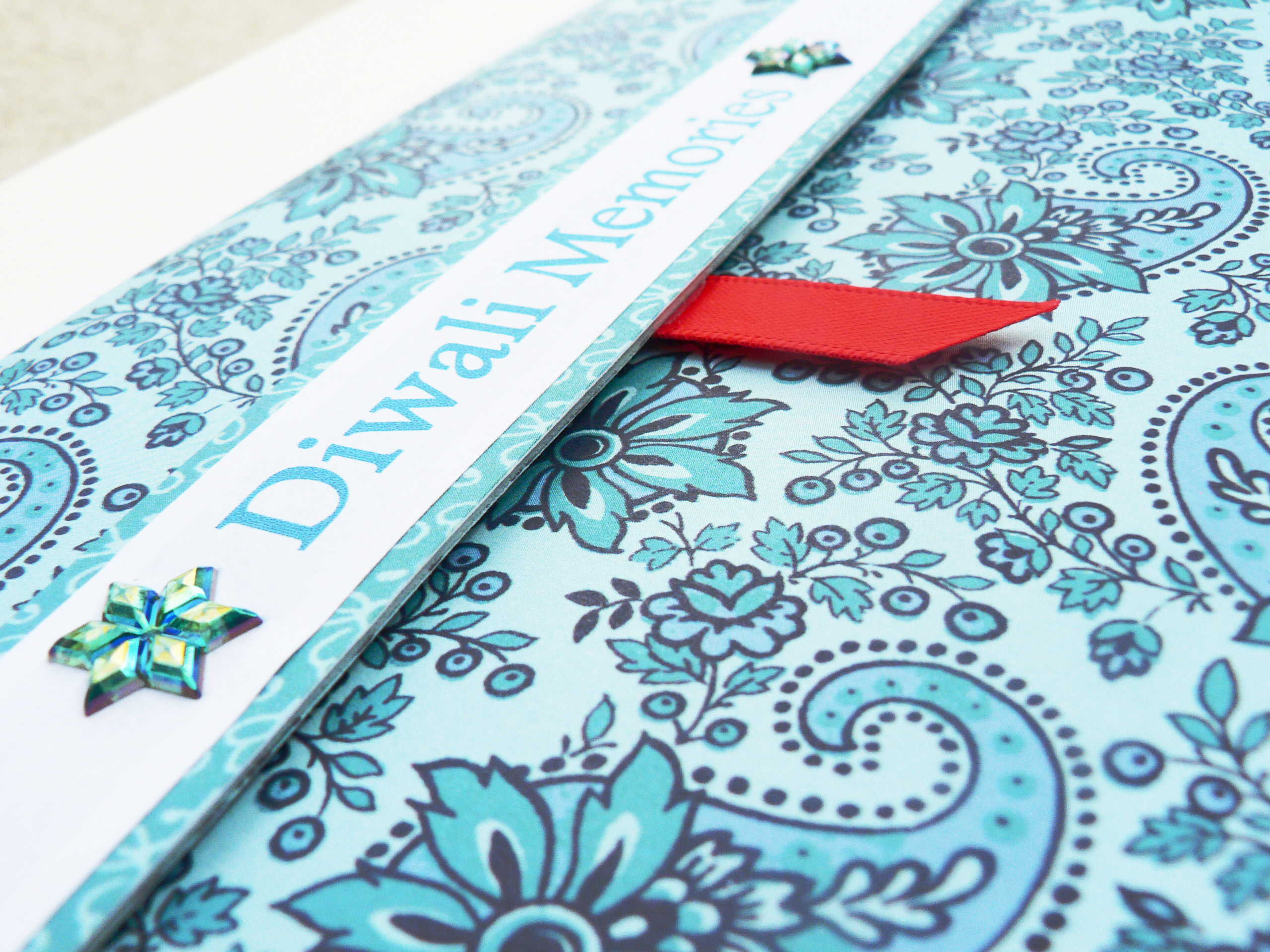 This post is authored by Bhakti Mathur – author of Amma, Tell Me About DIWALI!.  Originally from Dehli, she is now a banker based in Hong Kong, where she lives with her husband and 2 sons.  The book is the second of a series which aims to introduce children to Indian mythology and festivals.
What does Diwali mean to me?
Magical memories from my childhood.  Shopping in the bazaar with my grandmother in the lead up to Diwali – the stalls stacked with dazzling silks, the smell of sweets being fried, the order in all the chaos around us, and just the sheer buzz in the air.  Then all the excitement at home on Diwali day – competing to create the most elaborate "rangoli" pattern outside the entrance, lighting up scores of diyas in the evening on the roof, and finally, watching in amazement as the night sky was lit up by hundreds of firecrackers going up all over the city all at once.  These are just some of the memories that Diwali still evokes in me.
A time for new beginnings.  Diwali is also the time when everything seems to get a makeover – a new coat of paint on the house, new clothes for everyone and even new resolves for the year ahead!  That is why one seeks the blessing of Lord Ganesha, the God of new beginnings.  And so in a way, Diwali comes around every year to give us a second chance – a chance to look back at the year just spent and be grateful for all that went right and a chance to seek guidance to be better prepared for the year ahead.
And a lesson I never forget to remind myself of.  This comes from a story that my grandmother used to narrate to the bunch of eager children huddled around her on Diwali day.  Here's how it goes.  Goddess Lakshmi visits earth every year on Diwali to bless us and that is why we light up our houses with diyas so that Lakshmi can find her way in the dark.  One year on Diwali day everyone in the city tried to outdo each other with the number of diyas and lights they used to light up their houses so that  Lakshmi would go to their house first.  But, unable to stand the glare of the lights in the city and repulsed by the brazen efforts to attract her attention, Lakshmi decided to turn back from earth that year.  Suddenly, she saw a lone cottage lit up by only a single faint light.  Curious, she stopped at the cottage and there found an old woman busy sewing.  When Lakshmi asked the woman why her house was not lit up like all the others in the city, she replied that she was a seamstress and was so busy finishing her work and she did not realise it was Diwali that day.  One hearing her answer, Lakshmi was very pleased with her dedication for her work and blessed her with good fortune.  And the lesson is, as my grandmother used to put it, "You can only be blessed with good fortune when you love what you do and do what you love.
Now as a mother of two young boys, I am keen to share with them what Diwali and other festivals mean to me…and this is what inspired me to write the Amma Tell Me Series of which Amma, Tell Me About DIWALI! is the second.  I hope that you and your kids will enjoy reading this book as much as I enjoyed writing it.
I would like to end with one of my favourite prayers:
asato ma sadgamaya
tamaso ma jyotirgamaya
mrtyorma amrtam gamaya
Lead me from untruth to truth.
Lead me from darkness to light.
Lead me from death to immortality.
May this year and every year ahead be full of lights for you.  Happy Diwali!
This post is authored by Bhavna – a corporate consultant from Gurgaon, India who is equally passionate about Indian decor.  She blogs at An Indian Summer, helping her readers draw inspiration from "design, decor, creative talent, art and craft, that is global in its appeal, and is inspired by the color and vibrancy of India."
As an ardent admirer of traditional art and crafts from India, nothing pleases me more than to see them being appreciated and celebrated all over the world.  From design enthusiasts to big décor stores to the global home maker, there is a renewed interest in handmade products and textiles from India.  Global appeal of Indian craft traditions has also encouraged more and more indie designers within India to work with grass root artisans and save many a dying craft tradition and skills.  And going by 2012 home décor trends and forecasts, it looks like India and inspired by India are going to be hot favourites again this year. Hurray for that!

Here's taking a look at a few of my favourite stores and their pick of India inspired home collection:
Banarasi/Jamdani fabric covered journal indigo block print style table linen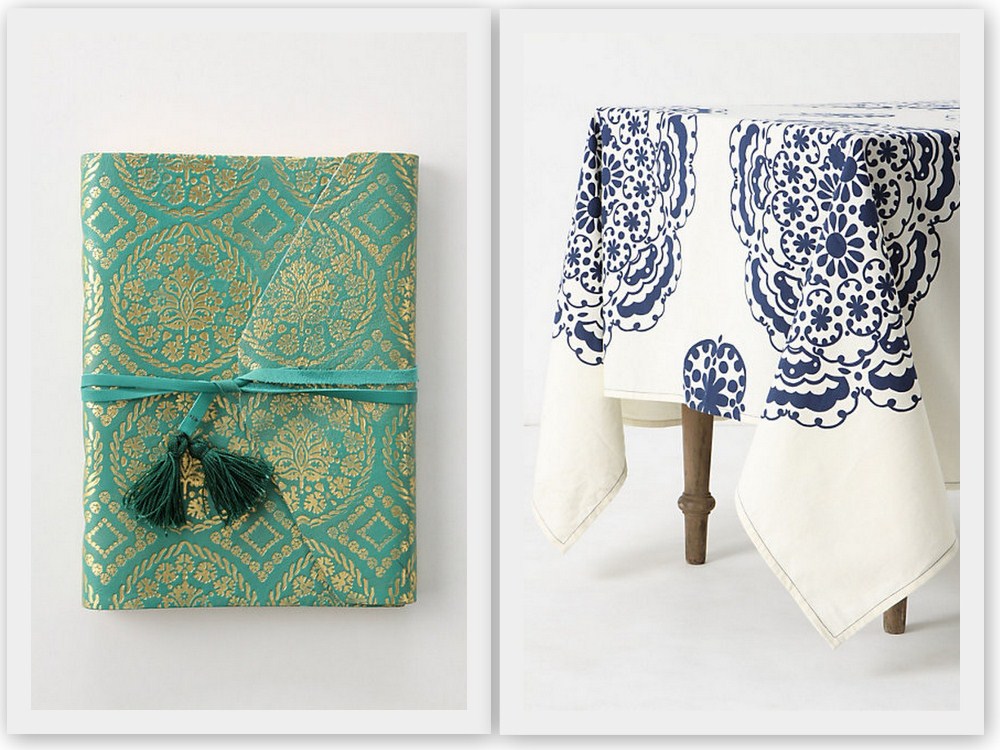 Knobs from Rajasthan and dhurrie cushions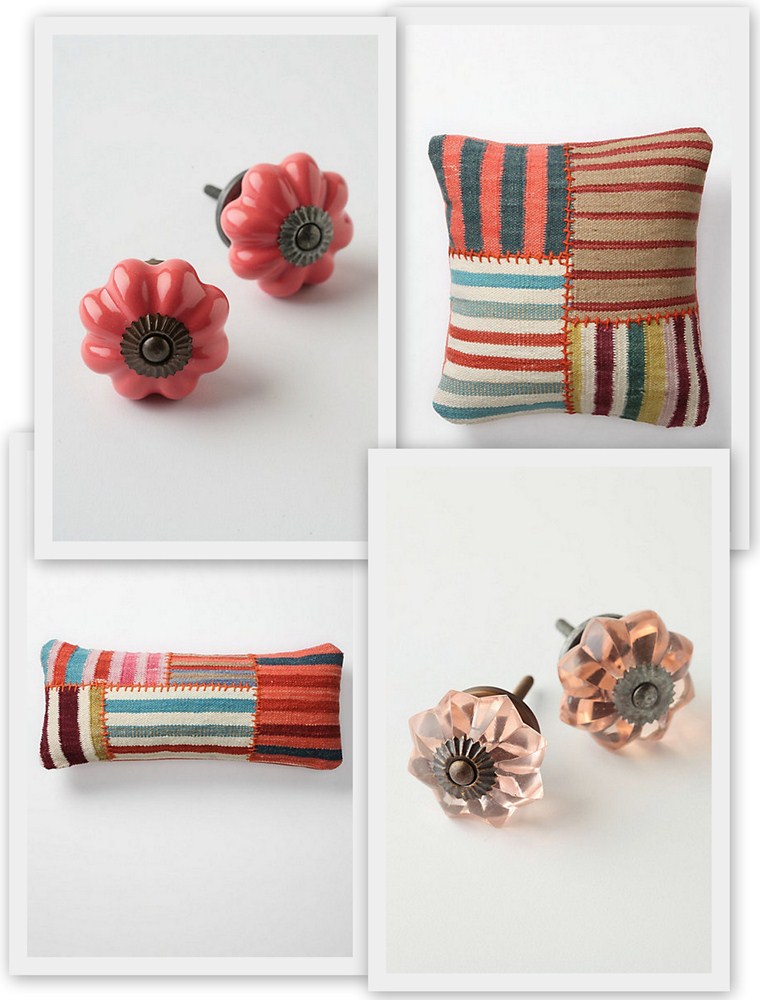 Painted wooden horse and spice boxes from Saharanpur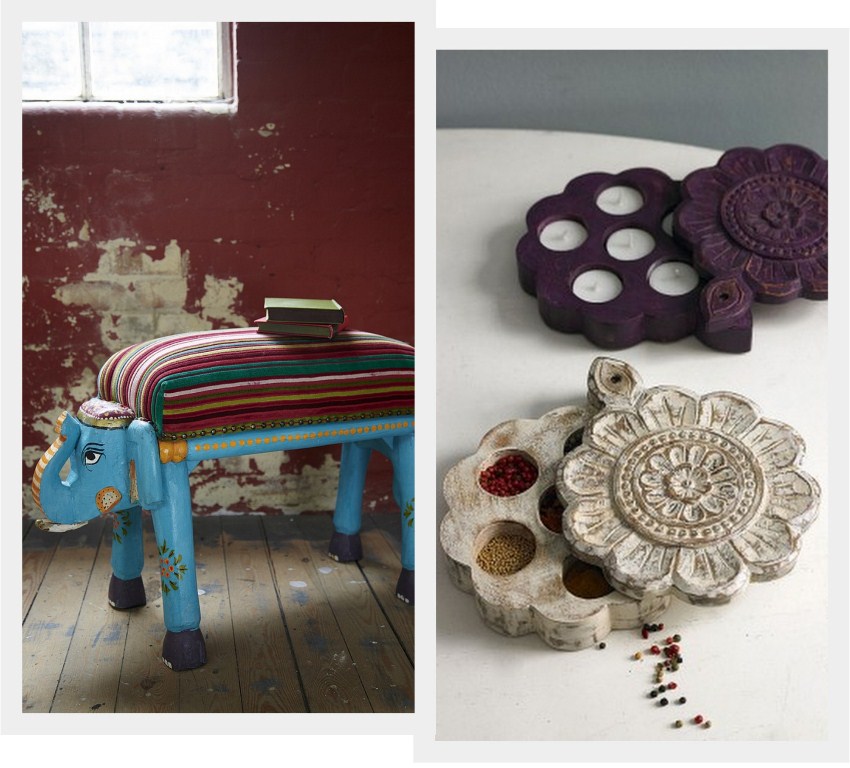 The cutest owl hooks, wooden boxes and the ever popular fabric elephant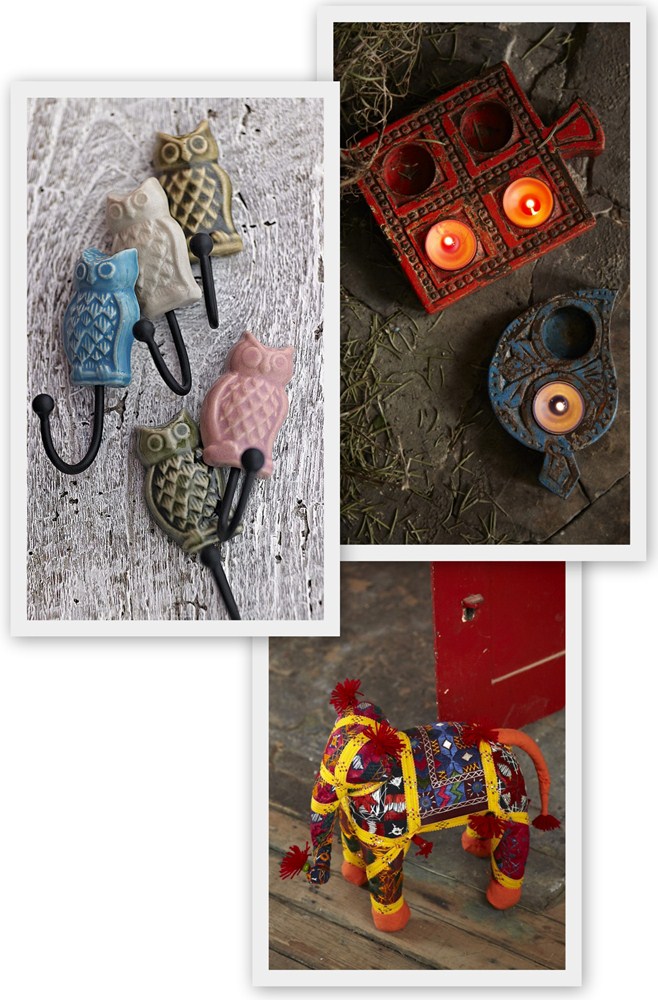 Kantha throws and kilim dhurrie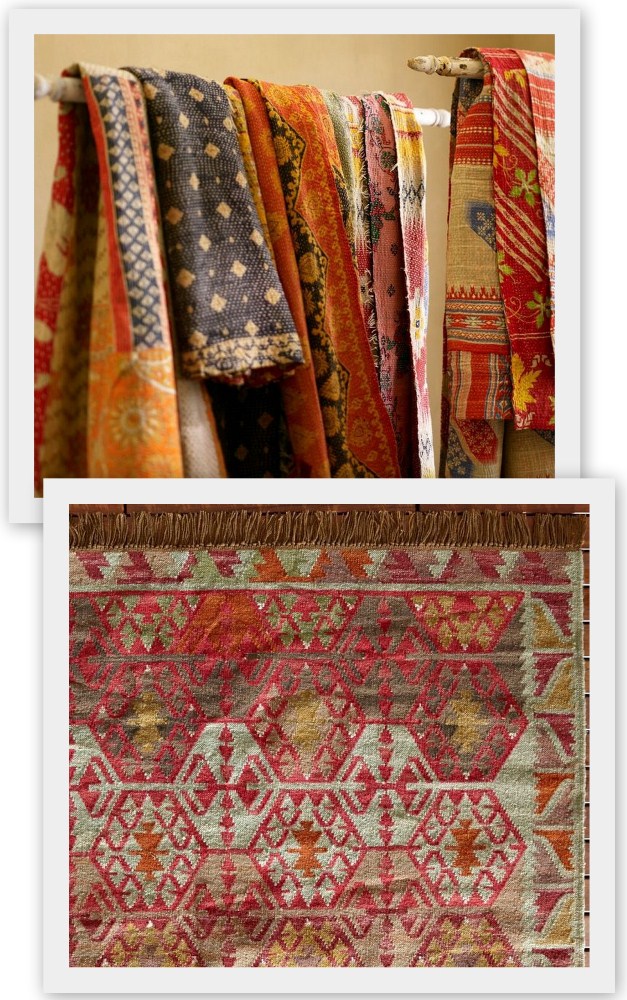 Block printed table linen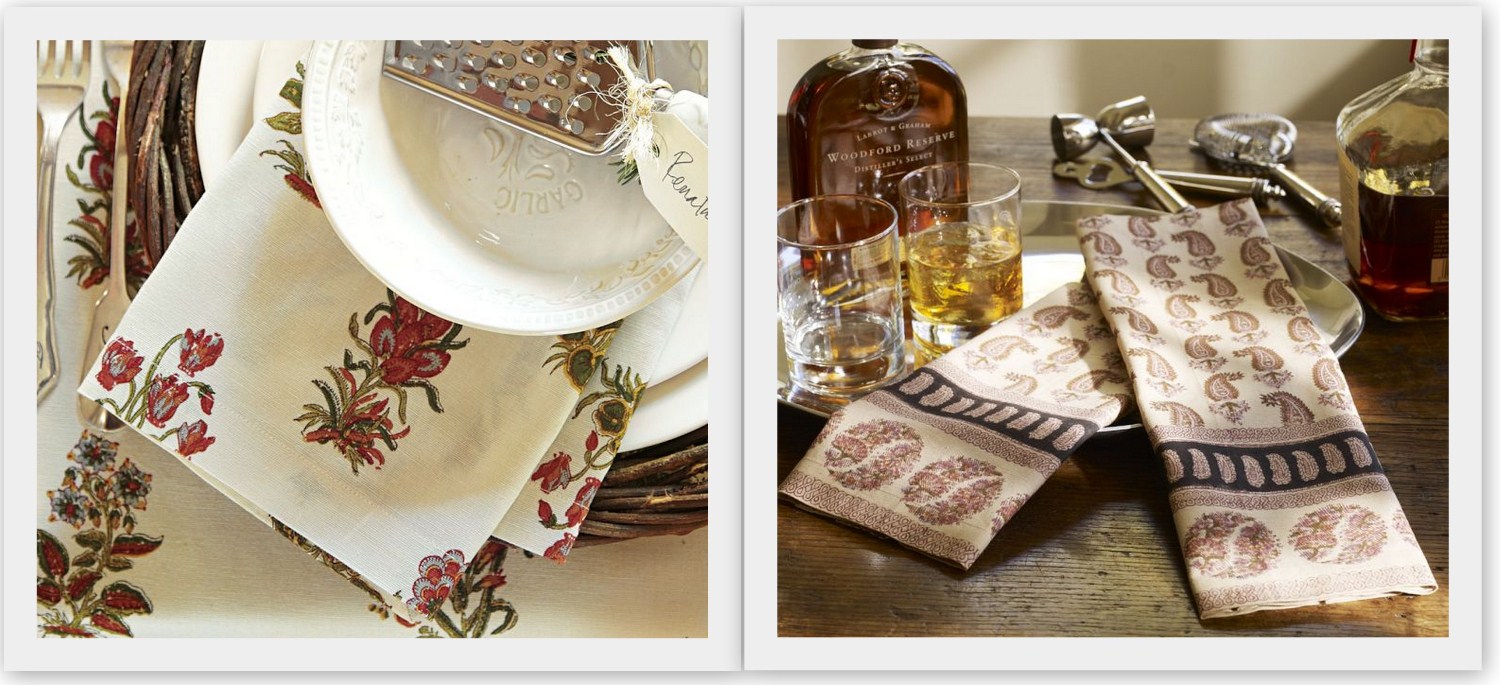 © 2012 An Indian Summer
anindiansummer-design.blogspot.com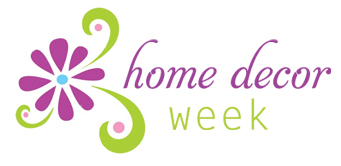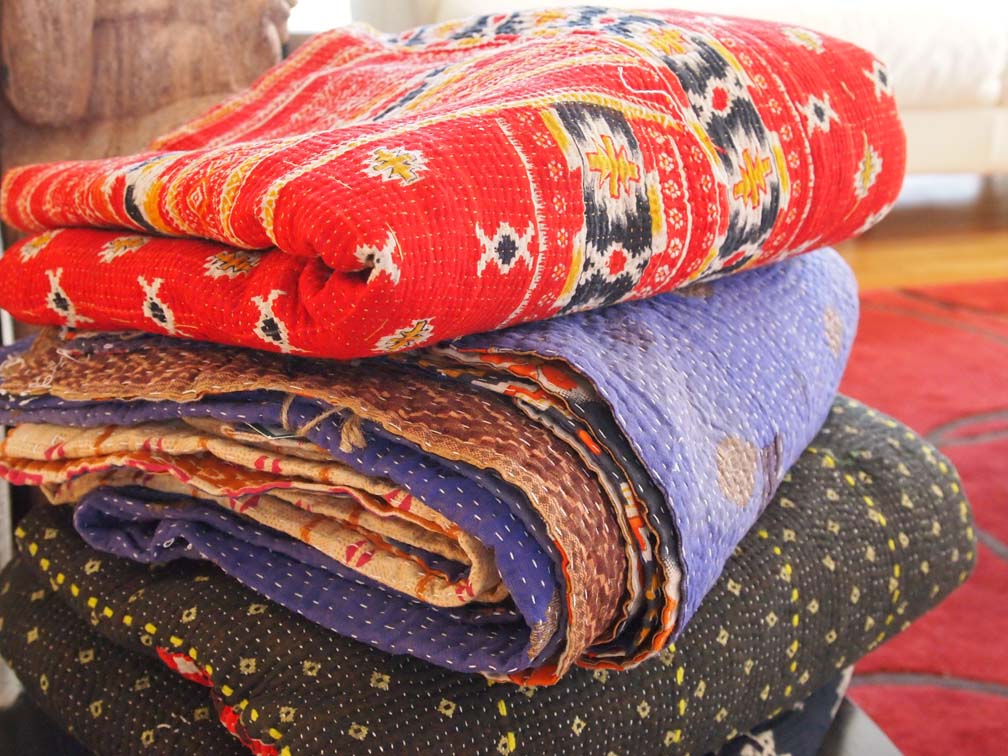 This post is authored by Shilpa Iyer – owner and curator of Harabu House – an online boutique for chic, eco-friendly and globally inspired living.  Her boutique was founded in December 2010 and carries a range of items from home décor to fashion accessories.  Born in India, raised in Singapore, and finally settling in the United States, Shilpa scours the globe to find unique pieces which fit perfectly with her modern aesthetic.  She has been featured in several design and décor blogs, most recently in Matchbook Magazine's January 2012 issue.
One of my passions is to find ways to connect the old with the new, since I grew up in a very modern society but was raised in a culture steeped in tradition.  I feel that a room breathes new life with the juxtaposition of these extremes, whether it's framing old ancestral family photos in contemporary frames or creating modern artwork using the ancient technique of block printing.
For this reason, I love the use of kantha throws to liven up any room.  Kantha refers to the simple running stitch that is used in each throw and is derived from the Sanskrit word "kontha", which means rags.  In Bengal, where kantha throws are popular, women create these heirlooms by using the kantha running stitch to preserve their vintage cotton saris.  These women would traditionally lay up to seven old cotton saris upon each other, taking care to choose the prettiest ones for the first and last layers.  The running kantha stitch keeps the sari layers together and creates a quilted or rippled effect.  Creation of these kantha throws gives the saris new life and recycles the vintage fabric into functional, beautiful blankets to use during the cool winter months.  Each kantha throw is unique and each tells us a beautiful story of life-long preservation.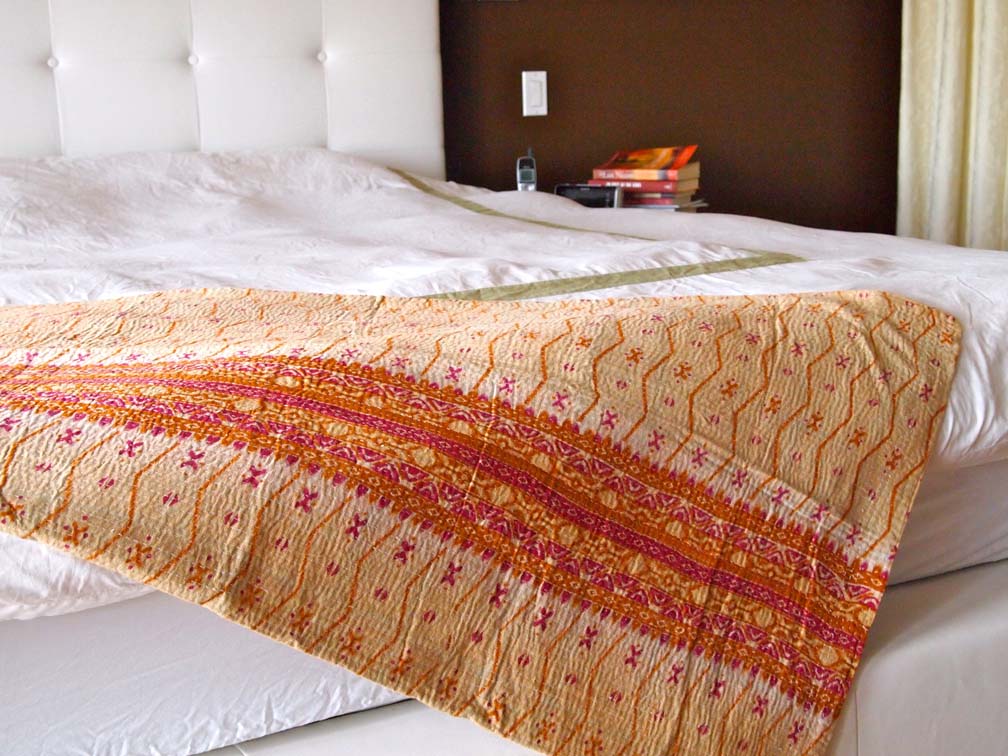 All images are courtesy of Harabu House
© 2012 Harabu House
www.harabuhouse.com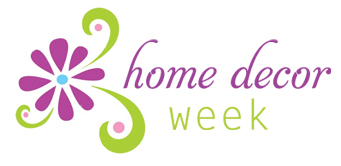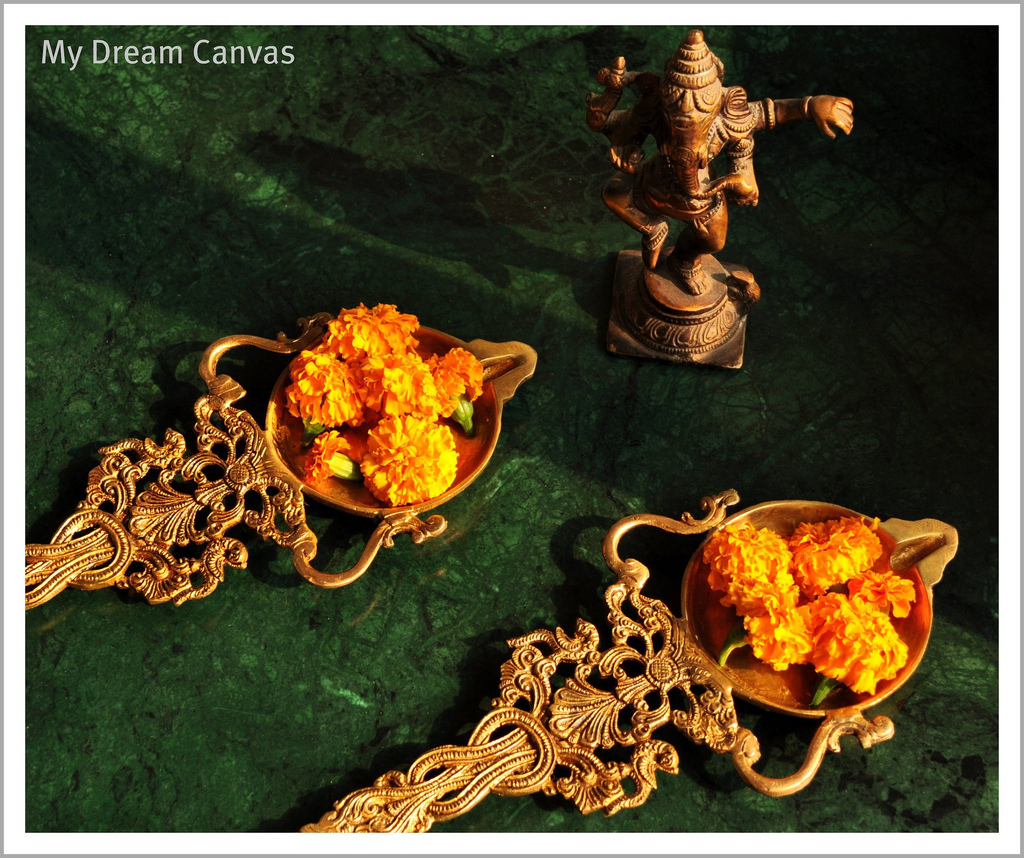 This post is authored by Anuradha Varma – a Seattle-based blogger, interior stylist and photographer.  She owns a lifestyle blog called My Dream Canvas and has recently started a small business venture called The Shop at My Dream Canvas – an online boutique with a global feel featuring her exclusive picks for you and your home.
I believe that flowers are one of God's prettiest creations.  They are such an essential decor accessory and universal in their appeal.  Flowers compliment any design style – be it modern, eclectic, traditional, or classic elegant.  My home is Indian with an eclectic touch.  Flowers are very critical to my decor style.  I don't believe in using traditional vases to display my flowers.  I believe that pretty much anything that can hold water can be a vase.  Look around your home.  You will find multiple choices and a variety of vases to choose from.  On any given day, a simple flower arrangement can give your space a fresh and bright look!  I constantly use traditional brass diyas, urlis and urns as vases.  They remind me of India and home!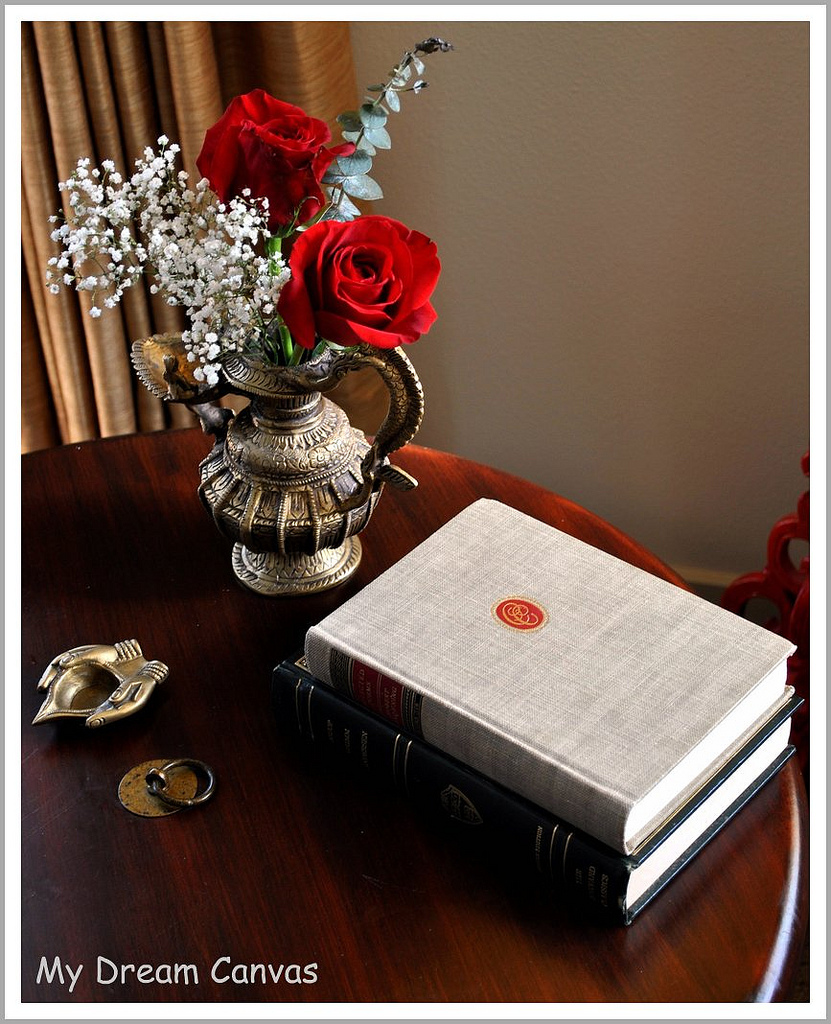 These days we can pretty much buy anything from a store.  However, a lovely souvenir or a cherished heirloom personalizes your home and makes it warm and inviting.  Flowers may be a common decor accessory, but displayed in something that is exclusive to your home, makes it unique.  As an Interior Stylist and designer, I will let you all in on a secret.  Flowers are my weakness.  They are also my greatest ally!  My home always has a few flowers to brighten up the grey Seattle days.
I firmly believe that you do not need flowers just to celebrate a special occasion.  A tastefully decorated room with a few fresh flowers will always look charming.  Look around you, you might have that perfect vase right beside you to add panache to your space!
© 2012 My Dream Canvas
mydreamcanvas.blogspot.com
The Shop at My Dream Canvas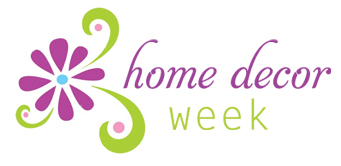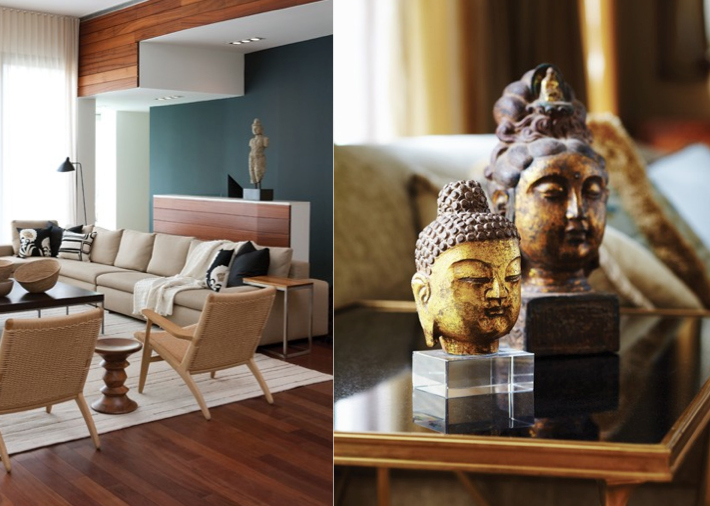 This post is authored by Sundeep at Designwali.  Sundeep is based in Toronto – where she works in the corporate world by day…and by night she's an interior design enthusiast who loves blending modern contemporary decor with South Asian influences.
Hello Gnaana Readers,
I'm Sundeep from Designwali and am thrilled to bits to guest post today on Gnaana as I'm a huge fan and I'm a sucker for good design/ home decor talk.  I figure today I would talk about incorporating sculpture in your home. 
Most of us are comfortable with using paintings, drawings and  photography as our standard go to art.  Have you thought about bringing something more three-dimensional into you space?  The impact can be amazing.  Whether its old world stone sculpture or new brass pieces, this form of art can provide wonderful texture and visual interest into any room.  So do any of you adorn your home with lovely sculptural pieces?
Below, Look how varied sculpture can be?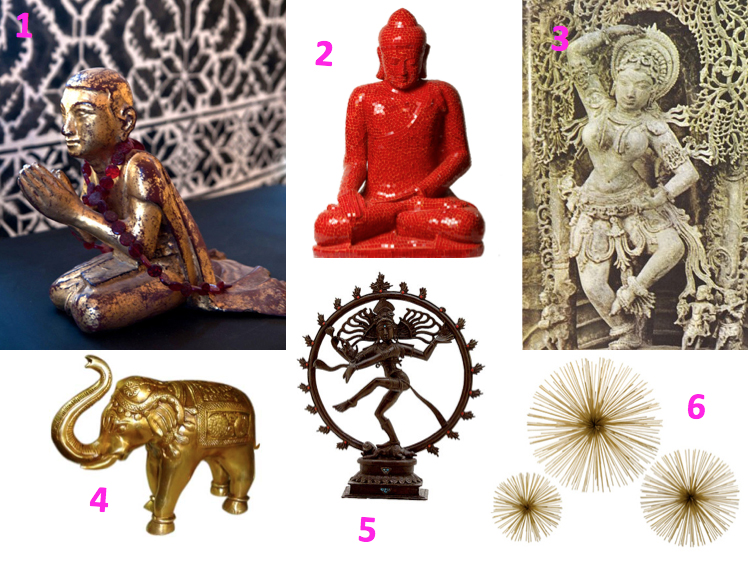 Look how fantastic these stone sculptures look in these spaces. 
Image via Houzz.com.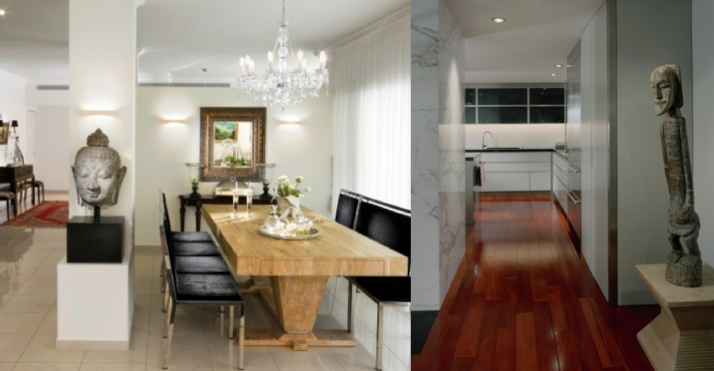 © 2012 Designwali
designwali.blogspot.com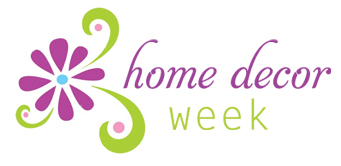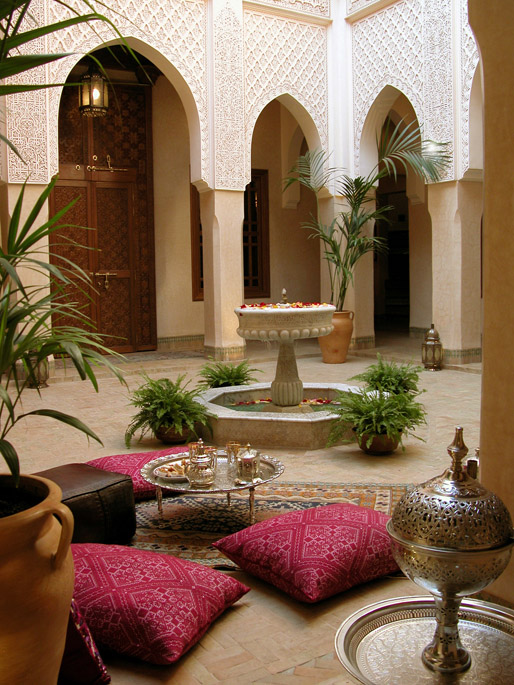 This post is authored by Priya at Once Upon a Tea Time…Design Stories – an interior design and lifestyle blog.  Priya is based in Northern California and writes about décor, traditional arts and crafts from all over the world and shares her inspiration with her readers.
When I think of interior courtyards, I instantly visualize this most romantic of places – lush greenery, terracotta tiles or tiles of any sort, the sound of water and a table set for two.  Or maybe a low settee piled high with cushions.  The two styles that I am most inspired by are the Moorish-influenced courtyards seen in the Mediterranean region and those seen in traditional houses in both Northern and Southern India.  It is a great way to bring the outdoors inside for you and your family to enjoy in complete privacy.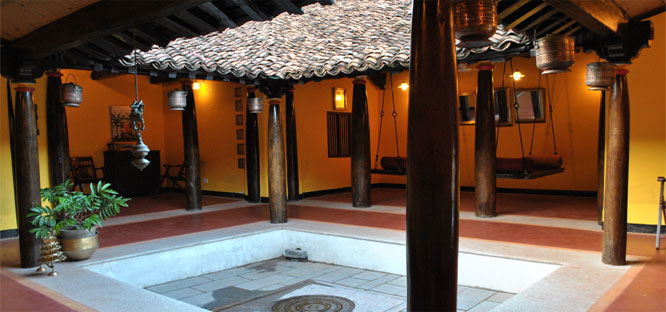 These gorgeous courtyards are perfect for warm weather.  They bring  much needed coolness to the interior and you have to agree that watching the rain fall from the coziness of the surrounding rooms has to be the most wonderful experience.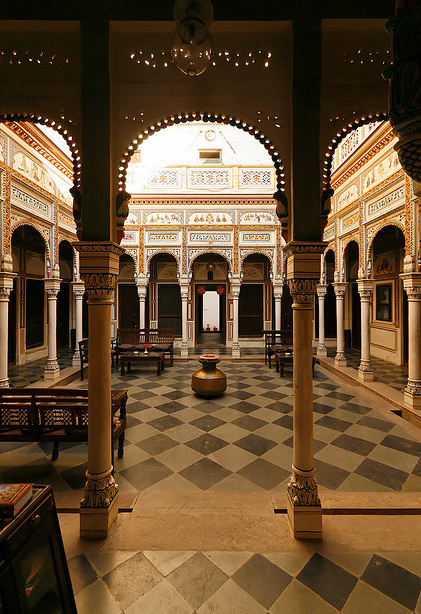 I live in Northern California and am a huge fan of the Spanish Colonial style and my dream house would definitely include one of these gorgeous courtyards!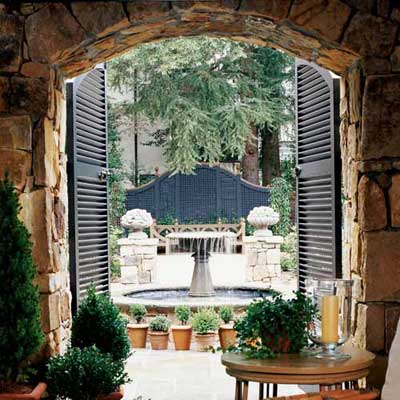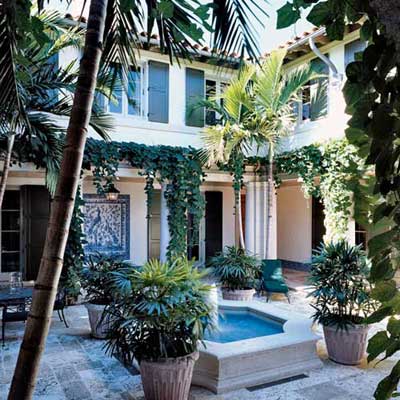 Image credits (top to bottom): Riad Kniza; Mangala Heritage Home; WeHeartIt; Southern Accents;  Mick Hales /Southern Accents
© 2012 Once Upon a Tea Time…Design Stories
onceuponateatime.blogspot.com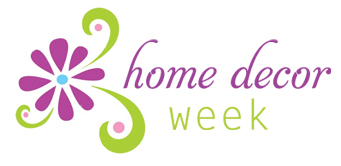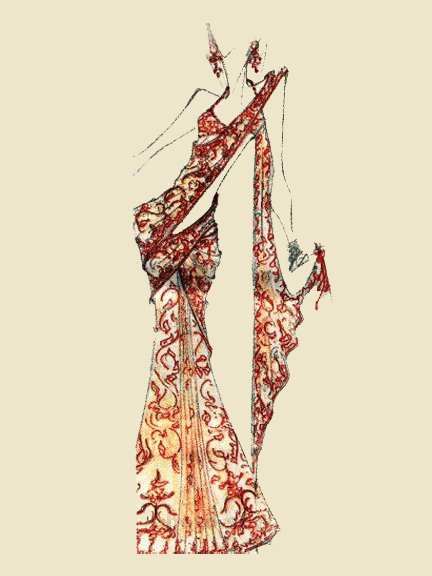 This post is authored by Shibani Faehnle from Didi's Wardrobe, an online marketplace for buyers and sellers of new and gently used Indian wear. Individuals can now buy South Asian clothing and jewelry at affordable prices and sell all those beautiful clothes that have been sitting in their closet. Didi's Wardrobe was founded by Dina Patel, who has ten years of investment banking experience prior to launching the business.
Over the last five years, fast fashion has pervaded most wardrobes – you know the type:  inexpensive, trendy clothing that usually isn't of the highest quality and will probably not last any more than 5-6 washes.  And there's nothing wrong with that, though it may be viewed as somewhat wasteful.  See, fast fashion is supposed to be just that – fast.  It's not really built to last.  I firmly believe that while it's fine to have some of these items in your wardrobe, you should build around 5-10 classic, high-quality pieces.  And this is true for both your Western and Indian wardrobes.
We all know the classics for the Western wardrobe – a crisp white shirt, the perfect pair of jeans, the trench coat, the little black dress… but what would you consider the classics for the Indian wardrobe?  My essentials are a silk sari, a silk/chiffon solid color sari, a lehenga choli and a cashmere or pashmina shawl.  When building these essentials, I strongly recommend buying the best quality you can afford.  As classics, these items are supposed to last a long time, and using high quality fabrics like silk and cashmere will ensure that you look fabulous EVERY time you wear these outfits!  The other plus is that a lot of high-quality fabrics are usually natural and not petroleum based, which making it a more environmentally friendly option!
Now, even I as write about the virtues of a streamlined, classic wardrobe, I fully recognize how difficult this may be to achieve when one must attend several Indian weddings a year.  Each wedding requires at least 2-3 different outfits (and if the wedding is that of a family member, you're easily looking at double that number).  This would possibly be the perfect time to turn to fast-fashion, but then again, it's a wedding, so you have to make sure that your outfit doesn't look, well, cheap.  So what does one do when you've worn your wedding outfits to a few family events, and you can no longer repeat without a whole lot of people noticing?  You can have a swap-party, borrow from friends, or (for clothing the kids have outgrown) you can give the items to younger family members.  Another option is to resell them using sites like Didi's Wardrobe.  Not only can you make some money while cleaning out your closet in an environmentally friendly manner, you can also look for items that are new to you at a fraction of the original cost!!
Now that the spree of holiday engagements is over, I'm sure you're looking at a full wedding season for 2012.  What's your wardrobe plan going to be this year?  Will you repeat or recycle or both?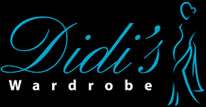 © 2012 Didi's Wardrobe
www.didiswardrobe.com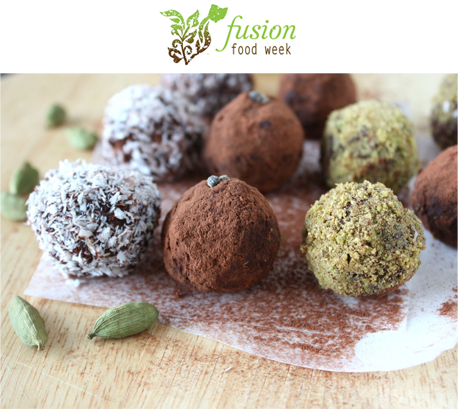 This post is authored by Urvashee Patel – a teacher, trained pastry chef, wife and mom (to one amazing boy) from New Jersey.  She is the founder of Dessarts, a blog about the art of dessert.  On the blog, you can find articles with recipes, techniques and just about anything dessert related.  She often includes fusion recipes inspired by her South Asian heritage.
Cardamom Chocolate Truffles
Almond, pistachio, cardamom, saffron, rose essence…these are the flavors that inspire many Indian sweets.  When I was a kid, I used to loath cardamom or "elaichi" as we call it.  It was in almost all sweets and a complete turn-off to most Indian desserts that my mom offered me.  I would always ask before tasting if whatever she was offering had any "elaichi" in it.
I now have a much more sophisticated adult palette and cardamom has become one of my favorite spices.  Now, I'll sprinkle a little into my sugar cookie dough, fruit compotes, anything apple or pumpkin, and even chocolate desserts.  I like to think that if my mom had only mixed it with some chocolate when I was younger, I would have discovered its greatness much sooner.  These chocolate truffles are infused with cardamom and are easy to make.  They are the perfect aromatic chocolate indulgence.

Yield: about 30 truffles
Ingredients:
6 ounces of quality semisweet or bittersweet chocolate,
finely chopped
1 cup heavy cream
10-15  green cardamom pods, crushed (or 1 ½ tsp of ground cardamom)

1 ½ Tbs unsalted butter

Toppings:
ground pistachios, cocoa powder, unsweetened shredded coconut
1.  Combine the cardamom and heavy cream in a saucepan.  Bring to a boil and remove from the heat.  (If you used whole pods:  cover and let it steep for about 30 minutes.  Strain the cream and discard the cardamom, returning the cream to the sauce pan.  Reheat the cream to a boil.)
2.  Pour the hot cream mixture over the chocolate in a large bowl.  Gently stir until the chocolate is melted.
3.  Stir in the butter.  Allow the ganache to set at room temperature.
4.  Pipe or spoon the ganache into spherical rounds onto parchment paper.  Refrigerate for at least an hour.
5.  Dust your hands with cocoa powder and roll the chilled ganache into spheres.  You can then coat it with either cocoa powder, pistachios or coconut by rolling the balls in the coating.
© 2011 Urvashee Patel
www.dessarts.com
Dessarts on Facebook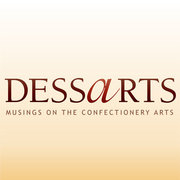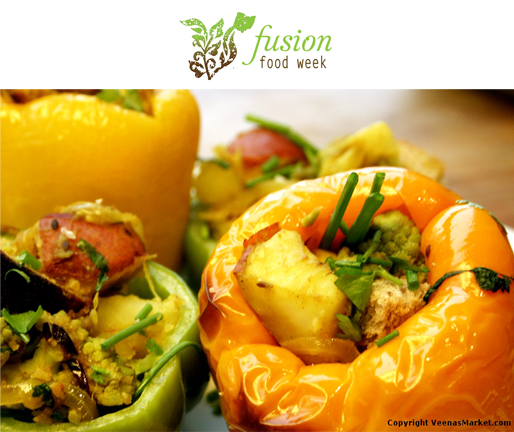 This post is authored by Veena Prasad, founder of Veena's Market – making it easy for people to cook Indian food at home with recipe kits that have all the right spices in just the quantities needed for a certain dish.  The recipes are written keeping in mind that while most customers cook, they may not have cooked Indian food before.  Veena also authors an Indian food and culture blog that focuses on making Indian recipes work in the modern kitchen while keeping alive the traditions she grew up with in South India.
Bell Peppers with Aloo Gobi Stuffing
One of my favorite things about Fall is Thanksgiving and one of my favorite things about Thanksgiving is stuffing!  I was eager to create a new stuffing recipe based on the popular Indian vegetable dish – Aloo Gobi (potatoes and cauliflower cooked and sautéed with onions and warm spices).  But apparently there is a shortage of organic cauliflower around these parts and my neighborhood grocery store was out of this vegetable.
My eyes spied the Romanesco Broccoli (also called the Romanesco Cauliflower).  Being fractal lovers, I knew my husband and I would appreciate it in our stuffing.  But it does have a slightly sharper taste than cauliflower.  Should I continue my search for cauliflower or would the Romanesco Broccoli work well with my recipe and would others like it?  There was only one way to find out.  I bought it!
Just one shelf down from the Romanesco Broccoli was brightly colored bell peppers, just calling out to me.  My recipe took another turn in that moment and I decided to stuff them with my aloo 'gobi' stuffing.
Sometimes when I experiment like this or make too many changes to a recipe, the dish doesn't turn out too well.  Fortunately, this story had a happy ending.  The bell peppers with aloo gobi stuffing were a visual and tasty treat.
So if you're looking for an Indian twist this Thanksgiving, here's a fabulous recipe for you.
Happy Thanksgiving!
Ingredients:
2 medium potatoes, cubed into 1 inch pieces (I used 2 small red and 1 medium white potato for extra color)
1 head of romanesco broccoli or cauliflower, chopped into 1 inch pieces
½ onion, sliced
2 cloves garlic, minced
3 cups cubed whole wheat bread
3 tablespoons high heat oil
1 teaspoon cumin seeds
½ teaspoon coriander seeds

1 teaspoon turmeric
1 teaspoon garam masala blend (or ¼ teaspoon coriander powder and ¼ teaspoon cumin powder)
¼ teaspoon cayenne or red chili powder
1 teaspoon lime juice
1 teaspoon salt or to taste
4-6 bell peppers to stuff (I like getting a mix of red / yellow and green)
Cilantro to garnish
1.  Preheat oven to 400 degrees Fahrenheit.
2.  Steam romanesco broccoli for 8 minutes once water starts boiling.
3.  Boil potato by placing cubes in pot, covering with water, bringing to a boil and then simmering, covered, for 9 minutes.
4.  Decide how you want to serve the bell peppers –  whole or sliced in half horizontally so the top and bottom halves can be used as cups.  If using whole, cut around the stem to remove it and the seeds from inside.  If using as cups, cut in half first and then remove the seeds and as much of the stem as possible while still keeping the 'cup' intact.  Rub olive oil on the outside and roast in the oven for 20 minutes.
5.  Heat oil in a large skillet over medium high heat till a cumin seed dropped into the oil starts to sizzle.  Sizzle the cumin and coriander seeds for 10 seconds.  Sauté the onion slices and minced garlic for 5 minutes or till the onion gets slightly brown.
6.  Mix together all the spice powders in a ¼ cup of water.  Mix and add to the skillet.  Stir well to incorporate.
7.  Stir in the cooked vegetables, bread cubes and ¼ cup of water.  Cover with a lid, lower heat to simmer and cook for 3 minutes.  Stir in lime juice and salt to taste.  Remove from heat.
8.  In the meantime, the bell pepper should have roasted for 20 minutes. Stuff each with the Aloo Gobi stuffing and put back into the oven for another 5-10 minutes depending on how soft you want your bell pepper.
9.  Garnish with cilantro and serve. You can also use other herbs like chives or basil.
© 2011 Veena's Market
Veena's Market
Veena's Market on Facebook