Archive for the 'language' Category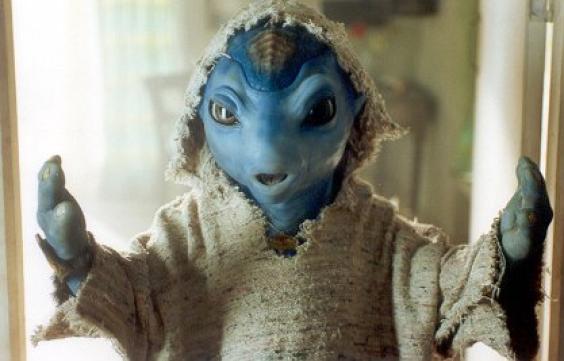 Koi Mil Gaya may be passe in India, but it's certainly enjoying a renaissance in our house.  The kids saw the movie a few weeks ago (with eyes peeled, completely enthralled) and so started The Jadoo Obsession.  The soundtrack plays in our car on the way to/from school and if anyone's been around us lately, they have probably heard them sing the songs (and they don't even know Hindi!).
The funniest quote by my daughter:  "Why are Hrithik's arms so bumpy?"
My son has even requested a Koi Mil Gaya birthday party (it's at the end of the month).  Wondering how I'm supposed to pull this off.  Ideas please?
Holidays for the kids means that we're in the kitchen – a lot.  This spring break, we got hooked on the Telugu cooking show Abhiruchi.  Simple, instructional, reinforces vocabulary – and surprisingly easy for kids to understand.
One of our favourites – for Mushroom Dum Biryani.  We love the "Topi-Meesa Abhai" (Hat-Mustache Guy))!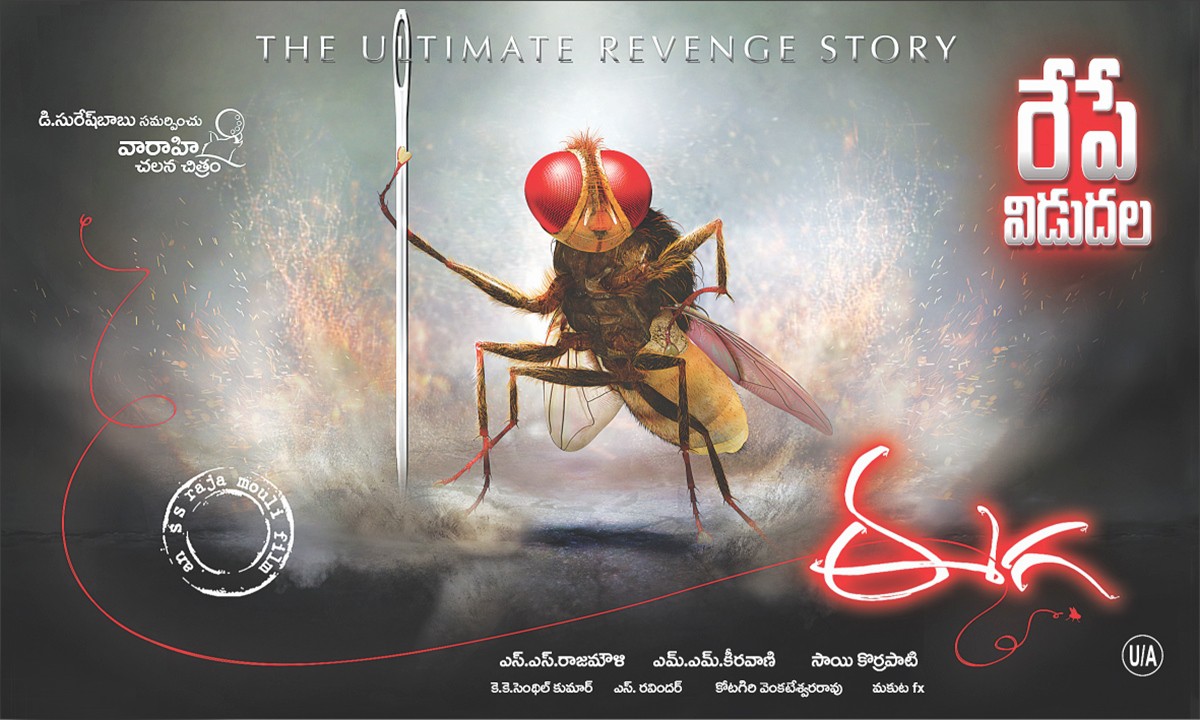 If you're Telugu and have kids, you've probably heard of the movie Eega ("fly") – about the adventures of a (computer generated) fly.  It's being touted as a movie for kids – "fun for the kids"…"kids will love the graphics"…
It's also about a love triangle – and one man murders another to secure the woman – with the murderee reincarnating as a Fly to get revenge.  So, no, it's not really a kids movie.
It could have been a cute movie for kids…but how is this level of violence OK for kids?
My kids have seen this (but only with a copious amount of fast forwarding) and laughed.  It was so very nice to watch something modern in our language.  They even came up with a storyline for a sequal:  dhoma (mosquito) – prompted no doubt after their War on mosquitoes during our recent trip to India.
But, really, filmmakers: for kids, this was a lost opportunity.
Hindi immersion for a little over 1 hour during the holidays…too bad they don't have this in other Indian languages!
A cute cartoon about Mickey's Christmas Crisis – in Hindi!
Never really thought about calligraphy for Hindi – but artist Ravi Dabas is doing fantastic work!  Head over to his blog for some really cool visuals.  Hope he's ready for some custom commissions!
images via Welcome To My Leisure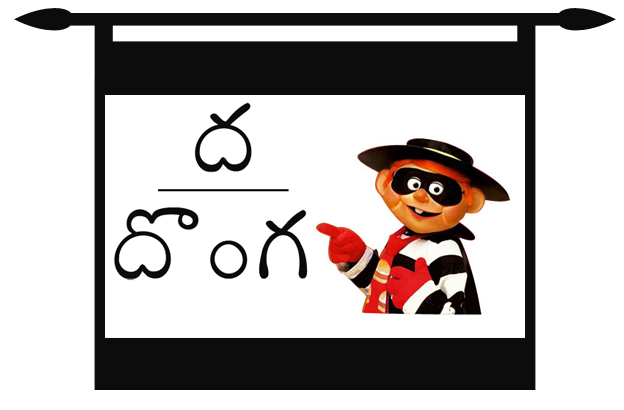 How do you say "thief" in your language?  In Telugu it's "donga" and it's been the week's most-used word.  But not in the cute/playful way of using it to describe kids who do mischief.  No, the usage is most unfortunately due to a theft incident on our long-weekend vacation trip:  unabashed smashing of the driver-side car window, pilfering of our (outdated) GPS and (to add further insult) the kids' car seats – though the car seats were later found.
At least the kids learned why it's bad to take things that are not yours.  Although the story of Ali Baba and the Forty Thieves may make them think that stealing is not all black-and-white.
Below left, bilingual Urdu/English version
 of the tale; below right, story in graphic novel format
.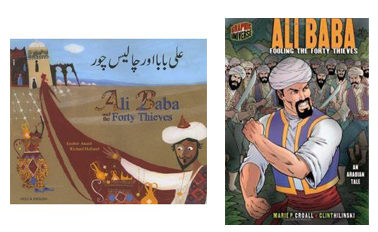 Remember this song?  If your mother or grandmother didn't sing it to you, you've probably heard it somewhere.  Originally sung by Asha Bhosle in the 1955 movie Vachan, it may just be the ultimate Hindi kids song.
So melodious…so harmonious…can you feel the nostalgia rushing in?
Available for purchase here
 (and part of a compilation
 of other Hindi Children's Songs).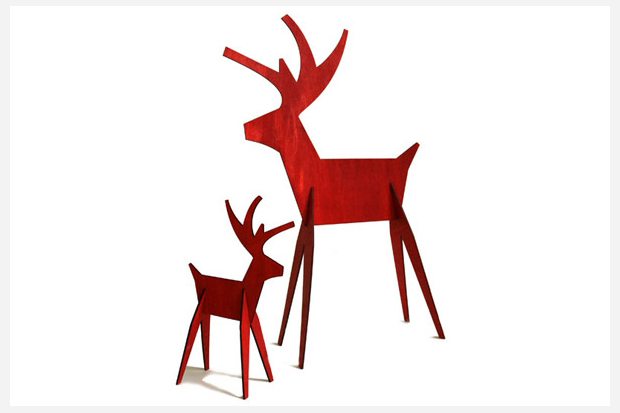 Remember that golden deer in The Ramayana?  That alluringly-beautiful-yet-not-what-it-seems creature that utimately causes Sita's doom?  I always thought it strange that Sita, who lived so contently in her simple forest life, suddenly coveted this deer (or jinka as we say in Telugu).  It is ironic that in this season of materialism, as we see reindeer adorn homes and front yards (ones that even light up to golden hues), I think back to that ancient story of the golden deer.  See what happens when you want something you don't need? 
Maybe I should have reminders all over the house:
Above: Birch Ply Reindeer for the table
Below, Woodland Deer Art Print, mounted on bamboo, by Lori McKee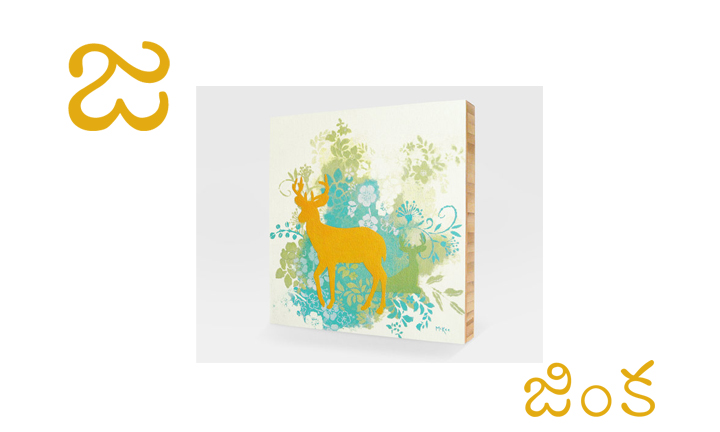 Children's deer print, by Children Inspire Design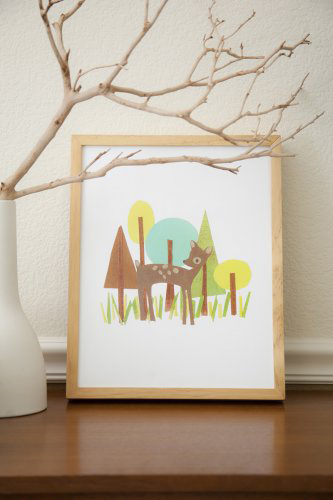 Fawn Bamboo Wall Clock (left) by decoylab; Forest Green Deer Print by acageybee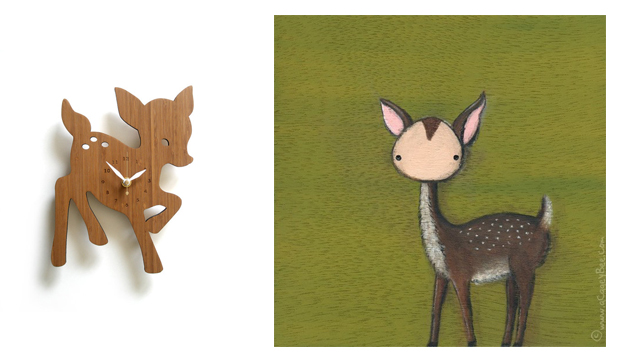 Beautiful mantel display (image via here)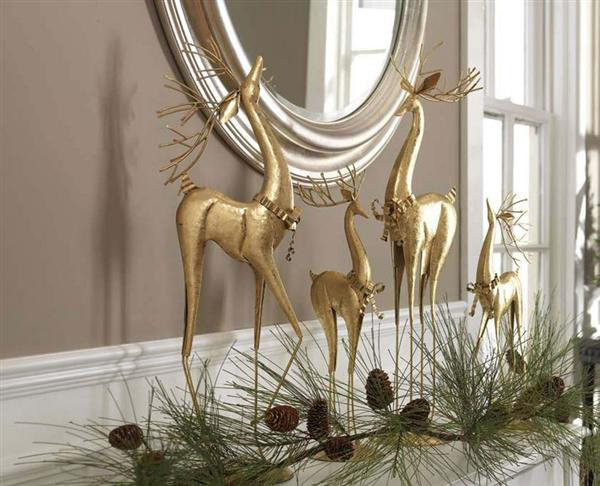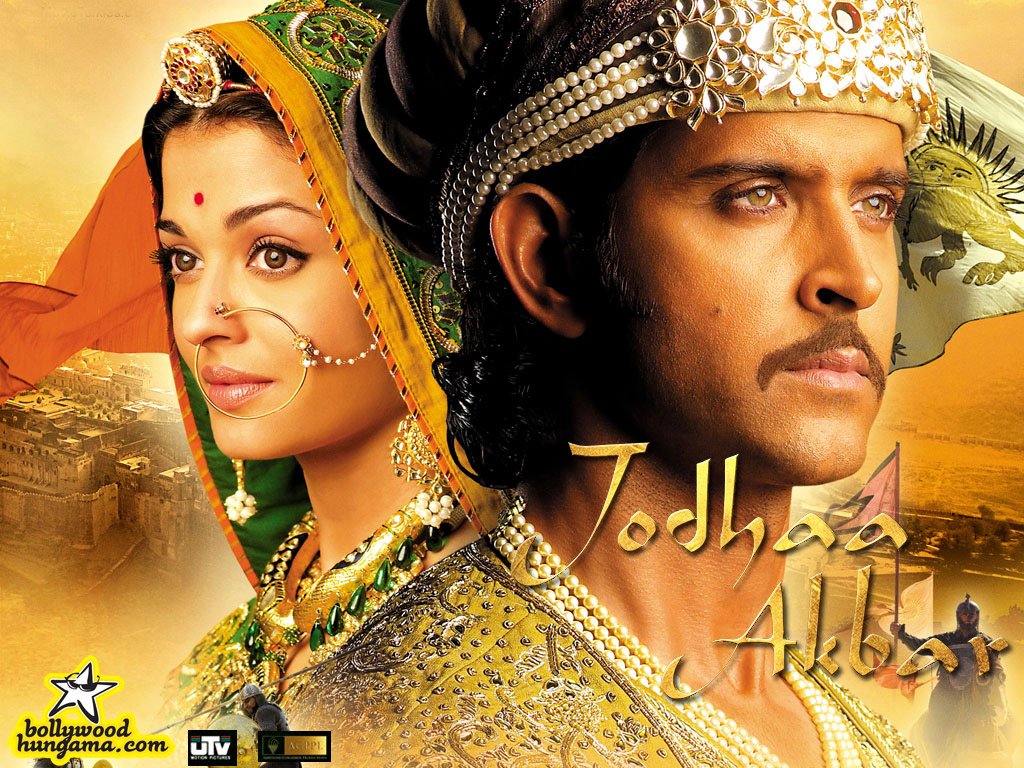 No, not mine…my kids – and they relished all 3 1/2 hours of it (spread over 2 evenings).  I underestimated the endless learning opportunities a film like Jodhaa Akbar presents – however "fictitious" of an historical film it is.  But for 2 evenings, we were transported to 16th century Mughal India – to a time when, to the bewilderment of my kids, there were no cars or trains, telephones or electricity.  They got glimpses of elephant transport, palanquins and of glorious Indian palaces.  Although my 3-year-old daughter was most interested in the colours of Princess Jodhaa's outfits and in categorizing each character as either "good" or "bad," my older son delved into the story.
Here are some vocabulary words we learned from our weekend Bollywood-fest:
Akbar (and the fact that he was a Muslim Mughal Emperor)
Rajputana (and where the current Rajasthan is on the map)
War (though we fast forwarded through the 2 battle scenes to avoid the violence, we did discuss what a "war" is)
Allah (as in this is who Muslims pray to)
Tax (as in the Pilgrim Tax on the Hindus, which Akbar reportedly abolished)
Duel (as in the one between Akbar and Sharifuddin)
Howdah (Princess Jodhaa's mode of transportation)
Greed
Sufi Saints
And so my kids begin their Bollywood journey.  They've already asked me for a next movie…I'll have to give this some thought.