Archive for the 'language' Category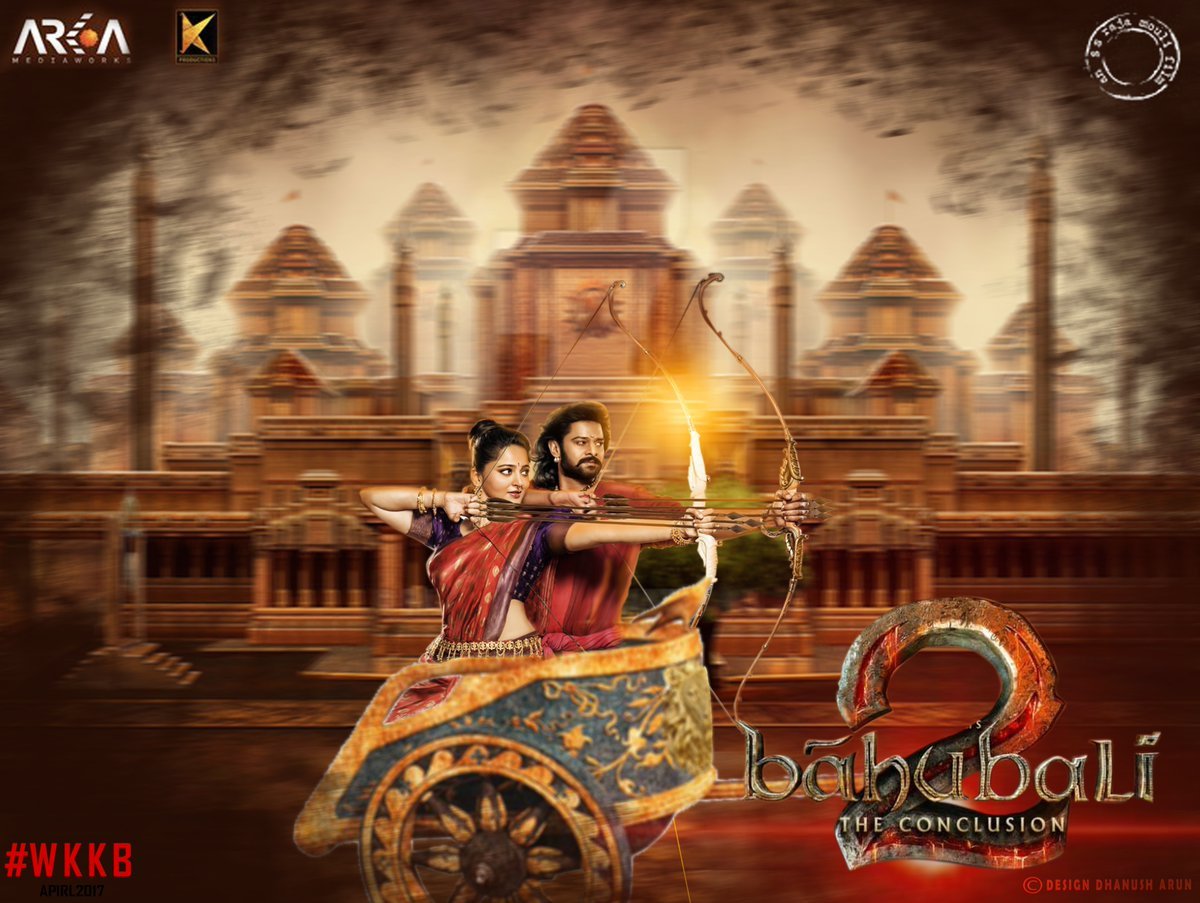 However you feel about our film-obsessed culture, it's hard not to acknowledge that the Baahubali craze has the world talking about Indian cinema. Banking $81 million through its opening weekend, Baahubali 2 made a mark at Number 3 at the global box office as well as in the US – the highest-ever in North America for a foreign-language film.
With fans standing in 3km-long queues for shows as early as 4am, milk-and-flower abhishekams for movie posters, and a threatened bandh (strike) in Karnataka, Baahubali can officially be classified as a phenomenon.
But should you take the kids?
The movie happened to release on my son's 11th birthday, and he's been eagerly awaiting this movie for almost 2 years, so it was no question that we were going to the opening.  It was certainly a visual spectacular (and one that should be seen in the theaters) – with amazing graphics, settings, and stunts.  The (packed) audience in our local California town was very involved – with claps and cheers – especially for the laudable pro-feminist dialogues.  The positive portrayal of women is, in my opinion, a highlight of the film. However, given the level of violence, this film isn't appropriate for kids under 10.  There were certainly many young kids in the audience, and the violence wasn't senseless, but if you're uncomfortable with kids watching, say, and English war movie, you should leave them at home.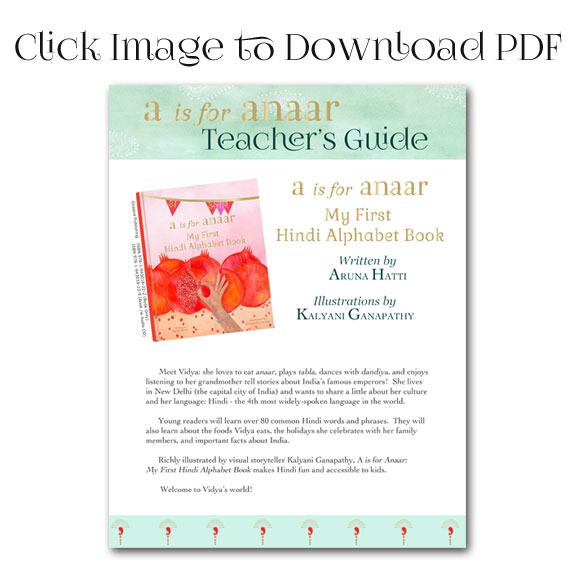 Suno! Suno! Parents and teachers: Our A is for Anaar Teacher's Guide is now available! This 7-page Guide is rich with supplementary information to enhance your A is for Anaar reading experience – complete with Reading Tips, Fun Facts about Hindi, About India, Discussion Questions and more!
Click on the image above, or download here…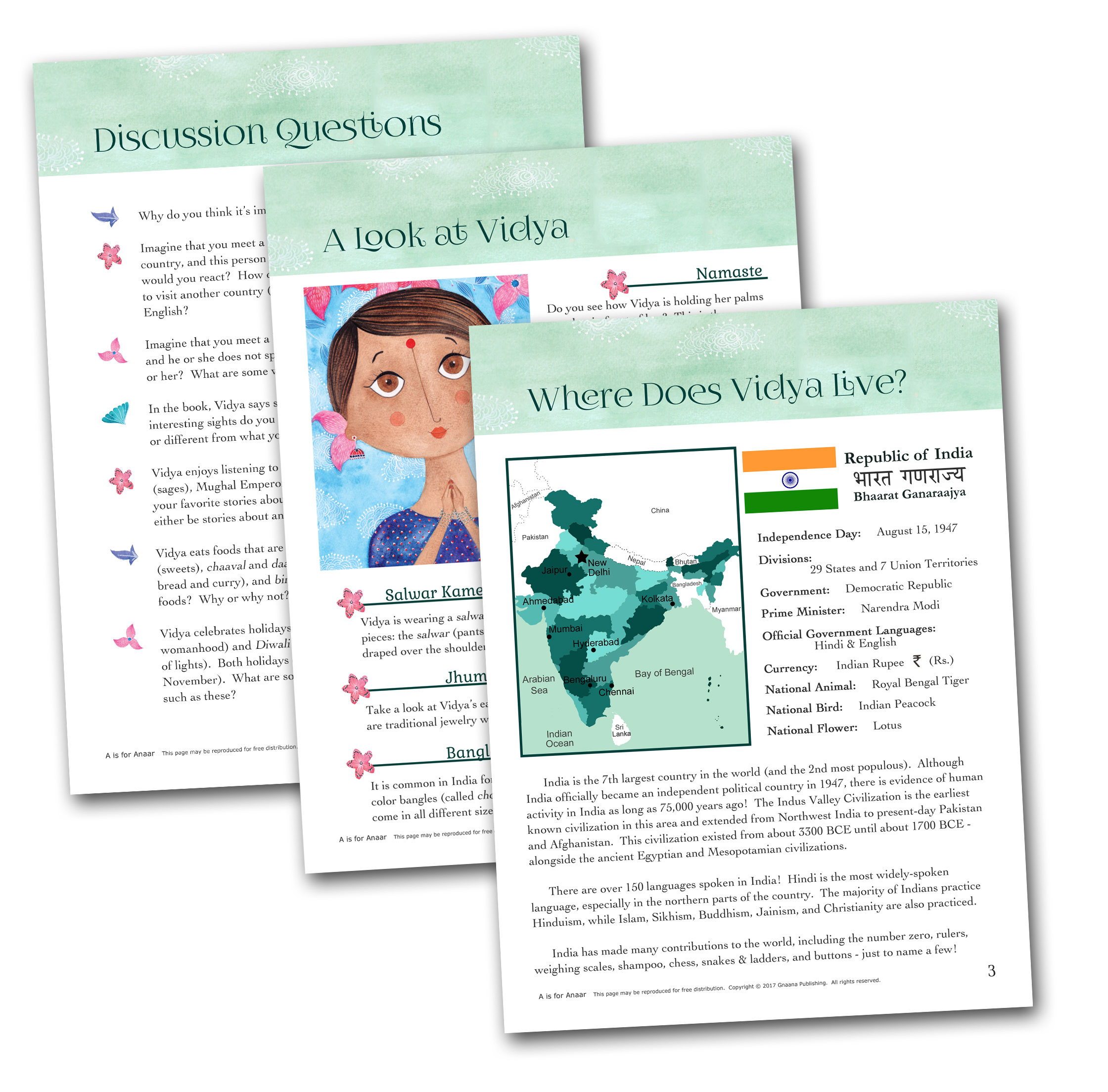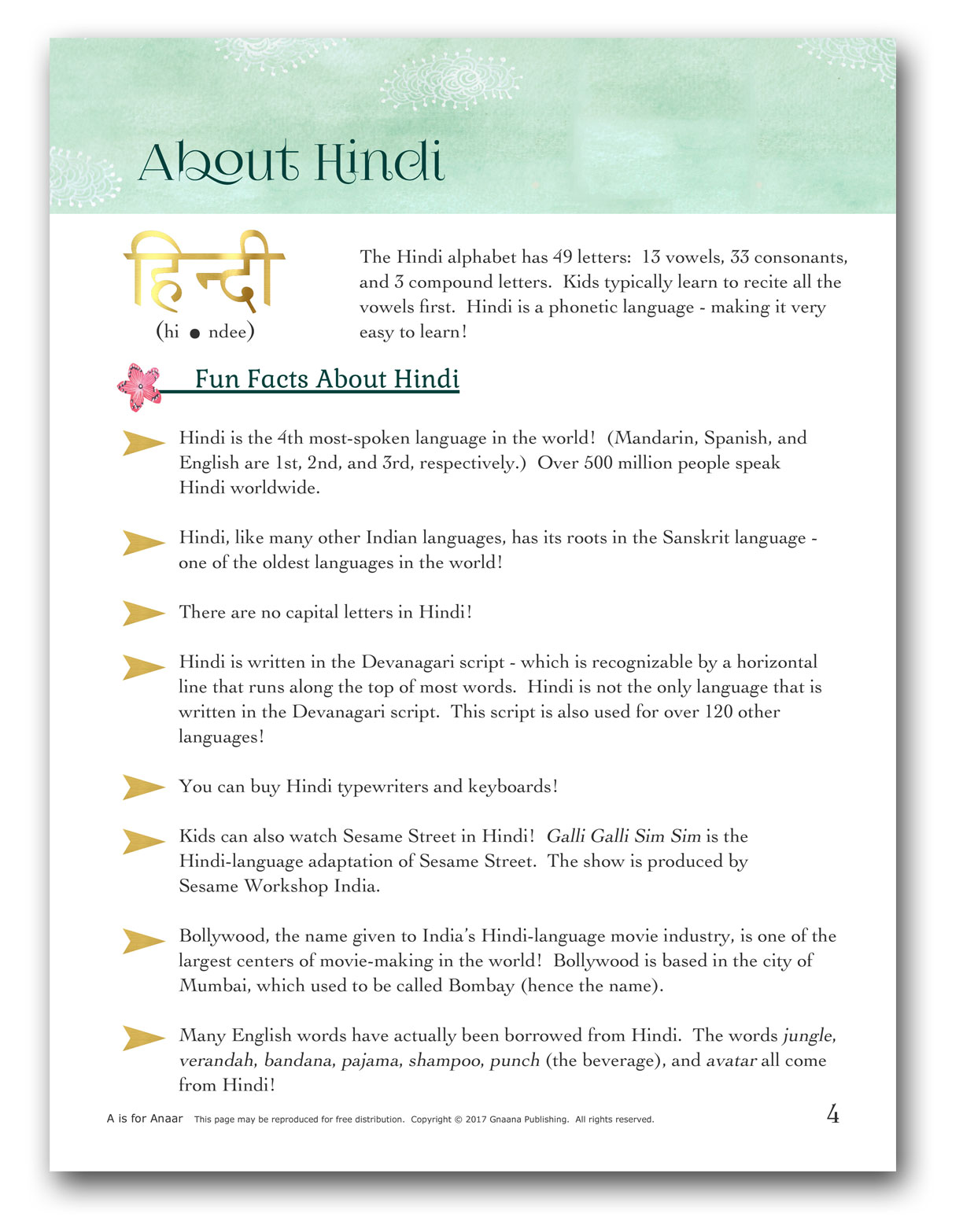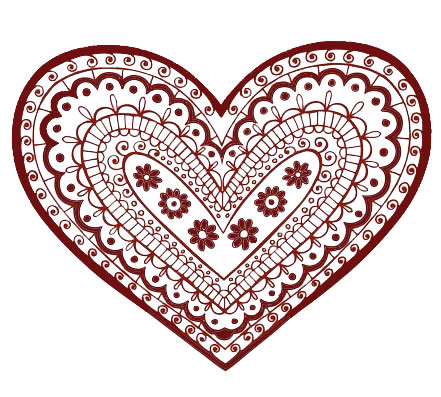 In his book, The Fisher Kind and the Handless Maiden, Robert Johnson writes: "Sanskrit has 96 words for love; ancient Persian has 80, Greek three, and English only one. This is indicative of the poverty of awareness or emphasis that we give to that tremendously important realm of feeling. Eskimos have 30 words for snow, because it is a life-and-death matter to them to have exact information about the element they live with so intimately. If we had a vocabulary of 30 words for love … we would immediately be richer and more intelligent in this human element so close to our heart. An Eskimo probably would die of clumsiness if he had only one word for snow; we are close to dying of loneliness because we have only one word for love. Of all the Western languages, English may be the most lacking when it comes to feeling."
What are the many Sanskrit words for love? Here are a few we found on the web:

We've watched some phenomenal films over the past few weeks. These 3 movies are the best-of-the-best and are not be missed. If you are lucky, you may still be able to catch #1 and #2 at a theater near you.
1. Dangal – "Wrestling Competition" – (2016 – Hindi (available with English subtitles)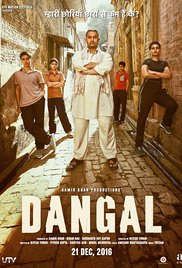 One of the best movies about women in sports. Period. Based on a true story, this movie stars Aamir Khan as Mahavir Singh Phogat – who challenged Indian societal rules to train his 2 daughters to become world-class wrestlers. Exceptionally inspirational:
2. Lion (2016 – English)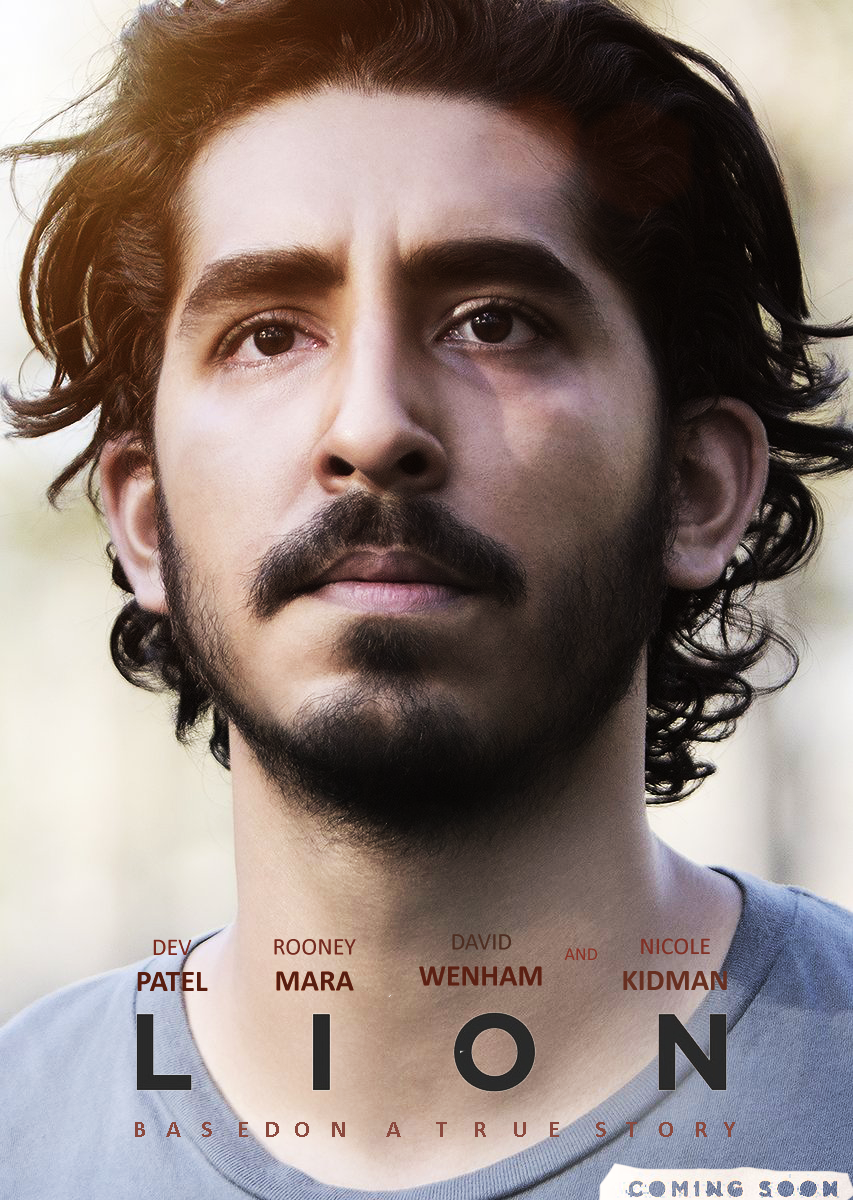 Another based-on-a-true-story drama – this time starring Dev Patel (of Slumdog Millionaire fame) as Saroo Brierly – who, as a young child, accidentally boards a departing train, only to end up in Calcutta to fend for himself. Saroo eventually ends up in an orphanage, gets adopted by an Australian couple, and, year later, tries to find his way back home.
3. Oopiri – "Breath" – (2016 – Telugu)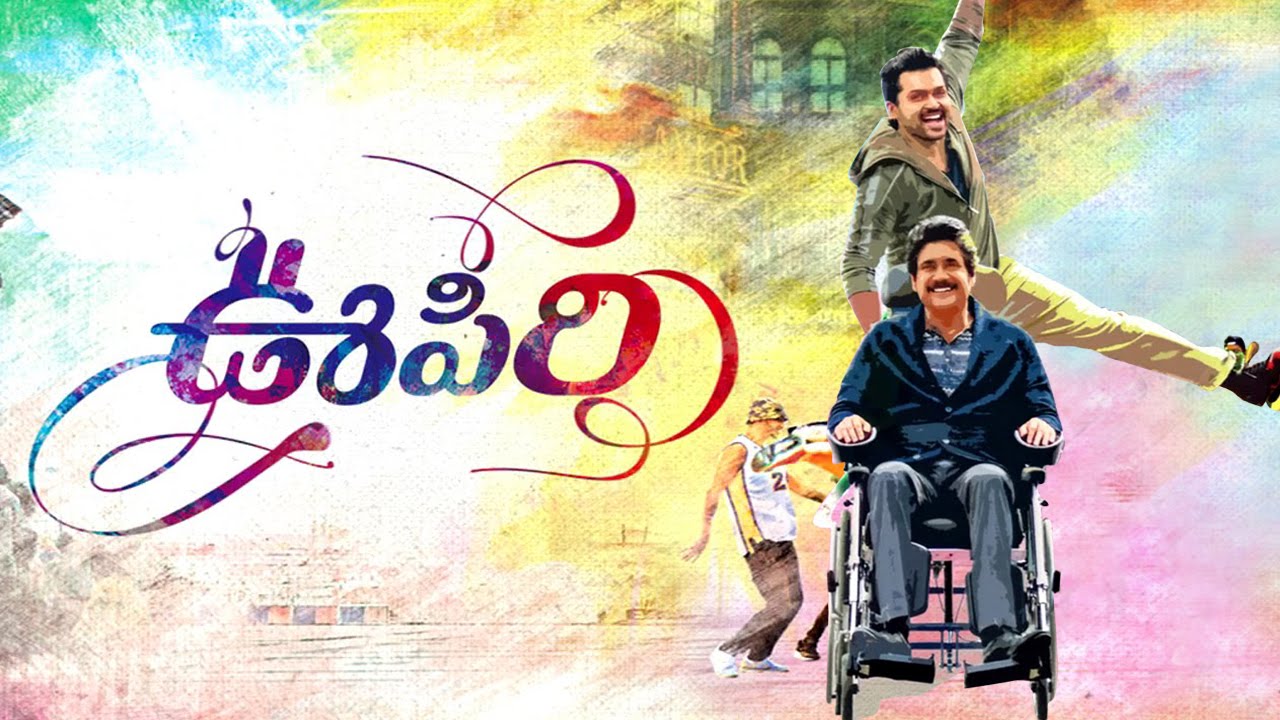 We watched this online, but hopefully this is available on DVD (with subtitles for those of you who don't speek Telugu). It's very much worth the trouble to get your hands on a copy of this gem. A quadriplegic billionaire hires an ex-convict to be his caretaker – and enrich each other's lives for the better. It may sound slow (and definitely not your average Tollywood tale), but it's deceptively uplifting, heart-warming, and hilarious. It had my kids re-watching scenes and reciting lines.

We are proud to announce that Kitaab World is one of our partners in our Gujarati Book Launch Giveaway. They are sponsoring Gandhi – A March to the Sea – one of the wonderful items in our Book Launch Trunk.
Kitaab World also has a wealth of Gujarati-learning resources, such as flashcards, DVDs, and story books – and yes, including our New Gujarati Alphabet Book! Check out a full list here…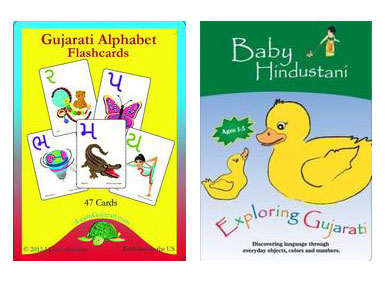 Also, be sure to read Avni Gandhi's Guest Post for Kitaab World: 5 Reasons Why You Must Teach Your Child Your Mother Tongue and How You Can Do It.
CLICK HERE TO ENTER OUR GIVEAWAY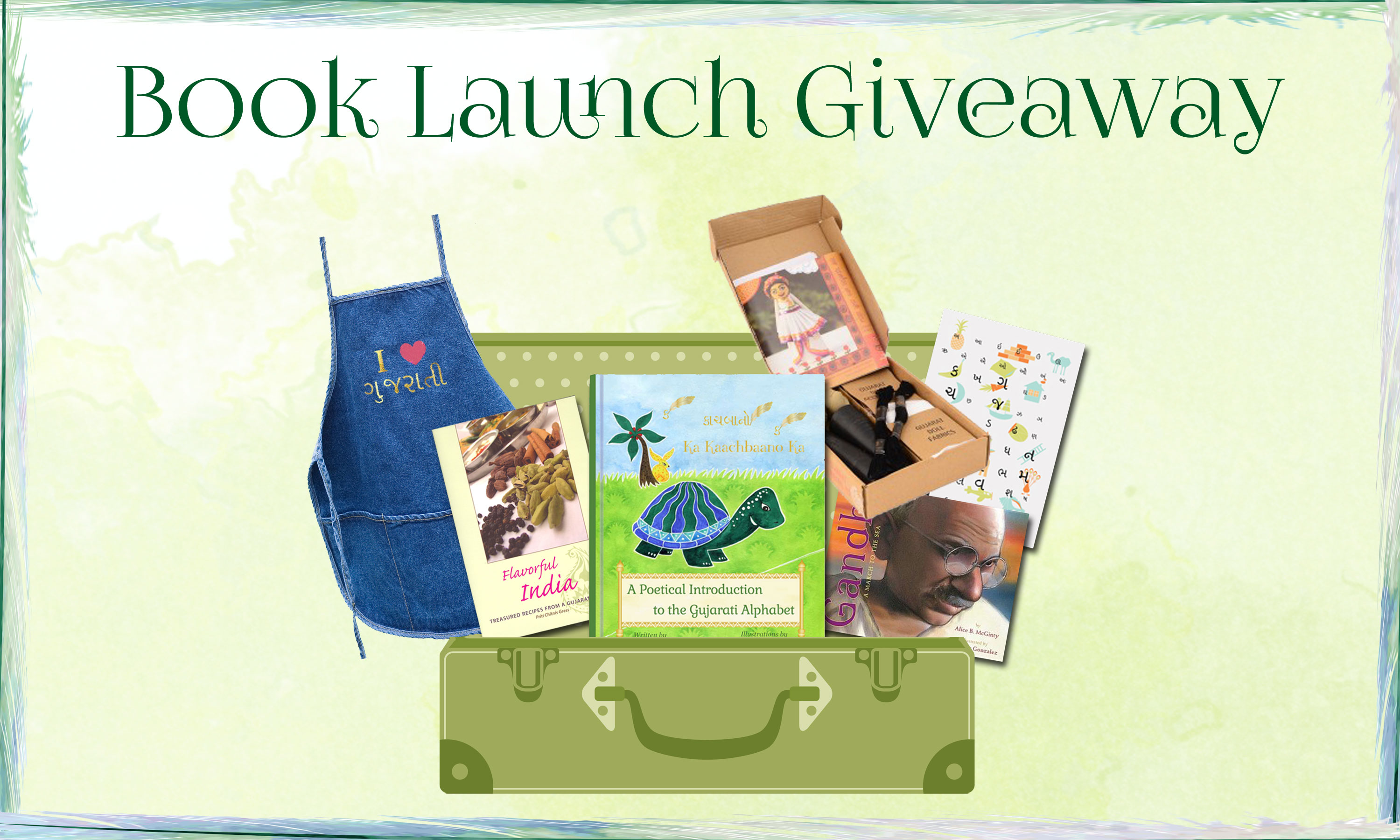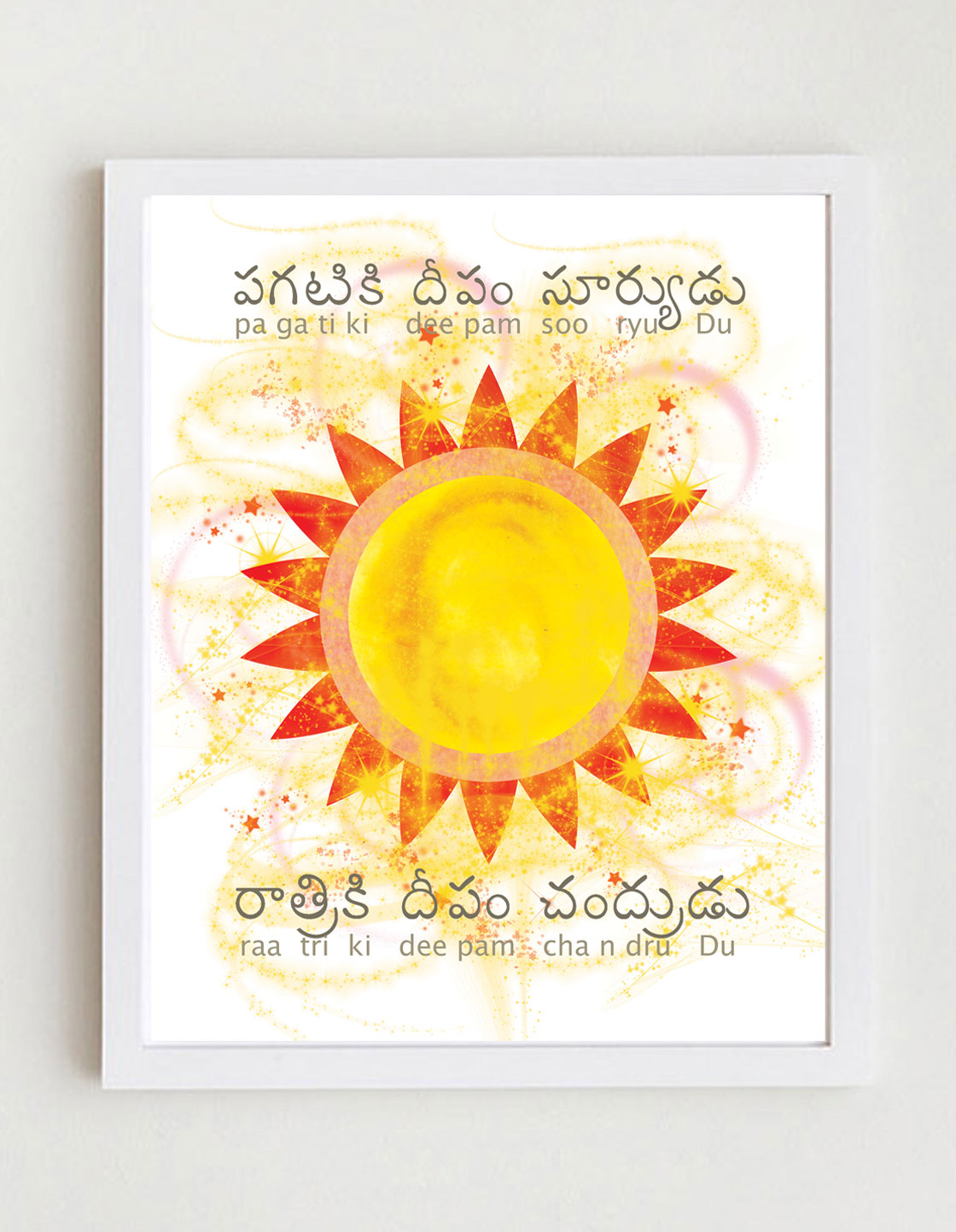 It's the longest day, and it's a hot one! I made this cute poster for the kids. The text comes from a Telugu kids song and translates to: The sun is the deepam (light) for the daytime, and the moon is the deepam for the night.
Full song here for the Telugu folks – it's catchy and fun for the kids to learn: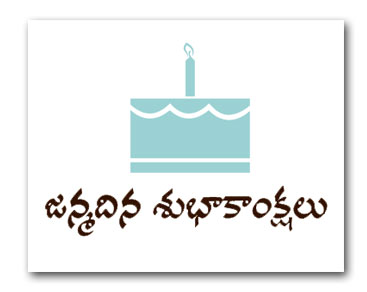 My father patiently taught me to speak, read, write, and (most importantly) love Telugu. As a present for his birthday, I took a video of the kids saying "Happy Birthday" to him in Telugu (Janmadina Subhaakaankshalu).
I don't like to post personal videos on this blog, but trust me, it was really cute.
Our new A is for Anaar: My First Hindi Alphabet Book! has been through an exhaustive review process. Earlier this year, we were fortunate to have several dedicated parents review the book in manuscript form, and this is what they had to say:

Help us make history and show the children's book industry that we need more books about Indian language. Help us reach our goal of 1,000 pre-orders. Pre-order your book here…!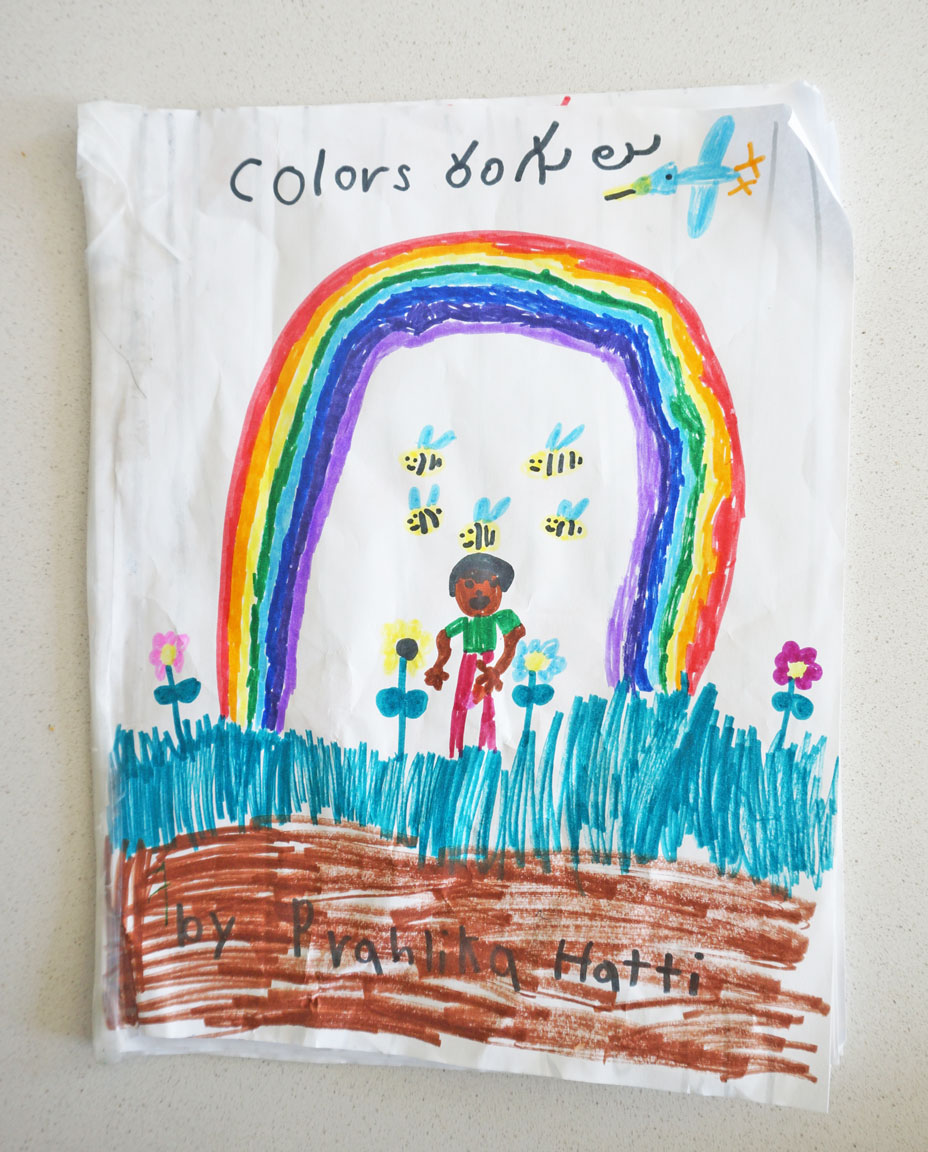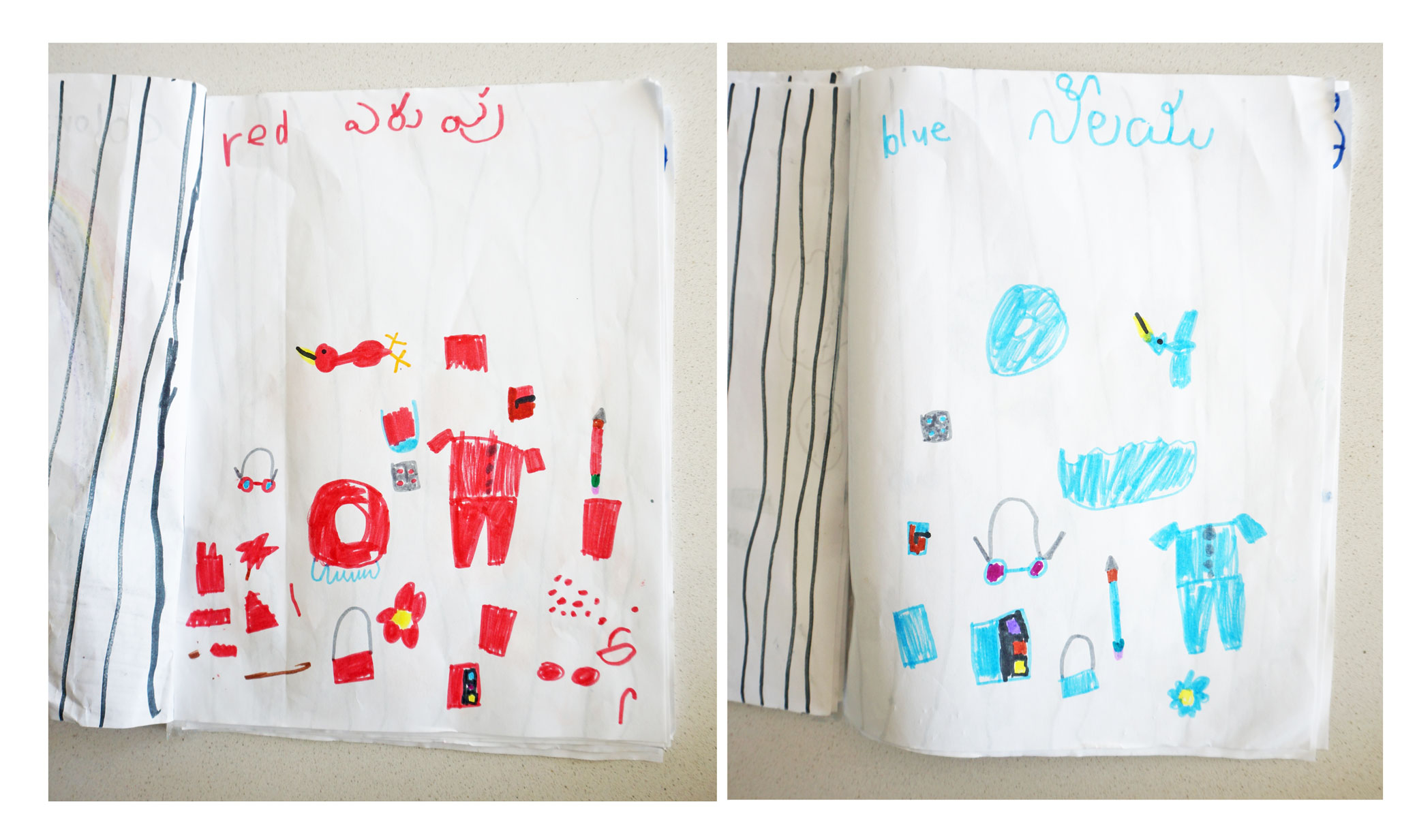 It's amazing what children can draw inspiration from. My daughter, the 6-year-old sweetheart that she is, took it upon herself to surprise me with her own version of a Telugu Colors Book for my birthday last week – copying Telugu text from our Bindi Baby Colors Book!. Devoting a page for each of the rainbow colours, she painstaking drew pictures on each page – and even asked Tatha (Grandpa) for Telugu names of more obscure colours (like "turquoise").
This is validation (for me, at least) of the importance of having language tools visible and available for kids. Who knows how this inspiration can manifest itself…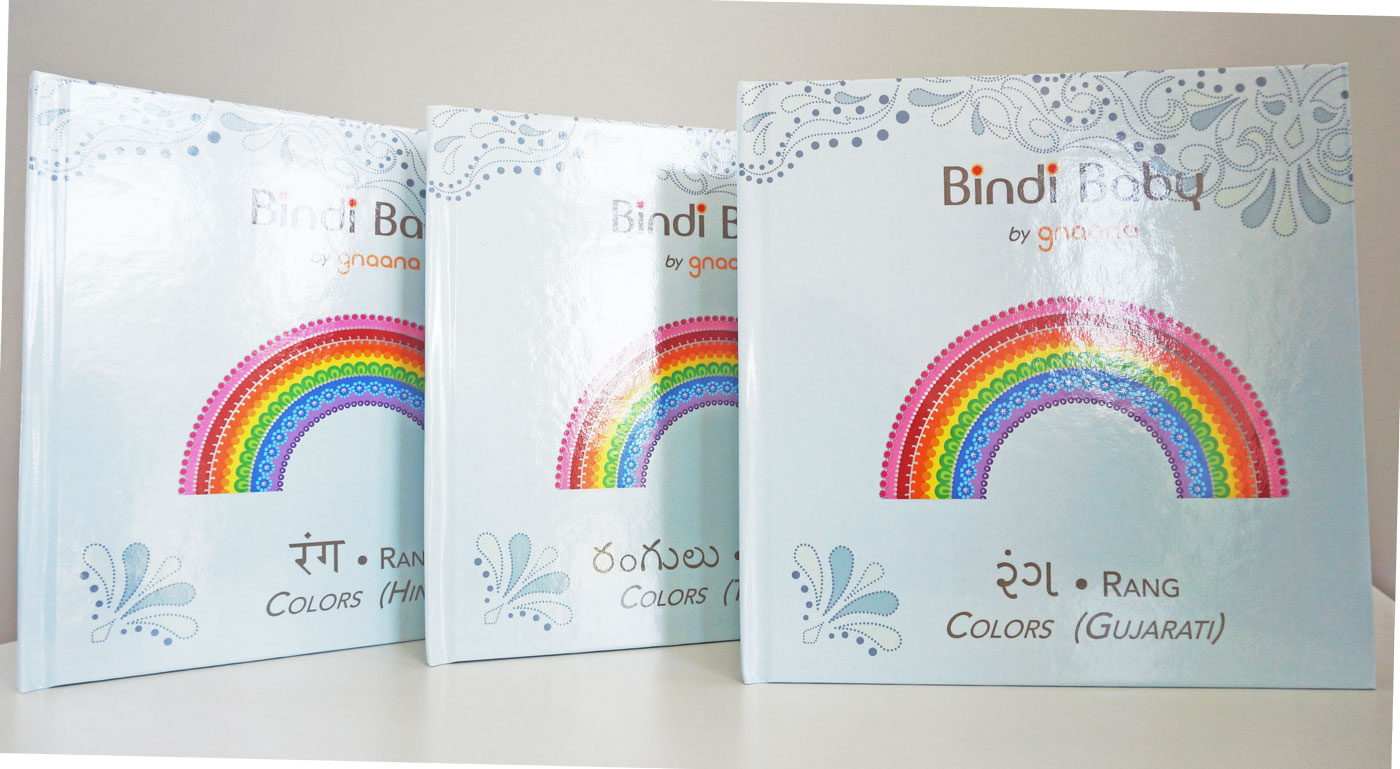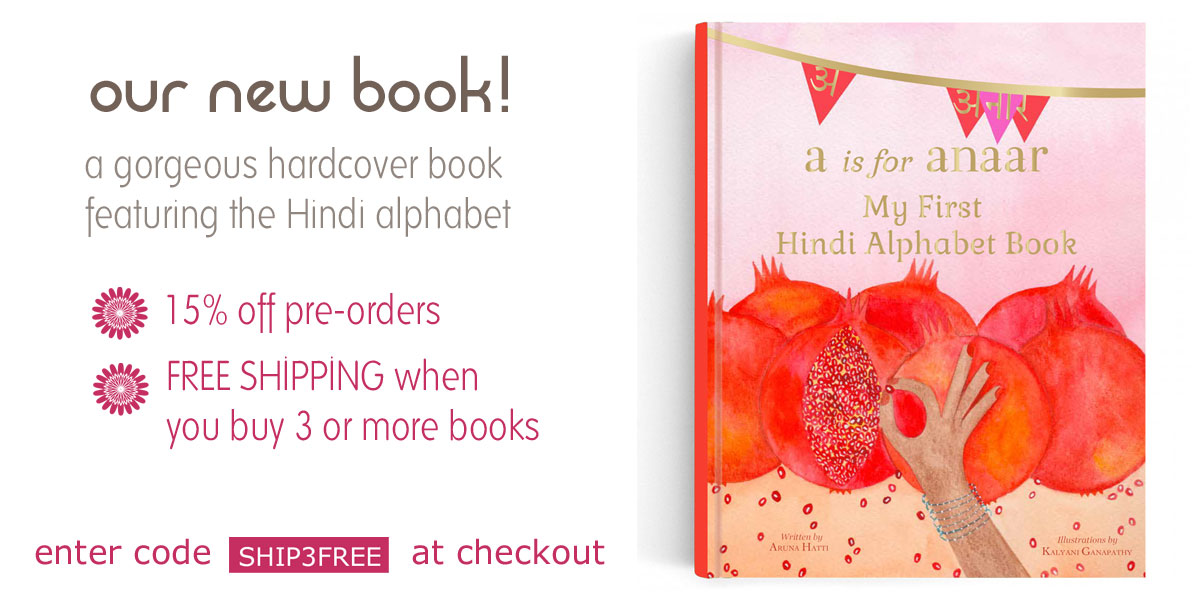 Announcing our NEW concept book: A is for Anaar: My First Hindi Alphabet Book!
It's the Hindi Alphabet Book your kids have always wanted – a fun mix of Hindi words, clever rhyme, and full of cultural references – from Aurangzeb and Rishi Agastya to The Ramayana. This books includes pronunciation guides, a glossary, an option audio CD, and also prompts for beginning Hindi conversation skills – 56 pages of Hindi fun!
Illustrated by the phenomenally-talented Kalyani Ganapathy – each page is truly a work of art. We are very proud to introduce this product into the marketplace – and we hope your kids will be PROUD to be learning and sharing their language and culture.
Please support our initiative and Pre-Order a copy today. We'd like to make some noise and show the publishing industry that WE NEED DIVERSE BOOKS like these. Ship date is November 10th.
Dhanyavaad! Thank You!