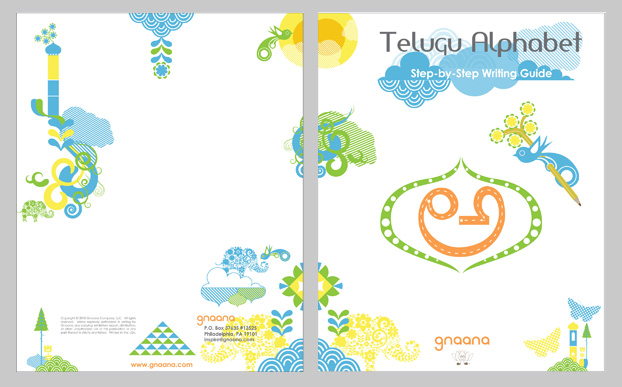 We introduce our Alphabet Writing Books for you today, designed and compiled by Sara Petrous.  Does Sara know how to write all these languages?  Of course not (she admitted that when I sent her instructions for the the first letter – the Telugu letter "a" – pictured on the cover above – she though it was a pretzel!).  But Sara has been working with our linguists in putting the pages together.  She also designed the fabulously fun and graphical covers.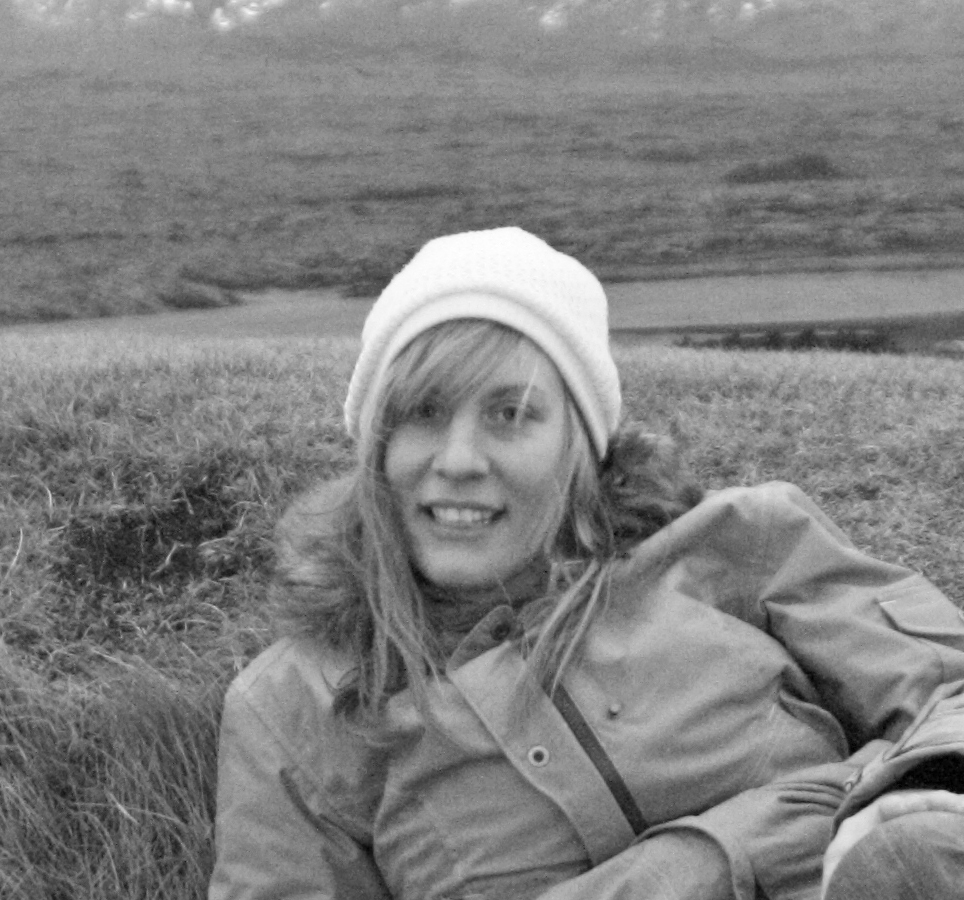 You may recall seeing her name on our Chota Chef Recipe Cards – she was indeed the illustrator on those.  Originally from Detroit, Sara served in the U.S. Army before studying fine art and industrial design.  She recently illustrated a children's book – Anne's Amazing Adventure and is currently writing and illustrating a children's book of her own.  Along with her passion for traveling, foreign culture and food, Sara enjoys writing, jogging and photographing architectural ruins.  She resides in Philadelphia with her two cats, Oliver and Seymour.
Now why haven't writing books like this been published before, you may ask.  Well, they probably have been – but you'd have to trek to India and spend a week trying to find them – if any bookshops or schools even carry them.  But after visual recognition of the Indic alphabet characters, learning to write the script is the logical next-step in languge-learning for kids.  In Montessori education, children trace the shape of alphabet characters by running their fingers along the infamous sandpaper letters (note that traditional Montessorians use cursive letters, rather than print, to allow for more fluid hand movements):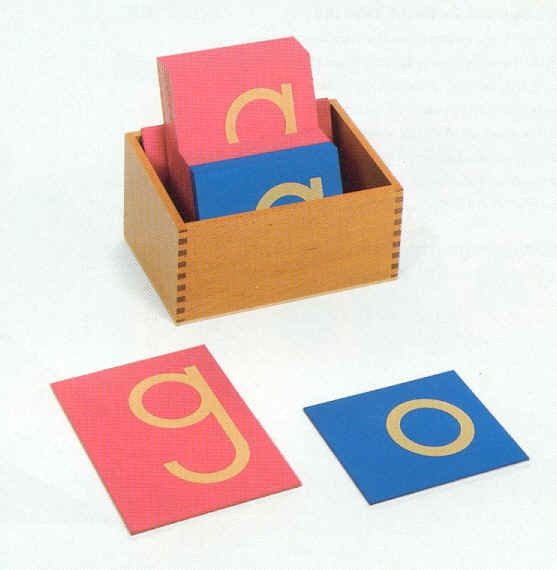 The idea is that through this physical act of the hands, the letters are etched in the brain.  This is why Montessori children learn to write (between the ages of 3-4) before they even master reading.
Our Alphabet Writing Books are set-up to mimic those sandpaper letters – except that kids will use a pencil or crayon instead of their fingers.  It struck me one day when I was having my son practice his English letters on our Kumon Wipeable ABC Flashcards that this exercise was very similar to the sandpaper letters – there were even step-by-step directional arrows to direct the kids: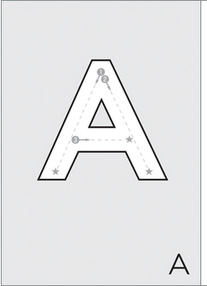 What a fabulous learning tool, I thought!  I had been using self-made computer printouts thus far (which you can see on some of my previous blog posts) – but I knew putting together these books would be a great exercise for many kids – and portable for the park or airplane.
Here is a snap from our Hindi book (you can see the directional arrows, and room for more practice on the back of each page).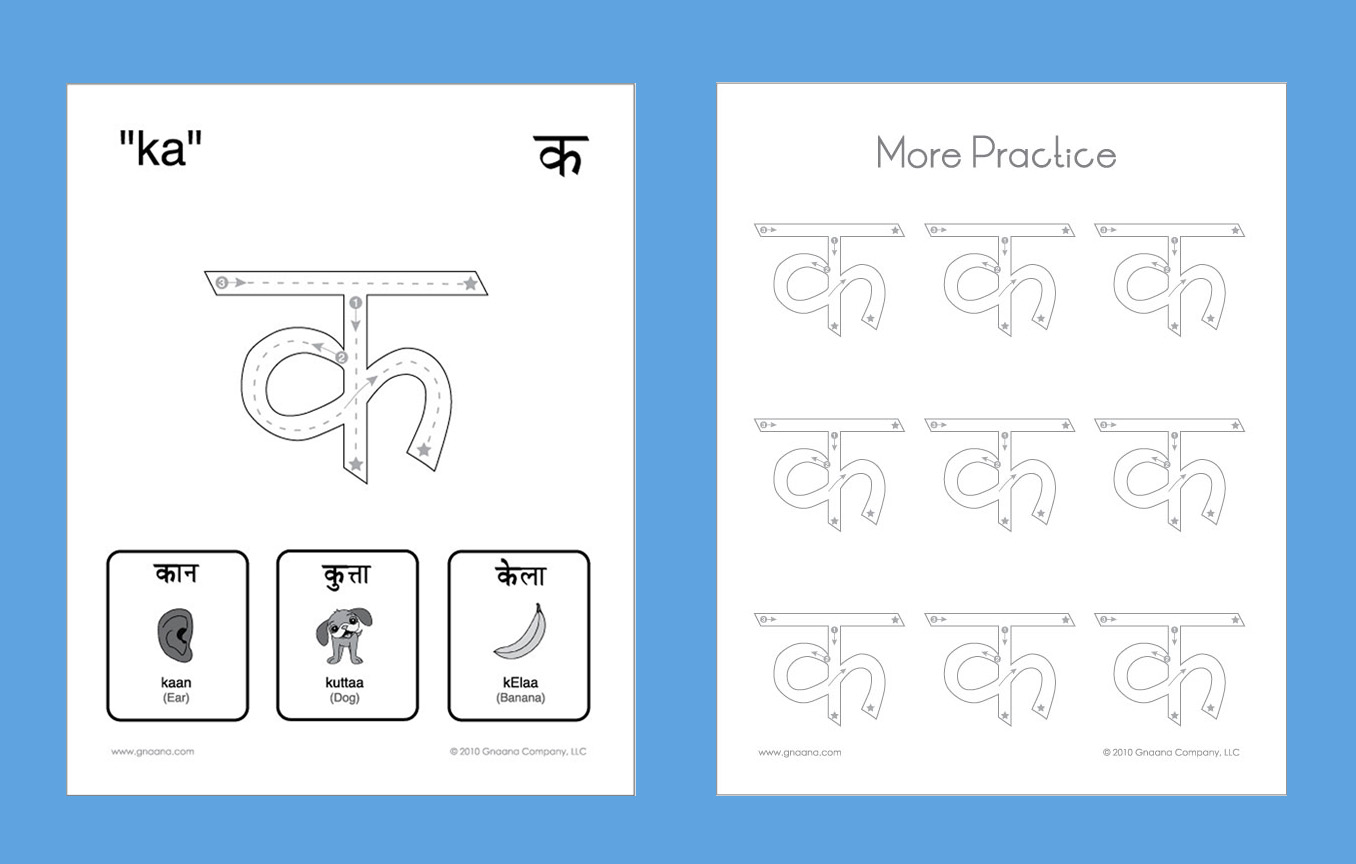 Bear with us, we're still putting these together, so they won't be ready until after Diwali.  They will be available in Gujarati, Hindi, Tamil & Telugu.
Now here's what Sara has to say:
1.  What do you think the artwork on the covers conveys to kids? The cover art is so colorful and playful.  It seems to invite the viewer into this new, more exciting environment for learning. The design is laid out in such a visually flowing manner. The eyes can easily follow the characters around on the front and back cover which seems to be like a snapshot or moment in time taken from a great celebration.
2.  What about the covers makes them attractive to kids? I would like to think that if the cover reveals a moment of celebration, then learning what is in between the covers would be a way to celebrate their culture.   Rather than just another sterile text book, the language books are vibrant and welcoming.
3.  You've been working with our linguists in composing the interior pages – how difficult was it for you to follow their drawings? I am really fascinated by other languages, so this project was quite fun for me.  The drawings weren't very difficult to follow.  It just took a bit of concentration.  Before starting each language and its' set of characters, I reviewed the overall shape, noting the difference in angles or curves from the previous language I had just drawn.  Because the characters are so visually interesting, I see them as images rather than letters.
4.  You did the illustrations for Gnaana's Chota Chef Recipe Cards as well.  What were some of your favourite cards? I love how the food characters are having such a great time in every recipe. Some of my favorite illustrations are Enlightened Eggplant,  Panj Spice Chana Masala (specifically how every chic pea's expression shows their own personality. I like the little one in the back. It's like he's screaming "I'm open. Over here! Over here!"), Kashmiri Kawha, Independence Heros and Thar Des-sert Lassi.
5.  What do you like most about designing for children? Designing for children constantly reminds me of the little joys in life.  I try to remember and keep with me that carefree happiness that we often have as children. It gives me a fresh perspective that I attempt to portray in my work. I am glad to know that my drawings might make someone, especially a child, smile.
Thanks, Sara!  And for some fun, here are some snippets of her work from The Chota Chef – Sara probably knows more about Indian geography as a result of this project than anyone I know!
Recipe #18, from the state of Punjab: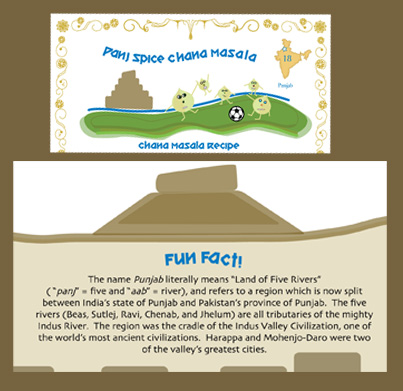 Recipe #13, from Maharashtra ("Bye, Bye, Biti" (British) as my daughter likes to say).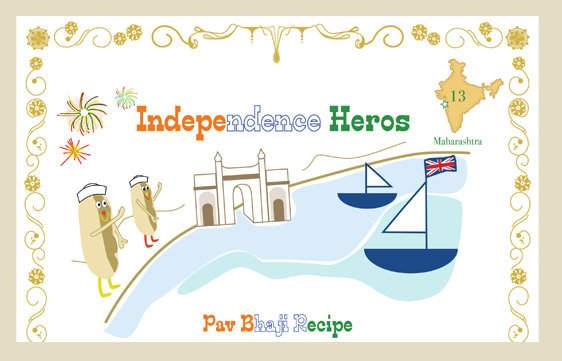 Recipe #16, from Rajasthan (Mango Lassi):