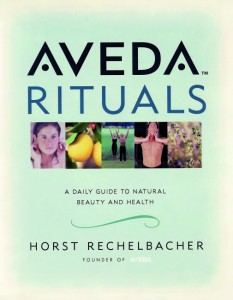 I love Aveda – they're the only salons I go to for my beauty needs.  I'd much rather have plant-based products used on my hair and skin than chemicals. 
It just so happens that the Aveda philosophy – a holistic approach to beauty and health "that works in harmony with the greater web of life" is eerily similar to elements of the Hindu philosophy.  It's also ironic that "Aveda" in literal Sanskrit translates to "against the Veda (knowledge)."  Any student of Sanskrit will tell you that if you put an "A" in front of a word, it will mean the opposite of the root word.
So Horst Rechelbacher, the founder of Aveda, obviously wasn't a Sanskrit scholar.  But he founded a global powerhouse of a company clearly rooted in the ancient Indian system of Ayurveda.  And his book Aveda Rituals is an intelligent and refreshingly concise prescription for incorpating simple Aveda (errr…Ayurveda) style rituals into your daily life.  Rituals like the "Aroma Energizer" and the "Good-Morning Movement" stretching exercises – that awaken your senses and your spirit, connecting you with nature and your surroundings to inspire you to lead a healthier and more fulfilling life.
If an American company can research, re-package and superbly brand ancient Indian wisdom into a format that we can all understand – I'll take more of those.  Now its off to my evening Meditation Moment.

As an Indian parent, I want to strangle those people who, when they see my kids, just have to comment about their skin colouring.  "Oh, how fair she is!" or "How dark he's become this summer – too much time at the beach?  You should use SPF 185."  Aaaaargh!
I think my 3-year-old gets really confused about comments like these – are they compliments or criticisms?  Either way, my kids are going to be armed and secure about their skin:  we'll be reading The Skin You Live In
 by Michael Tyler many times over.  Published by the Chicago Children's Museum, this children's book is pure poetic brilliance.  It's a celebration of all different shades of skin and it certainly has us talking.
So if any aunties and uncles out there comment on my kids' skin colour in the future – watch out – because the kids and I are choreographing a Broadway-style song-and-dance-routine to this book.  And we'll be singing it to you.

New York City wasn't the only fashion hot-spot this month. India also just finished hosting a dazzling fashion week in Mumbai. Presented by Lakme cosmetics, India's largest cosmetics brand, the 5-day extravaganza showcased the Spring/Summer 2010 collections of over 50 designers – from Tarun Tahiliani's opulent couture to Mandira Wirk's casual creations. Featured above are a few of the runway looks (from left to right): Aneeth Arora, Vikram Phadnis and Troy Costa.  Makes me want to bypass the mall and book a flight straight to Mumbai instead!
You can read more about the designers and view their collections at www.lakmefashionweek.co.in.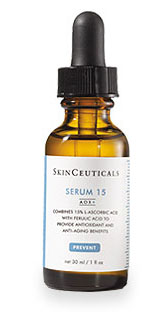 After having gone through 2 pregnancies, and with the demands of motherhood, my skin is at a constant state of war.  And it's a definitively uphill battle:  age, stress, and the lack of time, sleep, and proper nutrition all add up to some serious dermal drama.
I thought I was doomed to have (un)youthful, (un)glowing skin for eternity until I met Skinceuticals Serum 15 AOX+.  It was recommended to me by a facialist as a solution to dark spots and general dullness (apparently a common probem with ethnic skin).  The results?  Well, it's been 6 months since my last facial, and my skin isn't even craving one (sorry, Alicia).
It's a bit of an investment at $90.00+ a bottle, but it will last you close to a year (you're only supposed to use 4-5 drops each morning).  Worth its weight in confidence, I'll say.