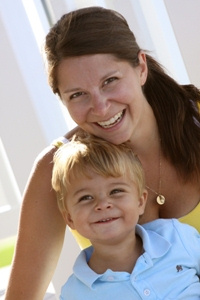 photo credit: Damien Achilles
When I dreamed up the concept for gnaana's Bindi Baby line of books, stationery and prints, I knew Kate Armstrong would be perfect for the job.  Kate is not new to gnaana – she assisted us with our branding and identity and was also the artist behind the wildly popular Nala & Damayanti Valentine's Day printables.  Kate is creative director and owner of Bella Mi Design Boutique and she designs logos and other illustrations for children's brands, in addition to helping companies with branding and website design and development.  She's also launched Bella Paperie – a line of stationery featuring chic and couture designs.  She's based in New Jersey and finds inspiration in her adorable son Jack.
So why Bindi Baby?
If you're Hindu, you've heard it before:  What's that on your forehead? or Why do "Indian people" wear a red dot? Such an ancient and enduring symbol of Hinduism  – yet so misunderstood!  For the record (excerpt from back cover of our Bindi Baby Books):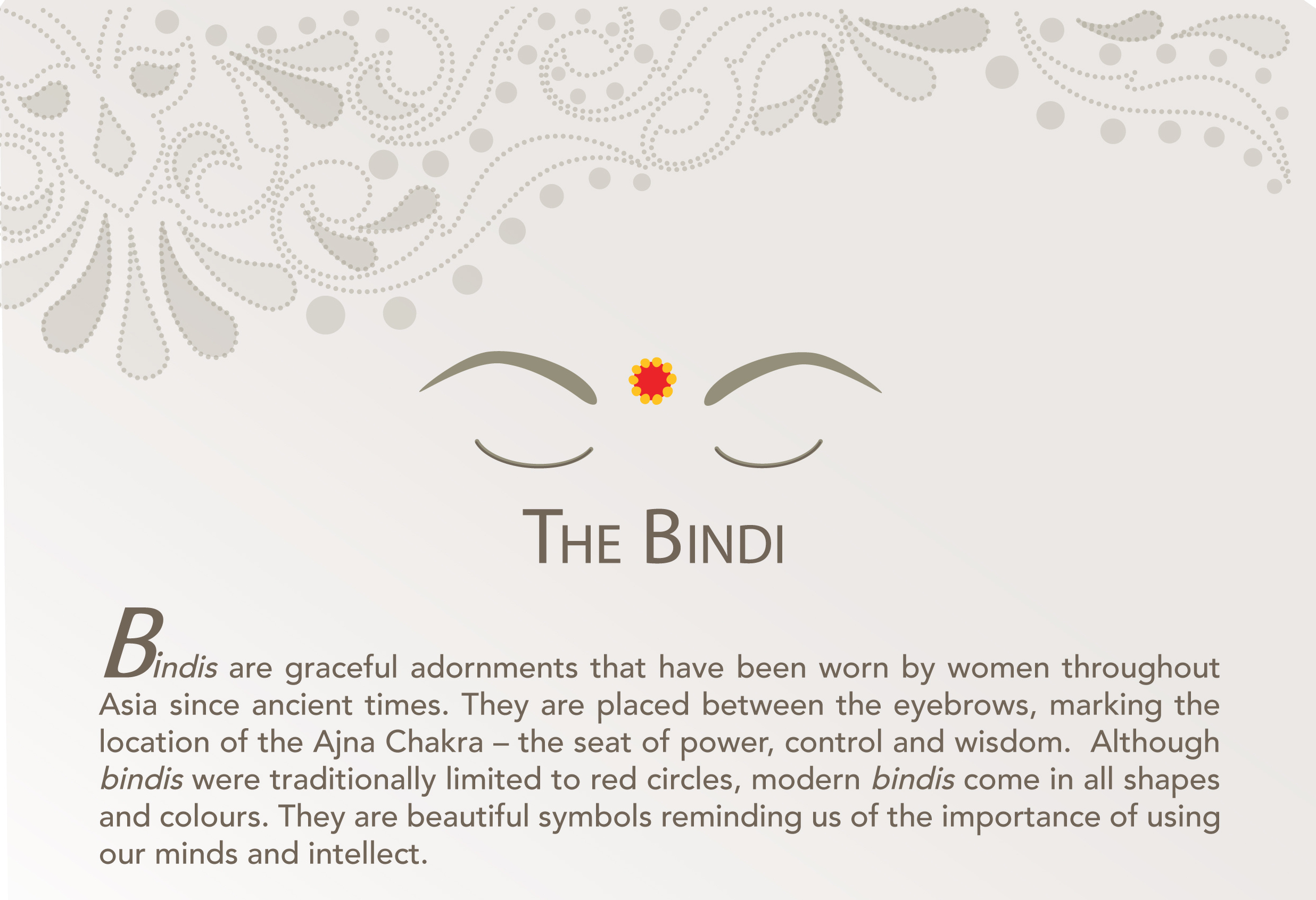 I had wanted to develop simple beginner language books suitable for the youngest babies (and also for beginning readers of Indian scripts).  Animals and Numbers were the natural subjects to start with, so the idea was to design a set of high-style graphics with Indian elements that would really attract kids.  The bindi-theme was perfect for this mission – bindis come in all shapes and colours and are a gorgeous and iconic celebration of that which is India!
Here are some thoughts by Kate:
1.  Did you know what a bindi was before working with Gnaana? I had heard of them, but I had no idea they could be so ornate and beautiful.
2.  What interested you most about the project? Child-themed illustrations are one of my favorite things to work on.  And I loved the idea of pairing traditional bindis with a modern illustrative style.  I knew the project would be unique and interesting.
3.  What was the most challenging aspect of the project? Making sure that the design of each illustration felt consistent yet unique.
4.  What are some of you favourites of the Bindi Baby illustrations? In the animal set my favorites are the bird, snake and elephant. In the number set, I love the snails and bicycles.
5.  You do a variety of design work – what do you like most about designing for children? There is a wonderful free-spirited creativity that comes with working in the children's market.  I love the liberal use of color, cheerful tone, and the little touches that make it special.  And of course, knowing that a child will enjoy the end result is the greatest reward!
6.  Why do you think kids will like the Bindi Baby illustrations? I think that the bright and interesting colors along with the fun bindi patterns and embellishments will excite and delight!
Here is an excerpt from our Bindi Baby Animals (Hindi) book.  You can see the highly visible Hindi script that's also transliterated.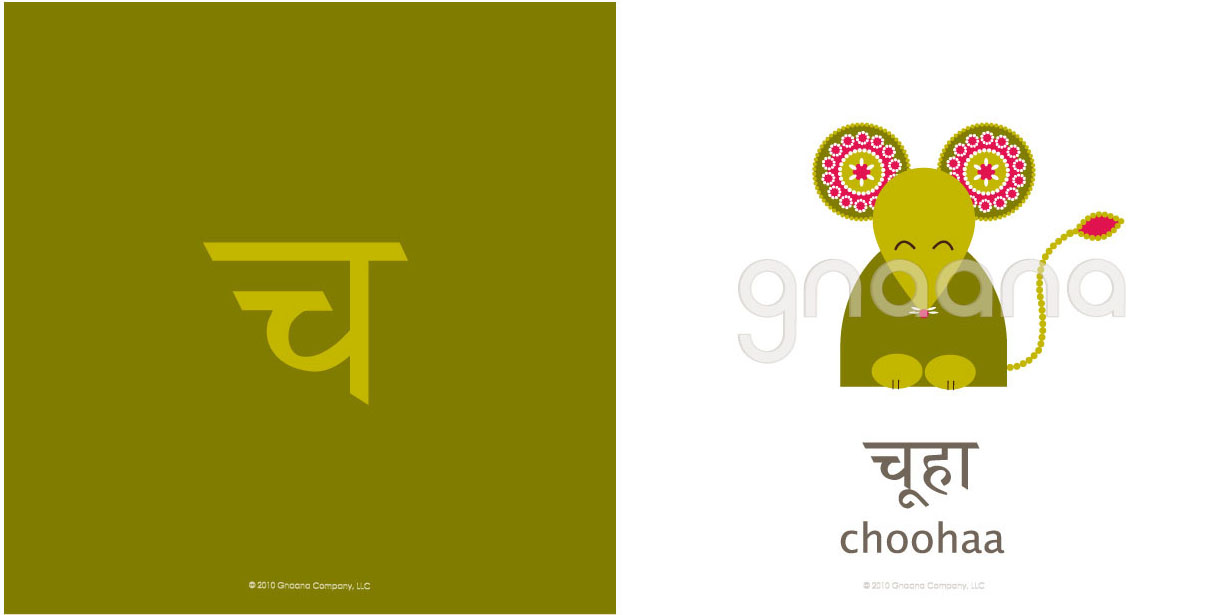 A snapshot of the companion Bindi Baby Numbers book (for the number 5):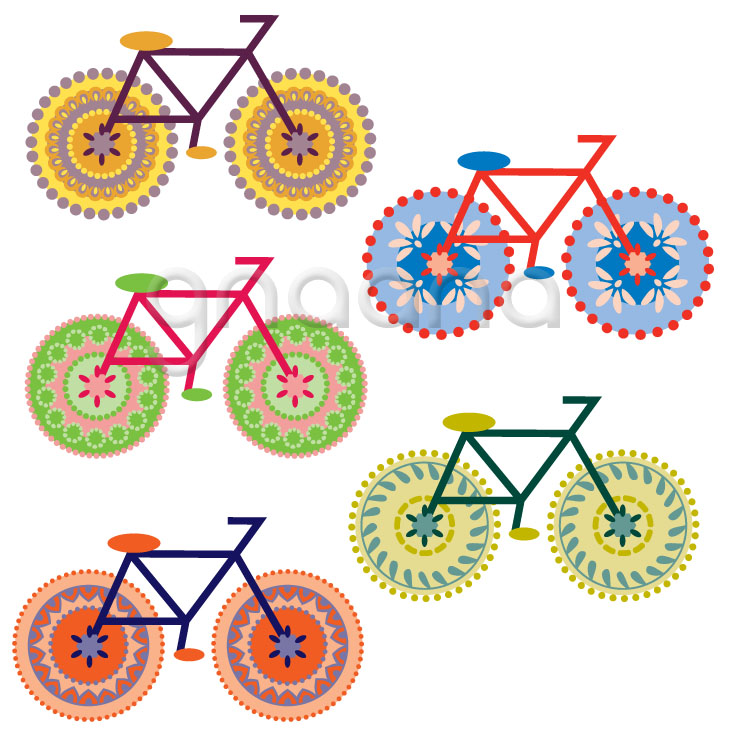 The books will be available in Gujarati, Hindi, Kannada, Tamil and Telugu.  They are softcover (48 pages for Bindi Baby Animals and 24 pages for Bindi Baby Numbers) and will be available both on gnaana and on Amazon.  We'll be rolling these out starting mid-October.
The Bindi Baby designs will also be available as wall prints and stationery.  They'll be printed on premium FSC-certified 100% recycled stock – a rare find in the stationery industry.  The prints and stationery can either be personalized with a family or child's name, a simple "Thank You" or the name of the animal (or number).  The goal here again, as with all of our language products, is to make native languages visible and easily accessible to kids.  And of course – beautiful enough to be proud of!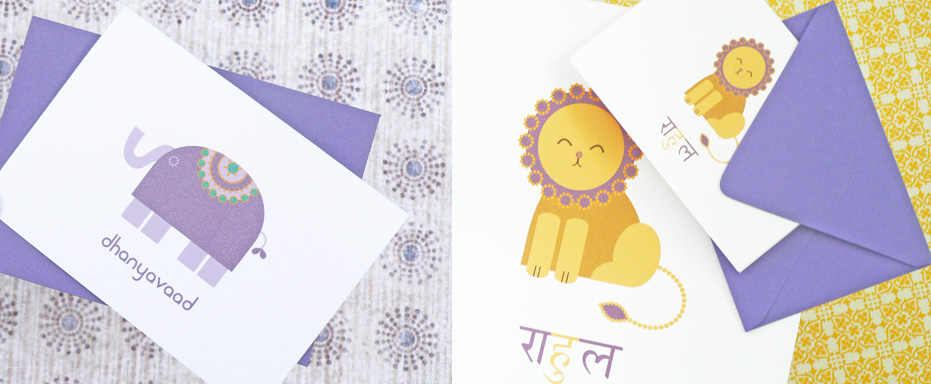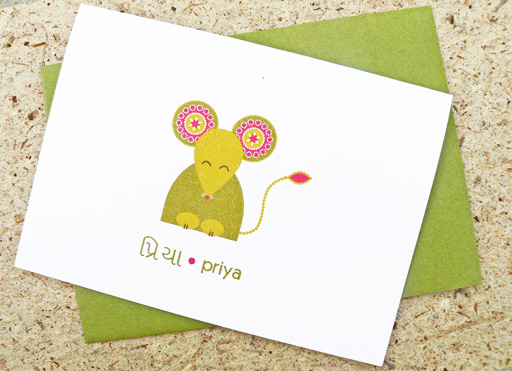 A round of applause for Kate – she really delivered on these designs – and my daughter can't stop staring at them!