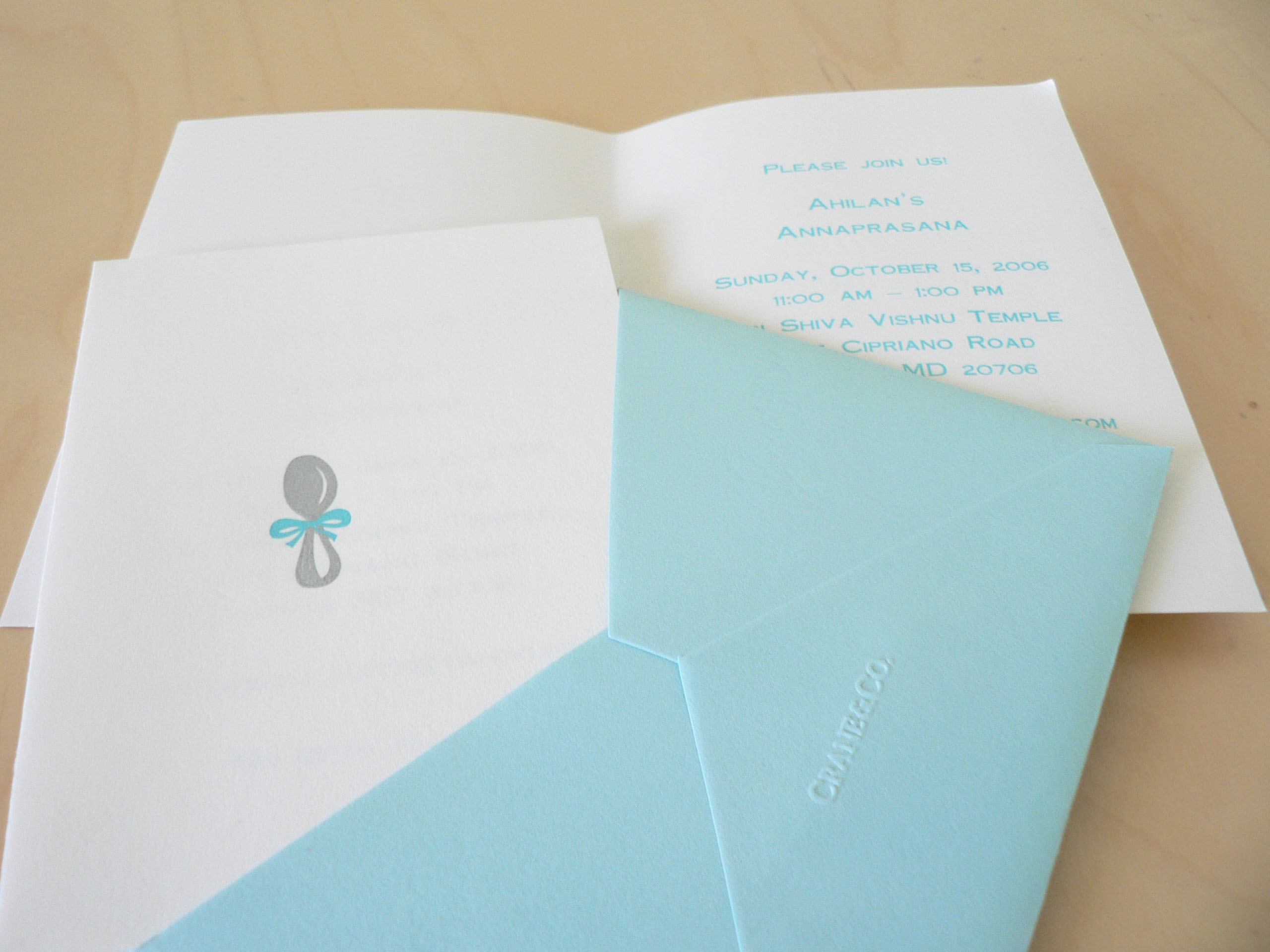 I was clearing out some boxes this past weekend, and I came across the Annaprasana Invitations that I had printed for my son a few years ago.  Aren't they cute?
They'e from Crane & Co. – it just so happened that I was in their store and saw a set of boxed notecards with that darling little spoon.  I asked if they could print text for me on the inside (don't remember exactly how much it was – but very inexpensive) – and there I had something memorable to send to our family and friends.
I had written before about my admiration for the concept of the 16 Hindu Samskaras (see the Vidyarambam post).  The Annaprasana is the 7th samskara (the 4th one after the actual birth of the child).  It marks the baby's first solid food feeding (anna means "rice" and prasana means "to enter"), and is typically performed during the 6th month (or even months for boys and odd months for girls) at a chosen muhurtham (or "auspicious day and time").  The baby is fed rice kheer or payasam with a golden ring by either the father or a senior male family member.  In our family, the feeding is done in conjunction with a prayer ceremony, and afterwards we have a fun game where we place an array of objects around the child (a pen, gold jewelry, a book, money, a (toy) knife, etc.) to see what grabs the child's attention.  The choice is supposed to forecast the child's interest or vocation as an adult.
It is remarkable to me how this 4,000(+)-year-old tradition so beautifully connects the spiritual significance of food with the physical needs of the child.  According to Rajbali Pandey (author of Hindu Samskaras – my favourite text on the subject), "Food was a lifegiving substance.  People thought that there was something mysterious about it from which life emanated.  The source of energy was to be infused into the child with the help of gods."
As a mother, baby's firsts are always emotional moments.  The Annaprasana is truly a poetic way to share one of these firsts with friends and families.  As South Asians continue to root themselves in Western society, I hope I get invited to more samskara celebrations!