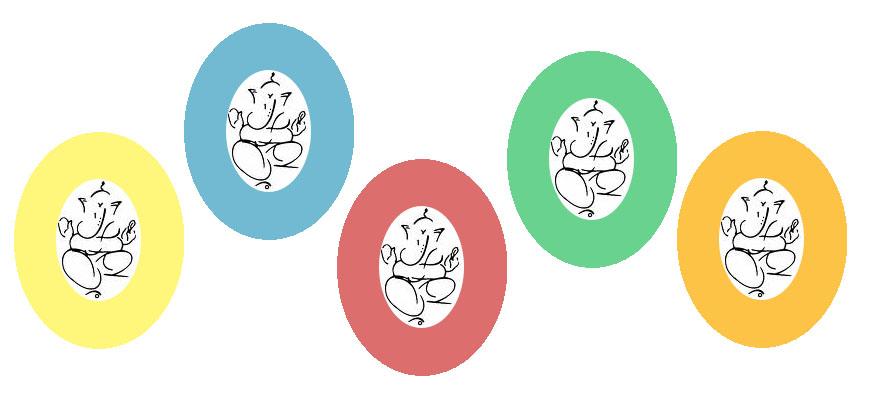 Have you heard of the Pancha Ganapati fesitval?  If you're a Hindu tormented by the "December Dilemma" – you know, whether to ignore Christmas (ergo risking social pariah status for you and your kids) or to celebrate a toned-down version (after all, even the U.S. Supreme Court has recognized that Christmas has many secular elements) – then read on.
The Pancha Ganapati festival is being touted by interfaith organizations as the "Hindu replacement for Christmas."  This 5-day festival (which conveniently runs from December 21-25 of every year), invokes the colours of Lord Ganesha's 5 shaktis (powers) – a sort-of Christmas-meets-Kwanzaa-meets-Hanukka.    A shrine is to be created in the main living room, which would contain a large statue or picture of Ganesha, and decorated with banana leaves, pine cones, tinsel, etc.  Then, on each of the days, children are invited to decorate Ganesha in the colour du jour and the family is to focus on a special sadhana (spiritual discipline).
Day 1 | Yellow:  Love and harmony among immediate family members
Day 2 | Blue:  Love and harmony among neighbors, relatives and close friends
Day 3 | Red:  Love and harmony among business associates and the public at large
Day 4 | Green:  Invoke the joy and harmony that comes from music, art, drama and dance
Day 5 | Orange:  Invoke the love and harmony in all three worlds (presumably the heavens, earth and the underworld)
Gifts are exchanged on each of the days, and placed under the shrine – to be opened on the 5th day.
Interesting.  So how do we come down on this holiday?  Kudos for the creation,  though we will have to do some further investigation.  But for now, let's spread the word – Hindus do have a holiday in December.  Fa la la la la la la la OM.