Posts Tagged 'clothing'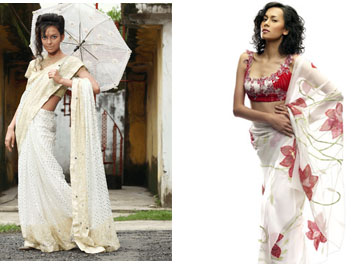 I love them. I love to look at them.  I love to wear them.  I love to shop for them.  And since I only get to wear them but a few times a year, when I do get a chance – that sari better be pretty darn special.
Shown above is a white and gold foil print chiffon saree from designer label kSara by Shradha Saraf, and a gorgeous red floral number from one of my favorites – Ravi Bajaj.
And below are some super stylish and elegant designs from RaiR and its sister site, CBazaar.  Both sites offer you the option of ordering a made to measure blouse, petticoat, or fall and edging work.  You just email them your measurements and desired blouse design, and everything arrives at your doorstep  – a godsend for busy moms if you ask me!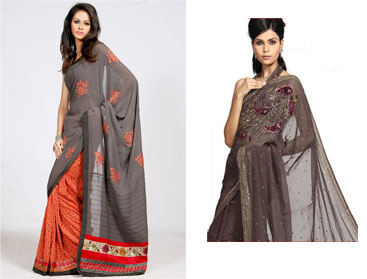 I always wished my family celebrated Easter – just so I could have an excuse to don a pretty spring dress and smile in front of the camera.  Now that I have a daughter of my own, the urge to dress her up is proving irrepressible.  And I can't help but drool at the selection.  Case in point:
Cupcakes & Pastries green polka dot dress is simply stunning.  It features hand-embroidered African style beading around the neckline – creating a "Sweet and Tribal fusion."  Designed by Inshi Khanna, you can see subtle influences of India in the entire collection of fashion forward dresses.  100% cotton.  $72.00
I love Gorgeous Alpine Poppy dress is the perfect shade of pink, with accents of lace in just the right places.  Love the simple flutter sleeves.  100% silk.  $98.00
Busy Bees Oscar dress was inspired by the legendary fashion icon Audrey Hepburn.  A gorgeous combination of heavenly blue and sunset orange with white embroidery.  $94.00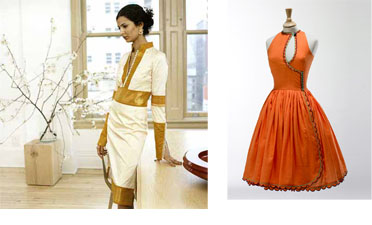 When I was 12, if you had asked me what I wanted to be when I "grew up," I'd have told you I wanted to be a fashion designer.  (A dream that was quickly squashed by practical and hyper-paranoid parents…)
Maybe, just maybe, I would have made it in the design field…but the more plausible scenario is that I would have drowned, especially amongst talent like Swati Argade (an Indian-American designer that marries traditional fabric artistry such as ikkat and khadi  with modern silhouettes) and Nipa Doshi (part of the internationally acclaimed London firm Doshi Levien).
Pictured above is an elegant sari-inspired dress from Argade's Stargazer collection and Doshi's Courtesan Dress  – hand woven in West Bengal with mul mul cotton.  What a dream date night it would be….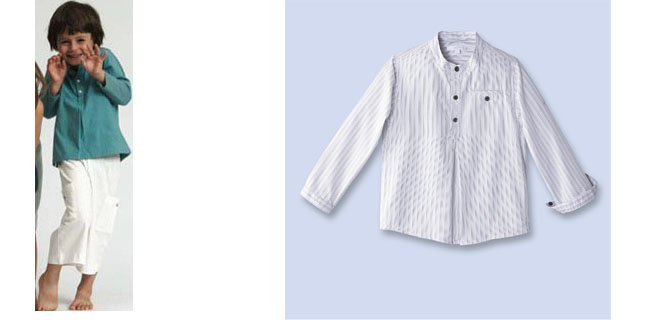 New clothes are synonymous with any holiday in the Indian culture.  I used to love the morning ritual of bathing and getting dressed-up on festival days during the childhood summers I spent in India.  There was something refreshing about starting the day in a new outfit – it was like the human equivalent of moulting.
In that spirit, I always try to have my kids wear new clothes on important days.  Buying clothes for my daughter is easy – girls clothes are just so darn cute whether you buy Target or Tartine.  For my son, however, I'm always disappointed at the offerings – it's always some variation of stripes or plaid or the occasional pop graphic.  So I have to look harder for his clothes.
Here are 2 great tunic tops that combine Indian style with California cool:  Oeuf's Marcel Tunic and Jacadi's dressier style from their Parc Monceau line.
My son will definitely be stylin' this Sankranthi!

Now I'm not one to advertise my political and social views on my kids' clothes and such, but I think I may make an exception for these great finds.
Got a little butter thief?  Yehhailife has these hilarious "I Love Butter" Krishna tees.  Available in infant sizes. They also write an awsome blog about all things Indian ("With An Attitude.") (Which we've been feautured in, thank-you-very-much. See the link in our Buzz page.)
And who can say no to Gandhi?  Tiny Revolutionary offers a great graphical tee featuring Gandhi's famous "Be the change you want to see in the world" quote – available in infant, toddler and youth sizes.
Finally, the cute French boutique Coq en Pate carries a whimsical "Vegetable Power" shirt featuring adorable French illustrations on 100% organic cotton.  Available for purchase online from UK shop The Emperor's New Clothes.
Unique, beautiful and (hopefully) inspiring!

The holidays are a comin', and you're prepping your wardrobe.  You can't bear to put your daughter's darling silk lehnga (or that Burberry dress that you just had to buy for her) in the wash – so you are off to your local dry cleaners.  But wait – all dry cleaners are not the same.  Read on.
As an attorney who practiced in environmental law for 6 years, I know enough about dry cleaning to be wary.  Most dry cleaners (even some "organic" dry cleaners) use the solvent perchloroethylene – or "perc" for short – to clean garments.  Perc is regulated by EPA as a Toxic Air Contaminant and is also classified as a possible carcinogen.  If perc is not properly disposed of, it can contaminate soil and groundwater.  Many Superfund sites are contaminated with perc.  In short, it's bad stuff.
So why do most dry cleaners (85% according to recent data) still use it?  Because they can get away with it.  Some states (MA, NJ, NY, TX) are trying to ban perc, and California passed a ban in 2003 (which really won't take effect until 2020).
Now with all that's documented about perc, I wouldn't want it used on my clothes – let alone  on my kids' clothes.  But there are alternatives.  One of them is Green Earth Cleaning – a company which manufactures a liquid silicon solution, a (reportedly) safe substance.  There are about 1500 dry cleaners across the US that use Green Earth.  You can see if there's one in your area (and learn more about dry cleaning) by going to the company's website: www.greenearthcleaning.com.
I even trusted my prized white Cologne & Cotton duvet to my local Green Earth cleaner – with fantastic results.