Posts Tagged 'decor'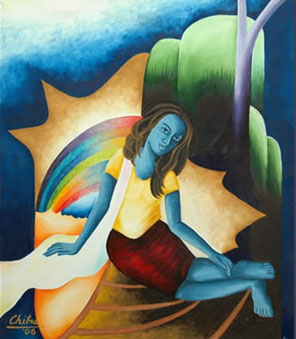 painting by Chittra Singh
We've been seeing a lot of rainbows lately.  With the official start of spring and last week's St. Patrick's Day celebration at school, suddenly rainbows are everywhere.  (We also featured them in our March Newsletter as part of our Holi special).
So our latest Telugu letter is i for indradhanussu (or indradhanush in Hindi and Gujarati).  It's a mouthful to say, but its derivation is simply divine:  dhanussu or dhanush means "bow" – so the word literally translates to "Lord Indra's bow."  How perfect:  as we stated in our newsletter, the word is a "linguistic affirmation of a rainbow's ethereal link between the heavens and the Earth."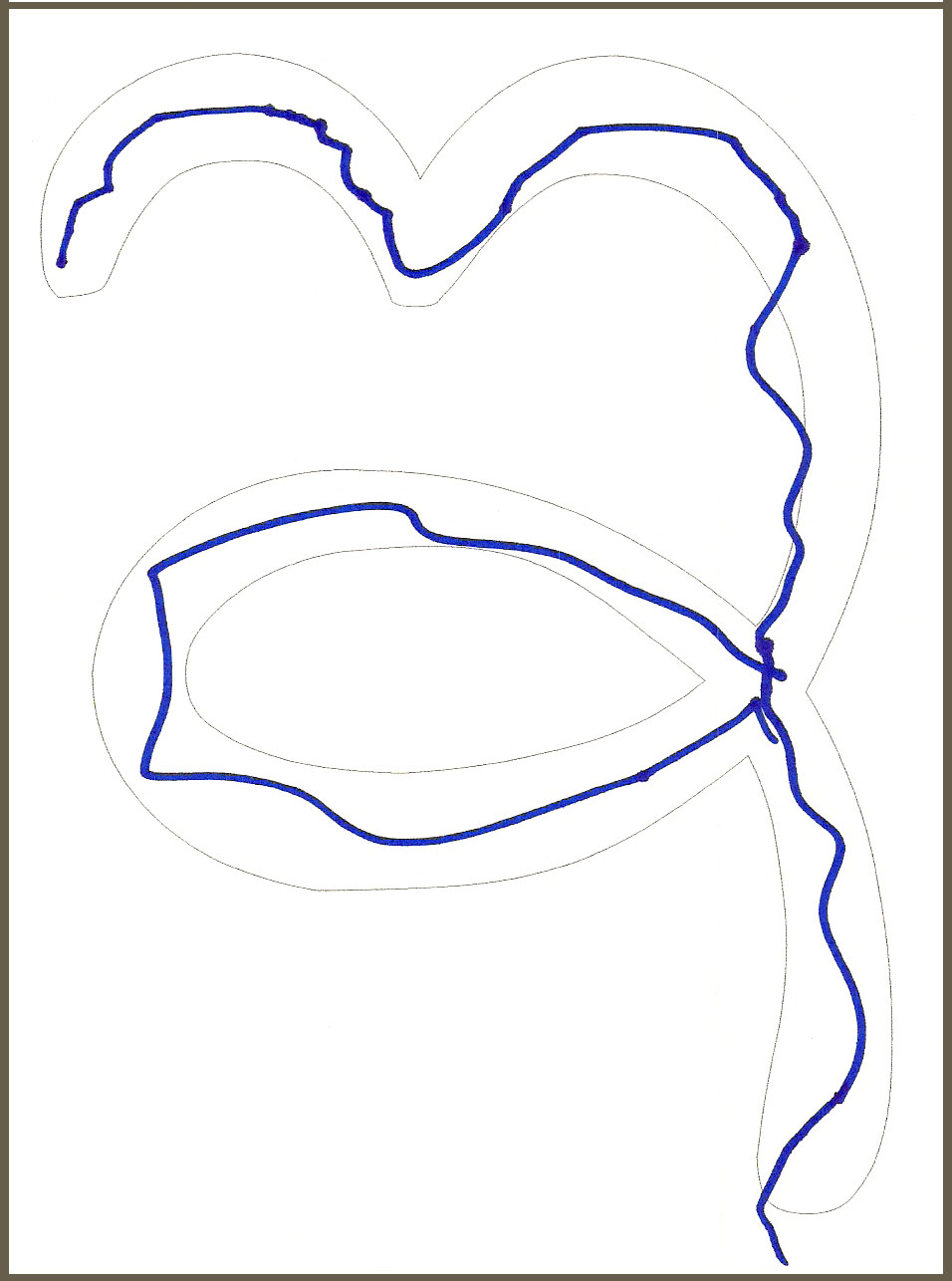 Featured above is a gorgeous painting entitled Rainbow Dream by UP artist Chittra Singh (you can see more of her works at www.chittraarts.com – she ships worldwide).  And here are a few more examples of rainbows-done-right (from the left):  rainbow animal alphabet by Katy Holmes, sophisticated rainbow girl's room featured at ohdeedoh, and Nova Natural's Four Elements Blocks.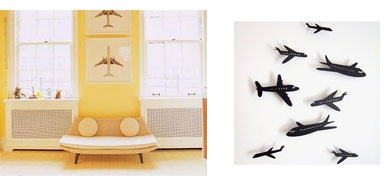 My kids have been really into airplanes lately – probably due to all the flying we've been doing.  So our Telugu letter of the week is Va for vimanamu (or viman in Hindi) – the word for "airplane".  We've been using our Telugu Alphabet Blocks of course, and the display in our play area includes other "va" obects – vankaya ("eggplant"), velugu ("light"), and vishnu (as in "Lord Vishnu").  And since my 3-year-old is working on his writing technique at preschool, I made an outline of the letter Va so he could practice – a great way to keep him occupied on the…yes… airplane.  The outlines have been such a big hit with him, we may just decide to offer a complete set as a future gnaana product!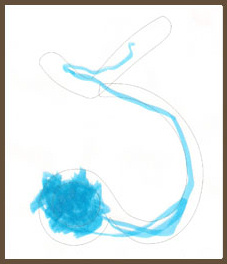 And I found some fabulous modern kids airplane decor for a bedroom or playroom.  Picture above is a stunning room featured in House Beautiful and laser cut paper airlpanes from Etsy seller owlyshadowpuppets ($20 for a set of eight and loads of possibilities).  Other cool kids airplane gear:  Hape International's eco bamboo airplane and Fred and Friends Air Fork One.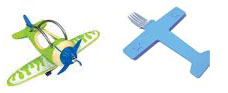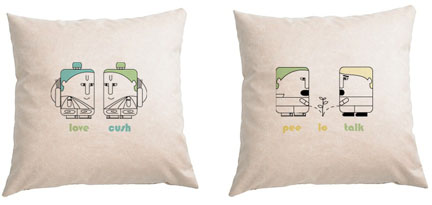 I'll betcha you don't know what a Batoota is.  Well, they're spreading from Mumbai to all over India – soon to infest the U.S.
So what are they?  They're "creatures which infest your daily mundane objects by redefining them and while doing so, passing a social comment, using puns," says Mumbai-based creator Roshnee Desai.
The whimsical characters featured on her pillow covers are intriguing to kids and adults alike – and great for a good chuckle in any room.  Our favourites are the "Love Cush" (a shout out to the Ramayana fans here) and "Pee Lo Talk" (anyone who's visited India will understand the humour here).
You can see more designs at Roshnee's website.  And yes, she can ship the covers to the U.S. and elsewhere – just email her at roshneedesai[at]gmail[dot]com.  Snatch them if you can!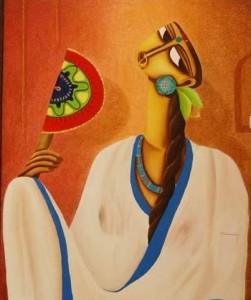 In Summer by Pintu Paul

Some people get hit with the Travel Bug.  I get hit with the Art Bug (in addition to the Travel Bug).  It usually happens when I'm staring at a wall in our house and decide I'm not happy with what's currently hanging there (usually a print or photograph).  My problem is that I'm in love with contemporary Indian art – a sublime fusion of modern and ancient.  So I just can't skip off to some L.A. art gallery.
India has some amazing artists. When my husband and I were living in Bangalore, we took full advantage.  One of the pieces we purchased was by up-and-coming Bengali artist Pintu Paul. (It's a stunning piece entitled "Krishna to Battle" in which Paul cleverly replicates (with paint) the old tradition of temple stone work with a modern, abstract twist.)
Fortunately for us, there are quite a few online galleries that sell contemporary Indian art – at price points much lower than what you'll find anywhere in North America or Europe.  Two of our favourites are Mon Art Gallerie (based in Kolkata) and Different Strokes (based in Udaipur). The galleries typically ship just the canvas – great for saving on shipping costs.
So many walls….so many wonderful (and affordable) choices.  Great art inspires our whole family!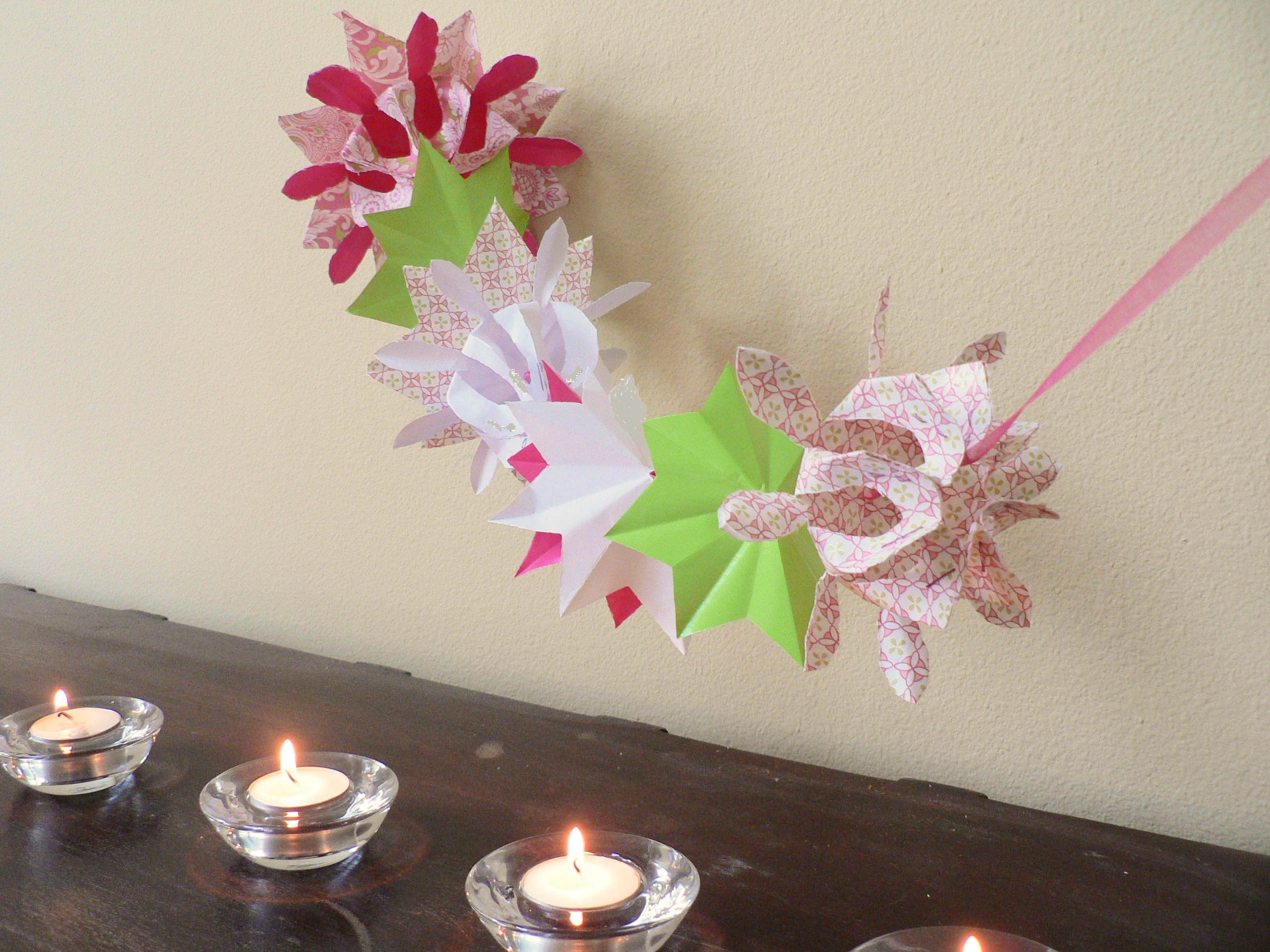 Yes, folks, it's that time of the year again…Deepavali (or Diwali for short)…celebrated by South Asians around the world.  And what's a holiday without decorations?  We're decking the doorways with beautiful origami garlands – a modern and stylized version of phul mala (flower garlands) that adorn Indian homes and shops during festival times.  Threading garlands is also a great activity for kids to develop motor skills – a variation of the Montessori Lacing Beads exercise. 
Here's what you'll need:
8.5″ x 11″ thin paper (text weight or gift wrap works great)
Scissors
Stapler (mini if you have it)
Plastic needle (large, with a round end – available at craft stores)
Yarn or string (we used thin ribbon)
We used a form of origami called kusudama – which uses cutting and gluing/stapling – because you can create beautiful shapes and flowers in 1-2 minutes.  We used portions from these video tutorials to make our stars and flowers (skip the inital ad): (1) paper stars and (2) paper flowers.
If you have young kids, you'll want to create the origami yourself (older kids can of course fold their own).  Also for younger kids, to better simulate the Lacing Beads exercise (and to make it easier on little hands), you'll want to pre-punch holes in the origami with the plastic needle.
That's it!  Let your child dig into a pile of shapes and flowers and start threading!
If you're short on time, or as a variation, you can also use fresh leaves or flowers.
When I attended my cousin's wedding in India about 10 years ago, I remember that the guests (all 1200 of us) dined on fresh banana leaves. Of course banana leaves were the norm back then at any function in India.  What a beautiful (and biodegradable) alternative to the plastic plates that fester in our landfills!
As I plan my daughter's first birthday bash, I thought my choice of plates was limited to plastic (sturdy, but "no" on the eco) or paper (better, but most are still bleached).  That is, until I stumbled upon Bambu:  offering a sturdy and stylish Veneerware collection of 100% organic bamboo plates, trays and utensils.  They are marginally more expensive than their PartyCity counterparts (about 40-50 cents on average when bought in packs of 100) but oh so much better for Maata Bhumi (Mother Nature): they reportedly biodegrade in 4-6 months when composted.  And of course, what can beat bamboo – a high-yield renewable natural resource.  Check out the collection at www.bambuhome.com.
Probably as close to banana leaves as I will ever get.
My poor daughter has been very neglected in the room-design department.  She inherited a yellow nursery from her brother, so I want her big-girl room to be extra-fabulous.  I'm liking these duvets:  Blissliving's Harajuku (toned-down girly-glam) and Sanford Burrows' Field Day (whimsical and intriguing).
I'm thinking I'll kid-ify the room with a luscious wall color, a few playful pillows, and some mirror-embroidered drapes.  A satisfying mix of clean lines with just a hint of Indian antiquity?  We shall see.