Posts Tagged 'design'

(Besides ours, of course.)  It's urban Indian design done masterfully.  Design Temple has worked with clients like MTV, Vogue, and the Taj Palace Hotels (they also did title design for The Namesake).  They've designed products, books and furniture as well – all in the name of Contemporary Indian Design.
Our favourites:  the Cheerharan Toilet Paper (inspired by a scene in the Mahabharata where the evil King Duryodhana orders the disrobing of Draupadi…in DT's words, "That saree never came to an end, this toilet paper unfortunately will."  Think potty traning and Mahabharata training for your kids all-in-one!) and the Shunya Laptop Bag (celebrating the binary opposition of shunya (Sanskrit for "zero") and one).
It's a lot to take in.  Enjoy: www.designtemple.net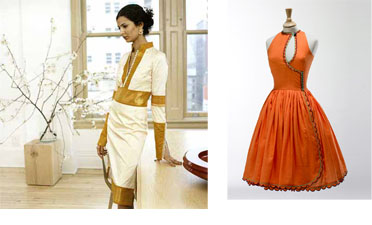 When I was 12, if you had asked me what I wanted to be when I "grew up," I'd have told you I wanted to be a fashion designer.  (A dream that was quickly squashed by practical and hyper-paranoid parents…)
Maybe, just maybe, I would have made it in the design field…but the more plausible scenario is that I would have drowned, especially amongst talent like Swati Argade (an Indian-American designer that marries traditional fabric artistry such as ikkat and khadi  with modern silhouettes) and Nipa Doshi (part of the internationally acclaimed London firm Doshi Levien).
Pictured above is an elegant sari-inspired dress from Argade's Stargazer collection and Doshi's Courtesan Dress  – hand woven in West Bengal with mul mul cotton.  What a dream date night it would be….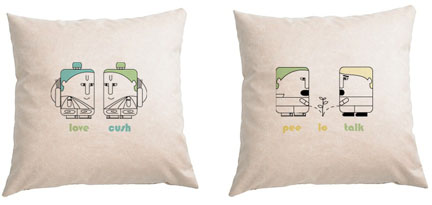 I'll betcha you don't know what a Batoota is.  Well, they're spreading from Mumbai to all over India – soon to infest the U.S.
So what are they?  They're "creatures which infest your daily mundane objects by redefining them and while doing so, passing a social comment, using puns," says Mumbai-based creator Roshnee Desai.
The whimsical characters featured on her pillow covers are intriguing to kids and adults alike – and great for a good chuckle in any room.  Our favourites are the "Love Cush" (a shout out to the Ramayana fans here) and "Pee Lo Talk" (anyone who's visited India will understand the humour here).
You can see more designs at Roshnee's website.  And yes, she can ship the covers to the U.S. and elsewhere – just email her at roshneedesai[at]gmail[dot]com.  Snatch them if you can!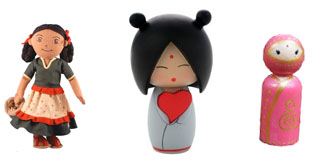 My poor daughter has been engulfed in her older brother's world of trains and spaceships since her birth.  So I decided it was high time that I girl-ify our toy chest.  And I'm starting with the fundamentals:  dolls! 
Here are a few uber-cute – and eco-friendly – finds (for ages 3+):
Global Green Pal's Pani Rani spreads the message that conserving water can make you feel like a queen!  Made with certified organic cotton and stuffed with 100% post-consumer recycled material, this Indian girl hob-nobs with the likes of Clean Air Kate, Recycle Kyle and Carbon Offset Chet.  $29.95
Momiji's gorgeous Love doll is almost too chic to take off the shelf.  Part of a collection of 3″ handpainted resin dolls, each one has a slot on the underside for a tiny folded card with secret message.  $15.00
Isas7ada's Amrita doll is also a hand-painted beauty.  Her tea party would include Jewish Jacob, Captain Pirate Looney and Artist Annette.  $5.00
And for some serious role-playing, check out play food India style:  Pewter Goblet's Mini Jalebi's, Laddoos and Masala Meals!  $5.00 – $15.00. 


Now I'm not one to advertise my political and social views on my kids' clothes and such, but I think I may make an exception for these great finds.
Got a little butter thief?  Yehhailife has these hilarious "I Love Butter" Krishna tees.  Available in infant sizes. They also write an awsome blog about all things Indian ("With An Attitude.") (Which we've been feautured in, thank-you-very-much. See the link in our Buzz page.)
And who can say no to Gandhi?  Tiny Revolutionary offers a great graphical tee featuring Gandhi's famous "Be the change you want to see in the world" quote – available in infant, toddler and youth sizes.
Finally, the cute French boutique Coq en Pate carries a whimsical "Vegetable Power" shirt featuring adorable French illustrations on 100% organic cotton.  Available for purchase online from UK shop The Emperor's New Clothes.
Unique, beautiful and (hopefully) inspiring!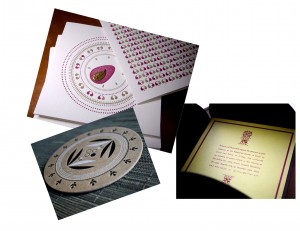 I'm infatuated with paper. So much so that sometimes I resent the digital age – people don't snail-mail cute "We've moved!" cards or creative party invitations anymore. 
But when you sift through .kamal.'s astonishing collection of letterpress cards and invitations, you'll want to join me in the effort to revive the era of paper correspondence.  Branded as "art on paper" (which it truly is), the designs are the creation of Kamal Patel, a London-born Pratt grad who now lives in Virginia.  She features cards, coasters, wrapping paper and custom invitations and announcements – all printed locally in Richmond, VA on eco-friendly 100% cotton or kraft chipboard.
Minimalist, modern and mesmerizing…
Check it out: www.onkamal.com

New York City wasn't the only fashion hot-spot this month. India also just finished hosting a dazzling fashion week in Mumbai. Presented by Lakme cosmetics, India's largest cosmetics brand, the 5-day extravaganza showcased the Spring/Summer 2010 collections of over 50 designers – from Tarun Tahiliani's opulent couture to Mandira Wirk's casual creations. Featured above are a few of the runway looks (from left to right): Aneeth Arora, Vikram Phadnis and Troy Costa.  Makes me want to bypass the mall and book a flight straight to Mumbai instead!
You can read more about the designers and view their collections at www.lakmefashionweek.co.in.
I love French labels for kids like Jacadi and Marese for their exquisite tailoring and whimsical details.  Which is why it was love-at-first-sight when I came across Antik Batik.  Created by globetrotter Gabrielle Cortese, the line is a blissful marriage of handmade multi-cultural design techniques such as Batik printing and Bandhani art with decidedly French craftsmanship.  I love the Boxton Dress, made of cotton and silk and embellished with embroidery, beads and sequins.  Though big in Europe, the label is a well-kept secret here in the US, but sites like Milkshop and 25 Park offer a decent selection.  Antik Batik also has designs for women. Don't even get me started…
9g5ismpyq2