Posts Tagged 'dinner'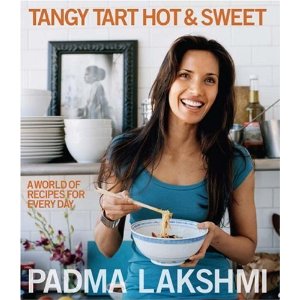 Now that the gorgeous Top Chef host and international model Padma Lakshmi has a daughter of her own (Krishna Thea Laksmi, born in February), I wonder what she'll be feeding her.
I had a hankering for singapore noodles the other day and I found her recipe for Singapore Noodles with Shrimp and Shiitake Mushrooms (from her Tangy Tart Hot & Sweet cookbook).   You can find a copy of the recipe here (and her comments about the dish).
I substituted Morningstar Farms vegetarian Chik'n Strips for the shrimp and added more soy sauce in lieu of the fish sauce.  I also added some thinly-sliced green beans  for more nutrition and flavour.  And being a true Indian cook, I don't have "curry powder" so I used 1/2 teaspoon each of ground cumin and ground coriander, and then added a pinch of turmeric.
Yummy, yummy!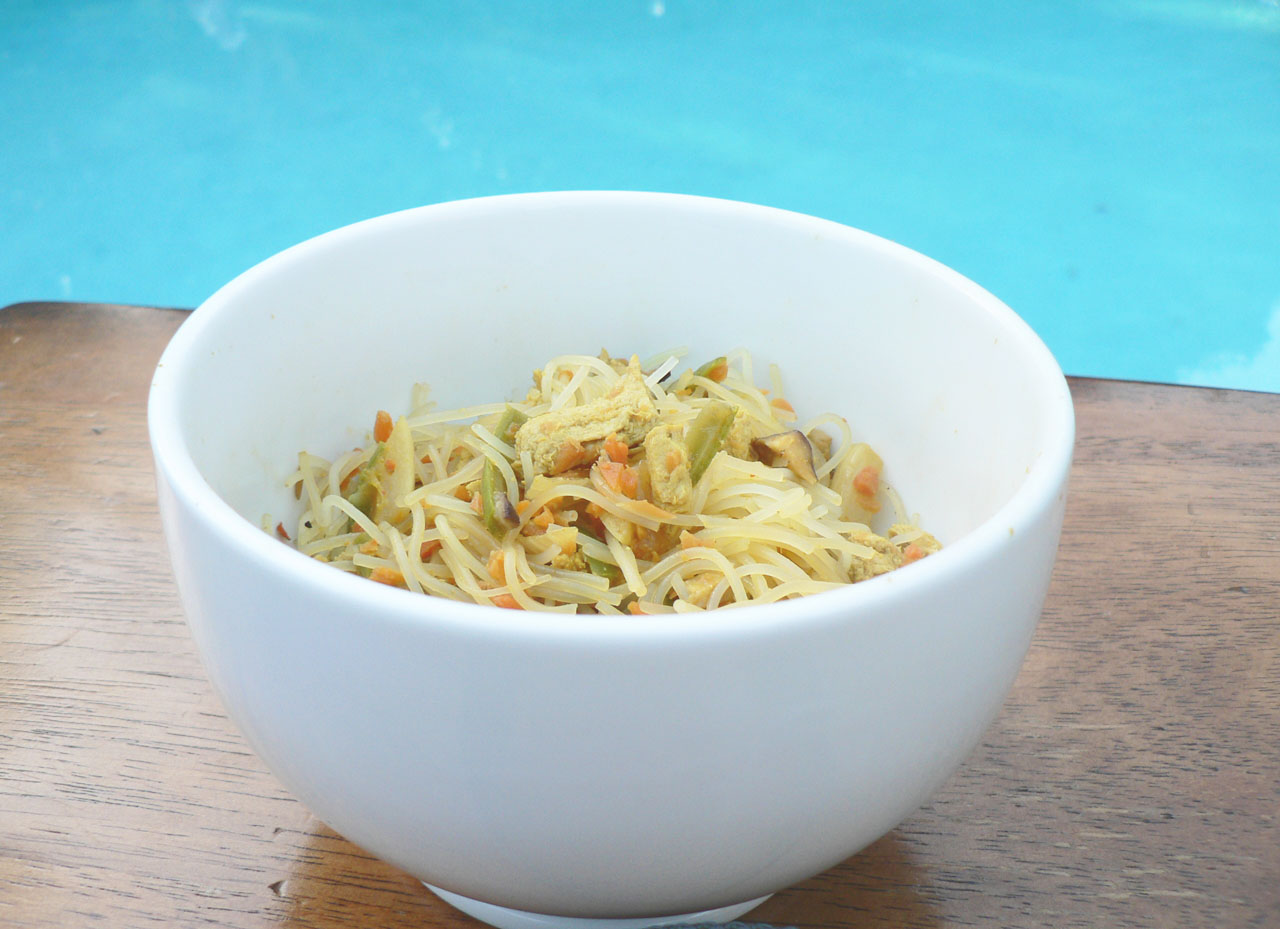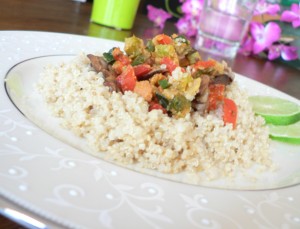 Quinoa (pronouced "keen-wah" or, as my toddler likes to say, "keen-i-wah") is simply a super-grain.  (Well, ok, technically it's not a grain – it's a seed – but it's prepared and eaten just like rice.)  Cultivated in the South American Andes since at least 3,000 B.C., the Incas revered this "mother grain" as sacred.  And weighing in at 12%-18% protein (about 6 grams per serving), quinoa can certainly be a "sacred" source of protein in vegetarian households.
Quinoa can have a slight bitter taste, so it should be combined with flavours that counteract this bitterness.  Here's one of my favourite quinoa recipes – with Indian flavours.  The secret ingredient here is sesame powder, made by grinding lightly toasted sesame seeds in a coffee grinder, which gives the stirfry subtle hints of nutty yumminess your children will love.
Ingredients: 
1 cup quinoa
2 cups water
2 Tbs. olive oil
2 cloves garlic, minced 
2 medium red bell peppers, diced
3/4 cup dice carrots 
3/4 cup diced celery

1/2 cup shiitake mushrooms 
1/2 cup green onion, diced 
1/2 Tbs. sesame powder
1 tsp. oregano
Salt, to taste
Pepper, to taste
Red chili powder, to taste 
Cook the quinoa in a rice cooker like rice.
Heat the oil, and add the garlic.
Add the vegetables and spices and cook until all are soft.
Serve over quinoa.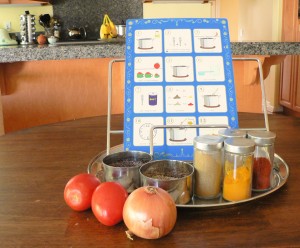 Just because The Chota Chef Recipe Cards are illustrated doesn't mean they're just for kids.  They're great for anyone (eh hem: spouses, significant others, friends…) who is "challenged" ( to be politically correct) in the cooking department.  Or in my case, to outsource dinner prep to our wonderful nanny, Meredith, who hails from Ohio and has never in her life made Indian food.
I had her make Recipe #18 – Gnaana's "Panj Spice Chana Masala" (the featured recipe for Punjab (in which kids learn to count to 5 in Punjabi!)).  I left the recipe card and assembled the ingredients on the kitchen counter in the morning – without any further notes or explanation – and left her to the test.  The result?  Fabulous – if she does say so herself!
Not to mention the serendipity of coming home to aromas of jeera and dhania…Need I say more?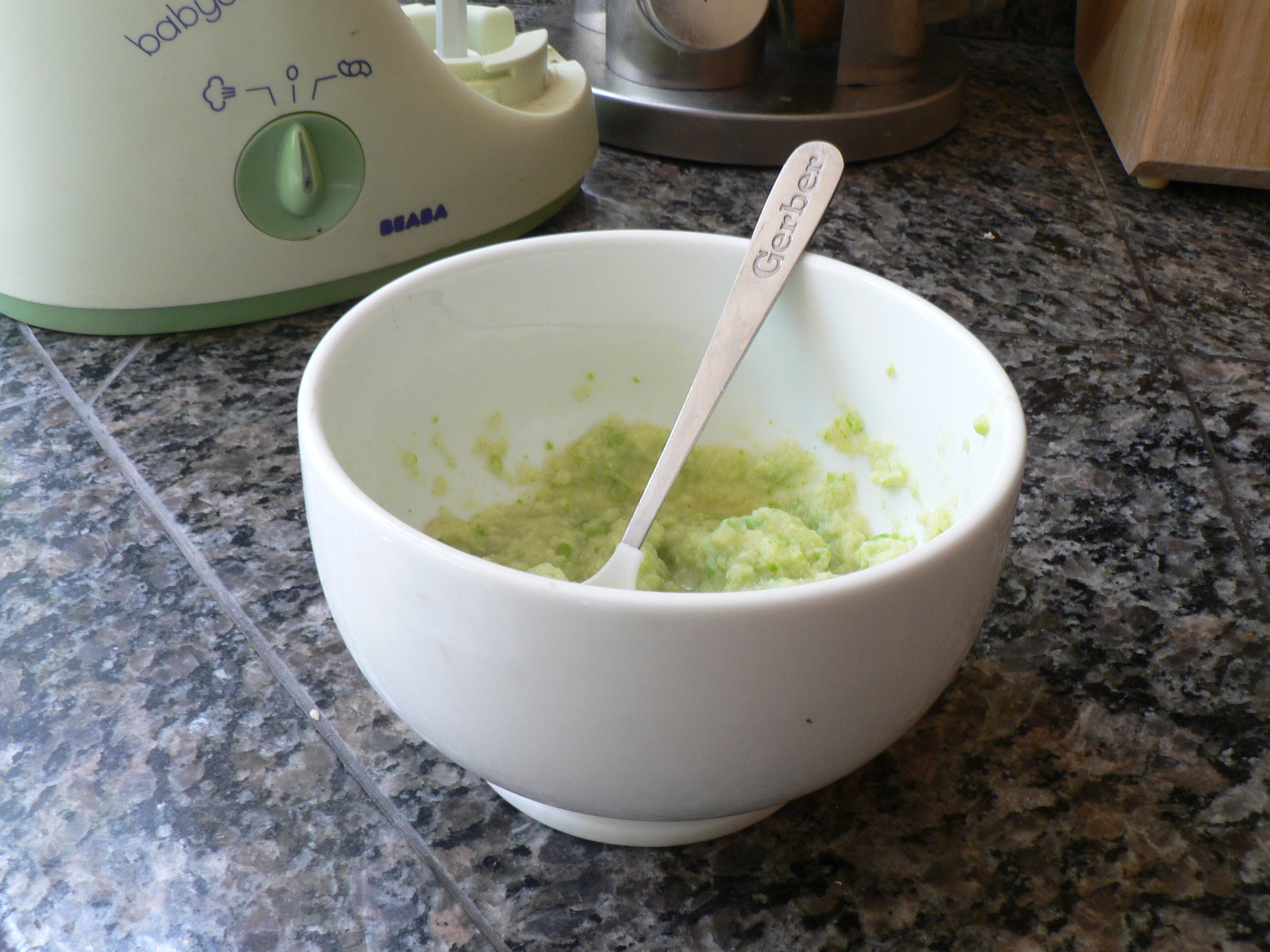 As vegetarians, our family tries to eat alot of tofu.  I couldn't find very many flavourful tofu recipes for babies – so I improvised one day with refrigerator remnants and ended up with a family favourite.  My 9-month-old eats this as her meal, and everyone else uses this as a pita bread or chip dip.  My secret ingredient here is MTR Rasam Powder (available at your local Indian grocer) – but you can substitute a mix of cumin and coriander powders.
1/2 large potato, peeled and diced
2 tbs olive oil
1/2 small onion, diced
2-3 garlic cloves, minced
2-3 ounces soft tofu
1/3 cup peas (frozen, cooked)
1/8 tsp salt
1/8 tsp rasam powder
dash of red chili powder (optional)
Steam the potatoes in the Beaba –  water level 3.  Meanwhile, heat the oil in a skillet.  Add the onion and then the garlic, and saute until the onion is translucent.  When the potatoes are steamed, puree them with the onion and garlic (and their oil) as well as the remaining ingredients in the Beaba – adding water as necessary.