Posts Tagged 'Diwali'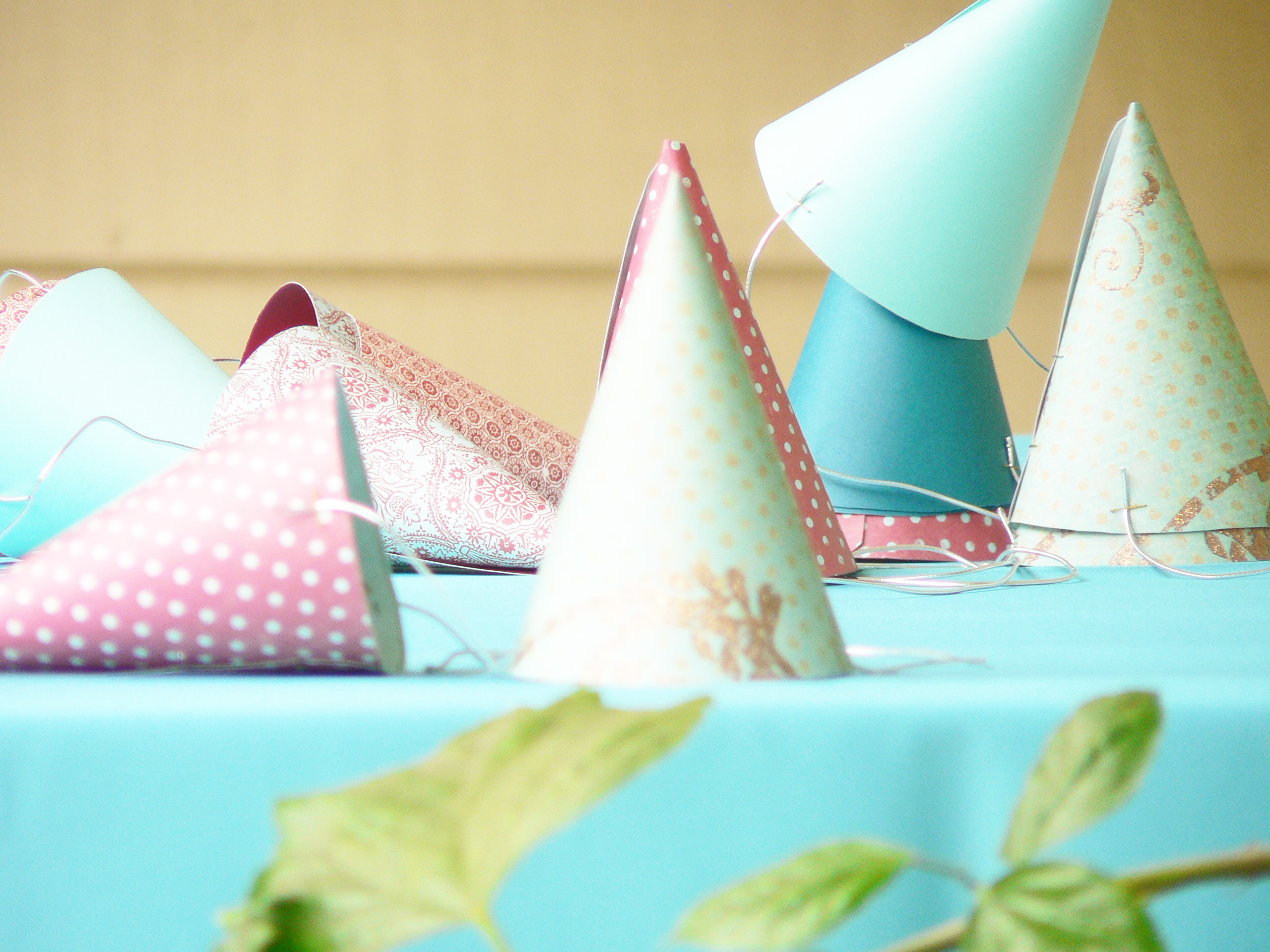 What do you do when your daughter's birthday falls on Diwali?  You throw her a Diwali Birthday Bash of course!
My little firecracker turned 2 on November 5th – the actual main Diwali day – which probably won't happen for another 20 years.  So we decked our house with lights and garlands, ordered a traditional Indian feast and had a grand evening with our family and friends.
Since there are no "Diwali Birthdays-in-a-Box," I got crafty and handmade most of the decorations, including the party hats (pictured above).  I used a selection of festive, whimsical papers from Paper Source and craft stores – the theme being blue (my daughter's favourite colour) with accents of red, gold and silver.
We started the day with a Lakshmi/Ganesh puja performed by my 4-year-old (using the Gnaana Puja Tutorial, of course!) and grandparents.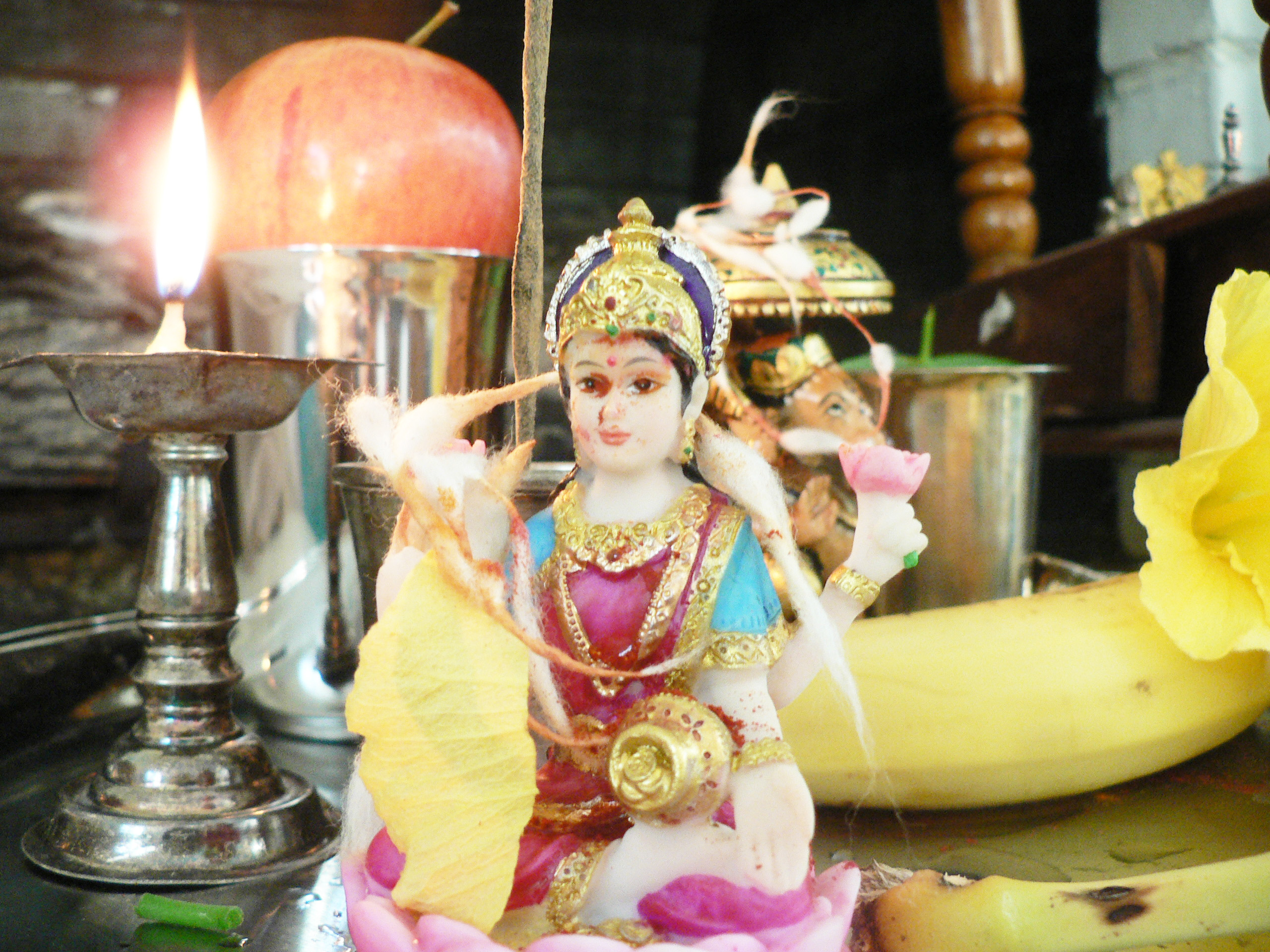 Made these pinwheel garlands using a tutorial from Ally Scraps – a modification of the origami garlands we used last year.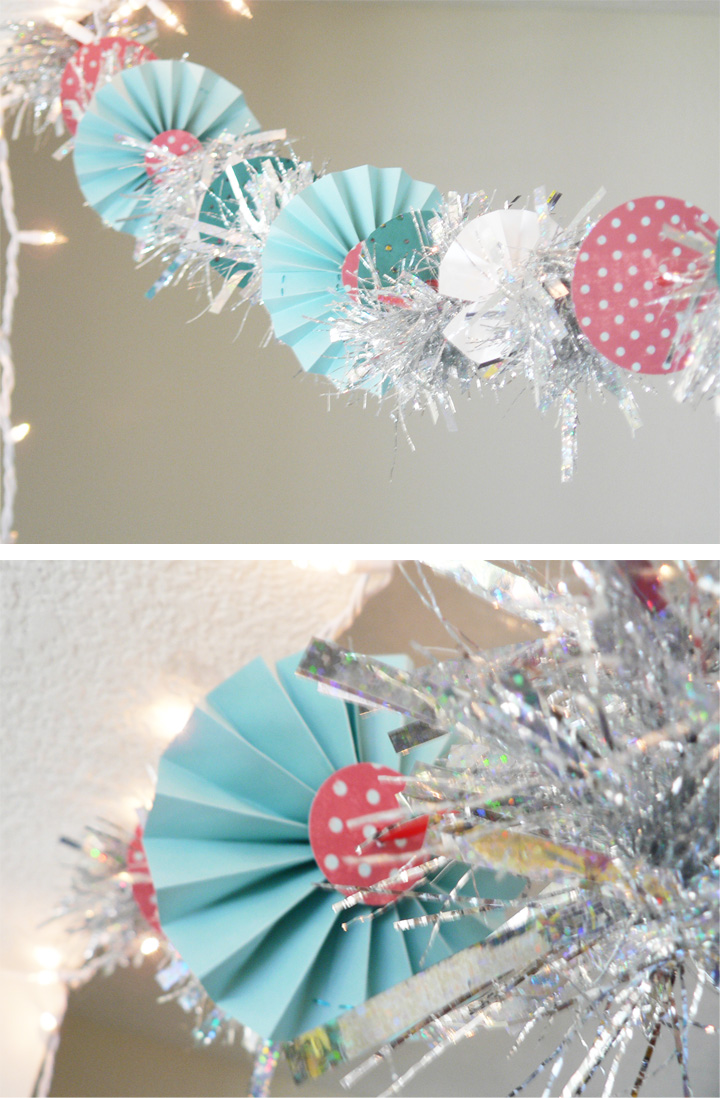 Took advantage of early inventory of Christmas decorations – hung glitter balls from the ceiling using ribbon.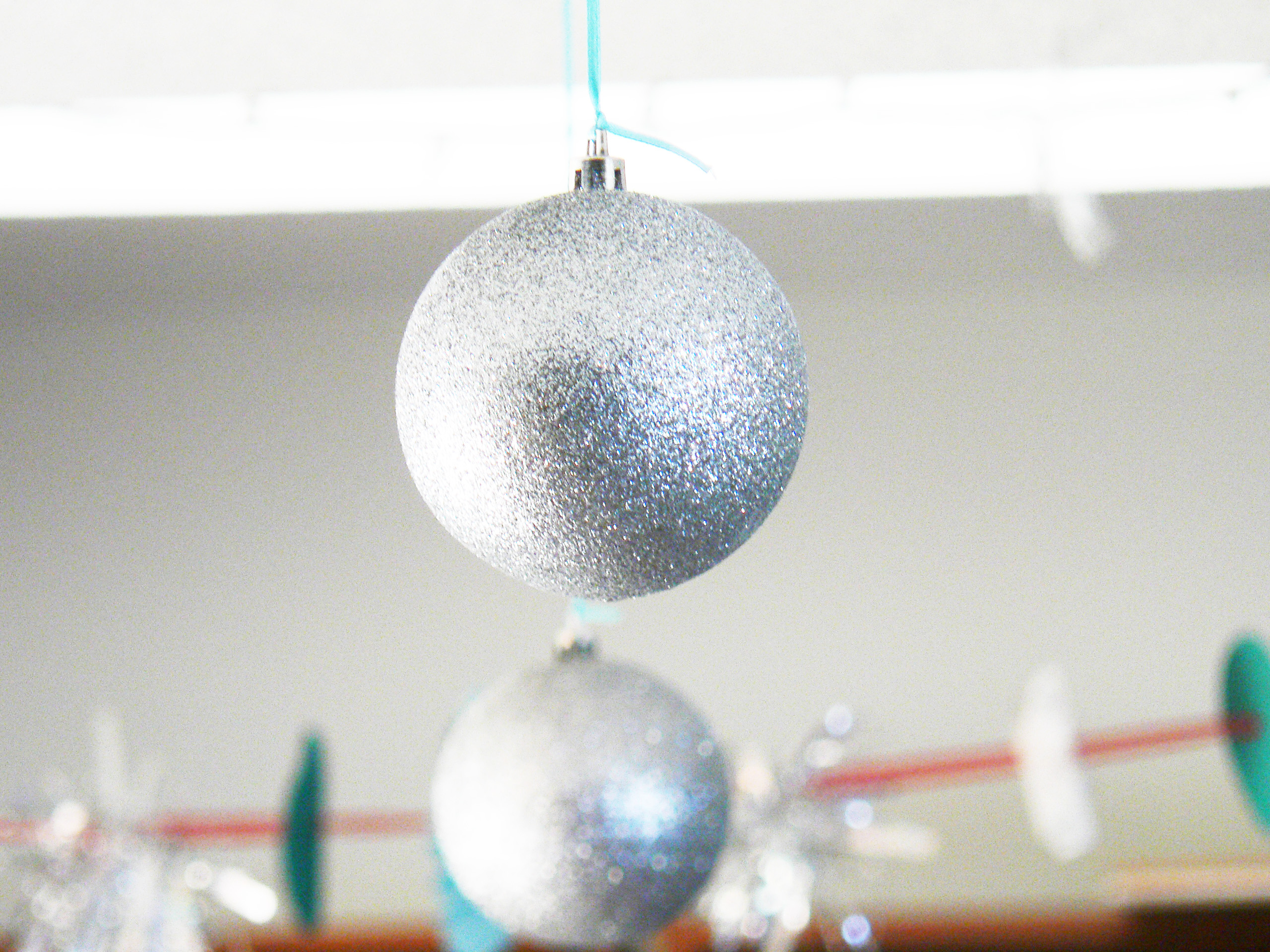 For our guests:  hand-decorated sweet boxes for the adults (decorated using vellum paper, ribbon, a large circle craft punch and a rangoli-inspired stamp) and coordinating polka-dot gift bags for the kids.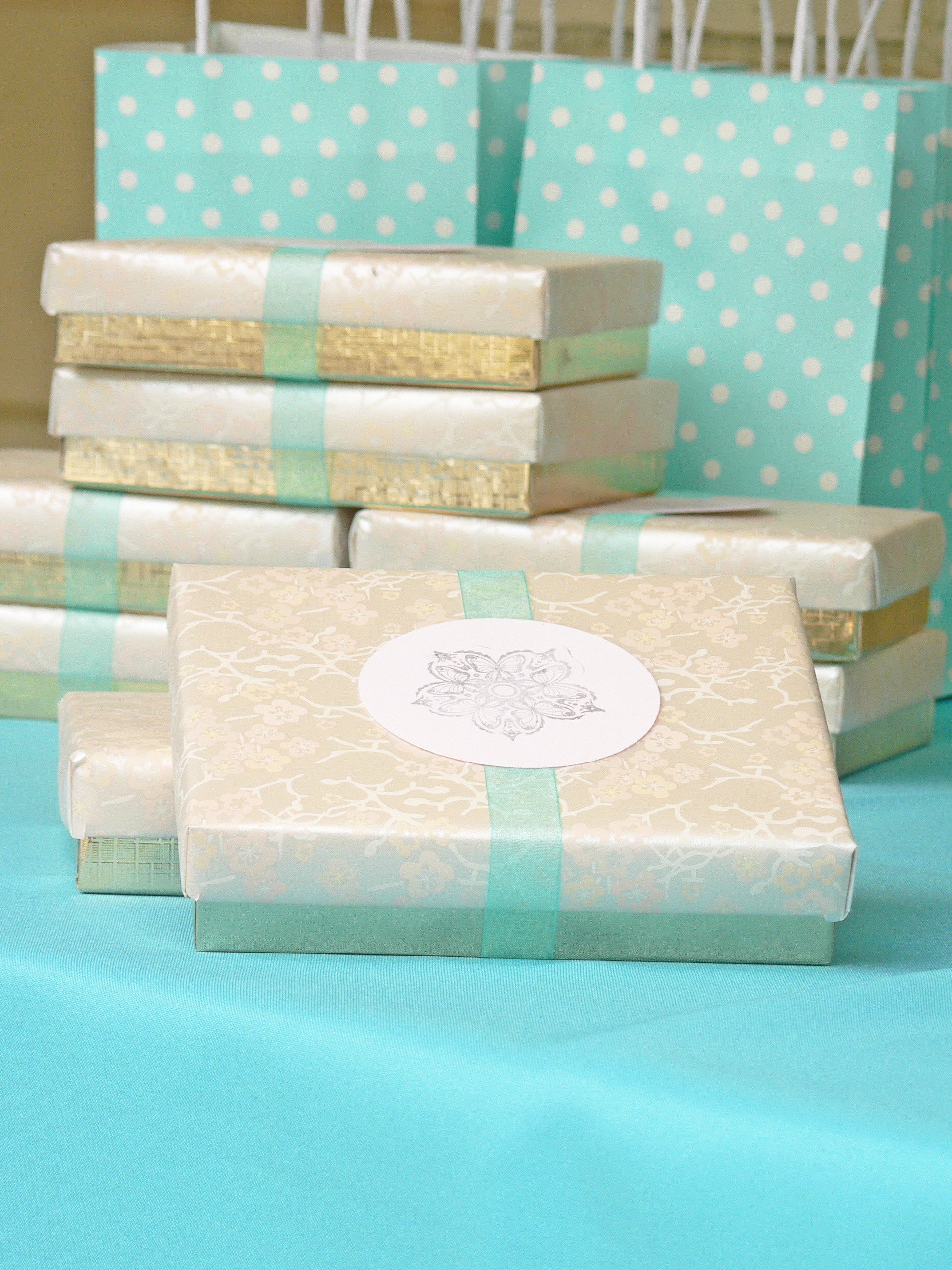 Set-up a kids table lined with kraft paper and with colouring pages and play-do.

For food, we had papdi chaat, vegetable biryani, mango dhal, eggplant-pakora curry, veg korma, etc., etc., with all the mandatory naans, chutneys and pickles, and a selection of sweets and chocolates.  We had a table stacked with dandiya and played a mix of Indian and kids' music (yes, you really can dandiya to On Top Of My Pizza).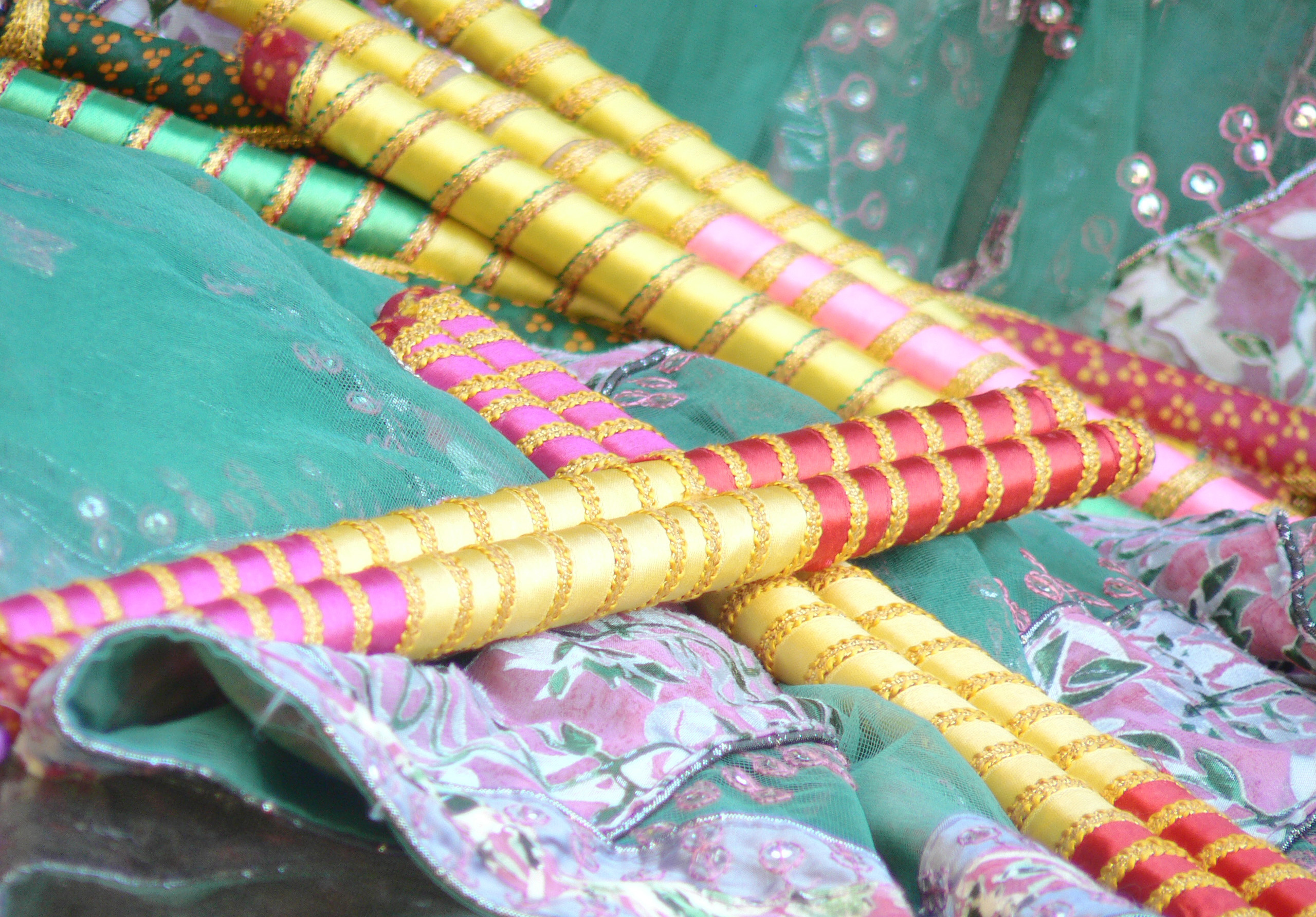 As darkness fell, the luminaries we set-up around our pool and our front yard really dazzled.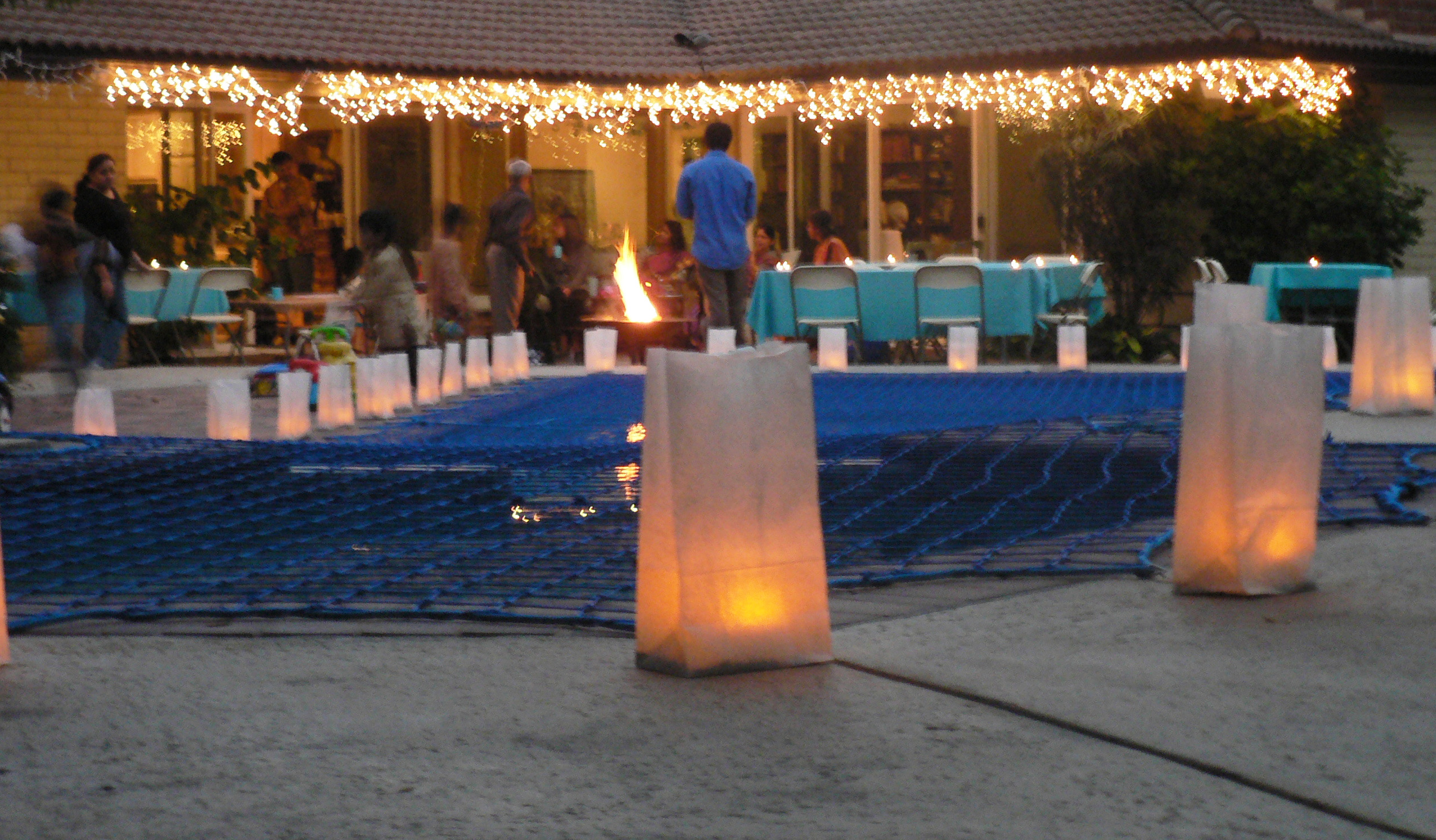 We ended the evening with the requisite sparklers and small firecrackers, as the Birthday Girl relaxed with delight.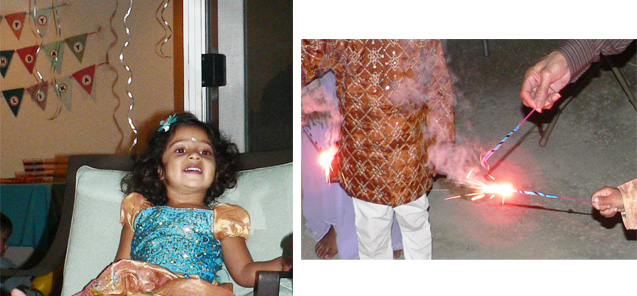 And here are a few pictures of my darlings, taken earlier in the day by the talented Katrina Jayne.  If you're in Southern California, she's terrific to work with!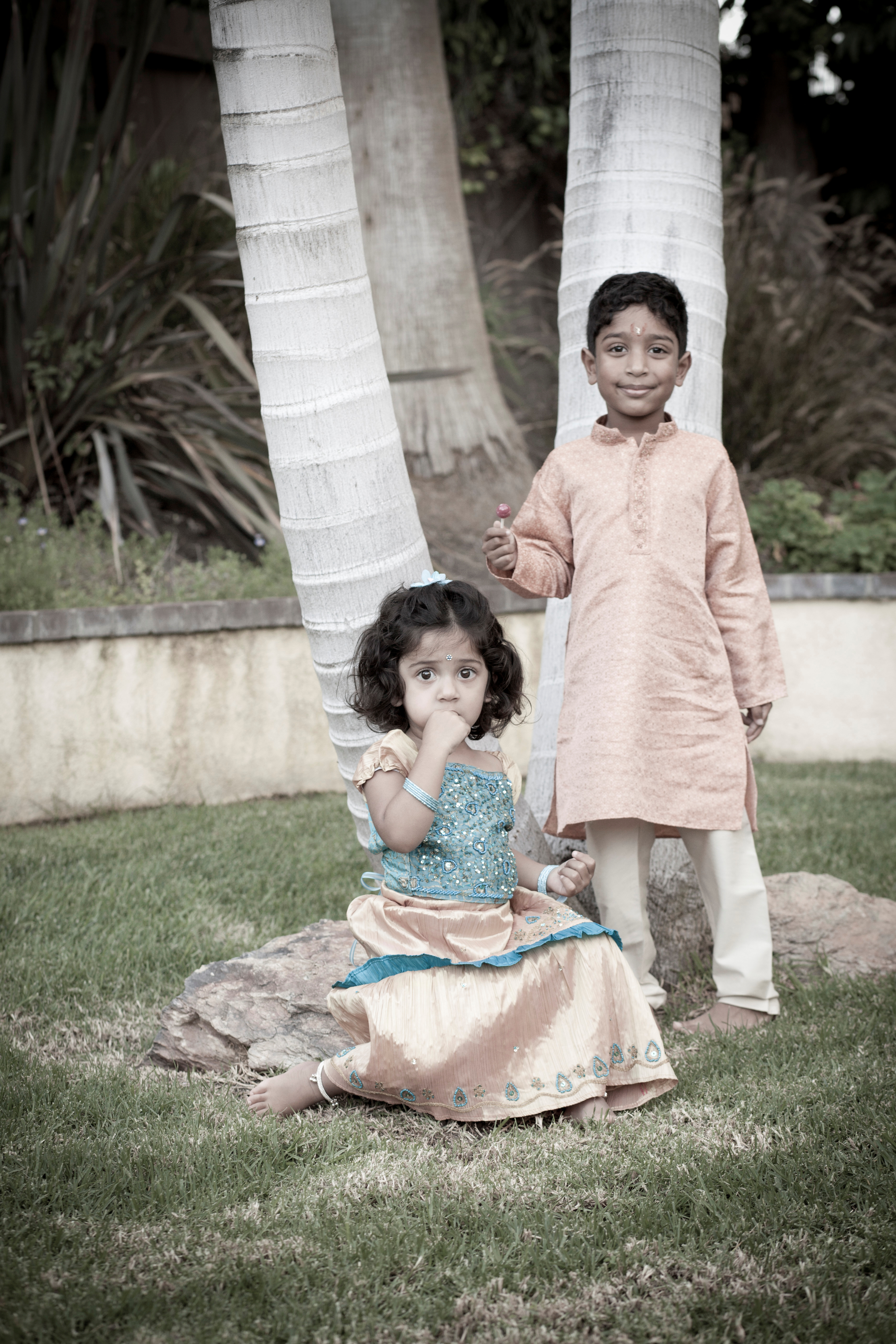 image © 2010 Katrina Jayne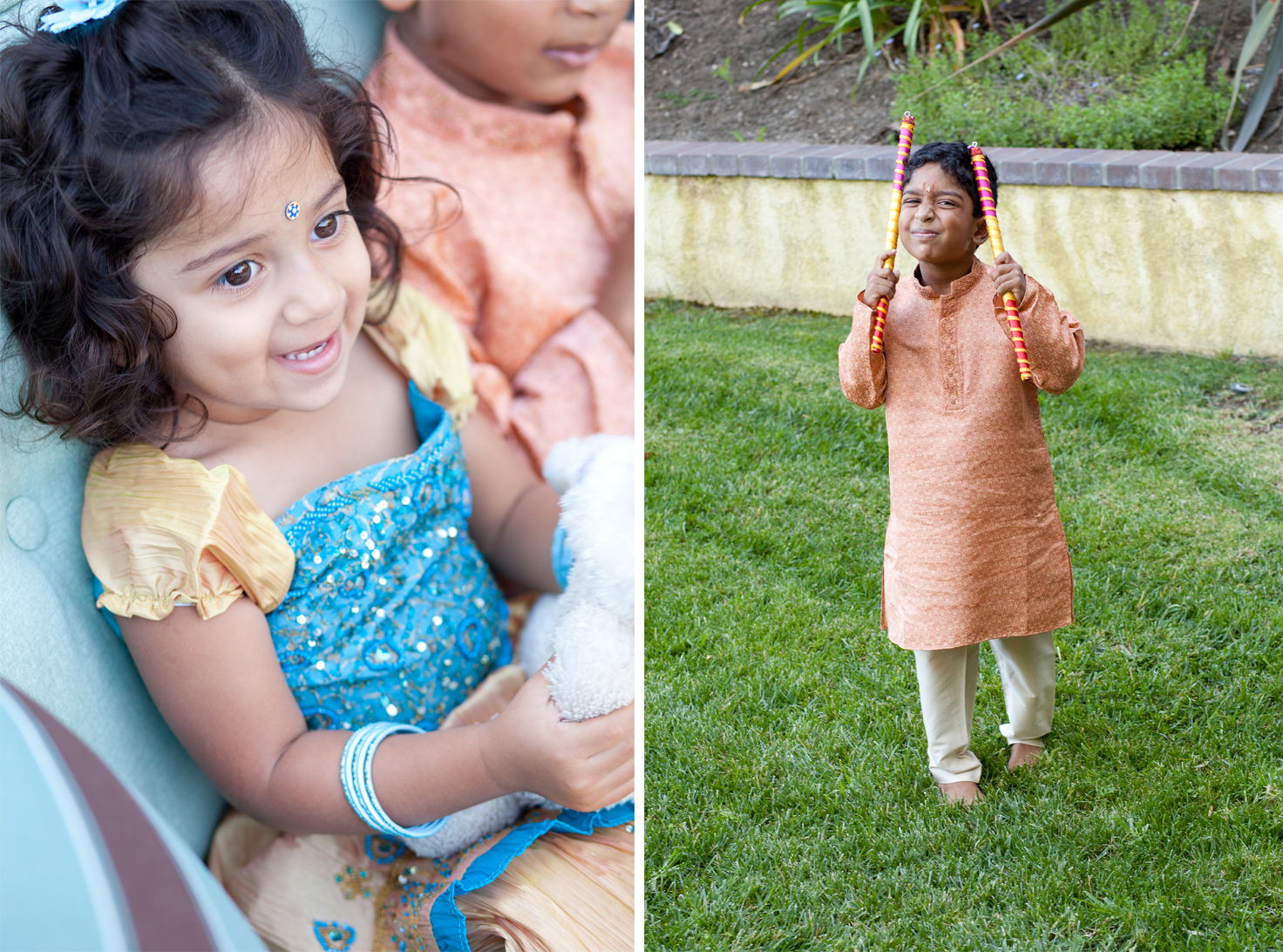 image © 2010 Katrina Jayne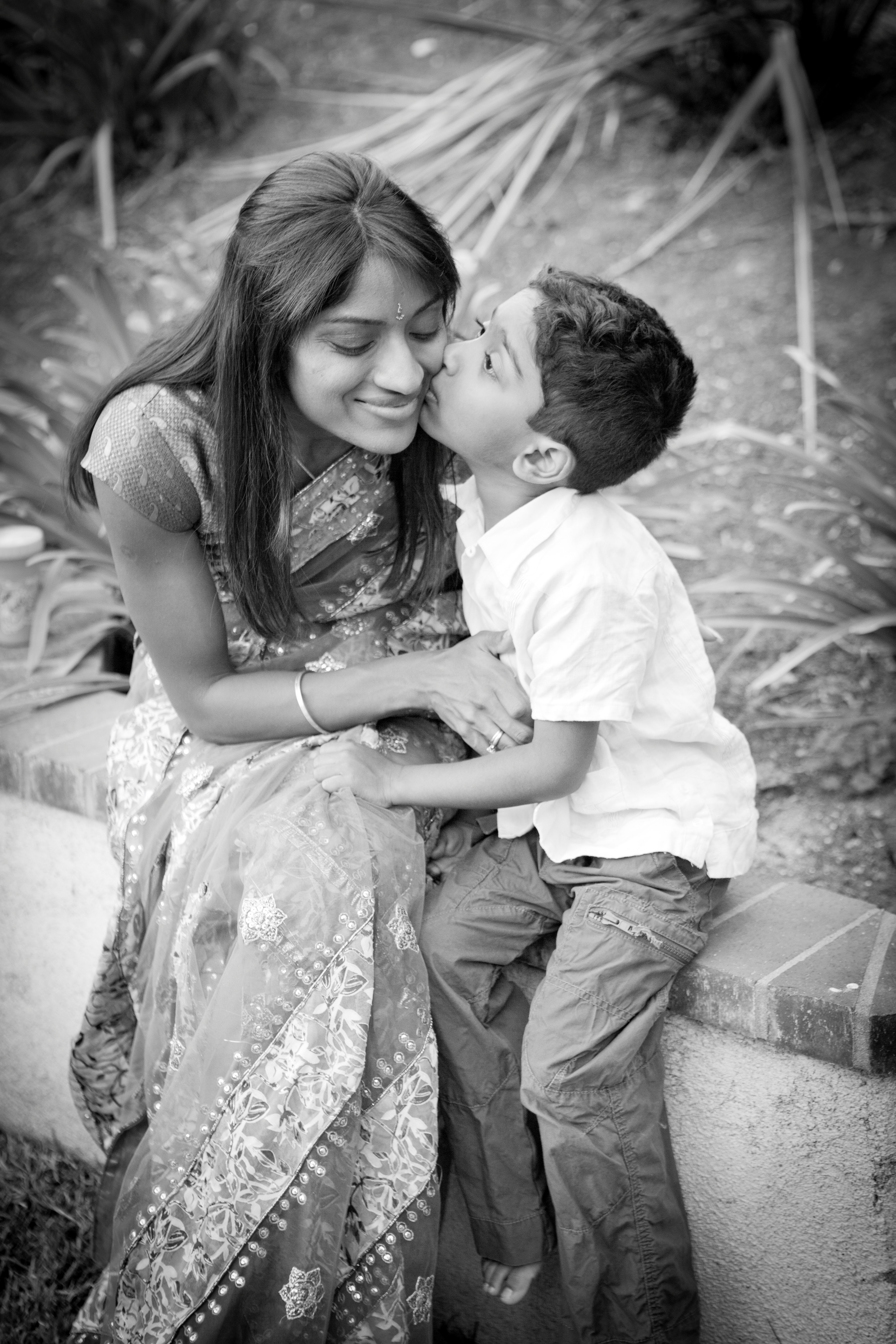 image © 2010 Katrina Jayne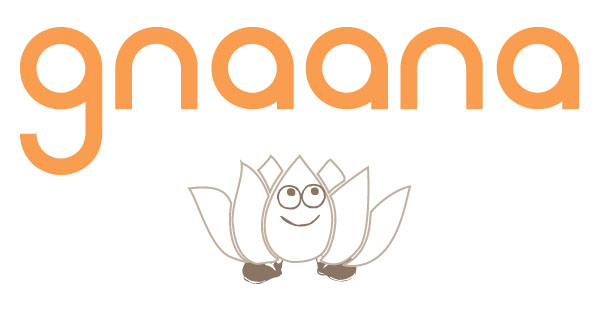 If you've ever been forced to over-eat at Aunti-ji's house, I'm sure you can relate here.  This is Pankaj, our Lotus-Character-Logo, stuffed on Diwali feasts and sweets.
Hope everyone had a happy and safe Diwali!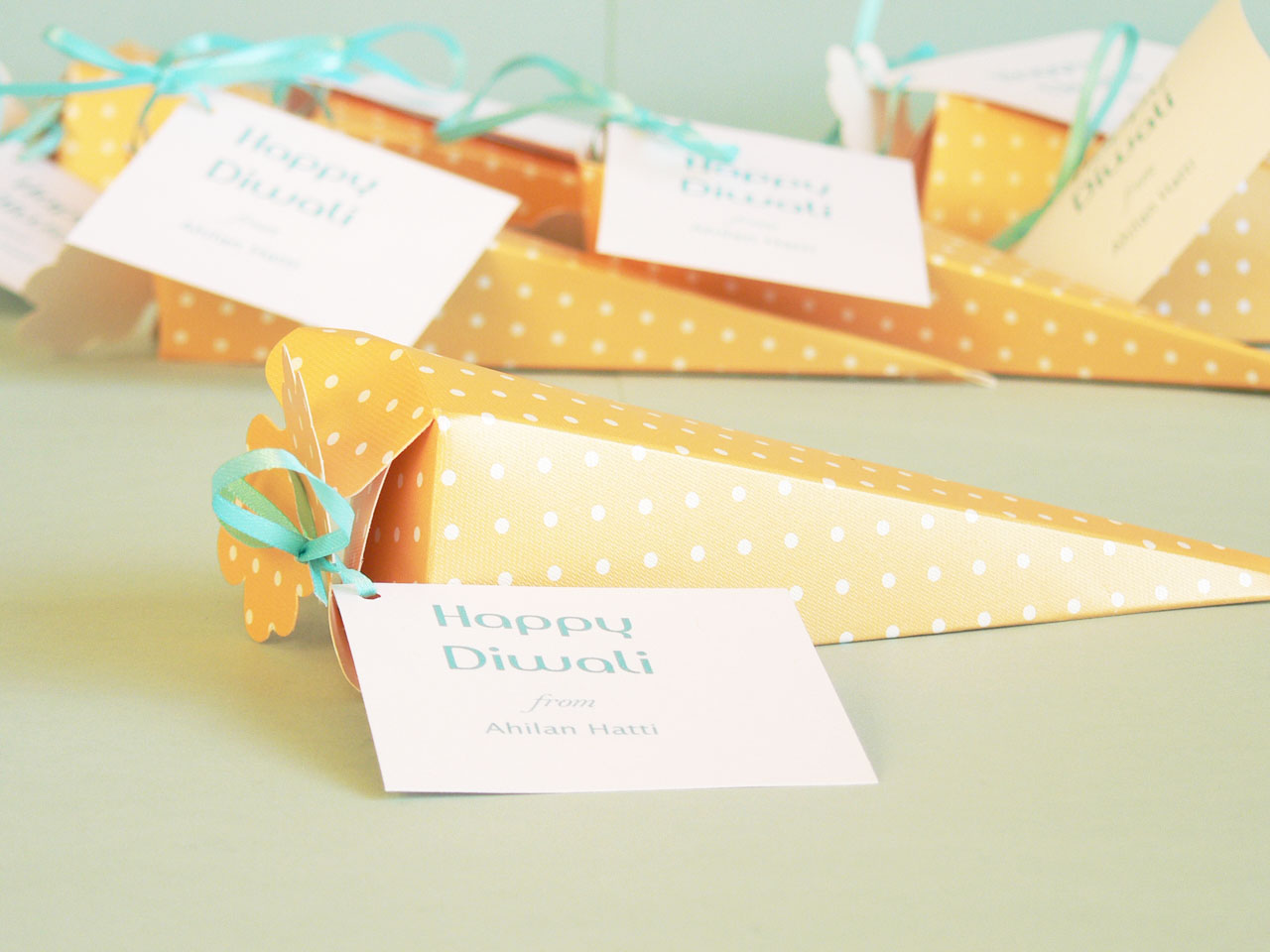 Wanted to share these fun cone "sweet boxes" I made for my son's class.  Filled with a yummy favourite – jellybeans.
Happy Diwali!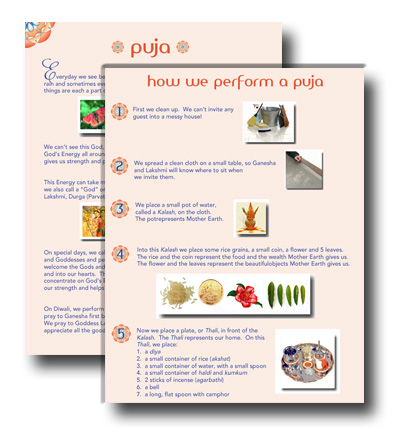 Maybe rituals "aren't your thing."  Maybe they are.  Whatever your beliefs and lifestyle, the fact is that The Puja Ceremony is a key component to understanding Hinduism.  It's how Hindus, for centuries, have connected with the Divine.  And it's a vital element in almost all Hindu holidays – including Diwali – when the Lakshmi Puja takes center stage.
But how often do you see a 5-year-old (or an 8-or-10-year old for that matter) actually sit through a puja?  Maybe they don't understand what's going on.  Maybe all those Sanskrit hymns bore them.
This Diwali we encourage you to shake things up.  Adults:  sit back and let the kids take charge of the prayer ceremony with our Step-by-Step Diwali Puja Tutorial!  From the starting preparations to final aarti and prasad, our Tutorial instructs kids on what to do – and, more importantly, the meaning and purpose behind each step.  It's The Puja – deconstructed and distilled to the essentials.  It's learning by doing.
Of course, keep in mind the puja won't be perfect (or very long), but the kids are sure to have fun being "in charge."  And feel free to adapt the Tutorial – we set-up a very basic presentation, but you can insert special family traditions or longer mantras if you wish.
We hope our Tutorial will help kids connect with the more spiritual elements of one of Hinduism's biggest holidays.
Happy Diwali!
Download & Print Tutorial here (4 pages): Printable PDFs
JPEGs: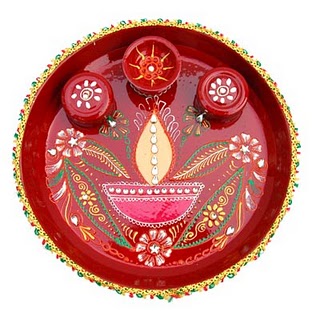 No Diwali is complete without a Puja (or Prayer) Thali. It holds all the auspicious materials for the Diwali prayer ceremonies.  Puja Thalis are also fun for the kids to decorate – with fabric, beads or other craft items.  Our November Newsletter, due to be released next Monday, will guide kids through the steps of a puja, so get your thalis ready!
What you place on your thali will vary based on the specifics of how your family conducts a prayer, but in general, you will want to include:  a small deity (Lakshmi perhaps), a diya, a bell, a small steel glass with a spoon to hold water, an incense holder, fresh flowers and small vessels to hold kumkum, rice and prashad.
Pictured at the top of this post, stainless steel pooja thali adorned with meena work, available at IndianGiftsPortal.  This site has a good selection of thalis.
For a more contemporary stainless steel look, try Pooja Thali Gift Set by Nikki (left) or Puja ki Thali by Artec (right).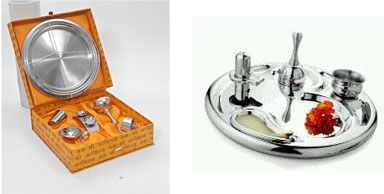 Beautiful Meenakari Peacock Thali: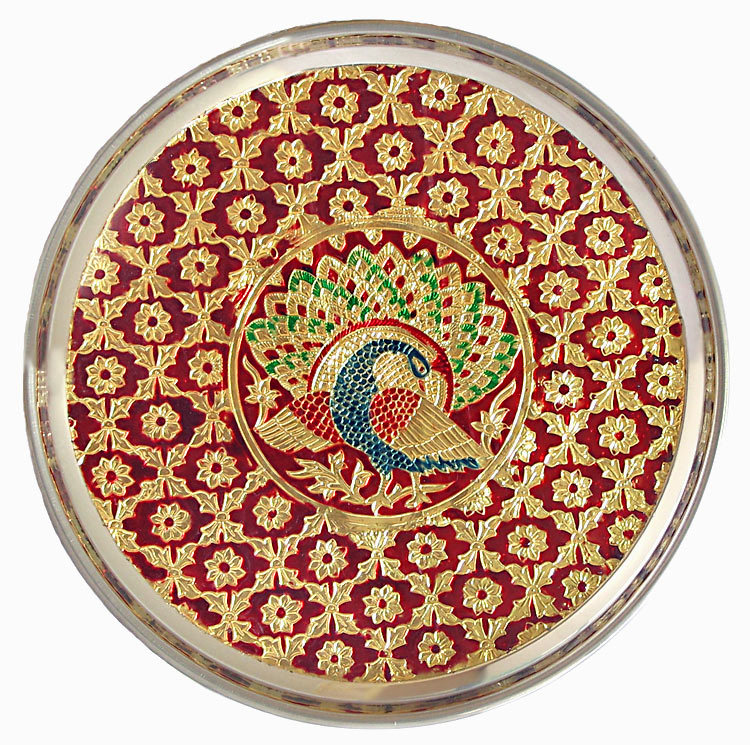 If traditional is not your thing, go ultra modern with a little innovation – take a designer platter and use a selection of tealight holders that please your aesthetic.  Allmodern has a good selection of platters.  Below, stainless tray decorated with cabochans by Alessi, paired with a red glass tealight holder.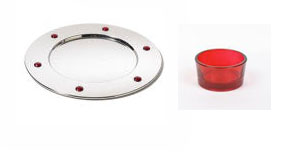 For a natural, organic look,try Khaki Round Platter by Mikasa (below left).  For a kitschy, retro appeal, try Arabesque Platter by Dansk.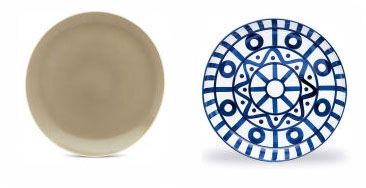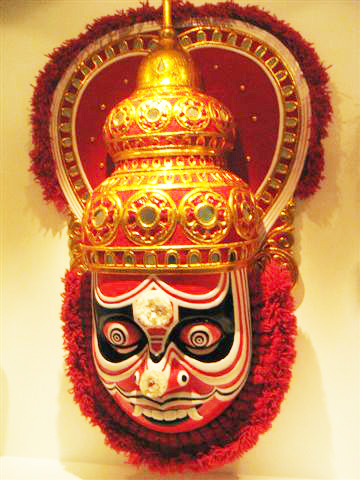 You may be most familiar with Diwali as being the celebration of Lord Rama's homecoming to Ayodhya.  In fact, in surveying the various childrens books available on Amazon, in bookstores and in libraries, this is the predominant story – it's simple and grandly celebretory (it is the Ramayana after all).
However, if, like me, you hail from South India, you probably grew up being told something completely different – that Deepavali is the day to celebrate Krishna's killing of Narakasura.  In fact, from previous discussions with some of my North Indian friends, some of them had never even heard of this story as the premise of the Diwali celebrations.
It's a fairly simple story, really.  Naraka, Bhudevi's son, grew greedy with his power and started plundering kingdoms of the 3 worlds (hence, the word "asura" (demon) was attached to his name.  Lord Indra was helpless and enlisted Krishna.  Krishna's wife Satyabama accompanied him to battle (and in some versions, it is Satyabama that slays Narakasura).
You can read more of the story with your kids here.  And then, for fun, have the kids take this short quiz (even you may be stumped on 1 or 2 of the questions).
So the question is:  what do I tell my kids?  Do I tell them Deepavali is for Rama (as everyone around them seems to think), or do I tell them it's for Krishna's victory (as everyone in both sides of our family believes (Dad is from Karnataka))?
Luckily, Deepavali is 5 days long (read last year's post on the meaning of Diwali here), so the resolution is to tell both stories.  The underlying symbolism is the same for both – that Diwali is the celebration of the good (the inner light, or Atman) in all of us.
For more on the Krishna / Narakasura story, check out the Amar Chitra Katha version.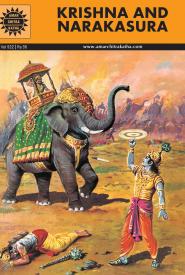 Top image by Maria Pudim, photograph of a mask of Narakasura from a 2009 exhibit of Masks of Asia at the Museu du Orient in Lisbon, Portugal.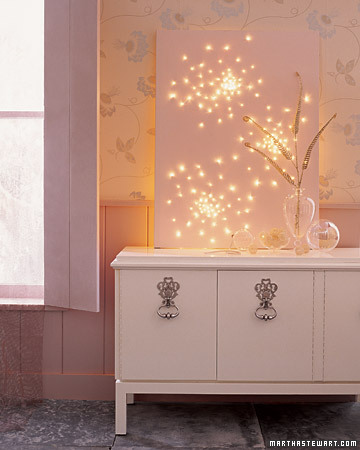 If you're still recovering from Navratri and Dussehra, don't relax too much – Diwali is less than 3 weeks away!  Time to beautify your house with fresh flowers, decorations and gorgeous lighting.  Here are a few illuminating ideas that are sure to get your kids excited about this amazing Festival of Lights.
Pictured at the top of this post, simple and sparkling DIY twinkling lights on canvas by Martha Stewart.
Classic luminaries are quick, easy and affordable.  Be sure to check with local authorities as to any restrictions.  For added safety, use flame resistant bags or better yet, try battery-operated LED tea lights.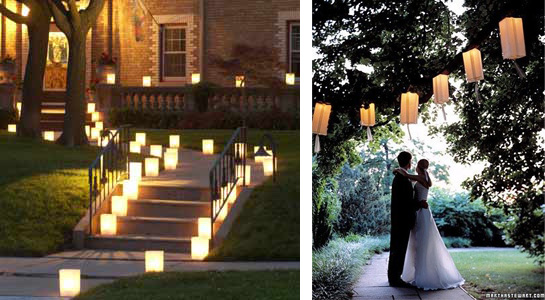 Love these DIY doily luminaries: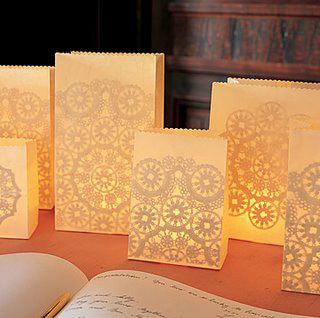 Fun ball shapes – great for indoor or out.  Try Japanese-inspired Solar Shoji Lanterns or a dazzling Star Sphere.
For more eco-friendly outdoor lighting, go solar!  Beautiful Glass Solar String Lights and innovative Lawn Lights.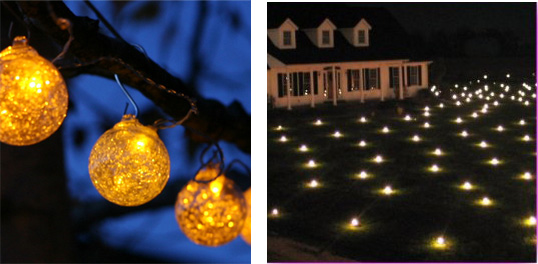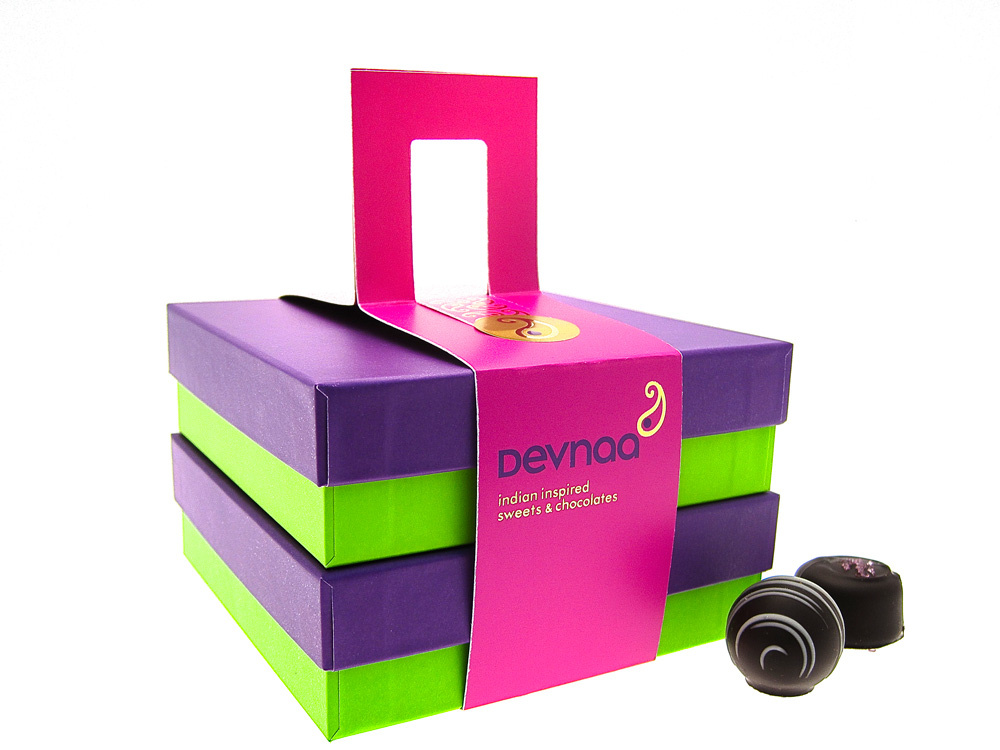 This post is authored by Devnaa, an Indian-inspired confectionery company from the United Kingdom. Their signature Chai Masala Truffle received a Gold Great Taste Award from Britain's prestigious Guild of Fine Food.
Diwali, the Hindu Festival of Lights is never complete without Indian sweets.  From jalebi and ladoos to kaju katli and barfis – Indian sweets are offered to guests visiting your home and are also given in gift boxes to friends, neighbours and family members to commemorate the festival.
Why not set yourself apart this Diwali and present a truly special gift box?  In addition to our Indian-inspired chocolates, we also have our signature product:  chocolate barfi – a true blend of India and the West!   The chocolate barfi comes in 5 flavours (milk chocolate, strawberry, orange and vanilla).
All of our treats are packaged in our unique boxes.  The Devnaa packaging is based on traditional tiffin boxes – the ultimate stackable Indian lunch box!  This allows customers to select from small, personal boxes to large, family sized boxes – all of which come held together with a pretty pink sleeve embossed with our mark in gold foil.
© 2010 Devnaa
www.devnaa.com
Devnaa is offering a special Diwali 2010 Collection, which will include selections from its new range of spiced drinking chocolates.  The Diwali collection will be beautifully presented in luxurious gift boxes and finished with a large gold coloured bow.  Contact them for this special order.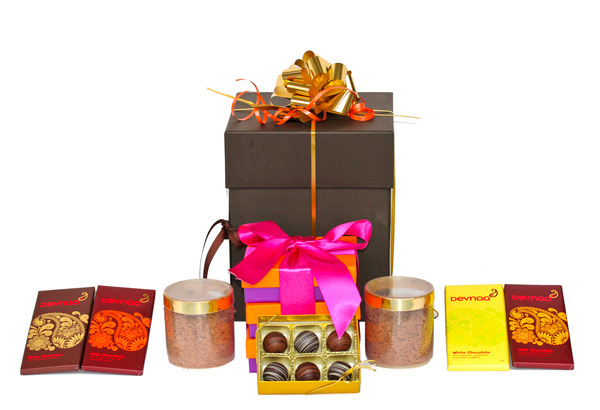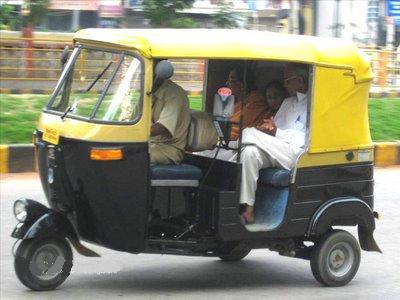 Oh, you 3-wheeled wonder, How do I miss thee?  You have room enough for 5 laddoo-sized adults and their offspring.  You zip and you zoom, but by God's Grace, you seldom topple.  You have the omniscience to make sure to hit all potholes, old and new, on any road you travel.  You are an indispensible part of the Indian Experience.  Thank you.
So this past weekend, my son and I spent a few hours ogling over our Tour du Monde canvas that arrived on Friday (yes, hours –  he is simply enthralled by it).  He happened to notice a curious graphic over the approximate area of Pakistan and asked "what's that?"  I told him it was an auto-rickshaw, that it had 3 wheels and that people in India ride in them all the time.  He gave me this look of utter astonishment, as though saying, "I can't believe you kept this a secret from me for so long, Mommy.  How could you not apprise me, a covetous connoisseur of all motorized land objects, of the existence of this 3-wheeled vehicle????"
And so began our web search for "all things auto"…
First, toy autos can be purchased here.
A curious interview with a tech-savvy auto driver – who has his own website!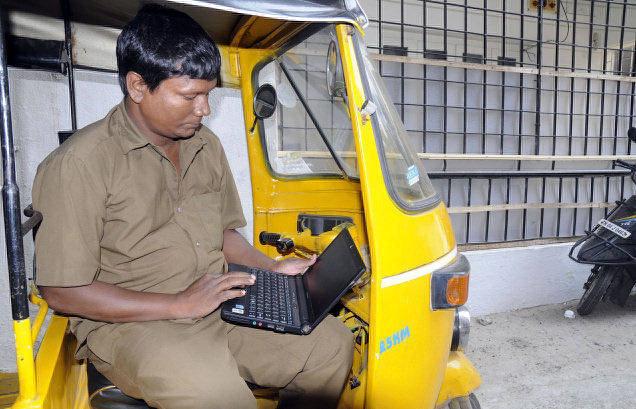 (Image by The Hindu)

Funny cartoon entitled Anatomy of an Indian Autorickshaw, apparently from a T-Shirt.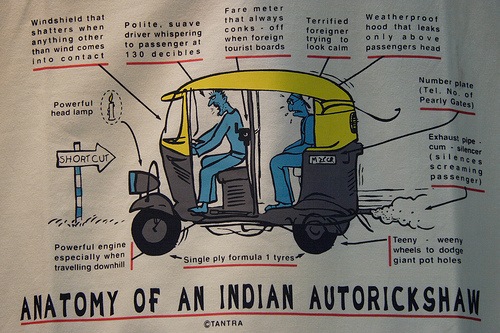 Autos on strike: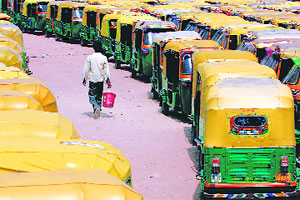 For about €1600, you can enter the Richshaw Challenge – an auto rickshaw race (of sorts) that's organized by Chennai Event Management Services.

A decked-out auto, probably decorated for Diwali or a wedding.  Interestingly, the Rickshaw Challenge folks seem to work with Pimp My Shaw, offering custom paint jobs, upholstery and sound systems for autos.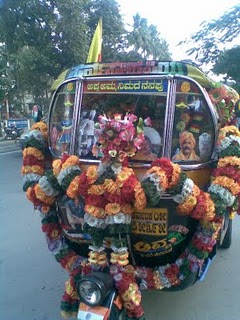 (Image by Anurag Saurabh)

The solar auto…

Coming to a city near you.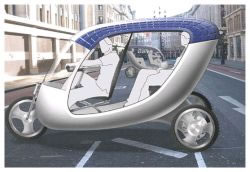 And last but not least, my son's favourite auto video – featuring an auto that gets stuck in the sand…indeed a poetic ending to this post.

The "Indian Christmas."  The "Festival of Lights."  The most important holiday celebrated in India, by members of the Indian diaspora and by other South Asians.  But what's the meaning behind Diwali?
Well, like most things Indian, the answer to that question is anything but simple. It means different things in different regions and communities – to those from North India and South India, and to Sikhs and Jains – and the length of the celebration varies from 1 to 5 days. One could write a (very long) book about this topic. We're here to de-mystify and simplify the spiel.
Deepavali (or Diwali for short) literally means "a row of lamps" (deepa means an "(oil) lamp" and vali means "row").  The date is decided by the lunar calendar as so varies yearly, but generally falls in October or November.
The colloquial meaning (as manifested by various Diwali legends) varies, but the spiritual meaning is the same:  it is essentially a celebration of the inner light of earthly beings – the Atman – the pure, infinite and eternal Atman – which outshines and transcends the physical realm.  To know and realize Atman is to triumph over darkness, obstacles and ignorance.
Diwali is typically celebrated over the course of several days:
Day 1: Dhanteras: Celebrated mainly in North India as a  day of wealth – an auspicious day for shopping of metal utensils and gold (date in 2009:  October 15).
Day 2: Narak Chaturdasi:  In South India, this day is recognized as the Main Diwali Day – commemorating Lord Krishna's defeat of the demon Narakasura (date in 2009:  October 16).
Day 3: Main Diwali Day:  This is day is celebrated as the actual Diwali Day around the world.  For North Indians, the is the day the people of Ayodhya welcomed back their beloved King Rama after his defeat of the demon king Ravana, as chronicled in the famous Ramayana epic.  Also, South Indians celebrate this day with a Lakshmi puja. (date in 2009:  October 17).
Day 4: Govardhan Puja: In may parts of North India, this day commemorates Lord Krishna's defeat of Indra and lifting of Mt. Govardhan to save villagers from Indra's wrathful flood.  In Karnataka and Tamil Nadu, it is celebrated as Bali-Pratipada – when Vamana (Vishnu's 5th incarnation) defeated demon king Bali. In Gujarat and Nepal, this day is recognized as their New Year Day. (date in 2009:  October 18).
Day 5: Bhai Duj:  Celebrated mainly in North India as a day to celebrate the love between brothers and sisters.  (date in 2009:  October 19).
Bengalis celebrate this day as Kali Puja.
Jains recognize  Diwali as the day Lord Mahavira attained Moksha (Nirvana).
Sikhs celebrate this as Bandi Chhorh Diwas – the day the Muslim Emperor Jahangir released Guru Har Gobind Ji (and 52 other princes) from prison – an important event in the Sikh freedom struggle.
So there you have it – a concise-as-we-can-be cheat sheet!